printer friendly version
ONVIF celebrates 10th anniversary
June 2018 Editor's Choice, News
ONVIF is celebrating its 10th anniversary, capping off a decade of growth and rising influence as a provider of interoperability standards to the physical security market. Beginning with a small group of competitive manufacturers who joined forces in 2008 and growing to 500 ONVIF member companies, ONVIF continues to refine and promote its specifications for interoperability between security technology devices and beyond.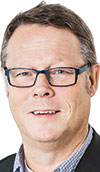 Per Björkdahl.
"We are so proud that what began as just a common mindset 10 years ago has transformed into everything ONVIF has become – a dynamic, member-driven organisation dedicated to enabling interoperability and end user freedom of choice to select products from a variety of different security technology vendors," said Per Björkdahl, chairman, ONVIF Steering Committee. "Our official recognition and global adoption by the international standardisation community, our crowning achievement, is a testament to the work of our volunteer leaders and supporting member companies and a reflection of our prominence as the leading interoperability standard within physical security today."
ONVIF was founded as a technical alliance by Axis Communications, Sony and Bosch Security and Safety Systems and today has nearly 10 000 conformant products and a member base spanning six continents and 39 countries. ONVIF specifications have been adopted by such global standards bodies as the International Electrotechnical Commission (IEC) and Cenelec and are becoming increasingly applicable in growing security and connectivity environments such as safe city initiatives, IoT applications and intelligent building automation.
The alliance's six profiles cover the fundamental features in use in IP-based video surveillance and IP-based access control systems, as well as a growing list of more sophisticated functionalities in demand by the market. Profile S, for video streaming and configuration, as well as PTZ control, audio, multicasting and relay outputs for supporting conformant devices and clients, was the first ONVIF profile released and remains the most widely used profile on the market today.
In all, ONVIF has released six profiles, which include:
• Profile S for video streaming, released in 2011.
• Profile C for IP-based basic access control, released in 2013.
• Profile G for edge storage and retrieval, released in 2014.
• Profile Q for quick installation, released in 2016.
• Profile A for broader access control configuration, released in 2017.
• Profile T (Release Candidate), for advanced video streaming, to be finalised July 2018.
From its start in 2008, the ONVIF organisation grew rapidly, attracting some 300 members and 1 000 conformant products by 2011. While the original focus was interoperability between components of an IP-based video surveillance system, the organisation announced in 2010 it would expand its scope to IP-based physical access control. With a new breadth of product choice in place, the increased membership and conformant product levels showcased the expanding reach of ONVIF in the market.
By 2015, ONVIF had grown to more than 5 000 conformant products and, between 2016-2017, the organisation saw its largest increase in membership in a two-year span. This year, ONVIF is preparing to exceed 10 000 products that conform to its profiles.
"The demand for connectivity between IP-based devices will continue to skyrocket, as industries begin to realise the efficiencies and actionable data produced by connecting IP devices within their organisation," according to Björkdahl. "This aligns well with the vision of ONVIF, that all security systems will one day share a single interface, and we are eager to help the industry realise this vision within our next decade."
Further information about ONVIF conformant products, including the vendors and the conformant models, is available on the ONVIF website: www.onvif.org
Further reading:
Olarm launches the Olarm LINK
Olarm Perimeter Security, Alarms & Intruder Detection News Products
Building on the success of smart-enabling, monitoring and controlling alarm panels and electric fences, Olarm has a new solution for customers to integrate gates, garage doors, pumps and other electrical products with the Olarm APP and Olarm PRO communicator.
Read more...
---
Ultimate smart monitoring and reliability
Olarm Perimeter Security, Alarms & Intruder Detection News Products
Olarm is gearing up to unveil its latest product, the Olarm MAX, set to be available in late 2023, which will redefine smart monitoring by offering unparalleled connectivity options and functionality.
Read more...
---
New algorithm for OT cybersecurity risk management
Industrial (Industry) Cyber Security News Commercial (Industry)
OTORIO's new risk management model and attack graph analysis algorithm technology, calculates OT cybersecurity threats and provides risk mitigation actions, prioritised according to actual exposure and potential impact on operations.
Read more...
---
Robots: a security opportunity or a threat?
Editor's Choice News Conferences & Events
Professor Martin Gill, Director of Perpetuity Research & Consultancy International and the School of Criminal Justice at the University of South Africa (UNISA), will be holding a Global Thought Leadership Security webinar on 22 June 2023 to discuss the contentious issue of robots operating in the security industry.
Read more...
---
UNISA sponsors Securex seminars
Editor's Choice News Conferences & Events
As part of UNISA's 150-year birthday celebrations, UNISA has sponsored the Securex Theatre Seminar Programme, which will include a number of prominent industry specialists, academics and security practitioners focusing on a number of themes.
Read more...
---
Sustainability School opens for enrolment
Education (Industry) News Security Services & Risk Management
Three-part programme, first developed for Schneider Electric employees, is now available for free for companies worldwide. Attendees learn how to future-proof their businesses and accelerate their decarbonisation journeys.
Read more...
---
Accenture Technology Vision 2023
Editor's Choice News
New report states that generative AI is expected to usher in a 'bold new future' for business, merging physical and digital worlds, transforming the way people work and live.
Read more...
---
Cyber attackers used over 500 tools and tactics in 2022
Cyber Security News
The most common root causes of attacks were unpatched vulnerabilities and compromised credentials, while ransomware continues to be the most common 'end game' and attacker dwell time is shrinking – for better or worse.
Read more...
---
Economists divided on global economic recovery
Editor's Choice News
Growth outlook has strengthened in all regions, but chief economists are divided on the likelihood of a global recession in 2023; experts are concerned about trade-off between managing inflation and maintaining financial stability, with 76% anticipating central banks to struggle to bring down inflation.
Read more...
---
Success in business process best practices
Technews Publishing Kleyn Change Management Editor's Choice Integrated Solutions Security Services & Risk Management
This month we commandeer time with the woman who is spearheading our national conversation on Women in Security, Lesley-Anne Kleyn, to get to know the lady herself a little better.
Read more...
---