printer friendly version
ONVIF celebrates 10th anniversary
June 2018 Editor's Choice, News
ONVIF is celebrating its 10th anniversary, capping off a decade of growth and rising influence as a provider of interoperability standards to the physical security market. Beginning with a small group of competitive manufacturers who joined forces in 2008 and growing to 500 ONVIF member companies, ONVIF continues to refine and promote its specifications for interoperability between security technology devices and beyond.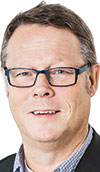 Per Björkdahl.
"We are so proud that what began as just a common mindset 10 years ago has transformed into everything ONVIF has become – a dynamic, member-driven organisation dedicated to enabling interoperability and end user freedom of choice to select products from a variety of different security technology vendors," said Per Björkdahl, chairman, ONVIF Steering Committee. "Our official recognition and global adoption by the international standardisation community, our crowning achievement, is a testament to the work of our volunteer leaders and supporting member companies and a reflection of our prominence as the leading interoperability standard within physical security today."
ONVIF was founded as a technical alliance by Axis Communications, Sony and Bosch Security and Safety Systems and today has nearly 10 000 conformant products and a member base spanning six continents and 39 countries. ONVIF specifications have been adopted by such global standards bodies as the International Electrotechnical Commission (IEC) and Cenelec and are becoming increasingly applicable in growing security and connectivity environments such as safe city initiatives, IoT applications and intelligent building automation.
The alliance's six profiles cover the fundamental features in use in IP-based video surveillance and IP-based access control systems, as well as a growing list of more sophisticated functionalities in demand by the market. Profile S, for video streaming and configuration, as well as PTZ control, audio, multicasting and relay outputs for supporting conformant devices and clients, was the first ONVIF profile released and remains the most widely used profile on the market today.
In all, ONVIF has released six profiles, which include:
• Profile S for video streaming, released in 2011.
• Profile C for IP-based basic access control, released in 2013.
• Profile G for edge storage and retrieval, released in 2014.
• Profile Q for quick installation, released in 2016.
• Profile A for broader access control configuration, released in 2017.
• Profile T (Release Candidate), for advanced video streaming, to be finalised July 2018.
From its start in 2008, the ONVIF organisation grew rapidly, attracting some 300 members and 1 000 conformant products by 2011. While the original focus was interoperability between components of an IP-based video surveillance system, the organisation announced in 2010 it would expand its scope to IP-based physical access control. With a new breadth of product choice in place, the increased membership and conformant product levels showcased the expanding reach of ONVIF in the market.
By 2015, ONVIF had grown to more than 5 000 conformant products and, between 2016-2017, the organisation saw its largest increase in membership in a two-year span. This year, ONVIF is preparing to exceed 10 000 products that conform to its profiles.
"The demand for connectivity between IP-based devices will continue to skyrocket, as industries begin to realise the efficiencies and actionable data produced by connecting IP devices within their organisation," according to Björkdahl. "This aligns well with the vision of ONVIF, that all security systems will one day share a single interface, and we are eager to help the industry realise this vision within our next decade."
Further information about ONVIF conformant products, including the vendors and the conformant models, is available on the ONVIF website: www.onvif.org
Further reading:
FortiGuard labs reports disruptive shift of cyber threats
Issue 1 2021 , Editor's Choice
Threat intelligence from the second half of 2020 demonstrates an unprecedented cyber-threat landscape where cyber adversaries maximised the constantly expanding attack surface to scale threat efforts around the world. Adversaries proved to be highly adaptable, creating waves of disruptive and sophisticated attacks.
Read more...
---
The year resilience paid off
Issue 8 2020 , Editor's Choice, Security Services & Risk Management
Hi-Tech Security Solutions spoke to Michael Davies about business continuity and resilience in a year when everything was put to the test.
Read more...
---
Retail solutions beyond security
Issue 8 2020, Axis Communications SA, Technews Publishing, Hikvision South Africa , Editor's Choice, CCTV, Surveillance & Remote Monitoring
The need for security technology to deliver more than videos of people falling or stealing from retail stores is greater than ever.
Read more...
---
Keep drivers and customer packages safe
Issue 1 2021, Technews Publishing , Editor's Choice
AURA, South Africa's security and safety platform, has partnered with The Courier Guy to ensure the safety of drivers and customer packages via a mobile panic app as well as a cutting-edge Internet-of-Things (IoT) linked panic button.
Read more...
---
Call for nominations for the inaugural South African OSPAs
Issue 1 2021 , Editor's Choice
Entry to the inaugural South African Outstanding Security Performance Awards (OSPA) is open and anyone who provides a service to the security sector in South Africa can enter. Winners will be announced in collaboration with the Securex South Africa team in June 2021.
Read more...
---
Last call for nominations for the South African OSPAs
Issue 1 2021 , Editor's Choice
The deadline for entries into the inaugural South African Outstanding Security Performance Awards (OSPAs) is open and anyone who provides a service to the security sector in South Africa can enter. The deadline for entries is 15 March, so don't delay.
Read more...
---
YouTube makes everyone an installer
Issue 1 2021, Bidvest Protea Coin, RR Electronic Security Solutions, ISF SFP, Rhyco Risk Projects, Technews Publishing , Editor's Choice
Hi-Tech Security Solutions posed the question: can companies do all or some of their security work in-house or is there still a need for installers and integrators?
Read more...
---
Pay-per-use AI analytics
Issue 1 2021 , Editor's Choice
IoT Revolution Technologies has come to market with a new way of managing and analysing video feeds from any cameras, even analogue cameras, in a manner and at a cost most won't believe until they see it.
Read more...
---
Six technology trends affecting the security sector in 2021
Issue 1 2021, Axis Communications SA , Editor's Choice
Looking back, we know that periods of uncertainty underscore the need for agility and an open approach to problem solving, whatever the future holds.
Read more...
---
Reset. Reboot. Redefine Business 2021.
Issue 1 2021 , Editor's Choice
It is time for organisations to reset their expectations and their goals to ensure that they can thrive in the next normal.
Read more...
---