printer friendly version
ONVIF celebrates 10th anniversary
June 2018 Editor's Choice, News
ONVIF is celebrating its 10th anniversary, capping off a decade of growth and rising influence as a provider of interoperability standards to the physical security market. Beginning with a small group of competitive manufacturers who joined forces in 2008 and growing to 500 ONVIF member companies, ONVIF continues to refine and promote its specifications for interoperability between security technology devices and beyond.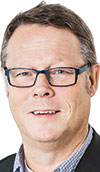 Per Björkdahl.
"We are so proud that what began as just a common mindset 10 years ago has transformed into everything ONVIF has become – a dynamic, member-driven organisation dedicated to enabling interoperability and end user freedom of choice to select products from a variety of different security technology vendors," said Per Björkdahl, chairman, ONVIF Steering Committee. "Our official recognition and global adoption by the international standardisation community, our crowning achievement, is a testament to the work of our volunteer leaders and supporting member companies and a reflection of our prominence as the leading interoperability standard within physical security today."
ONVIF was founded as a technical alliance by Axis Communications, Sony and Bosch Security and Safety Systems and today has nearly 10 000 conformant products and a member base spanning six continents and 39 countries. ONVIF specifications have been adopted by such global standards bodies as the International Electrotechnical Commission (IEC) and Cenelec and are becoming increasingly applicable in growing security and connectivity environments such as safe city initiatives, IoT applications and intelligent building automation.
The alliance's six profiles cover the fundamental features in use in IP-based video surveillance and IP-based access control systems, as well as a growing list of more sophisticated functionalities in demand by the market. Profile S, for video streaming and configuration, as well as PTZ control, audio, multicasting and relay outputs for supporting conformant devices and clients, was the first ONVIF profile released and remains the most widely used profile on the market today.
In all, ONVIF has released six profiles, which include:
• Profile S for video streaming, released in 2011.
• Profile C for IP-based basic access control, released in 2013.
• Profile G for edge storage and retrieval, released in 2014.
• Profile Q for quick installation, released in 2016.
• Profile A for broader access control configuration, released in 2017.
• Profile T (Release Candidate), for advanced video streaming, to be finalised July 2018.
From its start in 2008, the ONVIF organisation grew rapidly, attracting some 300 members and 1 000 conformant products by 2011. While the original focus was interoperability between components of an IP-based video surveillance system, the organisation announced in 2010 it would expand its scope to IP-based physical access control. With a new breadth of product choice in place, the increased membership and conformant product levels showcased the expanding reach of ONVIF in the market.
By 2015, ONVIF had grown to more than 5 000 conformant products and, between 2016-2017, the organisation saw its largest increase in membership in a two-year span. This year, ONVIF is preparing to exceed 10 000 products that conform to its profiles.
"The demand for connectivity between IP-based devices will continue to skyrocket, as industries begin to realise the efficiencies and actionable data produced by connecting IP devices within their organisation," according to Björkdahl. "This aligns well with the vision of ONVIF, that all security systems will one day share a single interface, and we are eager to help the industry realise this vision within our next decade."
Further information about ONVIF conformant products, including the vendors and the conformant models, is available on the ONVIF website: www.onvif.org
Further reading:
Constructive CCTV contributions to research
September 2019, Leaderware , Editor's Choice, CCTV, Surveillance & Remote Monitoring
Study leads to understanding that we need more recognition and reward for constructive participation in society.
Read more...
---
TAPA conference 2019 explores layered approach to security
September 2019, Technews Publishing, TAPA (Transported Asset Protection Association) , News, Transport (Industry)
The Transported Asset Protection Association (TAPA) held its annual South African conference at Emperors Palace in Johannesburg on 26 July 2019.
Read more...
---
Ensuring a seamless ultra-wideband ecosystem
September 2019 , Editor's Choice, IT infrastructure
FiRa consortium ensures an interoperable ultra-wideband technology ecosystem across chipset, device and service infrastructure through standards and certifications.
Read more...
---
The hunt for the Carbanak group
September 2019 , Editor's Choice, Cyber Security, News
Tomorrow Unlocked has released a free four-part documentary that tells the story of the notorious Carbanak APT group and its $1 billion bank heist.
Read more...
---
Genetec to integrate CylancePROTECT
September 2019, Genetec , Editor's Choice, CCTV, Surveillance & Remote Monitoring, News
Genetec has announced it is partnering with Cylance, a business unit of Blackberry, to bring AI-based antivirus protection to its appliance customers.
Read more...
---
X-rays in 3D
September 2019, XPro Security Solutions , Editor's Choice, Security Services & Risk Management
Hi-Tech Security Solutions asked Greg Dixon, director of XPro, for some insights into X-ray scanning and its pros and cons in today?s volatile world.
Read more...
---
Smart Inspection Unit developed by Roteck
September 2019 , Editor's Choice, Security Services & Risk Management
Roteck has announced a portable personnel and bag scanning unit that can easily be transported, set up and used in almost any location.
Read more...
---
Keeping our changing environment secure
August 2019 , Editor's Choice, Security Services & Risk Management
For a crime to take place there needs to be a victim and a criminal who sees an opportunity. For a cybercrime to take place we need the same set of circumstances.
Read more...
---
Augmented security with drones
August 2019, Drone Guards , Editor's Choice, Integrated Solutions
Drone Guards is moving into an untapped market of using drones to secure residential estates and other high-value assets such as mines, farms and commercial properties.
Read more...
---
The importance of real security risk assessments
August 2019, Sentinel Risk Management , Editor's Choice, Security Services & Risk Management, Residential Estate (Industry)
Andy Lawler, MD, Sentinel Risk Management, says a security risk assessment is an onerous task, but is not something estates can consider optional or a luxury item anymore.
Read more...
---