printer friendly version
FDIA membership
February 2017 Associations, Fire & Safety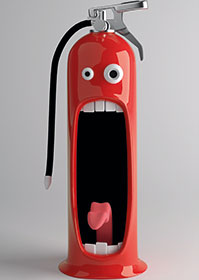 There is a need for some sort of rules, written or verbal, if a group of people is to live harmoniously together. It is to this end that the FDIA was formed in 1999, to provide some guidelines and self-regulation in the industry where companies conduct their business in the field of the installation of fire detection and suppression systems. The FDIA is continuously uplifting the standards in the industry by the various functions and services the association provides to its members and the industry at large.
Membership is open to any company which gains its income from, or has an interest in, the supply, design, installation or servicing of fire detection systems, gaseous extinguishing systems or evacuation systems. Membership to the FDIA is for companies and not individuals. The FDIA website www.fdia.co.za provides the requirements and cost implications for companies wishing to join the association or maintain their membership with the association.
Members are provided with the current standards in the industry and encouraged to attend the various approved and accredited training courses that are available all year round. Each year in February, the FDIA holds its Annual General Meeting (AGM) where new committee members are elected and the various issues affecting the association and industry are discussed and deliberated upon.
The FDIA has in the recent past made it easier for new companies to join the association by requiring only one inspection of their installation to be carried out, instead of three inspections as was previously the case. Although after joining one must still have at least three inspections done in order to renew and maintain the membership.
Inspections for fire detection and suppression installations are an important aspect to obtain and maintain FDIA membership though it can sometimes be a daunting experience for companies, it is akin to sitting for an exam or going for a job interview. The main reason for inspections is to ensure that the installation is up to standard and the system will work as it was intended.
If there are any non-compliances, either minor or major ones, they are noted in the report issued to the installer and the installer is advised on how to rectify them. The FDIA is in the process of considering a service division for companies that are doing more of service/maintenance work than installations. The service division inspections will ensure that systems are serviced and maintained as per the required standards.
The FDIA has also been regularly sending out newsletters to its members, consultants in the industry and interested end-users, to keep them updated on developments in the industry on various topics regarding fire detection and suppression systems.
FDIA members recognise the responsibility to have integrity and maintain high standards of the work they do which is to protect life and property by the systems that are being installed. That is why all members are required to abide by a code of ethics which they receive and sign on acceptance of membership.
The benefits for companies to become FDIA members is therefore evident as it most importantly shows the seriousness and commitment that a company has for the work they are doing.
The benefits for end-users is even greater when they use the services of FDIA registered members as they are guaranteed that they are getting value for their money. The risk involved in using a non-FDIA company is much greater than the money one may think they are saving by using a company that does not have to abide to any code of ethics or follow any standards or rules.
We therefore encourage companies that are installing fire detection and suppression systems to take a step in the right direction and make an effort to join the association. We currently have a membership of 44 companies and several pending applications. Membership is increasing as more companies realise and appreciate the benefits of becoming an FDIA member company.
End users and consultants have seen the quality of work and integrity of FDIA member companies and they prefer to use companies that have an active membership with the FDIA.
Feel free to contact FDIA via email fdia@fdia.co.za
Credit(s)
Further reading:
Fire Beam Xtra covers up to 160 metres
October 2019, Technoswitch , Products, Fire & Safety
The Fire Beam overcomes traditional beam detection challenges where building movement and accessibility made beam detection unreliable and laborious to commission and maintain.
Read more...
---
Emergency voice communication system
October 2019, Technoswitch , Products, Fire & Safety
The Technoswitch Emergency Voice Communication Systems concept offers fire telephone and disabled refuge systems, as well as integrating emergency assist alarm systems in a single solution.
Read more...
---
Fast detection of smoke and flames
October 2019, Bosch Building Technologies , Editor's Choice, CCTV, Surveillance & Remote Monitoring, Fire & Safety
Video-based fire detection AVIOTEC from Bosch has been optimised for tunnels to provide early and reliable detection of smoke and flames in these dark environments.
Read more...
---
A balanced, fair industry
October 2019 , Residential Estate (Industry), Security Services & Risk Management, Associations
PSiRA is focused on supporting the effective promotion and regulation of the private security industry.
Read more...
---
Choosing the right fire detection system
August 2019, FDIA (Fire Detection Installers Association) , Fire & Safety
Charles Thiong'o from the FDIA highlights important factors to consider when choosing a fire detection system.
Read more...
---
Service station security basics
June 2019 , Associations, Integrated Solutions, Retail (Industry)
It comes as no surprise that the petroleum and retail industries are targeted by criminals as these businesses receive, to a great extent, cash in exchange for their products and services.
Read more...
---
Magtouch Electronics joins ESDA
June 2019, Magtouch Electronics , Associations, News
Magtouch Electronics, a manufacturer of high-tech monitoring systems for the security and cleaning industries has joined ESDA, the Electronic Security Distributors' Association.
Read more...
---
Access wherever you are
June 2019, ADI Global Distribution , Associations, News
ADI Global Distribution, a South African distributor of security and fire technology products has joined ESDA, the Electronic Security Distributors' Association.
Read more...
---
Manufacturer and distributor of security products
June 2019, DTS Security Products , Associations, News
DTS Security Products, a South African manufacturer and distributor, recently joined ESDA, the Electronic Security Distributors' Association.
Read more...
---
Linear heat detection systems
June 2019, FDIA (Fire Detection Installers Association) , Fire & Safety
A linear heat detection system is a stand-alone fire detection system used for detecting heat from fires. The cable can be run from distances of up to 8 kilometres dependent on the type of cable installed.
Read more...
---