printer friendly version
Free-to-use solar score for South African homes
Issue 8 2022
Editor's Choice
Escalating loadshedding has South African homeowners looking to solar power as a means to secure their home's electricity supply. While many homeowners start by looking at cost and system sizes, Standard Bank recommends an alternative option, namely, to look at whether your property is feasible for solar power, as well as the electricity output you could expect from your specific conditions.
With this in mind, Standard Bank's home efficiency platform LookSee.co.za has worked with Riskscape, a geospatial actuarial solutions provider, to develop a new, free-to-use, online Solar Score for South African homeowners which takes your individual property conditions into account in determining solar power feasibility. The LookSee Solar Score is one of the first of its kind to provide this level of insight into South Africa's residential properties.
Standard Bank's head of digital and eCommerce, Andrew van der Hoven explains: "South Africa offers excellent conditions for solar power, but this does not mean that the conditions of every property are excellent. For instance, your neighbour may be able to go completely off the grid, or, where the regulations allow, will be able to sell electricity back into the grid, while your house may only support a medium-sized solar system with lower production potential."
There are a variety of factors which determine whether a solar installation is feasible for a particular home. The first factor is the cardinal direction of the various roof panes, as only the sides that are facing a northerly direction will get enough direct sunlight hours. This is followed by a calculation of the roof area to establish how many panels can be supported on the optimal panes or sides, as well as the slopes of these panes. Horizontal irradiance, which measures the radiant power from sunlight for your specific location in South Africa, and shady conditions from surrounding buildings or vegetation, also play a role in establishing how much electricity can be generated from a solar power system.
"We've established that one of the biggest challenges for homeowners looking at solar power is the difficulty in finding out whether solar power will work efficiently for their homes. System prices may be comparable, but the amount of power that will be generated from the same system varies from property to property. This is why LookSee has worked on developing a Solar Score that helps homeowners understand what they can reasonably expect from a solar investment in their property," explains van der Hoven.
Simple but effective
The LookSee Solar Score is South Africa's first, free-to-use, online solar scoring system that combines geospatial data, mathematical algorithms and a selection of technologies to generate a 3-dimensional grid of a house located in South African, including the height of surrounding buildings and vegetation.
Despite the complexity of the system's supporting technology provided by specialist data partner, Riskscape, the LookSee Solar Score is remarkably easy-to-use and only requires that homeowners enter their full home address into the search field. The system then analyses the property against the various solar factors to calculate a feasibility and efficiency rating.
These ratings result in a Solar Score out of 100: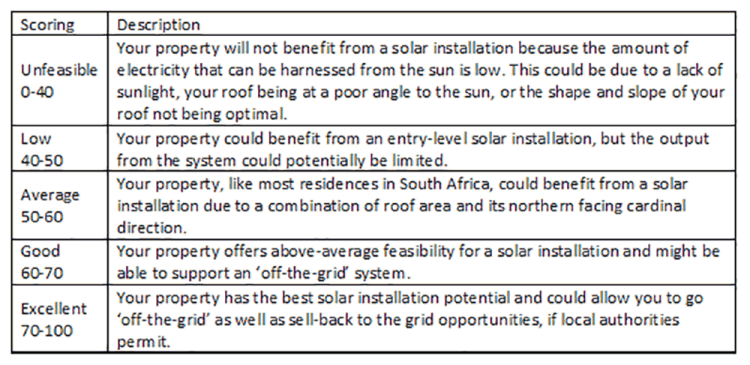 The Solar Score also provides insight into your usable roof area, the average number of sunny days in your area and the amount of electricity in kilowatt hours you could expect to generate over the space of a month and a year.
An annual electricity production calculator is also included, providing an estimation of the Rand value of the energy produced by a solar system installed on your home. The scale allows you to see how this energy production adds up as you move from 1 year all the way up to 25 years.
"It's information like this that can help homeowners make educated decisions on a solar investment based on how much electricity can be generated from their roofs. This is far more useful than working off the maximum electricity a solar system can generate in perfect conditions," says Van Der Hoven.
Find out your Solar Score at https://www.looksee.co.za/property/solarscore
Please note that the Solar Score is currently available for the large Metro's in South Africa, excluding sectional title properties (Johannesburg, Durban and Cape Town), sectional title and other cities and towns being added during 2023.
Credit(s)
Further reading:
A closed security concept for test halls and perimeter
Dallmeier Electronic Southern Africa Editor's Choice
At its factory facilities in Vilsbiburg, Germany, Flottweg SE relies on tailored video security technology from Dallmeier for perimeter security and workplace safety.
Read more...
---
What to do in the face of growing ransomware attacks
Technews Publishing Cyber Security Security Services & Risk Management
Ransomware attacks are proliferating, with attackers becoming more sophisticated and aggressive, and often hitting the same victims more than once, in more than one way.
Read more...
---
Texecom launches the Midnight Black Collection
Technews Publishing Perimeter Security, Alarms & Intruder Detection Products
Working in harmony with darker environments, the Midnight Black Collection has been created for businesses and sites that require or prefer a security solution which offers discreet protection that compliments their surroundings.
Read more...
---
SAN market set for growth
Technews Publishing News IT infrastructure
Storage-area network (SAN) market to hit US$ 26,86 billion in revenue by the end of 2029 due to factors like widespread adoption of Hybrid SAN-NAS solutions.
Read more...
---
Optimising remote technical support
Technews Publishing Asset Management, EAS, RFID Products
Sanden Intercool Kenya improves efficiency, removes manual processes with FIELDForce from MACmobile, making its technical backup and support staff more productive, while also optimising record keeping.
Read more...
---
Advanced server performance and energy efficient design
Editor's Choice IT infrastructure Products
Dell PowerEdge server portfolio expansion offers more performance, including up to 2.9x greater AI inferencing while Dell Smart Flow design and Dell Power Manager software advancements deliver greater energy efficiency.
Read more...
---
CA Southern Africa unmasks container security
Technews Publishing IT infrastructure Cyber Security
Adoption of software containers has risen dramatically as more organisations realise the benefits of this virtualised technology.
Read more...
---
Gallagher to showcase new Controller 7000 single door
Technews Publishing Access Control & Identity Management Products
Gallagher will be showcasing its latest access control innovation, the Controller 7000 Single Door on its stand at Intersec Dubai from 17-19 January 2023.
Read more...
---
Fast, reliable and secure cloud services
Technews Publishing Editor's Choice Cyber Security IT infrastructure
Security and speed are critical components of today's cloud-based services infrastructure. Cloudflare offers a range of services supporting these goals beyond what most people think it does.
Read more...
---
Fire-fighting force at Vergelegen
Editor's Choice Fire & Safety Residential Estate (Industry)
Vergelegen wine estate in Somerset West, and its neighbours, are set to enjoy greater peace of mind this summer, thanks to the delivery of a brand new fire truck .
Read more...
---