printer friendly version
Securex 2005
April 2005
Conferences & Events
Securex 2005, which took place at the Sandton Convention Centre from 2 to 4 March, proved to be a success for everyone concerned. Organisers, Exhibitions for Africa, viewed it as one of the best Securex shows to date - with a sold out hall and close on 5400 visitors over the three days. Of these, 47% either influenced or made the buying decision and 44% were visiting to discover or purchase new products.

Quality and innovation drew attention to stands
Stand awards
The Best Stand Awards for the show were handed out at a cocktail party on the Thursday night. In the Small Stand category, the awards went to Bandit Vehicle Security and Impro Technologies as runners up, EMS and MMA Fencing as highly commended, and Hydro Door as the winner.

Bandit, runner-up in the Small Stands category

Runner up in the Small Stand category
In the Medium Stand category, the runners up were Sanyo, Geotab and All Technologies, while Centurion Systems and Transaction Control received highly commended and TRibpt emerged as the winner.

Medium Stand category winner, TRibpt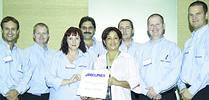 Medium Stand category runners-up, GeoTab

Visitors to the GeoTab stand drive the software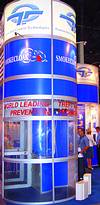 Transaction Control Technologies' Smokecloak demonstration cubicle
In the Large Stands, Bosch and Panasonic received Runners Up certificates, GE International walked away with Highly Commended, and Reditron took the Winner's Award home. For the first time ever, Securex organisers also presented an 'Excellence in Exhibiting' award for overall exhibition branding and presence which, this year, went to Elvey International.
Reditron, winner of the Large Stand category

Elvey hosted some of its suppliers on the company's stand
Securex 2006 took place at the Sandton Convention Centre from 1 to 3 March.

C-Track's eye-catching stand
Comments from exhibitors
Jack Edery, Elvey Security Technologies: "We found the show to be very successful and we got a lot of leads. Winning the stand award was inspiring, too. One thing we did notice, however, is that one hall was just too small, we believe that having the show in two halls will be a better idea."
Niall Beazley, Vision Catcher: "This year's show attracted good numbers of visitors highly relevant to my market and we picked up some interesting leads. The awards dinner on the first night was a good idea and breakdown on the Friday night an even better idea. All in all, the show was good for us."

Vision Catcher caught the eye of many a visitor
Rosemary Cowan, SASA: "Securex 2005 was one of the best ever, certainly for us anyway. The SASA Village was very successful, the workshops went well and the calibre of visitor was excellent."
Shaun Stanley, Doculam: "The show attracted a high quality of visitor, most of whom were decision makers."
Nigel Graham, Dortech: "Securex 2005 proved to be the ideal launch pad for a whole host of really innovative new products."
Anthony Rosenbaum, CMT Trading: "This year was definitely the best in terms of organisation and the quality of visitor attending the show, one of our overseas principals who attended Securex for the first time commented that the show was better than a number of exhibitions he had attended in Asia and Australia."
Dawood Moolla, MMA: "Everyone is here. If you want to be seen as a part of the industry, you have to be here."
Tinashe Hove, Changing Tides Security: "Securex 2005 provided us with excellent exposure and as a result we plan to expand our business premises."
Robin Greve, TriBPT: "Presence is very important. You need to be here if you are in the industry."
John Loftus, Reditron: "The best Securex that we have ever exhibited at!"
Aldean Prior, Exhibitions For Africa: "The new branding, intensified marketing, innovations such as the SASA Village, and new sponsorships and sales efforts all contributed to the success of the 2005 show and we can only get better in those to come."

Honeywell introduced ADI to the local market
With an incredibly high number of exhibitors rebooking their stands following on from their successful participation this year, and enquiries pouring in already, it is clear that Securex is looking forward to even greater things next year, when the show will expand into Hall 2 for its run at the Sandton Convention Centre from 1 to 3 March.
Celia Champion welcomes a visitor to the Stallion Security stand
For more information contact Aldean Prior, Exhibitions for Africa, 011 886 3734.

Gary Jones of Sagem demonstrates the art of biometrics
Alltech shows off its range of turnstiles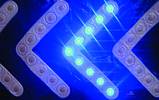 Flashing safety clothing was on display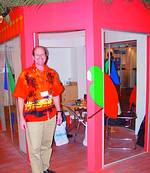 Aloha Earle Wainstein of Powerhouse Electronics
Credit(s)
Further reading:
SMART Surveillance Conference 2023
Technews Publishing Editor's Choice CCTV, Surveillance & Remote Monitoring Conferences & Events
Some people think the future is all about cloud technologies, but the SMART Surveillance conference demonstrated that AI is making edge surveillance much more attractive, over distributed sites, than ever before.
Read more...
---
Milestone celebrates women in security
Milestone Systems Technews Publishing Editor's Choice News Conferences & Events
The Milestone Systems' African team wanted to express their appreciation for the incredible contributions of the women in the security industry and held a breakfast in honour of the hard-working women in the industry on 8 August.
Read more...
---
Record number of visitors attend Securex South Africa 2023
Technews Publishing Securex South Africa Editor's Choice News Conferences & Events
The turnout at Securex South Africa, held from 6 to 8 June 2023, was staggering, with a record number of 6401 Securex visitors crossing the threshold at Gallagher Convention Centre in Midrand.
Read more...
---
Connecting the ecosystem
Axis Communications SA Technews Publishing Conferences & Events CCTV, Surveillance & Remote Monitoring
The Connect by Axis function was aimed at discussing the latest solutions, technologies, and strategies shaping the surveillance industry's future with customers and partners.
Read more...
---
Dahua AIoT Summit 2023
Dahua Technology South Africa CCTV, Surveillance & Remote Monitoring Conferences & Events
Dahua Technology's annual summit recognised the company's partners and highlighted a variety of new products and solutions the company has on offer to specific verticals and the market in general.
Read more...
---
Robots: a security opportunity or a threat?
Editor's Choice News Conferences & Events
Professor Martin Gill, Director of Perpetuity Research & Consultancy International and the School of Criminal Justice at the University of South Africa (UNISA), will be holding a Global Thought Leadership Security webinar on 22 June 2023 to discuss the contentious issue of robots operating in the security industry.
Read more...
---
UNISA sponsors Securex seminars
Editor's Choice News Conferences & Events
As part of UNISA's 150-year birthday celebrations, UNISA has sponsored the Securex Theatre Seminar Programme, which will include a number of prominent industry specialists, academics and security practitioners focusing on a number of themes.
Read more...
---
Facilities Management Seminar Theatre
Securex South Africa News
The free-to-attend Facilities Management Seminar Theatre, powered by Broll, delivers information on the latest market trends, thereby keeping attendees up to date on solutions and technology centred on increasing facility system optimisation.
Read more...
---
The latest security trends at Securex South Africa 2023
Securex South Africa News Conferences & Events Training & Education
Security technology evolves at a blistering pace, so it's important to keep up to date with changing trends in order to ensure maximised safety of human and personal assets. The Securex Seminar Theatre, powered by UNISA, is the place to be.
Read more...
---
The conduit to fire detection compliance
Securex South Africa Conferences & Events News
To be held at the Gallagher Convention Centre in Midrand from 6 to 8 June 2023, Firexpo 2023 will include a line-up of trending technology and services, centred on ensuring the safety of a building's occupants.
Read more...
---