printer friendly version
The South African Institute of Security
June 2010
Associations
Established in 1978, the South African Institute of Security (SAIS) aims to promote individual professional competence in the security industry and to support the maintenance and enhancement of this competence by security professionals.
This includes the professional recognition of security practitioners through skills development – Sector Safety and Security Training and Education Authority and diplomas/degrees through the University of South Africa (UNISA).
Terry Scallan is currently the chairman of SAIS, with Errol Peace the vice chairman.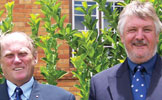 Terry Scallan and Errol Peace
Membership is open to all security practitioners who qualify in terms of the requirements of the institute. Grades of membership are Fellow, Member, Graduate, Junior Graduate and Student. Non-security practitioners may apply for Associate Membership.
Benefits of membership
* Independent and objective evaluation of your status as a security professional according to the membership grades of the institute.
* A variety of networking opportunities within the Private Security Industry through: regular lunch seminars with high profile speakers, annual dinner, annual golf day, annual bowls day and topical workshops.
* Regular communication with members regarding training, education and development, and other issues that affect the security industry.
* Being a member of a professional body within the security industry.
* Access to the latest information regarding security training, education and development in South Africa and internationally.
Recognition
The latest news from Terry Scallan is that SAIS is to apply to be recognised as a professional body.
On 21 April 2010 the South African Qualifications Authority (SAQA) hosted representatives from the professional body community for a consultative meeting at Kopanong Conference Estate. The purpose of the meeting was to inform the sector, and allow opportunity for input, about the proposed process that will be followed to develop policy and criteria for the recognition of professional bodies (for the purposes of the NQF Act) and registration of professional designations on the National Qualifications Framework (NQF).
The meeting was attended by more than 250 people, representing more than 90 professional bodies, the Departments of Higher Education and Training, Science and Technology and Human Settlements, as well as HESA, QCTO, Umalusi, CHE, BUSA, Palama and 14 SETAs. The meeting included constructive debate on SAQA's proposal based on presentations made by SAQA, a statutory professional body (ECSA) and a non-statutory professional body (SAICA).
Following this meeting, SAQA invites both statutory and non-statutory professional bodies to nominate representatives to serve on a Reference Group. The Reference Group will provide expertise and advice to SAQA on the draft policy and criteria for the recognition of professional bodies and the registration of professional designations.
Contact details
Website: www.instituteofsecurity.co.za
E-Mail: SAIS@tiscali.co.za
Telephone: +27 (0)11 454 5950,
Facsimile: +27 (0)11 454 6048,
Administration manager: Rosemary Cowan Hon MIS (SA).
Further reading:
Making the local OSPAs work
Editor's Choice News Associations
Entries to the 2023 South Africa Outstanding Security Performance Awards (OSPAs) will close on the 18th April, so do not delay in preparing your nominations.
Read more...
---
ESDA's annual charity fundraiser
ESDA(Electronic Security Distributors Association) News Conferences & Events Associations
The ESDA Annual Charity Fundraiser, part of the Electronic Security Distributors Association's Golf Day, will take place at Benoni Lake Golf Course on Wednesday, 21 September 2022.
Read more...
---
FFETA Charity Golf Day raises R100 000 for Children of Fire
Fire Fighting Equipment Traders' Association Editor's Choice News Associations
At the recent charity golf day hosted by FFETA (Fire Fighting Equipment Traders' Association), an amount of R75 000 was raised for Children of Fire. FFETA rounded this up to R100 000, which went directly to the charity.
Read more...
---
ASIS International appoints first president from South Africa
Technews Publishing Editor's Choice News Associations Training & Education
Malcolm C. Smith has been appointed as the 2022 president of ASIS International, the first president of the organisation from Africa as well as South Africa.
Read more...
---
SAQCC Fire and the need to ensure compliance
SAQCC (Fire) Fire & Safety News Associations
One of the fundamental objectives of SAQCC Fire is to establish the necessary procedures for the education, training and registration of all appropriate personnel actively involved in the fire industry.
Read more...
---
Tips for women to build a career in cybersecurity
Associations
Representation of women in the cybersecurity industry has grown over the past years and while this is positive, there is still room for improvement.
Read more...
---
Leaders in risk & security: Honesty and no BS!
Associations
Tony Botes has had a long career in the South African security industry from owning his own security company to now being the national administrator of SASA.
Read more...
---
A balanced, fair industry
PSIRA (Private Security Ind. Regulatory Authority) Residential Estate (Industry) Security Services & Risk Management Associations
PSiRA is focused on supporting the effective promotion and regulation of the private security industry.
Read more...
---
Service station security basics
Associations Integrated Solutions Retail (Industry)
It comes as no surprise that the petroleum and retail industries are targeted by criminals as these businesses receive, to a great extent, cash in exchange for their products and services.
Read more...
---
Magtouch Electronics joins ESDA
Associations News
Magtouch Electronics, a manufacturer of high-tech monitoring systems for the security and cleaning industries has joined ESDA, the Electronic Security Distributors' Association.
Read more...
---