printer friendly version
Retail Risk review
April 2008
News
Retail Risk 2008, the retail security conference hosted by Technews Publishing, and endorsed by the Consumer Goods Council (CGC) South Africa, was held in Cape Town on 26 February, in Durban on 28 February and in Johannesburg on 4 March.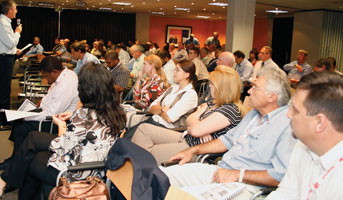 Conference attendees
The speakers at the conference came from a variety of companies that service the retail sector, and brought with them a wealth of expertise and market knowledge. Their presentations aimed to provide attendees with real knowledge they could immediately apply in their organisations.
Retail Risk 2008 provided delegates with a strategic overview of retail risk trends globally and in South Africa, and covered global best practices in dealing practically with retail risk and security, while examining a real-world implementation of security technologies, solutions and services.

Buddy Anderson and Errol Peace attended the conference in Johannesburg
Overview of the conference
Susan Potgieter, general manager of the Commercial Crime Office at the South African Banking Risk Information Centre, chatted about commercial crime in the retail sector, she works at SABRIC which does research into the banking fraternity she pointed out why criminals target the retail sector and highlighted a few types of crime including ATM crime, cheque and credit card crime, ending off with a number of practical tips for businesses on how to protect themselves against cheque and credit card crimes as well as against ATM related crimes. It is interesting to note that cheque and credit card crimes are increasing from month to month and that the South African economy is losing hundreds of millions of rands to cheque and credit card fraud.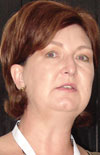 Susan Potgieter
Jenni Irish Qhobosheane, project manager at the Shopping Centre Security Initiative, addressed violent crime at shopping centres. The salient point she made was the need for all stakeholders - shopping centre owners, tenants and public policing forums to work together in addressing crime. The Shopping Centre Security Initiative works closely with CGC CPC and BAC as well as law enforcement to try and work at a strategic level in the reduction of crime and Jenni highlighted many of the issues they are grappling with and tackling.
Richard Philips, managing director of Cash Connect Management Solutions, focused on 'Cash handling in South Africa's ever-changing landscape'. Effective cash management reduces the vulnerability of a business to acts of violent crime because if the amount of cash is minimised then the rewards for criminal activity diminish and cash is seen as a major aspect in reducing the propensity for violent crime within a retail environment. Richard spoke about cash handling, highlighting the fact that cash is a reality in the South African context - that we are not a cashless society and we are unlikely to be a cashless society for quite some time. He told the attendees what cash is being spent on and where it is being spent and clearly retail is the primary recipient of our cash, which is in turn the primary target of crime. He also explained the cost to retailers of cash and managing cash, and of securely transporting cash and the risks associated with that. He pointed out that only about 6% of retail outlets using automated cash management techniques.
The conference topic then turned to the application of technology in reducing shrinkage.
Jan Schoeman, director: technical and operations at Retail Business Intelligence, focused on how to implement a shrinkage management platform within a retail environment. He defined shrinkage, outlined the impact of shrinkage on a retail business and then focused on managing shrinkage that is under the retailers' control - by means of technology including surveillance, T&A, biometrics, shrinkage management platforms - but the key message was that if these systems and solutions are not integrated so that businesses can get real analytics out of them, then they would end up with white elephants and technology and installations that were not going to meet their requirements.
Bryan McDermott, business development manager of the retail division of i to i technologies, gave a presentation on retail market trends. The emphasis here was less on the South African market and more on global trends and the impact that these global trends will have on the local market. He highlighted the fact that the reality of retailing is that it has moved from manufacturers having the power, to the retailers having the power, to the consumers being in the power seats now, and retailers have to understand the power of the consumers and how to use technology to harness that power to ensure that they do business with these very savvy and very mobile consumers.
Gary Jones, managing director of Ideco Biometric Security Solutions, spoke about biometrics in retail and commented after the conference: "We received excellent feedback from delegates about the in-depth educational information provided about biometrics. The information was viewed as empowering retailers to accurately assess and compare different biometric techniques and solutions.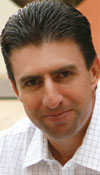 Gary Jones
"The conference also provided an excellent platform for our certified partners to engage with existing and potential retail clients.
"Exposure to the industry leaders in different technology aspects means they are less likely to select the wrong technology and suppliers in those areas. "This means that their budgets will be more efficiently spent.
"Unfortunately bad spend in one area of technology typically has a ripple down negative effect on other projects. Hence for all parties involved at Retail Risk, I feel there was a level of comfort that end-users were being guided by the best, to select only the best.
"While our biometric solutions are the selected standard in the majority of major retailers, the conference was still extremely beneficial for the following reasons:
"The variety of people from different operational backgrounds in retail gave us the opportunity to demonstrate more diverse usage of fingerprint biometrics within the retail space, including: automated criminal background checks; in-house forensic investigations; biometric login to key systems; access control and building management; T&A and payroll management; client identification systems; client payment and credit authorisation; client loyalty and membership management; and introducing biometrics into traditional customer credit and debit cards."
Michael Broughton, director at the Consumer Goods Council, also had favourable comments on the conference. "The realisation that crime is a serious problem in South Africa, is evident in the eager participation and keen involvement of industries to explore ways to combat the problems that arise to challenge us businesses, as seen at the Retail Risk 2008 Conference.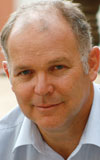 Michael Broughton
"The agreement between business competitors that crime is a non-competitive issue, the collective sharing of experiences and expertise in order to find new methods and technologies and implementing these in their environments, testify of and confirm collaboration.
"Retail Risk 2008 boasted with a range of accomplished speakers who are also industry players that included vendors, suppliers, service providers and users. Also with new technology, new processes and procedures, approaches as well as existing successful methodology to mitigating crimes.
"Every delegate had the opportunity to learn and take away practical lessons and apply them in their own businesses, whether service provider, vendor or user.
"Delegates met with the speakers and were able to explore ideas and challenge solution applicability in their environment.
"The response to the launch of this event was met with enthusiasm and positive feedback as well as suggested topics for future discussions."
Kirsten Halcrow, managing director of Employers' Mutual Protection Service, was a member of the panel for the Q&A session. "The event seemed to be very well received from what I observed. There was up-to-date, relevant content for the retailer. I think that it created an opportunity to get out of the day-to-day running of business and get some great information that was thought provoking and gives one something to go back and think about.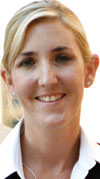 Kirsten Halcrow
"I think that the retail market does not open itself up to new ideas and even new suppliers, they are very stuck in their comfort zones and need to be shown new and interesting technologies, products and ideas that can give retailers a fresh way of thinking. The challenge is to get a better representation from all retail chains.
"I believe the issue of employment screening was very well accepted and there was immediate agreement that as long as retailers do not pay careful attention to who they hire, they are increasing the risk posed to their business. Good hiring practices and due diligence when employing is a retailers first line of defence against crime. All the technology in the world will be useless if you are employing criminals."
Konrad Weinert, sales leader: Africa at Honeywell Systems Group, highlighted the use of CCTV as a business tool, security and more.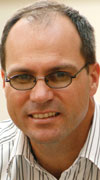 Konrad Weinart
Roy Alves, country manager for Axis Communications South Africa. Alves' presentation on 'Advantages of IP' focused on the benefits of going to an IP network video system, highlighting the benefits of megapixel IP cameras, managing a single network cable with power over Ethernet to an IP camera with no loss in picture quality. One of the points that he made was that while IP and network video is certainly growing four or five times faster than analogue CCTV, analogue CCTV itself also continues to grow. So, broadly, surveillance as a whole is a rapidly growing market. "Retail Risk was a useful forum to highlight the new technologies to people in the retail risk business, usually it is very difficult or challenging to get the opportunity to talk to them on new technologies - a lot of these companies have a standard for the CCTV, and usually the companies that provide the solution are not necessary educating them on the new technologies, this forum now provides them with information that questions their existing system.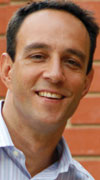 Roy Alves
"I think it is important that the retail market get exposed to new techniques and this conference was the forum to get that information across to them."
Kevin Monk, managing director of Technisec Security Specialists, presented on 'The implementation of IP in retail and distribution'. He stressed the importance of end-users taking more responsibility for how they vet their suppliers and their integrators; and that they have to have a vetting policy in place. This policy would be to ensure that the suppliers and integrators have business compliances, occupational health standards compliance, certification by their suppliers, a national footprint etc, and that they can supply multiple reference sites that are meaningful to customers.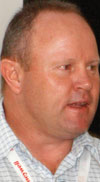 Kevin Monk
Michael Brett, new business manager at Elvey Security Technologies, talked about IP-based alarm management, making mention of traditional alarm monitoring and the benefits of IP integration in alarms and the benefits of using IP as a management tool.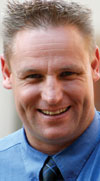 Michael Brett
Keith Alexander, risk manager of retail operations at Spar group SA, was also on the Q&A panel. "The conference highlighted the need for all segments of the retail sector to be regularly updated on available technologies with a proven track record that make economic sense which can be used in the effective management of risk in a retail/distribution environment.
Keith Alexander
"Key issues highlighted were that appropriate technology has a vital role to play in the management of shrinkage, providing checks and balances which are process and systems based - not reliant on human fallibility; and that high-quality CCTV images are indispensible in the fight against violent crime, which poses the greatest threat to the retail industry."
Overall, feedback from the delegates was good and they requested many more topics that they would like to see covered in future Retail Risk conferences, including warehouse and distribution security; protection of goods in transit; insurance; transportation; tamper-proof packaging; RFID cost, implementation and application; ATM security; dealing with SAPS following crime (crime through to conviction); shopping centre security risks; the practical role the authorities play to ensure crime is being addressed in an effective and purposeful way; stocktake methods and best practice; legal compliance; legal aspects of 'search and seizure'; management of personnel and training; environmental risk; hijacking prevention; practical case studies; CIT; and PSIRA requirements on alarm systems and installations.
Retail Risk will take place again next year. Please contact Vivienne Dorrington of Technews re Retail Risk 2009.
Credit(s)
Further reading:
Unrecoverable encrypted data
News Cyber Security
Cybersecurity research indicates that 76% of organisations admit to paying ransomware criminals, however, one-third are still unable to recover data.
Read more...
---
Kaspersky invests in development of neuromorphic processors
News IT infrastructure
Neuromorphic processors' field of application is acceleration of the hardware used in the latest generation of artificial intelligence systems, which are based on spiking neural networks (SNN) training, which is more akin to biological interactions.
Read more...
---
Security BIS named AxxonSoft's Distributor of the Year 2021
News CCTV, Surveillance & Remote Monitoring
With its focus on AxxonSoft solutions and technical support, Security BIS secured the title of AxxonSoft Distributor of the Year again for 2021.
Read more...
---
Infinidat enhances channel support
News IT infrastructure
Infinidat drives go-to-market strategy with new global partner portal and expands channel sales with Storage-as-a-Service in ArrowSphere.
Read more...
---
Are you your insider threat?
Technews Publishing Editor's Choice Security Services & Risk Management Commercial (Industry)
Insider threats are a critical aspect of risk management today, but what happens when it is the owner of the company acting fraudulently and making sure none of his staff can catch him?
Read more...
---
The Handbook of Security's third edition has been published
News
The third edition of the Handbook of Security, edited by Perpetuity Research director Martin Gill, has been published, containing 45 contributions from leading global scholars.
Read more...
---
GJD announces new SMT Machine
News Perimeter Security, Alarms & Intruder Detection
GJD will now be able to complete the manufacture of its products in-house, and thereby significantly decrease the business' carbon footprint while increasing employment opportunities.
Read more...
---
Passion, drive and hard work
Technews Publishing Editor's Choice CCTV, Surveillance & Remote Monitoring Security Services & Risk Management
Colleen Glaeser is a leader in the security market, having made her mark in the male-dominated security industry through determination and hard work, along with a vision of making the world a safer place.
Read more...
---
Smart home devices market growing across META
Smart Home Automation News
The Middle East, Turkey, and Africa (META) smart home devices market continues to register significant gains on the back of increasing awareness and improving end user experiences, according to the latest insights from International Data Corporation.
Read more...
---
How to react in an armed robbery or home invasion
Fidelity Services Group Security Services & Risk Management News
How you react when faced with a nervous, gun-toting criminal can save your life, or cost you your life; all family members need to know what to do in such circumstances.
Read more...
---