printer friendly version
A market on fire
April 2017
CCTV, Surveillance & Remote Monitoring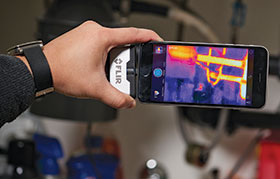 Thermal cameras have made their mark in the surveillance industry and are now in use in a variety of environments, from military installations to residential estates. But for today's needs, simply seeing a blob on the screen isn't enough.
Hi-Tech Security Solutions asked three thermal experts what was happening in the world of thermal cameras and what we could expect to see coming up in the future. In particular, we wanted to know what developments there may be in the thermal world to assist operators in finding intruders and identifying if they are human or not, providing a mechanism to track them as they move about and assist ground personnel in finding them quickly and safely.
Starting at the beginning, Mobotix AG's Bevan Vorster explains that traditional thermal imaging cameras use special sensors behind a special lens made of germanium or sapphire, which allow long-wave infrared waves to pass through, unlike the blocking nature of traditional glass lenses. "The combination of a complex sensor, precision lenses and more exacting design requirements that in some cases require special cooling units have all combined to make thermal imaging cameras run into the tens of thousands of Rand per unit, especially for ultra-sensitive models.
Moving to the more current innovations in thermals, he says the most significant advance within thermal imaging is newer generations of digital sensors that deliver the same quality as earlier models at dramatically lower cost. "Unlike video cameras that use a megapixel rating for image density and to a degree quality, thermal cameras use a Noise Equivalent Temperature Difference rating (NETD) which is expressed in millikelvin."
Gilbert Muller, from Pelco by Schneider Electric, agrees that the price of these cameras is coming down, making thermal technology more affordable with broader use than ever before. In addition, we are seeing resolutions improving, although the mainstream market is still using resolutions of 640 x 480 and below.
As thermals evolve, Muller sees more suppliers introducing dual-head cameras with two sensors, one for visible imaging and one for thermal imaging. "This has the advantage of combining the detection capabilities of thermal and the identification capabilities of visible imaging."
Ron Grinfeld from a pioneer in thermal cameras, Flir, elaborates further on the evolution of these devices, "Thermal imaging advances include image quality enhancements on the core level with better and more advanced techniques in areas such as Digital Detail Enhancements (DDE), Image Uniformity Optimisations and various modes of Auto Gain Control (AGC) including region of interest (ROI) based AGC, which is extremely important in cases where irrelevant areas within the image have negative impact on the overall quality, for instance the sky. ROI based AGC allows to exclude those areas eliminating their negative impact on the overall quality of the image and contrast levels."
He adds that new, uncooled thermal camera offerings include improved optics with functionalities that until recently were only a part of higher-end high-cost cooled models (that are commonly used for military applications) with the best example being continuous optical zoom.
Software is still the key
As useful and usable as thermal cameras have become, this market reflects the visible light camera market in that users want more. Having someone stare at a screen is not always the optimal solution for security requirements and the ability of software, either on the camera or as part of a management system, to 'do the looking' in place of humans has become a necessity in the thermal world.
Flir's Grinfeld explains that recent software enhancements are introducing new standards in thermal solution offerings, and include both camera side and server side developments.
"On the camera side, the main advances are the addition of sophisticated intrusion detection analytics that includes features such as automatic calibration, long-range detection capable of dealing with sophisticated intrusion scenarios, and target handoff from stationary thermal cameras to multi-sensor PT systems that can lock on the moving targets and autonomously track them while operating their pan and tilt engines (PT auto-tracking)."
On the server side, he says there is a major shift to end-to-end solution offerings that not only provide seamless integration points and certified procedures for analytics alarm and event management, but also offer a superior user experience. Some of these experiences include bulk configuration of the thermal and analytics settings from the VMS, unique viewing modes such as Picture in Picture (PiP) with multi-sensor PT systems, and high end capabilities including 'click and track' functionalities allowing operators to click on targets within the VMS control interface, initiating PT auto-tracking.
Vorster adds that the newer generations of thermal cameras are able to generate digital images that can take advantage of decentralised technology. "This innovation allows the camera's built-in processing power and software to handle image manipulation and analysis that can generate automatic alarms defined by temperature limits or temperature ranges."
Moreover, he notes that these alarms can be triggered without the need for a centralised control room or additional software, which is vital to rapidly detect potential fire, gas or other issues that register temperature change as a danger signal.
As thermals become part of almost every surveillance landscape, Muller sees far better integration of thermals into video management systems and says the analytics used for thermals is continuing to improve. For example, power stations can use thermal imaging not only to detect intruders, but to also keep track of conditions that require preventative maintenance, which are often revealed by thermal hot spots. By addressing developing problems before failure, power providers can keep a station operational, and avoid losses to bring them back online after failure has occurred.
"When using radio-metric imaging or thermography, more systems can be configured to receive alarms. This is especially important when measuring and monitoring invisible gases and being notified when an image exceeds a target temperature."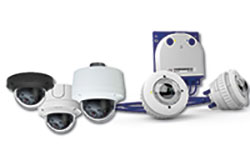 This should not be surprising, however, as Muller notes that analytics are particularly effective on thermals because there is much less noise than with visual image cameras. "This means more reliable detection of people and objects versus visible light imaging. Even in total darkness, you can get a clear understanding of threats."
Additional analytical applications that add value to thermal cameras and their users, according to Vorster, include solutions that could be applied at any time of the day, for example, in retail environments. Mobotix thermals are also able to now run functions such as people counting, or to track and provide data on the direction and speed of people and objects.
"An emerging use case is for thermal camera deployments in areas where security needs to be maintained but personal privacy is still an issue," says Vorster. "For example, on a shop floor where a traditional video security camera would be inappropriate, thermal images can still detect people and allow operators to determine if there is a problem, but without invading the privacy of individuals."
Looking ahead
When looking at what we can expect from the thermal market in the coming years, Muller says we can expect to see these cameras becoming more affordable and we can also expect to see resolution improvements.
Additionally, we have already seen an increase in combination thermal/visual cameras and we can expect more of these to hit the market, allowing operators to gain more security information from a scene. "For example, operators may use thermal imaging for situational awareness in a wide field of view and then use a visible PTZ camera to zoom in and see the detail."
Of particular interest, Muller says we should also look out for varifocal lenses on thermals in the future, as opposed to the current majority of fixed-lens devices.
From a Mobotix perspective, Vorster says that while the entry-level space of new uncooled thermal cameras is still modest, it is expected to grow rapidly. "According to IHS, uncooled thermal cameras in commercial security applications were worth $245m in 2014 and will grow to nearly $500m by 2019. As volumes increase and newer radiometric sensors, that are smaller and cheaper to make, enter the market, both the size and cost of thermal imaging cameras is likely to drop and models that include both visual and thermal within an ultra-small form factor will become more common at under the 2000 dollar price point."
Grinfeld echoes the two, noting that from an application standpoint, the current usability of thermal imaging in the security market is just the tip of the iceberg. "The glass ceiling is mainly price points of thermal cores and to some extent physical characteristics, and size.
"However, there is no question that this is only temporary since thermal core pricing and physical and size barriers are going through revolutionary breakthroughs. The result would be adaptation of thermal technology in many new applications, verticals and alternative ROIs once price points and new form factors allow."
What's available now?
Looking at the current offerings of the three interviewees, Grinfeld says Flir has a new PT-HD: multi-sensor system that combines an extreme low light, Full HD visible sensor with 30X optical zoom and a thermal sensor. This range is offered both in cooled and uncooled versions and is also available with a 4X continuous zoom lens.
Customers can also find end-to-end integration between the Flir thermal portfolio and the company's UVMS line, as well as the FC-Series ID line of fixed thermal cameras for perimeter fencing that include on-board high-end intrusion detection video analytics.
Muller says Pelco offers a full line of thermal fixed and pan-tilt cameras that are well integrated with Pelco and third-party video management systems with a full analytics suite with thermography solutions.
Finally, Vorster notes that the Mobotix S15 FlexMount is the world's first flexible dual thermal camera that has two sensor modules that can each be connected to the camera housing with a cable of up to 3 m for installation flexibility. "The S15 with thermal capability is fully waterproof and IP66 rated with a thermal sensitivity rating (NETD) of 50 mK along with a 6 megapixel optical camera available in a wide range of lens configurations."
The built-in thermal technology can provide independent temperature measurement for up to 20 zones. In addition, the camera can be set to automatically switch between thermal image where privacy is guaranteed and the optical high-resolution image where all details are visible.
"This unique Mobotix feature combines two aspects, respecting privacy and at the same time optimal video surveillance. The IP-based PoE compatible unit also has a 4 GB internal DVR which is upgradable using MicroSD cards and comes with a full software stack for VideoMotion, external signals, temperature sensor, microphone, shock sensor, notification via email, FTP, telephony (VoIP, SIP), video alarm management, Multiview and event search."
While they may not get all the attention that visible light cameras do, there can be no doubt that thermal cameras are undergoing as much technical innovation as we see in the IP world. And given the utility of cameras that are near impossible to hide from, lowering the price and decreasing the form factor will serve to make this market one that will deliver impressive growth rates for some time to come, while appealing to customers by adding value to both the security and operational functions on business.
For more information:
Flir: www.flir.com
Mobotix: www.mobotix.com
Pelco by Schneider: www.pelco.com
Refer to Hi-Tech Security Business Directory ( www.hsbd.co.za) for further details on these companies.
Credit(s)
Further reading:
Platforms and community lead the future
May 2019, Milestone Systems , Editor's Choice, CCTV, Surveillance & Remote Monitoring, News, Integrated Solutions
Milestone Systems took a look into the future of open platforms and the power of community at MIPS EMEA in Copenhagen in March this year.
Read more...
---
The consequences of false alerts
May 2019, Leaderware , Editor's Choice, CCTV, Surveillance & Remote Monitoring, Integrated Solutions
Craig Donald discusses the impact of false alarm rates on the utility of intelligent security technology systems.
Read more...
---
Does your control room add value?
May 2019, Fidelity Security Group, G4S South Africa, Progroup , Editor's Choice, CCTV, Surveillance & Remote Monitoring, Integrated Solutions, IT infrastructure, Commercial (Industry)
Whether on- or offsite, control rooms are a critical aspect of security today and care must be taken in the design and rollout of these nerve centres.
Read more...
---
Delivering greater control room value
May 2019, Cathexis Technologies , Editor's Choice, CCTV, Surveillance & Remote Monitoring, Integrated Solutions
A truly integrated security system requires that all aspects of the security system work seamlessly together, while being managed by the heart of the system, which is the control room.
Read more...
---
Security workforce management platform
May 2019, Secutel Technologies , CCTV, Surveillance & Remote Monitoring, Integrated Solutions, Security Services & Risk Management
Secutel Technologies says the South African market is excited about body-cam technology and clearly sees the potential benefits.
Read more...
---
HD PIR camera with strobe light
May 2019, Hikvision South Africa , Perimeter Security, Alarms & Intruder Detection, CCTV, Surveillance & Remote Monitoring
Hikvision's Turbo HD passive infrared (PIR) camera uses advanced video surveillance technologies to capture infrared light given off by human bodies.
Read more...
---
AI enhances intruder detection
May 2019, Dahua Technology South Africa , Products, CCTV, Surveillance & Remote Monitoring
Dahua Technology launched its new XVR series, XVR5000-I/XVR7000-4KL-I featuring full-channel SMD Plus to benefit customers with an AI upgrade.
Read more...
---
KCB Bank Tanzania
May 2019 , CCTV, Surveillance & Remote Monitoring, Products
Uniview delivered a cost-effective and intelligent solution to help KCB Bank to upgrade its CCTV system.
Read more...
---
The world's first surveillance camera day
May 2019 , News, CCTV, Surveillance & Remote Monitoring, Conferences & Events
As part of the National Surveillance Camera Strategy for England and Wales, the Surveillance Camera Commissioner is holding the world's first Surveillance Camera Day on 20 June.
Read more...
---
Control room software selection
May 2019, Intelligent Monitoring , CCTV, Surveillance & Remote Monitoring, Security Services & Risk Management
Wolfgang Kirsch discusses what customers should look for when selecting a control room management platform.
Read more...
---