printer friendly version
Dragonfruit AI launches Frontier
Issue 1 2022
Editor's Choice
Dragonfruit, developer of an advanced, cloud-based AI analytics platform, has announced Dragonfruit Frontier, a new Cloud VMS with AI analytics included. Frontier delivers a fully integrated experience, combining consumer-grade usability with enterprise-grade capability.
"Most traditional VMSs haven't kept pace with AI advances and only offer bolt-on solutions for video analytics," said Amit Kumar, Founder and CEO. "Dragonfruit is the first integrated solution for forward-looking multi-location enterprises, offering everything from video monitoring to advanced AI, all in one package. This means the industry can have 'Silicon Valley smarts' without the rip-and-replace demands."
Frontier is designed for multi-location enterprises that are not able to deploy expensive GPU hardware across all their sites (for on-premises AI) and do not have enough upload bandwidth for cloud-based AI. Dragonfruit's patented Split AI helps scale even advanced AI, like Liquid Spill Detection, to hundreds of locations while keeping bandwidth requirements low – even at 4G speeds. Pricing starts at about $1000 per location per year for 20 cameras, depending on the solution chosen.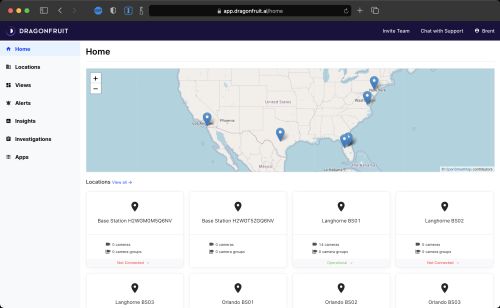 Frontier works with existing camera infrastructures and provides monitoring, occupancy management and forensic investigations across all geographies from a single pane of glass. Camera partners include Hanwha, Axis and Bosch, with support also included for any ONVIF conformant camera, RTSP feed or analogue cameras (with encoders).
Simple onsite installation and configuration
Dragonfruit's installation experience has been designed for locations without IT or security experts. The base station, which is delivered to each location for free, is simply unboxed and connected to Ethernet and power. It is then configured remotely from a browser, which reduces installation time and cost for large-scale enterprises.
The base station is built on the Apple M1 platform, providing the most advanced OS and the most cost-effective GPU performance. The Frontier VMS in included along with advanced features like video walls, access control integration and true real-time alerts (reducing false alarms by 95%).
Integrated analytics such as the Investigations app provides video search, video summaries, redaction and LPR. The Occupancy app includes counting, heatmaps, occupancy and real-time dashboards. Advanced AI capabilities include Liquid Spill detection, Slip & Fall detection, OSHA compliance and Safety Equipment detection. The AI analytics are easily added to the client's service with a click from the browser-based VMS, with pricing depending on the number of cameras used.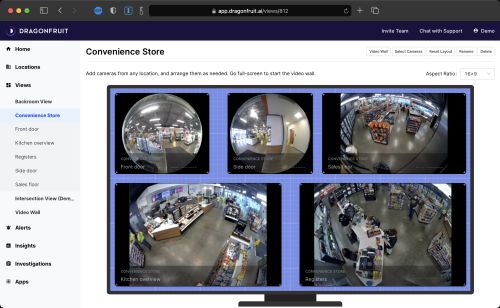 The base station hardware, licences for 20 cameras and storage (one day per camera) is included in the price. All additional analytics are available on-demand, so customers only pay for what they need, when they need it. In addition, each analytic can be moved from one camera to another with ease, without the need to contact Dragonfruit.
For companies with multiple locations, the base station is a neat and functional way to manage cameras (up to 20 for each bas station) and AI with ease. The system can automatically recognise listed cameras (such as some from Axis or Hanwha etc.). Cameras not on the list can be detected if they are ONVIF conformant for easy setup and usage.
For older or other cameras, users can enter the RTSP (Real Time Streaming Protocol) URL and the camera will be usable just as the others.
Split AI for lower bandwidth demands
While video storage of one day per camera is provided with the base station, users can purchase more cloud storage from Dragonfruit, or they can make use of the USB port on the base station to store video locally.
When it comes to making use of the AI analytics, the base station is the first port of call as it is based onsite and won't require any bandwidth usage. When the analytics on the base station detects a possible 'event', it sends the appropriate images to the cloud server where the full AI analytics are run and a result returned, either a yes or a no depending on whether the AI confirms an event. This ensures that only potential events are sent to the cloud, saving bandwidth.
The VMS allows the customer to set variety of options pertaining to what should be done when an event is confirmed, from a pop-up on the screen to an email to appropriate people etc.
"We're excited to partner with Dragonfruit," said Eric Yunag, VP Technology at Convergint Technologies, one of Dragonfruit's key integrator partners. "With Frontier, customers benefit from the streamlined integration of a cloud VMS with AI analytics. Integrating flexible computer vision capabilities like slip/fall detection and safety compliance with a video management system fulfils our customers' need to deploy effective new technology that is easy to use."
Ron Cluff, a multi-franchise owner at The Joint Chiropractic and a Frontier user notes: "As a franchise owner with multiple locations, being able to centrally manage the video across all my stores from my phone is critical. Dragonfruit provides me that global visibility, without the expensive price tag."
Dragonfruit AI has offices in US, South Africa and India and has raised $10 million in venture funding from Foundation Capital and other investors.
Find out more at www.dragonfruit.ai
Further reading:
The human factor side of video management systems
Leaderware Editor's Choice Surveillance Risk Management & Resilience
A video management system (VMS) is central to, and the most vital element to any control room operation using CCTV as part of its service delivery, however, all too often, it is seen as a technical solution rather than an operational solution.
Read more...
---
Get the basics right to win more business
ServCraft Editor's Choice Risk Management & Resilience
The barriers to entry in security are not high. More people are adding CCTV and fencing to their repertoire every year. Cowboys will not last long in a space where customers trust you with their safety.
Read more...
---
All aspects of data protection
Technews Publishing Editor's Choice Information Security Infrastructure AI & Data Analytics
SMART Security Solutions spoke to Kate Mollett, Senior Director, Commvault Africa, about the company and its evolution from a backup specialist to a full data protection specialist, as well as the latest announcements from the company.
Read more...
---
Global strength, local craft
Impro Technologies Editor's Choice
Impro Technologies is a resounding success story. Started in South Africa, the company remains true to its roots and still designs and manufactures its access control systems and solutions in the country.
Read more...
---
South Africans play a role in becoming scam victims
Editor's Choice Risk Management & Resilience
The South African fraud landscape is becoming increasingly risky as fraudsters and scammers look to target individuals with highly sophisticated scams, in an environment where it is becoming increasingly difficult for lawmakers and authorities to bring these criminals to justice.
Read more...
---
Service orientation and attention to detail
Technews Publishing Editor's Choice Risk Management & Resilience
Lianne Mc Hendry evolved from working for an accounting firm to an accomplished all-rounder familiar with the manufacturing, distribution, and system integration aspects of the security industry value chain.
Read more...
---
Are you leaving money on the table?
Editor's Choice Security Services & Risk Management
How many customers have you helped since starting your business? Where does most of your new business come from? If the answer is not from your database's existing customers, you might have a problem.
Read more...
---
Wireless fire tech offers unexpected benefits for load shedding
Technoswitch Fire Detection & Suppression Editor's Choice
For the long-suffering residents of South Africa, the policy of load shedding to help manage demand from the country's ageing and poorly maintained electrical generation and distribution system, is a major inconvenience, and it can be fatal to fire alarm systems.
Read more...
---
Consolidated cybersecurity management
Technews Publishing Editor's Choice Information Security Infrastructure
SMART Security Solutions spoke to Gareth Redelinghuys, Country Managing Director, African Cluster at Trend Micro, to find out what makes Trend stand out from the crowd and also its latest market offerings.
Read more...
---
ADI to close SA operation
ADI Global Distribution Editor's Choice
In a move that will shock the local security industry, ADI Global recently sent an email to its customers notifying them that it will cease its business operations in South Africa.
Read more...
---