printer friendly version
Platform-based access management solution
Issue 2 2021
Editor's Choice
People need different access times and entry points, and your access and security requirements change from day to day. A static solution is therefore no longer an option. Instead, a single, all-encompassing security platform should deliver connectivity, convenience and simplicity, keeping your premises secure and filtering access to manage the ever-changing movement of people.
This is where Incedo Business comes in: a new solution for all types of premises. Incedo handles security while leaving you free to focus on growing your business. Incedo ensures your employees, customers and goods are where they need to be.
Incedo makes tasks easier and more efficient for everyone, from installers to end users. Facility managers enjoy more control and flexibility than they ever thought possible, maximising return on investment with Incedo Business able to scale quickly when needed. System administrators can do more within available budgets, initiating, cancelling or amending access profiles and monitoring movement around their site in real time.
Building users, meanwhile, get the individual access times and entry permissions they need. They can move freely without compromising the security of other people and equipment. Integrators can upgrade connected technologies and systems quickly, minimising risk and meeting customers' raised expectations of modern technology. Installers no longer need to wrestle with incompatible systems: easy interoperability is built into Incedo, meaning no more delays or unnecessary complexity.
A modular approach
With Incedo's modular platform approach, you simply choose the security hardware and credentials you need and the appropriate management system option. You set exactly who can access which doors, when, from the user-friendly Incedo Business software interface. With Incedo Business, administrators can pick the most suitable options from a growing range of Incedo-enabled security and access control hardware.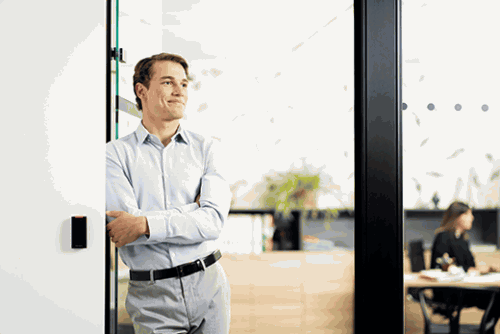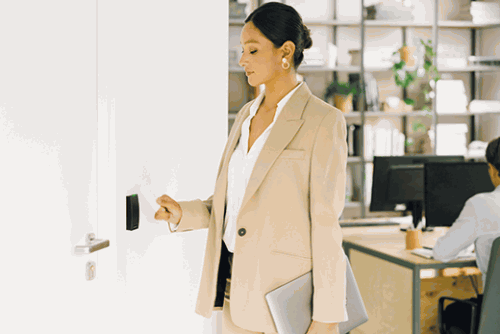 "ASSA ABLOY wireless digital locks, like the Aperio range and wired ASSA ABLOY wall readers, secure all your interior and exterior doors. All the hardware and software you need to run your Incedo system is available from ASSA ABLOY Africa," says Hayley Elwen, commercial director for digital and access solutions, ASSA ABLOY Africa.
Also already available, a choice of card and token credentials helps users enjoy safe and convenient access to, and movement around, your premises. Incedo mobile keys add the flexibility to open doors with a smartphone.
Incedo's system management options (Lite and Cloud) scale from entry level up to cloud-based administration. You can manage multiple sites and third-party integrations, including security solutions like CCTV. Scale up and down, add or remove hardware and credentials on demand or switch system management options, all within a single environment. Migration between Lite, Plus and Cloud options is always seamless in any direction, ensuring total flexibility for your business.
Incedo moves with you
However your business moves, an Incedo system moves with you. Having a flexible platform able to adapt as your organisation changes, reduces total cost of ownership, as you never need to retrain staff or start over from scratch.
New Incedo-enabled hardware from ASSA ABLOY and third-party providers will continue to be connected to, and made available within your evolving Incedo platform. You pick the hardware and software configuration you want, and can change your mind as often as you like. Incedo guarantees flexibility and scalability in every way, to meet your security needs today and in the future.
In addition, because the security and operational challenges at a university, small hotel or hospital are not the same as those faced by a public building or corporate HQ, the Incedo ecosystem will introduce new, advanced user interfaces for your specific industry.
"Incedo Business transforms the experience of using and managing a building. It is also the seed from which our Incedo ecosystem will grow in the months and years ahead," says Stephanie Ordan, vice president, digital and access solutions at ASSA ABLOY Opening Solutions EMEA. "A future where doors are smarter, connectivity and movement are seamless and access management is genuinely intelligent is our vision for Incedo and for those who will be using it."
Incedo Business embodies ASSA ABLOY's vision to create a safer and more open world, keeping everyone on the move. To learn more and download a free solution guide, visit ASSA ABLOY South Africa at https://www.assaabloyopeningsolutions.co.za/en/access-control/incedo/
For more information contact ASSA ABLOY Africa, Hayley Elwen, +27 11 761 5000, hayley.elwen@assaabloy.com, www.assaabloy.co.za
Credit(s)
Further reading:
FortiGuard labs reports disruptive shift of cyber threats
Issue 1 2021 , Editor's Choice
Threat intelligence from the second half of 2020 demonstrates an unprecedented cyber-threat landscape where cyber adversaries maximised the constantly expanding attack surface to scale threat efforts around the world. Adversaries proved to be highly adaptable, creating waves of disruptive and sophisticated attacks.
Read more...
---
The year resilience paid off
Issue 8 2020 , Editor's Choice, Security Services & Risk Management
Hi-Tech Security Solutions spoke to Michael Davies about business continuity and resilience in a year when everything was put to the test.
Read more...
---
Retail solutions beyond security
Issue 8 2020, Axis Communications SA, Technews Publishing, Hikvision South Africa , Editor's Choice, CCTV, Surveillance & Remote Monitoring
The need for security technology to deliver more than videos of people falling or stealing from retail stores is greater than ever.
Read more...
---
Smart healthcare
Issue 2 2021 , Editor's Choice
In the past year, hospitals, elder care and other healthcare facilities have found themselves overwhelmed with new patients, COVID-19 regulations and other side effects of the pandemic. As efforts focused ...
Read more...
---
FS Systems celebrates 50 years
Issue 2 2021 , Editor's Choice
This year, FS Systems celebrates 50 years in the fire detection and enterprise security market, successfully executing projects in over nine countries in Africa and LATAM.
Read more...
---
Formative AI and distributed cloud among four megatrends revealed at MIPS 2021
Issue 2 2021, Milestone Systems , Editor's Choice
Almost 4000 participants representing end customers, technology partners and media from across the globe attended the first virtual MIPS conference, held over two days in March 2021.
Read more...
---
Kiss passwords G00dby3
Issue 2 2021 , Editor's Choice
Cisco Secure has unveiled infrastructure agnostic, passwordless authentication by Duo which enables enterprise users to skip the password and securely log into cloud applications via security keys or biometrics built into modern laptops and smartphones.
Read more...
---
200 000 daily access transactions
Issue 2 2021, Impro Technologies , Editor's Choice
The University of KwaZulu-Natal's legacy access control system was suffering from increasingly limited support, both in terms of hardware and software, with maintenance becoming a pressing concern as it on-boards approximately 9000 new students each year across five campuses.
Read more...
---
Do not take the bait
Issue 2 2021 , Editor's Choice
Banks are unable to fully protect consumers from falling prey to the tactics used by fraudsters to obtain confidential information such as banking details, card information and one-time-pins.
Read more...
---
INTERPOL supports the Coalition Against Stalkerware
Issue 2 2021 , Editor's Choice
The International Criminal Police Organisation (INTERPOL) is set to enhance the ability of the global law enforcement community by allowing them to investigate the use of stalkerware and support victims who require assistance.
Read more...
---