printer friendly version
Who maintains your fire detection system?
May 2017 Associations, Fire & Safety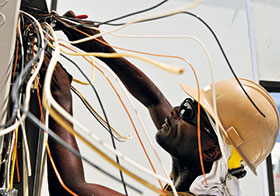 A fire alarm system that is not regularly serviced and maintained will eventually cease to function. This could result in loss of life or huge fire damage costs for your company. Who is responsible?
The building owner/end user
The building owner or end user is responsible and liable for maintaining his fire detection and alarm system.
SANS 10400:2010 T1 General Requirement:
(1) Any building shall be so designed, constructed and equipped that in case of fire… (e) adequate means of access, and equipment for detecting, fighting, controlling and extinguishing such fire, is provided.
T2 Offences states:
(1) Any owner of any building who fails to… (b) maintain any other provision made to satisfy the requirements of sub-regulation (T)1(1)(e), shall be guilty of an offence. The business, or building owner, has the responsibility to designate persons with knowledge of how the fire alarm operates. The designated persons should at least know when there is a problem with the system, how to test alarms, how to reset the system and who to call for service when there is a fault on the system or if it is due for service.
SANS 10139:2012 Part 12 is about maintenance, servicing and routine testing of fire alarm systems.
Daily inspections of the fire system must be done to ensure the panel is not displaying any alarms.
Weekly tests conducted by the user of the system ensures he tests one manual call point to check that the panel performs its functions correctly and ensure all relevant warning alarms operate.
This routine testing of the system provides an opportunity for occupants of the building to become, and remain, familiar with the fire alarm signal that the system produces. The weekly test should be carried out at approximately the same time each week. Instructions to occupants should then be that they should report any instance of poor audibility of the fire alarm signal.
Servicing visits
Service visits should not exceed six months. If a risk assessment shows a need for more frequent inspection and service visits due to environmental conditions or operational use of the building, then all interested parties should agree on more frequent inspection and servicing routine.
If this recommendation is not implemented, it should be considered that the system is no longer compliant with the SANS 10139:2012.
Log book
The responsible person should ensure that the system log book is kept up to date and is available for inspection by any authorised person (e.g. representatives of enforcing authorities and property insurers). All alarms, tests and services shall be recorded in the log book.
If there is no proof of regular maintenance of the fire alarm system or the system log is not maintained, insurance companies may refuse to settle a claim after a fire incident.
The contractor
The onus is on the business or building owner to appoint a competent contractor who is duly registered and certified to carry out the maintenance and servicing of the fire alarm system in accordance with SANS 10139:2012. Maintenance by a competent person ensures that the system will continue to function as originally intended.
The service technician shall conduct a visual inspection to check whether structural or occupancy changes have affected the compliance of the system with the recommendations of SANS 10139:2012 for the siting of manual call points, automatic fire detectors and fire alarm devices.
The log book should be examined to ensure that all faults and incidences have been recorded and appropriate action has been taken. SANS 10139:2012 sets out procedures that are to be followed by the service technician during his service visit.
All devices on the system shall be tested at least once a year to ensure their continued functionality. The standard stipulates how various devices should be tested and serviced and this should be carried out with reference to the manufactures recommendations.
The fire alarm system is also likely to require non-routine attention, including special maintenance. Non-routine maintenance includes:
O A special inspection of an existing fire alarm system when a new servicing organisation takes over servicing the system.
O Repair of faults or damage.
O Modification to take account of extensions, alterations, changes in occupancy or false alarms.
O Action to address an unacceptable rate of false alarms.
O Inspection and test of the system following a fire.
Who should I trust?
Ensure your maintenance contractor can prove a track record for servicing and ask to check his service sheets to ensure he has a full working knowledge of fire detection and alarm systems, as in all industries there are good and bad service companies. Based upon the above guidelines end users are strongly advised to enter into a service agreement upon the completion of any new installation works on their premises with the contract installer involved.
The FDIA has in the past concentrated only on how installations are carried out but are now in the process of investigating the feasibility of registering service/maintenance companies involved in the industry in an attempt to ensure quality service to all end users.
We encourage all end users to only use FDIA registered contractors as they have the capability and mandate to ensure that not only is your fire detection system installed correctly, but it is serviced and maintained as per the required standards and regulations.
Credit(s)
Further reading:
Choosing the right fire detection system
August 2019, FDIA (Fire Detection Installers Association) , Fire & Safety
Charles Thiong'o from the FDIA highlights important factors to consider when choosing a fire detection system.
Read more...
---
Service station security basics
June 2019 , Associations, Integrated Solutions, Retail (Industry)
It comes as no surprise that the petroleum and retail industries are targeted by criminals as these businesses receive, to a great extent, cash in exchange for their products and services.
Read more...
---
Magtouch Electronics joins ESDA
June 2019, Magtouch Electronics , Associations, News
Magtouch Electronics, a manufacturer of high-tech monitoring systems for the security and cleaning industries has joined ESDA, the Electronic Security Distributors' Association.
Read more...
---
Access wherever you are
June 2019, ADI Global Distribution , Associations, News
ADI Global Distribution, a South African distributor of security and fire technology products has joined ESDA, the Electronic Security Distributors' Association.
Read more...
---
Manufacturer and distributor of security products
June 2019, DTS Security Products , Associations, News
DTS Security Products, a South African manufacturer and distributor, recently joined ESDA, the Electronic Security Distributors' Association.
Read more...
---
Linear heat detection systems
June 2019, FDIA (Fire Detection Installers Association) , Fire & Safety
A linear heat detection system is a stand-alone fire detection system used for detecting heat from fires. The cable can be run from distances of up to 8 kilometres dependent on the type of cable installed.
Read more...
---
Fire Protection Association of Southern Africa
Securex Preview 2019 , Associations
The Fire Protection Association of Southern Africa (FPASA) provides a specialised fire safety management technical and training service to industry, commerce, fire and rescue services and society at large. The ...
Read more...
---
Security Industry Alliance
Securex Preview 2019 , Associations
The Security Industry Alliance (SIA) aims to be the watchdog of the security industry, to actively promote the interests and image of the South African guarding industry, and to promote the development ...
Read more...
---
Fidelity Fire Solutions receives BSI accreditation
May 2019, Fidelity Security Group , Editor's Choice, Fire & Safety, News
Fidelity Fire Solutions is one of the first fire solutions providers in South Africa to be awarded the British Standards Institution (BSI) certification for portable fire products.
Read more...
---
Simplifying fire detection system installations
May 2019, Elvey Security Technologies , Editor's Choice, Fire & Safety, Security Services & Risk Management
A fire detection system needs to be selected with extreme care, as is selecting an installer that not only understands the various technologies employed in fire detection, but that also has the necessary accreditations and certifications.
Read more...
---