printer friendly version
Fire detector types and selection
May 2016 Editor's Choice, Fire & Safety, Associations
There are various types of detectors available for fire detection system designers and each type is suitable for a particular use. The type of fire / smoke being detected will determine the choice of detector. Section 8.14 of SANS 10139 gives a guide on selection criteria and factors to consider when carrying out a design.
Below are the various types of detectors available.
1. Point smoke detectors
These detectors use one (or both) of two principles below:
A) Ionisation Chamber Smoke Detectors. This type detects smoke by change in current flows between electrode when smoke enters the chamber of an ionisation detector. This detector is particularly sensitive to smoke containing small particles, such as are produced in rapidly burning flaming fires, but may be less sensitive to the larger particles found in optically dense smoke of similar mass, such as can result from smouldering fires, including those involving polyurethane foam, or overheated PVC. The ionisation detectors contain a small radioactive element that exists in the detection chamber. This has led to most manufacturers stopping the production of these devices. Stringent procedures need to be followed when disposing of this type of detector, which ends up being a costly process.
B) Optical smoke detectors. This type detects smoke by means of the light scatter principle. When smoke enters the chamber the small LED light source within the detector is deflected towards the receiver to trigger the detector. Optical smoke detectors are sensitive to optically dense smoke, but are less sensitive to the small particles found in clean-burning fires that produce little visible smoke.
2. Multisensor fire detectors
This type of detector contains more than one sensor, each of which responds to a different physical and/or chemical characteristic of fire. The purpose of combining sensors in this way is to enhance the performance of the system in detection of fire by means of smoke, heat or CO gasses. These detectors can reduce certain categories of false alarm.
3. Point heat detector
There are two types of point heat detectors. The first type is the Rate of Rise heat detector which reacts to abnormally high rates of temperature change and provides the fastest response over a wide range of ambient temperatures. A fixed temperature limit is also incorporated in these detectors. The second type is the Fixed Temperature which reacts to a pre-determined fixed temperature rather than a rate of rise temperature. The fixed type is suitable where a sudden large change in temperature is considered normal for example in boiler rooms and kitchens.
4. Linear heat detector

Heat detector.
This type comes in the form of a length of wire or tube. Ideally suitable for cable tunnels, cable trays, transformer bays, etc. There are two types of linear heat detectors:
A) The non–integrating type consists of an electric cable with an insulation of fixed melting point which is suspended over the area to be protected. The melting of the insulation when there is a fire causes a short circuit which causes the system to go into alarm mode.
B) The integrating type is similar to the non-integrating except in this type the insulation does not melt but electrical resistance is temperature dependent. The average temperature is taken over the whole length of wire rather than sections of it.
5. Optical beam detector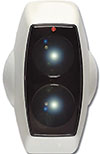 Beam detector.
The optical beam consists of two units, a transmitter and a receiver which can either be two separate units installed at some distance apart or combined into a single unit, and a reflector used to reflect the transmitted beam back to the receiver. Optical beam smoke detectors can prove economical and effective for the protection of large, open plan spaces with relatively high ceilings (e.g. warehouses), particularly if access to point smoke detectors for maintenance could present practical difficulties. It is, however, essential that they be mounted to solid construction that is unlikely to flex as a result of changes in temperature or imposed load, as this can cause mis-alignment of the optical beam and, hence, fault signals or false alarms.
6. Aspirating detectors
This type comprises of a small pump which draws samples of the room air through holes in the system pipework into a detector element. This detector is usually up to 100 times more sensitive than that of conventional point and line type detectors. Aspirating smoke detectors are highly sensitive and can detect smoke even before it is visible to the human eye.
7. Flame detectors
These come in basically two types; infrared flame detectors and ultraviolet flame Detectors. Infrared flame detectors operate by detecting certain frequencies of flicker produced by flaming fires. They are sometimes used to protect very high spaces, such as cathedrals or atria. The detectors do not need to be ceiling mounted; they can be mounted at relatively low levels on walls around a very high protected space, within which only a very large fire could be detected by ceiling mounted heat or smoke detectors. Ultraviolet flame detectors are not generally suitable for this application, since ultraviolet radiation is greatly attenuated by smoke whereas infra-red radiation penetrates smoke well.
8. Carbon monoxide detectors
This type of detector goes into an alarm when they sense a certain amount of carbon monoxide in the air over time. Different types of alarms are triggered by different types of sensors. Carbon monoxide detectors can be immune to certain environmental influences that can result in false alarms from certain smoke detection systems, such as dust, steam and cigarette smoke, while responding to many types of fire appreciably faster than heat detectors.
9. Duct probe unit
This detector is designed to be used where standard smoke, heat and flame types cannot be utilised. It detects the presence of smoke or combustion in extract ventilation ducting systems. Operation is similar to aspirating detectors but it does not contain a pump, it operates on the venturi effect in the sampling pipe providing optimum airflow through the smoke detector.
Choice of detector
Selecting the correct detector for the application is based on several factors, including:
a) The speed of fire detection required, based on an assessment of fire risk.
b) The nature and quantity of the combustible materials present, including ease of ignition, heat release rate, likely form of combustion (e.g. smouldering or flaming) and propensity for smoke production.
c) Probable rate of fire growth and spread.
d) The nature of the environment (e.g. humidity, temperature, cleanliness, extent of pollutants and nature of work processes).
e) The proposed fire evacuation strategy.
f) The height and geometry of the protected area.
g) The attendance time of the fire service (particularly in the case of Category P systems).
h) Other active and passive fire protection measures present.
i) The susceptibility of contents to heat, smoke and water.
j) The speed of response to fire, and the probable false alarm rates, of different types of fire detector.
The Fire Detection Installers Association (FDIA) recommends employing an FDIA contractor for the installation and maintenance of fire detection and gaseous suppression systems.
Contact the FDIA at fdia@fdia.co.za or www.fdia.co.za
Credit(s)
Further reading:
Off-grid power solution for residential estate
Editor's Choice Security Services & Risk Management Residential Estate (Industry) Products
Coral Beach Estate, an upmarket residential estate based in East London, has been struggling with load shedding and power outages due to South Africa's energy crisis, as well as the vandalism of its power infrastructure.
Read more...
---
Eleven steps to an effective ransomware response checklist
Editor's Choice Cyber Security
Anyone is a viable target for ransomware attacks and should have a plan in place to deal with a worst-case scenario. Fortinet offers this ransomware attack response checklist to effectively deal with an active ransomware attack.
Read more...
---
Top seven trends for the security industry
Hikvision South Africa Editor's Choice
Expect security systems to become even more deeply integrated and comprehensive, expanding with capabilities that are now shouldering tasks that are more intelligent, to improve efficiency in security as well as other operational functions.
Read more...
---
Technoswitch partners with UK's Hyfire
Technoswitch Fire Detection & Suppression News Fire & Safety Products
UK-based wireless fire technology pioneer Hyfire, has confirmed partnership agreements that will see its products sold in South Africa, for the first time, through local fire and safety stalwart, Technoswitch.
Read more...
---
AI's take on physical security trends
Technews Publishing Editor's Choice
In Issue 1 every year, Hi-Tech Security Solutions looks at expected trends in the security industry, incorporating views from different sources. This year is no different, except we have a new contributor, ChatGPT from OpenAI.
Read more...
---
Developing an effective CCTV control room culture
Leaderware Editor's Choice CCTV, Surveillance & Remote Monitoring Training & Education
Organisational culture in organisations can be seen as the set of values, practices, focus, standards and behaviours, and ways of interacting with others that are accepted and subscribed to by the people who work there.
Read more...
---
Women in Security
Technews Publishing Editor's Choice News
Hi-Tech Security Solutions together with ASIS International's South Africa Chapter, will be focusing on women working within the South African physical security services and information technology sectors during 2023.
Read more...
---
Enter the 2023 South African OSPA Awards
Editor's Choice News
Nominations for the 2023 South African Outstanding Security Performance Awards (OSPAs) in six categories have been extended and entries can be submitted until 18 April 2023.
Read more...
---
Hardening physical security against cyberattacks
Genetec Editor's Choice Cyber Security IT infrastructure
As the world becomes increasingly interconnected through the move to cloud computing and Internet of Things (IoT) devices, cybercrime has risen steadily, along with tools to combat it. Geopolitical tensions have the potential to rapidly unleash devastating cyberattacks worldwide.
Read more...
---
Fast, reliable and secure cloud services
Technews Publishing Editor's Choice Cyber Security IT infrastructure
Security and speed are critical components of today's cloud-based services infrastructure. Cloudflare offers a range of services supporting these goals beyond what most people think it does.
Read more...
---