printer friendly version
Fibre-to-the-home: The impact on your security
October 2016 Editor's Choice, IT infrastructure, Residential Estate (Industry)
Security and access control are predominant concerns in many communities across South Africa. One of the synergistic benefits of the deployment of optical fibre in your area is the possibility to enable some significant peripheral benefits that take advantage of that infrastructure and medium.
The demand for fibre-to-the-home (FTTH) is exploding across South Africa at the moment. Consumers are becoming more technically aware and have developed a keen appreciation for the benefits of access to a stable and fast broadband network, furthermore consumers are demanding choice. The days of being locked-in to the monolithic vertically integrated all-consuming telcos are numbered.
Consumers are tired of hearing 'Your call is important to us you are caller number 126 in the queue…' they want to experience better service and certainly don't want to be ripped off while using it. The market dynamic has shifted and with the entrance of multiple new service providers, particularly in the 'open-access' FTTH space, consumers are reaping the benefits.
Optical fibre is very well positioned to address the needs for high quality video based security requirements. The good news is that not all fibre networks have to be completely trenched in your neighbourhood and you don't have to suffer the inconvenience of extensive civil works ripping up your roads and pavements. There are approved and tested technologies today that take advantage of existing wastewater pipes to deploy optical fibre. This effectively speeds up deployment, lowers the cost and improves the reliability of the underlying network without adversely affecting the effectiveness of the existing water infrastructure.
Cutting out the limitations
With a transition from analogue to digital video continuing, there remains a crucial requirement for reliable transmission of the video signal between camera and control room. With many legacy installations it has been copper based coaxial cable or unshielded twisted pair (UTP) handling images from a camera to monitor, recorder or both. Copper cables have their limitations, including restricted transmission distance, signal degradation over long cable distances, interference, copper theft and damage from lightning.
In some installations, wireless transmission–radio-frequency, microwave, Wi-Fi and mesh nets–play a role. Most enterprise security video designs are not totally wireless. The technology is applied to meet certain geographic or operational challenges.
And then there is fibre-optic cabling, with its interference immunity, better inherent security, robust distances and significantly better bandwidth capability using light as the carrier, this boasts significant advantages:
• Better-quality transmission.
• No interference from lightning strikes, short circuits, crosstalk, electro-magnetic or radio signal interference.
• No interference from high voltages in fluorescent lights, card-access door strikes or outdoor lighting systems.
• Better-quality transmission.
• Light weight.
• Stable within a wide temperature range.
• Long service life.
• Secure–not easily tapped into or interfered.
• Extremely high bandwidth (for CCTV and sound).
• Immune to copper theft.
Deploying fibre-optic cables is an expensive operation, not only in the initial capital outlay but it also requires specialised training, skills and test equipment to maintain and operate effectively. This is something that residents associations should best leave to the experts and not fall into the trap of building and operating their own networks.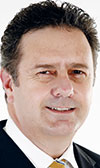 André Hoffmann.
With the intense focus on building FTTH networks across South Africa, there is no better time for homeowner's associations and residential or business estate developers to leverage the FTTH industry to make infrastructure available to community-based security access control and surveillance networks and save the costs of duplicating this infrastructure themselves. It just makes sense.
Interested parties are welcome to consult the Fibre To The Home Council Africa for independent advice and more information see http://www.ftthcouncilafrica.com/
André Hoffmann is a seasoned telecommunications practitioner, having worked in the industry for more than 35 years. André is past President of the South African Institute of Electrical Engineers (SAIEE) and is registered with the Engineering Council of South Africa as a Professional Technologist and is also recently appointed as Technical Advisory to the Fibre To The Home Council Global Alliance and a member of the IEEE South Africa Section. Currently he is Head of Special Projects at Link Africa which is a managed metro dark fibre service provider in the South African telecommunications market.
Further reading:
Double dose of storage security
August 2019 , Products, IT infrastructure
The integration of InfiniBox and SafeNet KeySecure platforms brings data-at-rest encryption together with centralised logging, auditing capability.
Read more...
---
Keeping our changing environment secure
August 2019 , Editor's Choice, Security Services & Risk Management
For a crime to take place there needs to be a victim and a criminal who sees an opportunity. For a cybercrime to take place we need the same set of circumstances.
Read more...
---
Augmented security with drones
August 2019, Drone Guards , Editor's Choice, Integrated Solutions
Drone Guards is moving into an untapped market of using drones to secure residential estates and other high-value assets such as mines, farms and commercial properties.
Read more...
---
The importance of real security risk assessments
August 2019, Sentinel Risk Management , Editor's Choice, Security Services & Risk Management, Residential Estate (Industry)
Andy Lawler, MD, Sentinel Risk Management, says a security risk assessment is an onerous task, but is not something estates can consider optional or a luxury item anymore.
Read more...
---
Risk assessment or product placement?
August 2019, Technews Publishing, Alwinco, SMC - Security Management Consultants , Editor's Choice, Security Services & Risk Management, Residential Estate (Industry)
Hi-tech security solutions asked a couple of experts to provide estate managers and security managers with some insights into what a 'real' risk assessment includes.
Read more...
---
How far are we really at with artificial intelligence?
August 2019, Axis Communications SA , Editor's Choice, CCTV, Surveillance & Remote Monitoring, IT infrastructure, Residential Estate (Industry)
Justin Ludik unpacks exactly how far AI has come and what it potentially can do for society and more importantly, surveillance.
Read more...
---
More than simply a camera
August 2019, Forbatt SA, Secutel Technologies , CCTV, Surveillance & Remote Monitoring, Residential Estate (Industry)
With the human element being the weakest link in all security solutions, Hi-Tech Security Solutions looks at the pros and cons of using body-worn cameras in estates.
Read more...
---
The importance of effective perimeter security
August 2019, Elf Rentals - Electronic Security Solutions, Stafix , Editor's Choice, CCTV, Surveillance & Remote Monitoring, Residential Estate (Industry)
Protecting the perimeter is critical for any residential estate; how does one go about making sure your perimeter is as secure as possible?
Read more...
---
Security playing speedcop
August 2019, Axis Communications SA, Hikvision South Africa , CCTV, Surveillance & Remote Monitoring, Residential Estate (Industry)
Estates now have a legal precedent to manage their traffic and fine people in the estate for violations of the rules; all they need do is find solutions that will support them.
Read more...
---
Residential estates: Just how secure are they?
August 2019 , Security Services & Risk Management, Residential Estate (Industry)
While estates may seem a refuge from the criminal threat lurking in the suburbs, crime may be rife here, too.
Read more...
---