printer friendly version
Selecting a service provider
March 2016 Residential Estate (Industry), Associations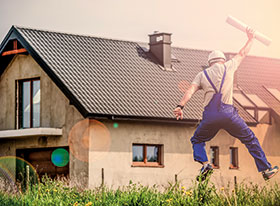 A well designed and installed security system accrues a number of benefits for residents of estates, the first of which is guaranteed reliability. Terry van Zyl of SAIDSA (South African Intruder Detection Services) explains that if a security system is not properly installed there will be short- and long-term issues.
Users need to have the peace of mind that their system will work if and when needed, which will result in an inherent trust in its capabilities to accurately detect illegal intrusion in a timeous manner. A superior installation will also reduce or eliminate false alarms. This is not only a boon for monitoring and reaction companies who are required to respond to such alarms, but can also enhance the sense of trust from the user. Van Zyl points out that when an unreliable system repeatedly produces false alarms, the user eventually becomes desensitised and may completely ignore a warranted alarm.
Not only is it important to have a high-quality security installation, but the inclusion of a standards-based control room will pay dividends when linked to a strong armed response. Van Zyl says that by aligning oneself with a service provider that operates their control room according to SAIDSA recommendations, the resident will have the assurance that it is operated according to predefined stipulated standards.
He says that a number of elements are non-negotiable with regard to a control room with armed reaction units. The control room simply cannot be operated out of a spare room in somebody's house since Bylaw 1 contains 23 elements which would be impossible to adhere to under such conditions. Apart from strict construction regulations for the control room, it should also be able to receive alarm signals and have facilities to immediately contact the client and the armed response vehicle occupants. A complete event history and backup of data is mandatory.
Industry has a common goal in mind – to reduce response times to mere seconds in terms of both the time taken by the controller to take action to the alarm signal and to contact the client and dispatch an armed response vehicle. The exceptions are the multiple false alarms that occur during power outages and in storm situations.
Similarly, reaction services are outlined in Bylaw 3 and are equally stringent in terms of the minimum requirements like firearms training, backup vehicles, suitable equipment issued to the reaction officers and desirable reaction times being achieved.
Why SAIDSA?
SAIDSA is a voluntary body of service providers of security systems, ranging from basic alarms to sophisticated electronic intruder detection systems and CCTV, and incorporating signal monitoring as well as the provision of armed reaction services. SAIDSA is regarded as the watchdog of this segment of the industry and has the interests of both its members and the public at heart.
SAIDSA members operate in a self-regulating manner and agree to comply with the association's code of conduct and minimum standards. Annual inspections are also done by SAIDSA to ensure ongoing compliance. If residents are unhappy with their installation or the service they receive, they are entitled to approach SAIDSA to lodge an official written complaint. SAIDSA will then evaluate the written complaint and send it to the member company for their comment. Once the member company thereafter claims to have resolved the problem or issue as detailed in the complaint, SAIDSA may in serious cases send an inspector to validate this claim.
If the issue is still not resolved, the member company will be issued with a deadline by which the matter must be resolved to SAIDSA's satisfaction. Further non-compliance will result in the member company being requested to attend an official disciplinary hearing. A panel will discuss the problem and its outcome with the member company and provide a new deadline date to resolve the issue.
Non-compliance with the deadline and conditions will result in further disciplinary steps being taken against the member company and in the severest scenario, could result in immediate expulsion from SAIDSA. The company would then need to follow the procedures for a new membership application should they wish to again receive the benefits of being a SAIDSA member. This means that they would have to then reapply as a new member after a two-year period.
The procedures followed in new member applications entail the completion of forms, accompanied by the company's registration with PSiRA; firearms competency registration; compliance with labour laws; and proof of provident fund requirements for the security industry. Once the application has been accepted in principle, an inspection process will take place to ensure that the company complies in terms of the bylaws (see SAIDSA Bylaws below). If an applicant company provides services in more than one category, they are required to be inspected for each relevant category.
The standards laid down by SAIDSA protect the resident and encourage exemplary service from member companies. For instance, a response company would not be allowed to repeatedly register 30 minute response times. The company would be red flagged and investigated by SAIDSA to ensure that they bring their service levels up to the required standards. Compliance thereby enforces best practice for members and offers clients a reliable intruder detection and armed response operation.
Clients can ensure that service providers are registered with SAIDSA by contacting the SAIDSA offices or by clicking on the 'Check if your service provider is a SAIDSA member company' button on www.saidsa.co.za. Since the SAIDSA logo can be used illegally by non-members, this is always a good safeguard.
Van Zyl comments that in cases where such illegal use of the logo has taken place, the company will be sent a warning to desist. If they do not comply with this warning, legal action and the placement of an advertisement in the newspapers may follow. Once again, these measures will ensure that only those service providers who are committed to excellence in service are deemed worthy of SAIDSA membership.
SAIDSA currently has 220 members countrywide and with pressure by insurance companies to escalate the importance of selecting a SAIDSA member to provide intruder detection and reaction services, there will likely be an increase in membership numbers. Van Zyl concludes that it is worthwhile employing a SAIDSA member to provide a security service as although the fly-by-night brigade may seem to initially have the edge in pricing, the negative fallout could be catastrophic and very costly for end users of the systems.
SAIDSA Bylaws
Bylaw 1 – Requirements for a SAIDSA approved central station. In essence, this includes details on the physical construction of the control room, security of the control room and available communication channels and methods.
Bylaw 2 – Requirements for a SAIDSA approved un-manned central station. This bylaw discusses how the construction of an un-manned central station is intended to prevent or delay unauthorised entry and to protect the receiving equipment and antennas from physical attack. The un-manned central station is not used for the dispatch of an armed reaction service.
Bylaw 3 – Requirements for an armed reaction service. This bylaw determines a set of minimum standards and requirements pertaining to those members who operate a reaction service and who are offering, to members of the public, a valuable and important service of an extremely dangerous nature.
Bylaw 4 – Register of approved installers. In addition to the general criteria specified under the Membership Section a number of additional requirements apply.
Bylaw 5 – Standard installation specification for intruder alarm systems for domestic, commercial, retail and industrial installations. This specification lays down the minimum requirements for the construction, installation, operation and maintenance of intruder alarm systems in buildings.
Bylaw 6 – Requirements for a SAIDSA approved central station for CCTV off-site monitoring which includes 24 hour active monitoring and/or alarm verification monitoring. The construction of the central station is intended to prevent or delay unauthorised entry and to enable the occupants to raise an alarm in the event of an attack.
Bylaw 7 – Requirements for a specialised security service. The purpose of Bylaw 7 is to determine a set of minimum standards and requirements pertaining to those members who operate a specialised security service and who are offering, to members of the public, a valuable and important service of an extremely dangerous nature.
Bylaw 8 – Requirements for an approved electric fence installer and installations.
Bylaw 9 – Requirements for the installation of a CCTV system. The purpose of this bylaw is to determine a minimum technical requirement for CCTV surveillance systems that will ensure the appropriate/sufficient quality images under different physical and environmental circumstances around residential and commercial sites for monitoring, detection, recognition and identification with the purpose of deterrence of potential perpetrators and the generation of video footage that will support investigations and successful prosecutions.
Credit(s)
Further reading:
Wi-Fi 6 will change your home network connectivity forever
May 2019, Duxbury Networking , Home Security, IT infrastructure, Residential Estate (Industry)
The new standard in wireless connectivity, Wi-Fi 6, gives you faster wireless experiences, with up to 40% higher peak data rates for a single device.
Read more...
---
Easy, secure electronic locks
May 2019, Salto Systems Africa , Home Security, Access Control & Identity Management, Residential Estate (Industry)
The Danalock V3 is a motorised battery-operated electronic lock that enables you to control your door using your mobile phone through the Bluetooth Low Energy (BLE) technology.
Read more...
---
Smart surveillance for home
May 2019, Yale Security (SA) , Home Security, CCTV, Surveillance & Remote Monitoring, Residential Estate (Industry)
The Yale Smart Living CCTV surveillance system is a DIY system complete with digital video recorder (DVR), cameras and cabling, featuring built-in intelligent video analytics.
Read more...
---
Solid perimeter security measures are still the best deterrent
May 2019, Fidelity ADT Security , Home Security, Access Control & Identity Management, Perimeter Security, Alarms & Intruder Detection, Residential Estate (Industry)
Crime in South Africa is still a problem, despite an abundance of security measures and technological advancements; however, a durable perimeter is will withstand the test of time.
Read more...
---
Turbo HD X Security Solutions
May 2019, Hikvision South Africa , Home Security, CCTV, Surveillance & Remote Monitoring, Residential Estate (Industry)
Hikvision has launched the latest generation Turbo HD Series - Turbo HD X, which is a complete system to help stop intruders in real-time.
Read more...
---
SAIDSA celebrates 50-year anniversary
March 2019, SAIDSA (SA Intruder Detection Services Association , Associations, News
Fifty years ago, the association was formed as an employer's organisation, with the vision of providing a pension fund to its members and to investigate improving the standards of an ever-growing industry.
Read more...
---
Breaking par for security at ­Woodhill
October 2018, Technews Publishing , Home Security, Integrated Solutions, Security Services & Risk Management, Residential Estate (Industry)
Xone Integrated Security was selected to provide a full security service to the luxurious Woodhill ­residential estate
Read more...
---
ESDA golfs for the poor
October 2018, ESDA (Electronic Security Distributors Association , News, Conferences & Events, Associations, Training & Education
The ESDA charity golf day was held at the Benoni Country Club on 20 September 2018 in aid of AMCARE.
Read more...
---
Open Security & Safety Alliance launched
October 2018 , News, Associations
Bosch Building Technologies, Hanwha Techwin, Milestone Systems, Pelco by Schneider Electric and VIVOTEK are founding members supporting the launch of The Open Security & Safety Alliance.
Read more...
---
The ever-changing dynamics of risk management
September 2018, Technews Publishing , Editor's Choice, Security Services & Risk Management, Transport (Industry), Conferences & Events, Associations, Training & Education, Logistics (Industry)
Hi-Tech Security Solutions was at the TAPA South Africa 2018 conference once again. This is a short summary of the presentations delivered on the day.
Read more...
---