printer friendly version
Diverse access solutions
Access & Identity Management Handbook 2015 Products, Access Control & Identity Management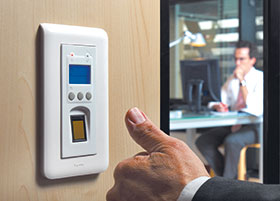 Sometimes a classic key management system is inadequate for managing a number of access requirements. This is when electronic access management should be implemented. An important feature is these flexible systems can be easily adapted without having to change the readers.
"Legrand offers a technical advisory and support service to ensure customised solutions for every access control installation," says Johan Bosch, GM, Legrand Southern Africa.
"These services include onsite software training, pre-encoding of readers and badges, as well as customisation of badges, which encompasses detailing personal details and corporate identity."
The first step
Standalone access control systems, which are recommended for small areas like meeting rooms and individual offices, are also suitable for larger sized buildings where no management of events or supervision is required. For example, access to hotel rooms.
Advantages of standalone systems include easy installation, optimised wiring and simple programming. Standalone systems encompass one isolated internal or external door, or up to 256 doors with an encoder, which is linked to badge management software. This system has a flow management capacity of up to 500 users and 32 groups of users, depending on the circumstances.
The software can also be used to manage lost or stolen badges, as well as for remote modification of the access area. This system also controls lifts, automatic control devices and gates. Because is there is no physical connection between the reader and the computer, minimal wiring is required.
A reader is defined as being standalone when it manages the ID information – a stored code, badge or fingerprint – that is incorporated inside, or configured on a badge. The ID memory is integrated in the reader and the information is read directly on this device, which controls the closing system (door release, electromagnetic lock or bolt).
The second step
Centralised access control systems, which are designed for users who need to manage office buildings, healthcare, educational or commercial establishments from one or more control stations, meet the requirements for internal and external management of flows of people.
An advantage of this system is the ability to supervise events display of information on CAD drawings of the installation and obtain an overview of all flows in real time. Various scenarios are available – for example, creation of automatic control devices and access to interoperability with other systems, including video surveillance.
Centralised systems, with one isolated internal or external door, or up to 256 doors with an encoder, are designed for the management of visitors, groups and 10 000 of the most recent events, as well as the loss of badges. This system also controls access and alarm activation times, automatic control devices and periods and dates of validity of access. This system can control up to 10 000 users and 64 groups.
Centralised access control consists of a door controller, used in conjunction with several peripherals. Code, badge or fingerprint IDs are transmitted to the controller, which manages access though the door. Within the installation, the door controllers use the IP network infrastructure – here, Legrand's LCS² cabling system is recommended. A door controller is configured with the same overall information as the standalone system. It also has its own on-board interface, where all the component parts of the device (power supply, reader, closing system) are wired on the controller.
When used on its own, the software can be used to programme scenarios for the two doors connected to it, thus providing simplified, standalone management if required. Centralised management software links and manages door controllers distributed throughout the installation.
A typical application of this system is visitor access to a controlled car park via a video entry system. To ensure traffic flows freely through the car park entrance at peak times, a period of free access can be programmed, while maintaining control at the exit. Creating groups of users enables access rights to be granted and if necessary modified, for a defined set of people in a company or in a particular department. Effective management of access rights prevent external workers accessing the building once they have completed their work.
Arteor white or black internal and external coded keypads and badge readers, as well as biometric fingerprint readers, which are designed for flush or surface box mounting, can be used in standalone or centralised mode. Internal and external kits consist of Arteor coded keypads and pushbuttons supplied complete, as well as a protected power supply and back-up battery. All readers have indicators and a buzzer to indicate the door status.
Credit(s)
Further reading:
Turnstar ramps up countermeasures
Turnstar Systems Editor's Choice Access Control & Identity Management News Products
Turnstar has developed and patented an early warning and deterrent system which will alert security, and anyone nearby, of any attempt to place ramps over the raised spikes.
Read more...
---
Suprema integrates biometric access control with Genetec
Suprema News CCTV, Surveillance & Remote Monitoring Access Control & Identity Management
Suprema has announced the successful integration of its biometric access control products with Genetec Security Center, a unified security platform that connects security systems, sensors and data in a single intuitive interface.
Read more...
---
Next-generation mobile APN product
Flickswitch Products
SIMcontrol has launched its fully-managed mobile APN product that connects company data SIM cards via a private and secure network.
Read more...
---
IDEMIA South Africa achieves level 1 B-BBEE status
IDEMIA News Access Control & Identity Management
As part of the action plan to improve its status to Level 1, IDEMIA now works with over 40 black-owned local suppliers, representing over 30% of IDEMIA's local suppliers.
Read more...
---
Suprema no. 1 in the global biometric market excluding China
Suprema News Access Control & Identity Management
According to the latest report by Omdia, a global market research firm, Suprema ranks first in global market share, excluding China, in the field of biometric readers.
Read more...
---
Dahua and Yeastar PBX-intercom integration
Dahua Technology South Africa News Access Control & Identity Management
Dahua Technology and Yeastar announced their new ECO partnership on PBX-intercom integration to provide a comprehensive and unified communication solution for small- and medium-sized enterprises.
Read more...
---
Traka launches experience centres
News Access Control & Identity Management
Traka launches inaugural Experience Centres in Australia and South Africa; aims to drive continuous collaboration and innovation.
Read more...
---
The Genius electronic advertising barrier
BoomGate Systems Access Control & Identity Management Products
The Genius Electronic Advertising Vehicle Barrier does not only protect and control access of shopping centres across South Africa, but it also offers advertising space for the retail sector.
Read more...
---
Guard site communication
OnGuard Products
Onguard's Guard Patrol radio uses the global PTT service with the backbone based on the GSM cellular network to make communications faster and easier.
Read more...
---
Product Highlights of the Year 2021
Products
While 2021 has been yet another challenging year, Hi-Tech Security Solutions once again offers a selection of products that hit the local market this year and made an impact with installers, integrators and end users.
Read more...
---