printer friendly version
WFM for large mining operation
Access & Identity Management Handbook 2015
Access Control & Identity Management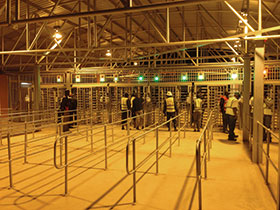 Managing a workforce in excess of 20 000 people was made more complicated by the fact that the existing manual system was unable to manage the ingress and egress of such a large number of employees at this global mining operation's processing and smelting plants.
Carlo Klopper, managing director of FS-Systems, says that the company approached the mining house, which has extensive operations, predominantly in the copper sector throughout sub-Saharan Africa and Latin America, in 2013 to discuss a viable access control and time and attendance (T&A) solution.
He says that if each of the 20 000 employees averages a 12-hour shift, that is 240 000 productive hours that can be tracked and optimised each day. "On the first day we went live with the biometric access control solution on site, it was already apparent that more than 600 employees arrived more than one hour late for their shift."

The system, comprising a scalable workforce management system and a biometric card-based access control system, is being implemented in phases. To date, the company has deployed 190 Sagem biometric readers (predominantly the OMA520 ruggedised outdoor reader), which are suited to the dusty and power-deficient environment experienced on remote mines. The 1:1 verification system means that when employees present a card to the biometric reader, the employee's physical fingerprint on the reader is authenticated against the fingerprint that is stored on the card.
In addition, the Gallagher access control/workforce management system is used to provide detailed records of working hours as well as employee health records, medical certification and catering expenses.
Phased implementation
Phase one of the project, which rolled out over a nine month period, allowed the company to determine best practice and use these lessons to institute improvements in future phases. Additional phases, which include the smelting area and administration offices will see the adoption of an enterprise wide workforce management system geared around productivity and reduced downtime.
Primarily, Klopper highlights the importance of educating and involving all stakeholders from the outset, to ensure that system familiarity and adoption is expedited with ease. In this instance, it was critical to get active participation from the HR and IT departments, mine management and canteen management. He advises adopting a consultative rather than a prescriptive approach to guarantee the success of any multi-modal solution.
In addition, training and skills transfer was paramount to provide the mine's system operators with the necessary know-how to enrol and remove employees from the system, as well as interrogate and manage the data.
Klopper says that the client is very happy with the solution as managers are now able to see in real-time if an employee did not arrive for his or her shift, and can instantly determine what additional resources will be required, as well as the associated induction and skills required to fill in for the absent employee.
More than time
"Apart from the obvious time and attendance application, there has been a massive improvement in ensuring that employees can only enter the mine if they have valid medical checks and their inductions are up to date. In the past this was all done through a manual paper system, open to errors, and was enormously time and people intensive. The previous process exposed our client to significant compliance and health and safety risks," says Klopper.
A further benefit of the biometric access control solution is that it is now being used to integrate with canteen management. The client needed to verify that they are only billed for actual meals issued by the catering company to employees and also needed to ensure that only authorised personnel are permitted access into the canteens. Meal vouchers are now only issued to employees provisioned to work on that day on presentation of a valid fingerprint. The log from the entire access event to the canteen is then used to verify the billing from the canteen management company.
Klopper says that the company leveraged its previous knowledge and expertise on similar projects to provide a solution that provides enhanced productivity, OHS compliance and substantial cost savings benefits across the board. An intimate understanding of the specific business benefits required by the client resulted in the complete adoption of a highly successful system.
For more information contact FS-Systems, +27 (0)21 685 1111, enquiry@fs-systems.co.za, www.fs-systems.co.za
Further reading:
Turnstar ramps up countermeasures
Turnstar Systems Editor's Choice Access Control & Identity Management News Products
Turnstar has developed and patented an early warning and deterrent system which will alert security, and anyone nearby, of any attempt to place ramps over the raised spikes.
Read more...
---
Suprema integrates biometric access control with Genetec
Suprema News CCTV, Surveillance & Remote Monitoring Access Control & Identity Management
Suprema has announced the successful integration of its biometric access control products with Genetec Security Center, a unified security platform that connects security systems, sensors and data in a single intuitive interface.
Read more...
---
IDEMIA South Africa achieves level 1 B-BBEE status
IDEMIA News Access Control & Identity Management
As part of the action plan to improve its status to Level 1, IDEMIA now works with over 40 black-owned local suppliers, representing over 30% of IDEMIA's local suppliers.
Read more...
---
Suprema no. 1 in the global biometric market excluding China
Suprema News Access Control & Identity Management
According to the latest report by Omdia, a global market research firm, Suprema ranks first in global market share, excluding China, in the field of biometric readers.
Read more...
---
Dahua and Yeastar PBX-intercom integration
Dahua Technology South Africa News Access Control & Identity Management
Dahua Technology and Yeastar announced their new ECO partnership on PBX-intercom integration to provide a comprehensive and unified communication solution for small- and medium-sized enterprises.
Read more...
---
Traka launches experience centres
News Access Control & Identity Management
Traka launches inaugural Experience Centres in Australia and South Africa; aims to drive continuous collaboration and innovation.
Read more...
---
New platform for keyless access
Access Control & Identity Management
The new ABLOY CUMULUS platform for keyless access combines locking hardware with secure access and management applications in a single ecosystem with a risk-free, integrated cloud service.
Read more...
---
The importance of staying up to date
Access Control & Identity Management Government and Parastatal (Industry)
Africa's cyber threat landscape is constantly evolving, with government's facing a range of digital threats from espionage, critical infrastructure sabotage, organised crime and combat innovation.
Read more...
---
Dynamic Drop Arm Barrier
Turnstar Systems Access Control & Identity Management
Suited to medium-volume access and medium-level security applications such as office reception areas, health clubs, universities and libraries, the Dynamic Drop Arm Barrier also allows special needs access.
Read more...
---
Automatic tyre spike industrial vehicle barrier
Turnstar Systems Access Control & Identity Management
The Turnstar Velocity Raptor automatic tyre spike industrial barrier, with SwiftDrive technology, is aimed at high-volume and high-security access applications such as parkades, shopping centres, residential estates and airports.
Read more...
---