printer friendly version
WFM for large mining operation
Access & Identity Management Handbook 2015
Access Control & Identity Management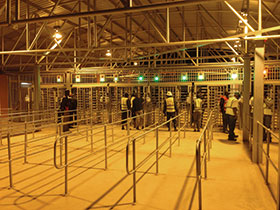 Managing a workforce in excess of 20 000 people was made more complicated by the fact that the existing manual system was unable to manage the ingress and egress of such a large number of employees at this global mining operation's processing and smelting plants.
Carlo Klopper, managing director of FS-Systems, says that the company approached the mining house, which has extensive operations, predominantly in the copper sector throughout sub-Saharan Africa and Latin America, in 2013 to discuss a viable access control and time and attendance (T&A) solution.
He says that if each of the 20 000 employees averages a 12-hour shift, that is 240 000 productive hours that can be tracked and optimised each day. "On the first day we went live with the biometric access control solution on site, it was already apparent that more than 600 employees arrived more than one hour late for their shift."

The system, comprising a scalable workforce management system and a biometric card-based access control system, is being implemented in phases. To date, the company has deployed 190 Sagem biometric readers (predominantly the OMA520 ruggedised outdoor reader), which are suited to the dusty and power-deficient environment experienced on remote mines. The 1:1 verification system means that when employees present a card to the biometric reader, the employee's physical fingerprint on the reader is authenticated against the fingerprint that is stored on the card.
In addition, the Gallagher access control/workforce management system is used to provide detailed records of working hours as well as employee health records, medical certification and catering expenses.
Phased implementation
Phase one of the project, which rolled out over a nine month period, allowed the company to determine best practice and use these lessons to institute improvements in future phases. Additional phases, which include the smelting area and administration offices will see the adoption of an enterprise wide workforce management system geared around productivity and reduced downtime.
Primarily, Klopper highlights the importance of educating and involving all stakeholders from the outset, to ensure that system familiarity and adoption is expedited with ease. In this instance, it was critical to get active participation from the HR and IT departments, mine management and canteen management. He advises adopting a consultative rather than a prescriptive approach to guarantee the success of any multi-modal solution.
In addition, training and skills transfer was paramount to provide the mine's system operators with the necessary know-how to enrol and remove employees from the system, as well as interrogate and manage the data.
Klopper says that the client is very happy with the solution as managers are now able to see in real-time if an employee did not arrive for his or her shift, and can instantly determine what additional resources will be required, as well as the associated induction and skills required to fill in for the absent employee.
More than time
"Apart from the obvious time and attendance application, there has been a massive improvement in ensuring that employees can only enter the mine if they have valid medical checks and their inductions are up to date. In the past this was all done through a manual paper system, open to errors, and was enormously time and people intensive. The previous process exposed our client to significant compliance and health and safety risks," says Klopper.
A further benefit of the biometric access control solution is that it is now being used to integrate with canteen management. The client needed to verify that they are only billed for actual meals issued by the catering company to employees and also needed to ensure that only authorised personnel are permitted access into the canteens. Meal vouchers are now only issued to employees provisioned to work on that day on presentation of a valid fingerprint. The log from the entire access event to the canteen is then used to verify the billing from the canteen management company.
Klopper says that the company leveraged its previous knowledge and expertise on similar projects to provide a solution that provides enhanced productivity, OHS compliance and substantial cost savings benefits across the board. An intimate understanding of the specific business benefits required by the client resulted in the complete adoption of a highly successful system.
For more information contact FS-Systems, +27 (0)21 685 1111, enquiry@fs-systems.co.za, www.fs-systems.co.za
Further reading:
Touchless biometric options
Issue 6 2020, Entry Pro , Access Control & Identity Management
When it comes to estate access control management, the foremost topic of conversation at the moment seems to be the importance of touchless biometrics.
Read more...
---
Fast access to Kevro production facilities
Issue 6 2020, Turnstar Systems , Access Control & Identity Management
Employee and visitor access at Kevro's Linbro Park premises in Gauteng is controlled through eight Dynamic Drop Arm Barriers from Turnstar.
Read more...
---
UFace facial recognition now in SA
Issue 6 2020, Trac-Tech , Access Control & Identity Management
Trac-Tech has secured the distribution rights to the UFace range of contactless biometric facial recognition and identity management IoT devices.
Read more...
---
Non-contact entry alarm control
Issue 6 2020, Trac-Tech , Access Control & Identity Management
Trac-Tech will distribute the UVH-F3 non-contact entry alarm, available as either a fixed wall installation or a portable unit on tripod.
Read more...
---
Paxton10 for smart buildings
Issue 5 2020, Paxton Access , Access Control & Identity Management
Paxton10, offering access control and video management on one simple platform, is available in the South African market.
Read more...
---
Suprema enhances cybersecurity
Issue 5 2020, Suprema , Access Control & Identity Management
Suprema BioStar 2 is a web-based, open and integrated security platform that provides comprehensive functionality for access control and time and attendance.
Read more...
---
A wizz at visitor management
Issue 5 2020 , Access Control & Identity Management
WizzPass is a locally developed software platform for managing visitors to businesses, buildings or business parks.
Read more...
---
Contactless at the game
Issue 5 2020, IDEMIA , Access Control & Identity Management
IDEMIA partners with JAC to successfully test frictionless biometric access technology at Level5 Stadium in Japan.
Read more...
---
Focus on touchless biometrics
Residential Estate Security Handbook 2020, Hikvision South Africa, Saflec, IDEMIA , Suprema, Technews Publishing , Access Control & Identity Management
The coronavirus has made touchless biometrics an important consideration for access control installations in estates and for industries globally.
Read more...
---
Providing peace of mind
Residential Estate Security Handbook 2020, ZKTeco , Access Control & Identity Management
Touchless technology embedded with face and palm recognition sensors provide 100% touchless user authentication for a variety of applications.
Read more...
---