printer friendly version
WFM for large mining operation
November 2015
Access Control & Identity Management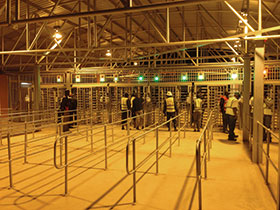 Managing a workforce in excess of 20 000 people was made more complicated by the fact that the existing manual system was unable to manage the ingress and egress of such a large number of employees at this global mining operation's processing and smelting plants.
Carlo Klopper, managing director of FS-Systems, says that the company approached the mining house, which has extensive operations, predominantly in the copper sector throughout sub-Saharan Africa and Latin America, in 2013 to discuss a viable access control and time and attendance (T&A) solution.
He says that if each of the 20 000 employees averages a 12-hour shift, that is 240 000 productive hours that can be tracked and optimised each day. "On the first day we went live with the biometric access control solution on site, it was already apparent that more than 600 employees arrived more than one hour late for their shift."

The system, comprising a scalable workforce management system and a biometric card-based access control system, is being implemented in phases. To date, the company has deployed 190 Sagem biometric readers (predominantly the OMA520 ruggedised outdoor reader), which are suited to the dusty and power-deficient environment experienced on remote mines. The 1:1 verification system means that when employees present a card to the biometric reader, the employee's physical fingerprint on the reader is authenticated against the fingerprint that is stored on the card.
In addition, the Gallagher access control/workforce management system is used to provide detailed records of working hours as well as employee health records, medical certification and catering expenses.
Phased implementation
Phase one of the project, which rolled out over a nine month period, allowed the company to determine best practice and use these lessons to institute improvements in future phases. Additional phases, which include the smelting area and administration offices will see the adoption of an enterprise wide workforce management system geared around productivity and reduced downtime.
Primarily, Klopper highlights the importance of educating and involving all stakeholders from the outset, to ensure that system familiarity and adoption is expedited with ease. In this instance, it was critical to get active participation from the HR and IT departments, mine management and canteen management. He advises adopting a consultative rather than a prescriptive approach to guarantee the success of any multi-modal solution.
In addition, training and skills transfer was paramount to provide the mine's system operators with the necessary know-how to enrol and remove employees from the system, as well as interrogate and manage the data.
Klopper says that the client is very happy with the solution as managers are now able to see in real-time if an employee did not arrive for his or her shift, and can instantly determine what additional resources will be required, as well as the associated induction and skills required to fill in for the absent employee.
More than time
"Apart from the obvious time and attendance application, there has been a massive improvement in ensuring that employees can only enter the mine if they have valid medical checks and their inductions are up to date. In the past this was all done through a manual paper system, open to errors, and was enormously time and people intensive. The previous process exposed our client to significant compliance and health and safety risks," says Klopper.
A further benefit of the biometric access control solution is that it is now being used to integrate with canteen management. The client needed to verify that they are only billed for actual meals issued by the catering company to employees and also needed to ensure that only authorised personnel are permitted access into the canteens. Meal vouchers are now only issued to employees provisioned to work on that day on presentation of a valid fingerprint. The log from the entire access event to the canteen is then used to verify the billing from the canteen management company.
Klopper says that the company leveraged its previous knowledge and expertise on similar projects to provide a solution that provides enhanced productivity, OHS compliance and substantial cost savings benefits across the board. An intimate understanding of the specific business benefits required by the client resulted in the complete adoption of a highly successful system.
For more information contact FS-Systems, +27 (0)21 685 1111, enquiry@fs-systems.co.za, www.fs-systems.co.za
Further reading:
Managing staff effectively
September 2019, dormakaba South Africa, iPulse Systems , Integrated Solutions, Access Control & Identity Management
Workforce management solutions allow organisations to track the relationship between productivity and the cost of employment, incorporating issues such as health and safety, T&A, rostering and more.
Read more...
---
Hennie Lategan joins Centurion as head of exports
September 2019, Centurion Systems , News, Access Control & Identity Management
Centurion Systems has announced the appointment of Hennie Lategan as the head of the company's exports department.
Read more...
---
New AlproMAX7 secures maximum rating
September 2019 , Access Control & Identity Management, Products
Alpro has launched a new range of ultra-secure mechanical mortice deadlocks, the AlproMAX7 which comply with BS EN 12209.
Read more...
---
ViRDI UBio Tab 5
September 2019 , Access Control & Identity Management, Products
ViRDI Distribution SA (ViRDI Africa) has announced the release of its long-awaited UBio Tablet to the South African market.
Read more...
---
Visitor access control at Ruimsig Country Club
September 2019, Elvey Security Technologies , Access Control & Identity Management, Products
Cost-effective access control solution that would control the ingress and egress of people, without hindering the traffic throughput of members.
Read more...
---
Estate-focused visitor management solution
September 2019, Vox Telecom , Access Control & Identity Management, Residential Estate (Industry)
Vox has expanded its cloud-based visitor management solution to cater specifically for the needs of small multi-dwelling unit estates and large residential estates.
Read more...
---
Biometrics control airport railroad
September 2019, Suprema , Access Control & Identity Management
63 km railroad to Incheon Airport is centrally controlled and secured by Suprema biometric hardware and software.
Read more...
---
Dual energy X-ray inspection system
September 2019, Regal Distributors SA , Products, Access Control & Identity Management
The ZKX6550 X-ray inspection system increases the operator's ability to identify potential threats; the device is designed to scan briefcases, carry-on baggage, small cargo parcels.
Read more...
---
ZKTeco parking barrier
September 2019, Regal Distributors SA , Products, Access Control & Identity Management
The PB3000 parking barrier is an ideal automatic car park barrier for parking lot and security control; it can easily integrate with revenue collection and access control systems.
Read more...
---
ZKTeco automatic bollard
September 2019, Regal Distributors SA , Products, Access Control & Identity Management
The high-quality automatic bollard is used to protect security areas from vehicle intrusion; in case of power failure, the bollard can be lowered manually.
Read more...
---