printer friendly version
Access module eases admittance
November 2015 Access Control & Identity Management, CCTV, Surveillance & Remote Monitoring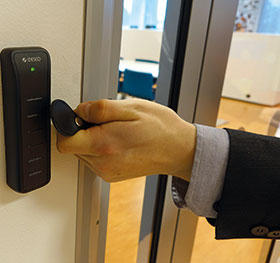 When Turvatiimi Oyj moved to new premises at the Flamingo Shopping and entertainment centre in the suburbs of Helsinki, a new automated access control system was needed. Turvatiimi Oyj has multiple offices at the premises, meaning that a total of 19 doors must have secured access.
Employees will move between the offices throughout the day and the company has a high number of visitors daily. A traditional reception or access control system would be impractical to handle this flow of people due to Turvatiimi Oyj's high security level needs.
All persons entering or leaving have to be identified; visitors have to be handled securely and efficiently, with no tailgating of visitors, misused access cards or spoofing of access. These are all inherent risks with traditional access control systems.
Hi-Sec Supply installed 18 cameras (Axis M3007, P8514, M3014, M3005 and P1425-LE) and 19 Axis A1001 Access Control units for controlling the doors. All are controlled by Milestone XProtect Professional video management software (VMS) with full integration to the Axis A1001 door controllers using the Milestone Access Control Module with Axis integration. All employees now have access tokens that can be used at all locations. The system integrates fully with the Responda 113 alarm system, ensuring rapid and informed response if unauthorised access is detected by the system.
The Milestone video-enabled access control system enables Turvatiimi Oyj to keep track of all persons on the Turvatiimi Oyj premises, while at the same time provide excellent service to visitors. An employee expecting a visitor will get a notification upon the arrival of the visitor, with a picture. This ensures that all persons at the premises are identified. The system will link access to a door with the video from a camera. In this way the identity of a person entering or leaving is ensured. If access tokens are swapped, it can be detected.

Secure but easy access to premises
Turvatiimi Oyj realised that a traditional access control system would not be a viable solution for the company because of their need for a high-security solution. Traditional panel-based access control systems require expensive, high-maintenance control panels to convey information and often use proprietary hardware that does not integrate with other systems. It is important to understand that a traditional access control system is only registering events based on the control panel. It might detect that a PIN code is used, but the system is unable to detect if it is an authorised person typing the code. If an incorrect pin code is disclosed, the security of the system is compromised.
Access control systems using cards or security tokens suffer from the same type of weakness, as cards may be lost, stolen or swapped. Again the system is only able to detect that a certain card has accessed a card reader. If a card or a PIN code has been used to gain unauthorised access, any video security system can only be used to detect unauthorised entry after the fact, unless a manned solution is used.
A video-integrated digital solution based on Ethernet cabling for data and power simplifies installation and offers a higher level of security because the video can link a person to an event, such as a door being accessed. The integration between an access control system and a VMS (video management system) enables a unified operation if the VMS client is used for controlling access, because the visual identification is an added level of security to the access control system.
The extended security and the simplified operation were the main reasons for choosing the integrated Axis/Milestone solution for Turvatiimi. Use of the Milestone Mobile client simplifies operations further and all Turvatiimi Oyj employees can verify request for access if needed.
The recordings and access control data are kept for two to three weeks in case of the need for investigation of an access event. Furthermore, the use of Milestone XProtect VMS with its open platform technology enables Turvatiimi Oyj to add analytics as needed. An example of this could be people counting, giving Turvatiimi Oyj the exact number of persons at its premises at all times. This is essential information in case of fire or other emergencies.
Initially the system is implemented in Turvatiimi Oyj headquarters with 50 employees. The rest of the 25 locations are to follow. Hi-Sec Supply Oy did the implementation of the integrated Milestone/Axis solution at the Turvatiimi Oyj premises.
"We will implement the integrated access control system at all our locations. This will give us the ability to use the same access token at all our sites, while having centralised control at the same time," says Mika Bragge, head of technology at Turvatiimi Oyj. "So far, the experience with the integrated access control system is very positive. The system is fast for reacting and gives immediate information on incidents."
Increasing market for integrated solutions
"All our sales staff can use the mobile app to display the solution making sales considerably easier and more specific. We have confidence in this solution by Milestone and Axis, and we are proud to demonstrate it," says Bragge. "Security managers from other companies often ask me how we can keep track of so many people at our offices, and I just show them how easy it actually is with this combined technology."
Credit(s)
Further reading:
Shorten your checkout lines to enhance customer experience
September 2019, Hikvision South Africa , Retail (Industry), CCTV, Surveillance & Remote Monitoring
Hikvision's queue detection technology is purpose-built to offer cutting-edge flow analysis to retail outlets and any situation where waiting to pay is required.
Read more...
---
Constructive CCTV contributions to research
September 2019, Leaderware , Editor's Choice, CCTV, Surveillance & Remote Monitoring
Study leads to understanding that we need more recognition and reward for constructive participation in society.
Read more...
---
Managing staff effectively
September 2019, dormakaba South Africa, iPulse Systems , Integrated Solutions, Access Control & Identity Management
Workforce management solutions allow organisations to track the relationship between productivity and the cost of employment, incorporating issues such as health and safety, T&A, rostering and more.
Read more...
---
Hennie Lategan joins Centurion as head of exports
September 2019, Centurion Systems , News, Access Control & Identity Management
Centurion Systems has announced the appointment of Hennie Lategan as the head of the company's exports department.
Read more...
---
New Africa sales manager for Axis Communications
September 2019, Axis Communications SA , News, CCTV, Surveillance & Remote Monitoring
Axis Communications has appointed Brendon Hall, previously the founder and MD of Pentagon, as its new sales manager, Africa.
Read more...
---
Hikvision helps secure African Union Summit
September 2019, Hikvision South Africa , News, CCTV, Surveillance & Remote Monitoring
Hikvision established a complete intelligent video solution to ensure the security of the thirty-third African Union (AU) Summit held on 7 July in Niamey, the capital of Niger.
Read more...
---
Genetec to integrate CylancePROTECT
September 2019, Genetec , Editor's Choice, CCTV, Surveillance & Remote Monitoring, News
Genetec has announced it is partnering with Cylance, a business unit of Blackberry, to bring AI-based antivirus protection to its appliance customers.
Read more...
---
New AlproMAX7 secures maximum rating
September 2019 , Access Control & Identity Management, Products
Alpro has launched a new range of ultra-secure mechanical mortice deadlocks, the AlproMAX7 which comply with BS EN 12209.
Read more...
---
Best in class at sea and ashore
September 2019, Axis Communications SA , Transport (Industry), CCTV, Surveillance & Remote Monitoring
Thermal network cameras support the guard tour function that can be used for continuous monitoring of a particular area according to the pre-set guard tour.
Read more...
---
ViRDI UBio Tab 5
September 2019 , Access Control & Identity Management, Products
ViRDI Distribution SA (ViRDI Africa) has announced the release of its long-awaited UBio Tablet to the South African market.
Read more...
---