printer friendly version
Gatwick Airport upgrades access
Access & Identity Management Handbook 2015 Access Control & Identity Management, Integrated Solutions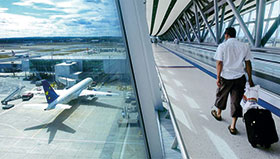 Of the many global airports using the CEM AC2000 Airport system, Gatwick Airport more than most illustrates the systems' comprehensive capabilities, resilience and true flexibility in its ability to be tailored to meet customer needs.
From its initial installation, CEM has worked with Gatwick to develop the system in response to its changing needs and to offer more than simply an access control solution. Over the years, functionality has been added to the system in response to changing legislation in the aviation industry and as the airport expanded.
Today, the system provides an integrated business solution that is continuously developed to help Gatwick operate the airport more efficiently.
One of more recent developments at Gatwick Airport includes an extension of the system to cover the Pier 6 development. Gatwick's Pier 6 is a £100 million project that provides vital extra pier service at the airport's North Terminal.
Gatwick reported the project will create a satellite building providing 11 pier served aircraft stands and includes the largest air passenger bridge crossing an airfield in the world. Standing at 197 m long and 32 m high, the bridge spans the runway allowing aircraft the size of a Boeing 747-400 to pass underneath, with travellators and walkways in both directions, and a glazed façade giving passengers unique and spectacular views across the airfield.
The CEM AC2000 Airport system has been expanded to include an additional 260 CEM S600 card readers to provide access control and monitoring at Pier 6 including control of common use passenger lifts, covering four levels of the pier including an arrivals level and departures level.
Using special door operation modes available with the S600 reader, lift operation to the gate rooms will be linked so that if the gate room S600 reader is in departures mode the associated lifts will go to departures mode, ensuring the lift parks itself at the departures level for use by departing passengers only.
Likewise if the reader status is changed to arrivals mode the reader signals the lift controller to arrivals mode ensuring the lift parks itself at the arrivals level for use by arriving passengers. With the new Pier 6 extension the installed CEM AC2000 Airport system will include almost 1000 card readers and almost 80 000 operational cardholders.
Sustainable Development Strategy
The Pier 6 project forms part of Gatwick's Sustainable Development Strategy to manage environmental impacts. "The CEM AC2000 Airport system assists with Gatwick's strategy for energy conservation by allowing us to enable equipment such as escalators and heat curtains only when they are required," said Kim Hayler, access control services manager at Gatwick.
"When the gate room reader is enabled for arrivals mode, as well as controlling the lifts, it also enables the escalator in readiness for arriving passengers. This ensures that when the gate room is not in use the escalator is automatically shut down for energy conservation," according to Hayler.
Estimated to accommodate 3.5 million passengers in its first full year of operation, the pier will save 50 000 coach movements, used to transport passengers between the North Terminal and aircraft stand, reducing fuel emissions and ground noise on the airfield.
As well as controlling and monitoring staff and passenger movement the system at Gatwick also allows for control and monitoring of loading bridges (sometimes referred to as an air jetty). The system has been designed to reduce maintenance costs and control the use of loading bridges. There had been concern that it was difficult to track the use and status of air bridges throughout the airport, with growing maintenance costs due to damage.
To address this, the AC2000 Airport system was developed to link a loading bridge to a CEM S600 card reader. Before the bridge can be used, the driver must make a valid swipe on the CEM reader.
Besides controlling who is using the air bridges, the system provides an immense amount of data for reporting. Resulting information includes a list of air bridges, with the number of faults for each bridge, as well as the number of each type of fault over time.
The airport knows the hours of operation for each air bridge as well as how long each air bridge has been in maintenance, standby or fault. A list of operators with their number of faults is also provided.
Upgrade
In 2014 Gatwick underwent a major upgrade of its AC2000 Airport solution. The project was phased throughout 2014 and involved an upgrade of AC2000 Airport software, as well as the upgrade of more than 700 card readers throughout the airport terminals to support PicoPass smartcard technology.
"We have worked with CEM Systems to seamlessly upgrade our existing AC2000 security system, which has proven to be highly reliable and powerful. With a large system and the critical nature of the airport environment we needed a phased upgrade that ensured zero system downtime," said David Rees, business system manager for operations. "CEM support was second to none with the AC2000 Airport."
For more information contact Tyco Security Products, +27 (0)82 566 5274, emallett@tycoint.com, www.tycosecurityproducts.com
Credit(s)
Further reading:
How to stop security threats early
J2 Software Cyber Security Integrated Solutions
Integrating a security ecosystem allows one to better protect the company, while also better understanding and improving the company's risk posture.
Read more...
---
Turnstar ramps up countermeasures
Turnstar Systems Editor's Choice Access Control & Identity Management News Products
Turnstar has developed and patented an early warning and deterrent system which will alert security, and anyone nearby, of any attempt to place ramps over the raised spikes.
Read more...
---
Suprema integrates biometric access control with Genetec
Suprema News CCTV, Surveillance & Remote Monitoring Access Control & Identity Management
Suprema has announced the successful integration of its biometric access control products with Genetec Security Center, a unified security platform that connects security systems, sensors and data in a single intuitive interface.
Read more...
---
IDEMIA South Africa achieves level 1 B-BBEE status
IDEMIA News Access Control & Identity Management
As part of the action plan to improve its status to Level 1, IDEMIA now works with over 40 black-owned local suppliers, representing over 30% of IDEMIA's local suppliers.
Read more...
---
Suprema no. 1 in the global biometric market excluding China
Suprema News Access Control & Identity Management
According to the latest report by Omdia, a global market research firm, Suprema ranks first in global market share, excluding China, in the field of biometric readers.
Read more...
---
Dahua and Yeastar PBX-intercom integration
Dahua Technology South Africa News Access Control & Identity Management
Dahua Technology and Yeastar announced their new ECO partnership on PBX-intercom integration to provide a comprehensive and unified communication solution for small- and medium-sized enterprises.
Read more...
---
Traka launches experience centres
News Access Control & Identity Management
Traka launches inaugural Experience Centres in Australia and South Africa; aims to drive continuous collaboration and innovation.
Read more...
---
New platform for keyless access
Access Control & Identity Management
The new ABLOY CUMULUS platform for keyless access combines locking hardware with secure access and management applications in a single ecosystem with a risk-free, integrated cloud service.
Read more...
---
City surveillance in South Africa
IDEMIA Government and Parastatal (Industry) CCTV, Surveillance & Remote Monitoring Integrated Solutions
Smart cities and their smarter, more responsible eye in the sky; a look at the video surveillance landscape in South Africa.
Read more...
---
The importance of staying up to date
Access Control & Identity Management Government and Parastatal (Industry)
Africa's cyber threat landscape is constantly evolving, with government's facing a range of digital threats from espionage, critical infrastructure sabotage, organised crime and combat innovation.
Read more...
---