printer friendly version
The key to security
Access & Identity Management Handbook 2015
Access Control & Identity Management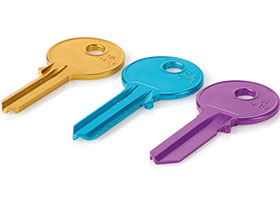 Keys are so easy to duplicate or lose, and in many instances locks are easy pickings for the less ethically inclined who know what they are doing, so it seems strange that we still rely on old fashioned keys to secure premises and goods – and ourselves. Yet, keys are still a significant factor in the security world and will remain so for a long time.
We are fortunate today that managing a business's keys is not a matter of having them stacked in a cabinet somewhere without anyone actually knowing who has what. Today's key management systems are as technically advanced as other security systems, yet still relatively easy to use when set up correctly.
Hi-Tech Security Solutions spoke to a number of key management companies to find out the latest in this quiet, but critical field.
The first question we asked is whether there is a real need for electronic key management today. Is it not the case that simply adding technology confuses the issue of issuing and keeping control of keys?
Amaya Industries' Johan van Zyl says there is definitely a need for proper key management. "The justification for electronic key management is often based on the idea that security directors and managers, as well as facility professionals want to control and manage the entry and use of rooms and assets within a facility or institution. Today's modern access control systems rely to a large extent upon access cards (mag stripes, proximity cards, smartcards, etc.) and biometric access, but they often do not cover a certain number of assets, doors, and rooms, which are still accessed by traditional keys. Access to these traditional mechanical keys must be controlled and managed in order to assure a safe and secure facility."
He notes that another motivation for a good key management system is the cost consideration. Lost keys cost organisations dearly in time and money. This cost results from time spent searching for keys and/or their holders, as well as the cost of replacing locks, cylinders and keys, not to mention production and management time lost in resolving key issues.
Traka's Nick Loake adds that even though the trend is to electronic locks with card and/or biometric access, it is a costly exercise to simply replace every lock in a company. Many companies can't afford such an upgrade.
"Yet, when a conventional key is stolen, mislaid, or inadvertently taken home, your security is compromised," says Loake. "Your organisation is suddenly vulnerable. Even if nothing is stolen and no damage done, the cost and inconvenience of fitting new locks and the impact on productivity can be significant."
Fernando Pires, VP of sales and marketing at Morse Watchmans echoes the two local operators, stressing that unguarded access as a result of mismanaged keys can potentially cause businesses to lose expensive or ­sensitive items and can compromise the safety of employees.
"Today's sophisticated technology and systems integration make key management more than a means to control access to keys," explains Pires. "Open protocols enable connectivity to access control, IP video surveillance, intrusion, fire alarms and other systems provided by a range of integration partners for multiple levels of security and control. These technology advances have transformed key management from a simple lockbox into cutting-edge enterprise solutions that can improve operational efficiency and provide maximum control of access and security issues."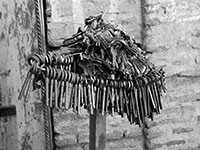 Photo by Rosino, Flickr Creative Commons (https://www.flickr.com/photos/rosino/3447551231/).
So what do you need?
It is always easy to make the case for technology, but what do companies really need? What should one be looking out for when it comes to investigating a modern key management system and what features and functionalities are important if the system is to prove its worth?
Pires says that a key management system, no matter what type of organisation it is intended for, must offer three primary capabilities:
1. Integration: Integration has become an essential element of product architecture as IP surveillance and security systems become the standard across a wide range of applications. Those that are proprietary or function only as a standalone solution don't fit the design/build preferred by system integrators, A&Es and the end user. The compatibility with other security systems and network access can save time and money. As an example, when using a common front-end database and programming, transactions such as adding or deleting users can be synchronised for easier and more efficient administrative control.
2. Flexibility: Because each deployment is unique, Pires believes solutions for key security, key control and key management must have the flexibility to be tailored to the various needs of the user as well as the flexibility to grow and change as requirements do.
3. Reporting: Key usage data provides a wide range of business intelligence: programmed reports are the easiest and most effective method of assembling and viewing the information. Practical management reports can trace key movements by time, date and user code, while audit reports can track keys in use and overdue keys, inconsistent key usage and so on. For added convenience, reports can be programmed to automatically download to a PC or they can be emailed or they can be accessed using a smartphone app.
According to Loake, a key management solution will enable you to restrict who can access your keys, with full control, monitoring and recording functions. "The use of keys for any physical asset, including buildings, facilities, equipment and vehicles can be much better managed with intelligent, electronic, key management systems."
Van Zyl echoes this, noting a proper electronic key management system should offer a customer flexibility, scalability and ease of use combined with the latest up-to-date technology on offer. In addition, it must offer interface possibilities into third-party systems.
"One of the most important features of a key management system is, of course, the software reporting facility. There should be a comprehensive selection of standard reports available and the user should be able to easily filter transactions as required. A new trend is easily accessible web-based software that will allow the user to access the system and monitor usage from anywhere in the world."
Real-world benefits?
When it comes to key management, the ­immediate benefits to the customer are accountability and responsibility, according to Loake. Employees are tracked when they check out a key and know they will be held accountable if it is lost or if they take it home with them.
"Under Traka's system, keys or keysets are permanently attached using a tamper proof security seal to a metal iFob," he explains. "The iFob, with keys attached, locks into a receptor strip within the key cabinet until released by an authorised user. Once the appropriate user profiles and key details have been entered into the software, Traka ensures that only authorised staff are allowed access to the key cabinet – and only then, to designated keys. The system automatically records when a key is used and by whom on a central database. This information is available via the cabinet's data display or on an administrators PC."
Van Zyl breaks the benefits down into finer detail, stating that an automated ecos key management system will:
• Eliminate human error
• Increase productivity and efficiency
• Do away with labour intensive and manual key registers
• Centralise and automate the administration of keys
• Secure keys against abuse and theft
• Reduce the risk of data breaches and monitor protection
• Release keys to authorised persons only
• Provide an ongoing and up-to-date audit trail of all key-related events and
• Identify who has a key at any given time and therefore
• Drastically cut down on key replacement costs
• Offer peace of mind
• Contribute to an overall higher level of safety
• Increase security.
Pires talks the language financial managers want to hear, noting that electronic key management systems are an affordable and convenient way to add accountability to the process and ultimately increase the level of security a key and lock offers.
"Key management systems can reinforce access control policies that are already in place and can help to reduce the costs associated with lost keys or unmanaged access. For instance, company policy may state that a key removed from the cabinet must be returned by that same employee. The reason for this type of policy is to ensure that the individual removing the key is accountable for that key and thus it will be less likely to be passed from one individual to another or copied. An automated key control and management system enforces this policy by physically preventing a key from being returned to the cabinet by any individual other than the employee who originally accessed the key."
What's on offer?
Ending the discussion, Hi-Tech Security Solutions asked each of the interviewees to highlight their product offerings in this space.
Morse Watchmans
Morse Watchmans is a leading provider of key control, key security and key and asset management solutions. The product portfolio offers both a standalone system, the KeyWatcher Illuminated with optional KeyPro III accompanying software and an enterprise system, the KeyWatcher Touch with optional KeyWatcher TrueTouch accompanying software. The new SmartKey Reader is designed for use with the KeyWatcher Touch system and accompanying TrueTouch software for total convenience when adding new keys to the system, deleting keys, or identifying existing keys.
A mobile app enables authorised users to review a wide range of live information and to interact remotely with the KeyWatcher Touch key control and asset management system. Also included in the product portfolio is the KeyBank key management system to enable total accountability for large quantities of keys, KeyPro Software, KeyRings, PowerCheck Guard Tour System and TourPro Data Sorting Software.
Traka
Traka systems are able to integrate with many different types of access control systems. Some solutions Traka offers are as follows:
• Key management
o Buildings, facilities and equipment
o Vehicles and fleet management
• Access control
o Buildings and facilities
o Secure environments
o Vehicles and tools
• Process control
o Manufacturing and processing
• Secure storage.
Amaya Industries
Amaya Industries offers one of the most advanced products currently available. The German engineered and designed ecos-systems electronic key management boasts sophisticated features. The product range consists of: electronic key management systems, electronic locker systems and electronic safes and lockers.
The most recent addition to the range, the ecosKey, is powered by currently unsurpassed technology. A built-in tablet performs all processing functions within the cabinet handling all hardware and software requests. Wi-Fi and 3G connectivity allow for easy installation and linking to the client's local network. Alternatively, hosting the software service in the cloud allows access to the system from anywhere in the world via a web-enabled device. Preserving the integrity of ecos-systems products, Amaya Industries install each unit to strict German specifications.
The product range includes:
- ecos Electronic Key Management systems – ecosKey (touch screen system with individual key locking), ecos Secure (individual key locking) and ecos Plus (non-locking of individual keys).
- ecos Electronic Asset Management systems – ecos Safe and ecos Locker systems.
For more information contact:
Amaya Industries, 0861 500 110, johan@amayaind.co.za, www.amayaind.co.za
Morse Watchmans, +1 (0) 203 264 4949, morse@morsewatchman.com, www.morsewatchmans.com
Traka, 0861 872 521, nick.loake@traka.com, www.traka.co.za
Zonke locks key management
Thabe Mashifane from Zonke Monitoring Systems says there is still a need for key management in that it offers a complete solution through an integrated combination of hardware and software to individually store; control and monitor access to assets. "On the other hand biometrics and electronic locks have limitations as far as individual asset management is concerned."
Mashifane explains there are various functionalities a key management can offer:
• Our GFMS (Global Facilities Management Software) app uses web-based technology to provide real-time reporting and remote access to our electronic storage and monitoring devices.
• Our key management systems and GFMS can be customised to suit the client's operational environment.
• These systems can be integrated into existing access control systems, for example, the access control will deny users permission to leave a facility if a key is not returned to the box, and the same can be done with any other systems.
Zonke Monitoring Systems (ZMS) in collaboration with Key Systems Inc., provides network ready, web-enabled, asset control and monitoring devices, from keys to cards, firearms and medical supplies, to facility-wide access and exit monitoring. ZMS also provides electronically controlled lockers which may be modified in any number of ways to accommodate the customer's needs.
For more information contact Zonke Monitoring Systems, +27 (0)11 880 1000, thabem@zonkems.co.za, www.zonkems.co.za
Credit(s)
Further reading:
Turnstar ramps up countermeasures
Turnstar Systems Editor's Choice Access Control & Identity Management News Products
Turnstar has developed and patented an early warning and deterrent system which will alert security, and anyone nearby, of any attempt to place ramps over the raised spikes.
Read more...
---
Suprema integrates biometric access control with Genetec
Suprema News CCTV, Surveillance & Remote Monitoring Access Control & Identity Management
Suprema has announced the successful integration of its biometric access control products with Genetec Security Center, a unified security platform that connects security systems, sensors and data in a single intuitive interface.
Read more...
---
IDEMIA South Africa achieves level 1 B-BBEE status
IDEMIA News Access Control & Identity Management
As part of the action plan to improve its status to Level 1, IDEMIA now works with over 40 black-owned local suppliers, representing over 30% of IDEMIA's local suppliers.
Read more...
---
Suprema no. 1 in the global biometric market excluding China
Suprema News Access Control & Identity Management
According to the latest report by Omdia, a global market research firm, Suprema ranks first in global market share, excluding China, in the field of biometric readers.
Read more...
---
Dahua and Yeastar PBX-intercom integration
Dahua Technology South Africa News Access Control & Identity Management
Dahua Technology and Yeastar announced their new ECO partnership on PBX-intercom integration to provide a comprehensive and unified communication solution for small- and medium-sized enterprises.
Read more...
---
Traka launches experience centres
News Access Control & Identity Management
Traka launches inaugural Experience Centres in Australia and South Africa; aims to drive continuous collaboration and innovation.
Read more...
---
New platform for keyless access
Access Control & Identity Management
The new ABLOY CUMULUS platform for keyless access combines locking hardware with secure access and management applications in a single ecosystem with a risk-free, integrated cloud service.
Read more...
---
The importance of staying up to date
Access Control & Identity Management Government and Parastatal (Industry)
Africa's cyber threat landscape is constantly evolving, with government's facing a range of digital threats from espionage, critical infrastructure sabotage, organised crime and combat innovation.
Read more...
---
Dynamic Drop Arm Barrier
Turnstar Systems Access Control & Identity Management
Suited to medium-volume access and medium-level security applications such as office reception areas, health clubs, universities and libraries, the Dynamic Drop Arm Barrier also allows special needs access.
Read more...
---
Automatic tyre spike industrial vehicle barrier
Turnstar Systems Access Control & Identity Management
The Turnstar Velocity Raptor automatic tyre spike industrial barrier, with SwiftDrive technology, is aimed at high-volume and high-security access applications such as parkades, shopping centres, residential estates and airports.
Read more...
---