printer friendly version
Multi-dimensional perimeter ­security
Access & Identity Management Handbook 2015 Access Control & Identity Management, Perimeter Security, Alarms & Intruder Detection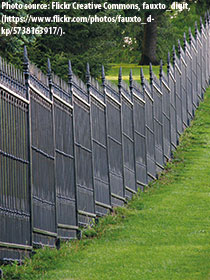 Is an electric fence enough to keep the criminal element out of private and business premises or are businesses demanding additional technology? Technews spoke to industry specialists about the current trends in perimeter security and found that a multi-dimensional approach is preferred.
Puffer Hartzenberg, managing director of ELF Rentals, says that a high quality electric fence remains one of the few barriers to satisfy all three essential prerequisites of a perimeter security solution: deter, detect and delay.
He says that since many installations lack a reliable detection mechanism, the trends have been to bolt on additional forms of detection and monitoring. Reliable detection is the key to successful perimeter security, allowing resources to be deployed to a breach in an efficient and timeous manner. This further enhances the deterrent value of an installation.
He continues that ideally you want to be aware of the location of a breach at the time that the attempt is being made, if not before. Modern electric fence energisers have on-board return (feedback) voltage monitoring and can easily be networked to provide real-time information to monitoring stations. Control room type software allows trend analysis and a hierarchical report and alerting systems.
Hartzenberg cautions that current trends for new installations are favouring expensive mesh type fencing which he claims provide an impressive looking finish but are sadly lacking in all three of the 'Ds', with only a portable angle grinder required to successfully breach a perimeter.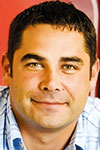 Brendon Cowley, business development director at C3.
Brendon Cowley, business development director at C3, says that customers are no longer content with just an electric fence for the very reason that as much as it may delay an intruder, it offers no situational awareness of the intrusion or the ability to identify the threat.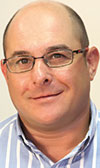 Philip Smerkowitz, managing director of TeleEye.
Philip Smerkowitz, managing director of TeleEye, says that the extent of the perimeter system is driven primarily by budget with the electric fence forming the foundation and add-ons such as lighting and cameras being based on individual cost constraints.
Video verification
He says that a staged approached should be employed that considers specific elements in a comprehensive risk assessment. He refers to the mining and property management space where companies are adding additional items such as thermal imaging cameras with analytics, providing a detection and verification mechanism, to their existing perimeter security. This is especially dominant on longer perimeters where inadequate lighting becomes an issue.
Another trend he cites include remote offsite alarm verification of perimeter installations, which reduces the guarding component and improves general security. Fibre optic intrusion detection, long-range passive infrared devices, radar technology and newly released short-range thermal cameras for smaller installations are other supplementary security devices.
Hartzenberg says that add-on detection systems fall into two main categories: vibration sensing and visual monitoring.
There are a plethora of vibration sensing systems available which can provide decent detection and they typically rely on a sensitive monitoring device attached to the fence infrastructure at regular intervals, with a linking cable right around the perimeter.
Some of the newer systems deploy fuzzy logic and can discern between heavy impact, repeated hammering and high-frequency vibration, like cutting. Several methods are used to indicate the source of the interference to the monitoring station. However they are primarily detection devices and need to be deployed with backup guarding, which is expensive.
"Secondly, CCTV, including thermal, infrared and regular cameras have developed tremendously in the last few years and are being very successfully deployed to monitor perimeters. Thermal systems are expensive to implement. Advances in low-light visual systems and on-board camera detection methods have been particularly notable. The new-generation low-light cameras are well priced and very impressive. CCTV solutions rely on a solid communications link back to the monitoring station, be it copper, fibre or Wi-Fi and the requisite trained operators for monitoring," adds Hartzenberg.
He feels that the ongoing development of visual cameras systems will dominate the progress of perimeter security solutions in the next few years.
Fibre detection
Photo source: Flickr Creative Commons, Amanda Slater, (https://www.flickr.com/photos/pikerslanefarm/12286367285/).
Smerkowitz says that the use of fibre optic detection systems are popular amongst higher risk sites. They consist of fibre optic cables mounted to a fence or wall which are connected to processors which monitor the light transmission patterns through the fibre cable. As the cable moves due to vibration, the light pattern changes and the processor unit using sophisticated algorithms, analyses the change in transmission pattern, filtering out changes due to wind or other unwanted signals and produces an alarm signal.
Hartzenberg adds that most sensors rely on a solid state accelerometer that responds to various vibrations detected on the fence hardware. If installed correctly they will enhance the detection ability of a perimeter solution but reliability remains cause for concern.
Both fibre systems and vibration systems typically rely on a single ring main link for communication and determining the locality of a potential breach. In the case of fibre, any damage to the cable can result in significant delays in restoring the link due to the complexity of splicing fibre cables. Furthermore, a single pre-emptive cut with a pair of sidecutters can render the entire perimeter vulnerable as the sensors are typically run in a daisy chain configuration.
Cowley adds that the installation of these systems depends critically on two factors, namely what material is used for the perimeter structure, for example a concrete wall, a flimsy wire fence or a sturdy electric fence. "The second factor is how well the vibration detection solution is 'bonded' to this perimeter structure. If these two factors are handled appropriately then the solution will be reliable and will work well. However, this technology will not identify the threat or offer any sort of situational awareness such as that offered by cameras installed with video analytics."
Feeling the heat
Thermal cameras have gained a following over the past few years due to their ability to detect heat emitting objects in the total absence of light. This, says Smerkowitz, makes them the perfect add-on element for perimeter security where they are able to detect a presence over long distances in even the most inclement environmental conditions.
He is of the opinion that the initial purchase price on thermal cameras should not be the only determinant when considering costs. He explains that due to the range of thermal cameras, they can be installed at longer intervals than other surveillance cameras, typically on a 1:6 (per 300 metre) comparative ratio.
He points out that thermal imaging cameras are becoming more affordable, with no discernible price increases over the past couple of years and in some instances a 40% decrease on the cost of premium models. In addition, a lower cost, shorter range version is now available for the budget conscious user with smaller perimeters. Developments in HD thermal cameras, with higher resolution images are on the cards for the future, while better bandwidths for remote monitoring will increase the efficacy of the systems.
Hartzenberg and Cowley underline the advantages of thermal cameras, saying that they can detect movement at 880 m, recognise the shape of threat at 225 m and positively identify at a mere 112 m. The technology has, in the last few years, become more mainstream and is no longer considered military grade. However, as a cautionary note, this also means that the market is now opened up to inferior products so one needs to ensure that the brand used is a reliable and reputable one.
The nuts and bolts
Before any decisions are made with regard to perimeter security requirements, a detailed risk assessment needs to be performed. This will be contingent upon a site survey and the goals of the client. Determining factors include budget and analysis and an understanding of the movement and volume of people through the premises.
Hartzenberg breaks it down into eight steps. Firstly, a thorough reference check should be performed on the service provider. Secondly the perimeter needs to be broken down into zones based on both the length and risk profile, with higher risk areas being shorter in length.
One needs to determine whether there is risk of burrowing and then to consider an anti-burrowing solution. One also needs to ensure that the height of the fence is suited to the determined risks and that the spacing of both the intermediate supports (1.5-3.0 m) and the wiring spacing (75-100 mm) is such that any breach is severely hampered.
The right materials need to be selected relative to the conditions, for example, galvanised versus stainless steel. The goal should be to use the best IP energisers available that can be interrogated and managed remotely. The final step is reaching agreement with the installer regarding a maintenance plan, which holds the installer accountable for defective installation or materials.
For more information contact:
C3 Shared Services, +27 (11) 312 2041, [email protected], www.c3ss.com
Elf Rentals, +27 (0)41 368 3701, www.elfrentals.co.za
TeleEye (South Africa), +27 (0)11 557 9200, www.TeleEye.com
Thermal perimeters
Flir's Theresa Turner discusses the applicability of thermal cameras to perimeter solutions.
What are the latest trends in perimeter security?
People are generally looking for the best technical solution at an affordable price. Thermal cameras offer a solution that will create alarms and produce images in complete darkness and in most weather conditions. Why not detect intruders, create an alarm and have visual verification?
What can be added to the traditional fence to improve security?
Mechanical protection of a perimeter is a solution but can be defeated relatively easily. The use of thermal cameras in combination with analytics will provide an alarm when an intruder compromises a perimeter and will also provide visual verification. The benefits are that you need fewer thermal cameras than visual CCTV cameras, there is no light pollution, the energy consumption is less as is the installation cost.
What processes should a customer go through when designing a perimeter solution?
A consideration should be given to the level of security needed. If you have valuable assets and you need to generate alarms when a perimeter in compromised then thermal cameras with analytics if a good solution. The next stage is to plan the layout of the cameras this can be done using the FLIR site planning tool http://content.flircs.com/sitebuilder. Also, due
consideration should be given to a suitable analytics supplier.
How does one incorporate the increased cost of thermals into a perimeter solution?
The cost of thermal cameras has reduced considerably in recent years. Their use can be easily justified as thermal cameras cover larger areas than CCTV cameras, some products will detect a man at 20 km. As fewer cameras are used the installation cost is less. In addition, the power consumption is very low for thermal cameras as there is no illumination needed.
FLIR sell a complete range of thermal cameras, in addition there is a full selection of visible CCTV cameras and recorders.
For more information contact FLIR Systems, +44 (0)1622 814742, [email protected], www.flir.com
Credit(s)
Further reading:
Gallagher to showcase new Controller 7000 single door
Technews Publishing Access Control & Identity Management Products
Gallagher will be showcasing its latest access control innovation, the Controller 7000 Single Door on its stand at Intersec Dubai from 17-19 January 2023.
Read more...
---
Smart home security
Olarm Smart Home Automation Perimeter Security, Alarms & Intruder Detection Products
The applied use of smart technology within the Olarm ecosystem, through smart features coupled with existing systems, extends the benefits of technology into different spheres.
Read more...
---
Be cautious when receiving deliveries at home
News Perimeter Security, Alarms & Intruder Detection Security Services & Risk Management
Community reports of residents being held up at their gate when collecting fast food deliveries at home are once again surfacing.
Read more...
---
Future-proofed intrusion detection for retail
Elvey Security Technologies Retail (Industry) Perimeter Security, Alarms & Intruder Detection Products
One of the ongoing challenges that has faced retailers during their adoption of security technology is the issues caused by non-standardisation of technology.
Read more...
---
Smart parking management platform
Access Control & Identity Management Asset Management, EAS, RFID
Parket builds a seamless bridge between supply and the ever-increasing, but fluid – and often temporary – demand for parking bays.
Read more...
---
Visible-light facial recognition terminal
ZKTeco Access Control & Identity Management Products
The SpeedFace-V5L [P] is a visible-light facial recognition terminal using intelligently engineered facial recognition algorithms and the latest computer vision technology.
Read more...
---
Facial and palm verification
ZKTeco Access Control & Identity Management Products
The ProFace X [P] supports both facial and palm verification, with a large capacity and rapid recognition.
Read more...
---
Glide Master High Security 90° Sliding Gate
BoomGate Systems Access Control & Identity Management Products
Boomgate Systems was asked to make a sliding gate that can turn 90 degrees. The gate had to offer high security and be vandal-proof.
Read more...
---
Informing, entertaining and communicating across your landscape
Evolving Management Solutions Access Control & Identity Management
For the first time, the attraction of large shopping malls with many stores, entertainment and food courts no longer offers enough appeal to attract customers.
Read more...
---
Suprema's new BioStation 3
Suprema Access Control & Identity Management Products
The brand new BioStation 3 is not only Suprema's smallest face recognition device to date, but it also comes packed with the largest variety of features.
Read more...
---