printer friendly version
Electronic locks take centre stage
Access & Identity Management Handbook 2015
Access Control & Identity Management
Electronic locks are cool. No more losing your keys or standing around like an idiot when you find yourself locked out with the keys inside. There are numerous electronic locks available today, but are they are good as they seem? What happens when your battery dies or when Eskom decides it can't handle the pace? Moreover, what happens if you lose your card or fob, or can't remember your PIN code?
Hi-Tech Security Solutions asked a few vendors of electronic locks and related products and services to tell us what makes these devices a good option today, and to answer our questions on flat batteries and the overall management of these systems.
Perhaps the first step is to find out what exactly an electronic lock is and why have they become so popular, it's not like mechanical locks are going to vanish anytime soon.
Francois Breedt from ASSA ABLOY says electronic locks are really standard locks with the only difference being in the way the bolt is released. Traditional locks require a physical key to throw the bolt, where as an electronic lock requires an electric pulse to trigger the bolt movement.
If a door is fitted with a standard lock and is access controlled, additional opening devices like maglocks need to be added to the door to allow the access control system to manage the door. By replacing the traditional lock with an electronic lock, the lock can be connected to the access system and easily be triggered when required. Replacing the lock is usually an easy process and requires minimum changes to the integrity of the door as the lock is installed in the door leaf. Maglocks on the other hand are installed on the door and require additional brackets, drilling, etc.
"Electronic locks, in most cases, do not require constant power to keep the door closed while maglocks do, and with the electricity crisis in South Africa, and most of Africa for that matter, end users can be assured that their premises will remain secure in the event of a prolonged power outage," adds Breedt. "The product also ties in with green building initiatives and lower carbon footprint strategies globally."
Mechatronic Access Control
Guillaume Deon, sales director southern Africa for Acsys Technologies explains that electronic keys and locks are part of an emerging field of access control known as Mechatronic Access Control. The name reflects the fusion of both mechanical and electronic technologies. Keys and locks are programmed with software to store and control who can go where, when and for how long.
Moreover, one key can open up to 100 000 locks if you program it to. All data is encrypted making the keys impossible to copy. Since the locks have no mechanical pins within the keyway, there is no way to pick or 'bump' the locks.
"The traditional mechanical lock and key system is just a nightmare," Deon says. "Keys are often copied leading to theft or degradation, and once distributed there is no control over where and when the mechanical key is used. Keys are usually distributed to users from a central location, which requires people to spend time collecting, returning and managing those keys. In the end, for any organisation it's just a huge waste of time and money."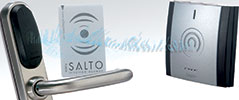 Salto Systems' Wouter du Toit says the description of electronic locks can vary but for him it is a battery powered RFID wireless access control mechanism that controls the opening to mechanical mortise locks. When presenting a valid RFID card to the reader that is typically built in to the frame of the handle, it will activate and allows the spindle to turn back the latch. The same technology is available for cylinders that activates the cam and then turn back the latch or deadbolt. Most of these technologies run off batteries and can be standalone or networked.
"The traditional lock and key is not secure anymore. With technologies such as 3D printers it is really easy to copy a key, you just need to take a quick snapshot with a cellphone and you will be able to duplicate it," Du Toit explains. "With mechanical keys it's virtually impossible to easily set and change who can access where and when and there is no way, without adding more infrastructure, to objectively know who actually went where and when. Because of these limitations, security is sacrificed. Further, there is the hassle and cost of mechanical key systems because as soon as you have more than a few locks and more than a few users, trying to control lost keys and unauthorised key copies is untenable.
"There is also a big move from conventional cabled solutions due to higher cost, and maintenance requirements, and electronic locks can virtually fit on any door and provide the same security. The technology has proven itself over the past 15 years to be very reliable in any market sector and it has grown from a standalone solution to networked solution that forms a key component to any companies' access control solution. Very often the technology is associated with the hospitality sector but this is not true, it still has a strong fit in that market sector but it is so much more than the electronic locks of old that only work offline with limited intelligence."
Du Toit adds that the electronic lock product range is extremely flexible and is appropriate not just for doors of all types, including glass doors, but also for virtually any point of access.
Breedt says that they can be installed at any door that requires access control and a higher level of security. "With the huge variety of designs there should not be any door where an electronic lock will not be the best solution."
What's the difference?
So in one system you have a key and in another you have a card or fob, what is really the difference between the two from a user point of view?
Deon says: "If you consider that now, if anyone loses his key, you don't need to replace your lock any more, and more importantly, the benefit of the solution will also constitute a huge improvement in security and by consequence a reduction in theft and degradation of infrastructure.
Wireless electronic lock solutions are extremely cost-efficient over an installation's lifetime, according to Du Toit. Compared to the cost of having a locksmith on staff on call to replace locks each time a mechanical key is lost, and cut new keys accordingly, is expensive in upfront costs as well as the hassle factor of key management and trying to keep track of who has what key.
If you are comparing electronic locks to traditional hard wired security systems, electronic lock solutions also come out ahead because of the savings to be had from a wireless battery operated system versus installing a wired system, not to mention the licence per door fees that also often come with traditional access control software.
There is, of course, a cost difference between traditional locks and electronic locks, but Breedt suggests one needs to look at the benefits when deciding to use an electronic lock over a traditional lock. "Firstly, no keys are required to open an electronic lock, eliminating factors like lost keys that can lead to security risk, and if there is a master key system in play this can lead to replacement of complete lock systems (a very disruptive and costly exercise).
The security question
There is naturally the question of security. We are all used to the level of security a mechanical lock affords, but what about electronic versions? Is the access point still secure when the battery dies or the power goes out. Will they still function if the network is down?
In fact, they are much more secure, according to Deon. "The batteries are in the keys, which in turn power the lock, and can be replaced very easily."
Breedt agrees, noting electronic locks are generally more secure than most other locks as in most cases they cannot be tampered with. In most installations they are set up to be fail secure, meaning they will stay locked in the case of power loss.
In the case of a power failure, Du Toit says wireless electronic locks keep functioning because of their battery-operated escutcheons and cylinders. "You can use the existing mortise in the door and this will give you the same security, or use another mortise that is of a higher grade to give you more security on the door. Some electronic lock manufacturers also comply with SKG & VDS ratings, giving you very high security on these models of hardware."
He adds that the products always fail secure so in the event of a power outage or battery failure, the door will remain locked. Moreover, power failure, even on networked units, does not affect the operation of the lock because they run off batteries that will provide a minimum of 40 000 openings when using products from leading bands, that equates to a two to five year lifespan. (These are standard alkaline batteries.)
Products available
There are many electronic locks from a multitude of brand names available of the market. The trick in choosing the correct solution for your home or business is to choose a reliable brand with local support and a reputation it wants to uphold. When asked about ASSA ABLOY's market offerings, Breedt says the company has a wide range of products that will suit all requirements. Interested parties should visit www.assaabloy.co.za to see the range available.
Deon says Acsys is first and foremost a solution provider. "Our products are designed to be modular, from our keys to our software, all Acsys technology can be swapped out or combined together to form the ideal solution for even the most challenging customer requirements.
Du Toit says that Salto took the best from online wired systems and added it to wireless electronic locks to offer a less expensive access control solution with the same functionality as online, conventional cabled access control solutions without the hassle of cabling every door. "In this there is a big cost saving to the clients on labour and most units will install in under 30 minutes."
For more information contact:
SALTO Systems, +27 (0)11 534 8489, w.dutoit@saltosystems.com, www.saltosystems.com
Acsys Technologies, +27 (0)82 637 2166, gdeon@acsys.com, www.acsys.com
ASSA ABLOY, +27 (0)11 761 5019, francois.breedt@assaabloy.com, www.assaabloy.co.za
Credit(s)
Further reading:
Paxton10 for smart buildings
Issue 5 2020, Paxton Access , Access Control & Identity Management
Paxton10, offering access control and video management on one simple platform, is available in the South African market.
Read more...
---
Suprema enhances cybersecurity
Issue 5 2020, Suprema , Access Control & Identity Management
Suprema BioStar 2 is a web-based, open and integrated security platform that provides comprehensive functionality for access control and time and attendance.
Read more...
---
A wizz at visitor management
Issue 5 2020 , Access Control & Identity Management
WizzPass is a locally developed software platform for managing visitors to businesses, buildings or business parks.
Read more...
---
Contactless at the game
Issue 5 2020, IDEMIA , Access Control & Identity Management
IDEMIA partners with JAC to successfully test frictionless biometric access technology at Level5 Stadium in Japan.
Read more...
---
Focus on touchless biometrics
Residential Estate Security Handbook 2020, Hikvision South Africa, Saflec, IDEMIA , Suprema, Technews Publishing , Access Control & Identity Management
The coronavirus has made touchless biometrics an important consideration for access control installations in estates and for industries globally.
Read more...
---
Providing peace of mind
Residential Estate Security Handbook 2020, ZKTeco , Access Control & Identity Management
Touchless technology embedded with face and palm recognition sensors provide 100% touchless user authentication for a variety of applications.
Read more...
---
Frictionless access with a wave from IDEMIA
Residential Estate Security Handbook 2020, IDEMIA , Access Control & Identity Management
Platinum Sponsor IDEMIA displayed its frictionless biometric reader, the MorphoWave Compact, at the Residential Estate Security Conference.
Read more...
---
Cost effective without compromising security
Residential Estate Security Handbook 2020, Bidvest Protea Coin , Access Control & Identity Management
Bidvest Protea Coin offers a range of services, all integrated to offer a future-proof and cost-effective security solution for estates.
Read more...
---
Broad range of estate solutions
Residential Estate Security Handbook 2020, Hikvision South Africa , Access Control & Identity Management
Hikvision offers residential estates a range of systems and solutions that deliver security, from the gate to the individual's own home.
Read more...
---
Excellerate looks beyond traditional guarding
Residential Estate Security Handbook 2020, Excellerate Services , Access Control & Identity Management
Excellerate Services has a suite of best-of-breed technologies that have been integrated into a sophisticated SLA, incident and people management system.
Read more...
---