printer friendly version
Leveraging ERP investment with WFM
November 2015 Access Control & Identity Management, Cyber Security
Many companies have an enterprise resource planning (ERP) system in place but fail to leverage its potential for saving them manpower costs and boosting productivity. Guenter Nerlich, managing director of AWM360 Data Systems, says that workforce management (WFM) systems provide the ideal synergistic tool to enhance the efficacy of ERP investment.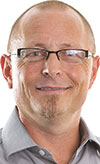 Guenter Nerlich.
Nerlich founded AWM360 in 2010 to provide organisations with the tools to integrate their ERP system with an appropriate and functional automated WFM system. He explains that a mechanism was required to fully automate data collection within companies in terms of the time that employees spend on specific tasks and projects. By tying a WFM system into an existing ERP system such as SAP, companies will be better able to manage and allocate human capital to areas where their expertise and experience is required.
He cautions however, that not all WFM systems are equal. An important factor to consider is that they are capable of integrating with one's current ERP system and are certified by the ERP system supplier. His subsequent choice of Kaba as a technology partner is based on the company's longstanding reputation in the security sector and an extensive customer footprint.
ERP + WFM
In essence, combining an ERP supplier-certified WFM system with an ERP system will provide one point of access for automatic inputting and receiving data. This not only reduces the risk of human error, but also decreases the manpower needed to manage the system in a totally secure manner. A reputable WFM system will be suitable for large scale project rollout, with reliable hardware and software that can cope with ease of integration with the ERP system.
Typically WFM systems are used in conjunction with cards, biometric readers or a combination of the two for enhanced verification and authentication. When employees clock in and out for the day using an access card/reader, their hours are automatically uploaded to the system. This allows companies not only to pay employees for the exact number of hours they have worked, but will also provide an indication of where resources are currently being deployed. This will then allow management to redeploy employees to areas in deficit.
A major cost centre for companies is overtime calculation and the correct payment of stipends. Companies not using an effective WFM system are open to abuse by employees who may deliberately or mistakenly provide an erroneous account of overtime they have worked. In addition, by linking the system to a biometric reader, buddy clocking is eliminated, thereby providing further accuracy in accounting.
WFM benefits
Nerlich outlines a number of benefits companies can derive by employing a WFM system. Firstly, it is a tool which can be used to heighten compliance within the legal framework with respect to occupational health and safety regulations. Not only can the system be set up to check that medical certification is up to date (specifically relevant in the mining sector), but it is also extremely advantageous during evacuation procedures, where locating all employees correctly is critical.
Apart from the obvious project management benefits, the adoption of a system that is symbiotic with a recognised ERP system means that there will be no hidden costs in terms of future upgrades. In other words, when the ERP system is updated, the WFM system will be automatically updated to ensure that it remains current with the ERP system technology.
He advises a number of steps to successful implementation of a WFM system which start with carefully listening to the needs of the business owner, not just for the present but for future scenarios. Solutions should be designed by people who have some HR experience and consideration should be given to what systems, if any, are currently in place. Identification of pain points is important to ensure that all needs are completely met and this can be achieved through workshopping undertaken by the WFM system supplier, within the organisation and in a collaborative meeting between the client and the supplier.
Nerlich says that clients have easily realised cost savings of between 10% and 20% by integrating a WFM system with their existing ERP system.
For more information contact AWM360 Data Systems, +27 (0)11 460 5335, guenter@awm360.co.za
Further reading:
The benefits of electronic visitor management
August 2019, Powell Tronics , Access Control & Identity Management, Residential Estate (Industry)
Access control is a critical aspect of estate security as it represents the controls put in place to restrict entry (and possibly exit) along the outer boundary of the location.
Read more...
---
Addressing risks by means of access control layout and design
August 2019 , Access Control & Identity Management, Security Services & Risk Management
In order to develop a suitable, practical and appropriate security system for any organisation, it is essential to first develop a master security and life safety plan strategy.
Read more...
---
Secure hands-free access
August 2019, Suprema , Access Control & Identity Management, Residential Estate (Industry)
Suprema's facial biometric terminals bring no-touch access into secure residential estates, high-rise apartments and luxury homes providing fast, easy and intuitive user authentication with the added benefit of hygiene.
Read more...
---
MorphoAccess Sigma Extreme
August 2019, IDEMIA , Products, Access Control & Identity Management
MorphoAccess Sigma Extreme from IDEMIA is a touchscreen device with multiple recognition device interfaces (NFC chip reader, PIN and BioPIN codes, contactless card readers).
Read more...
---
Outdoor access terminals
August 2019, Suprema , Access Control & Identity Management, Residential Estate (Industry), Products
Rugged, dust- and weather-proof access control solutions that provide exceptional durability in extreme conditions is a strong requirement for many residential estates.
Read more...
---
MorphoWave Compact
August 2019, IDEMIA , Products, Access Control & Identity Management
The MorphoWave Compact captures and matches four fingerprints on either the right or left hand in any direction. It is robust to environmental factors such as extreme light or dust.
Read more...
---
MorphoAccess Sigma Lite
August 2019, IDEMIA , Products, Access Control & Identity Management
IDEMIA's MorphoAccess Sigma Lite and Lite + are fingerprint access control terminals, offering time and attendance in and out function keys.
Read more...
---
Inundated with cyberattacks from all directions
August 2019 , Editor's Choice, Cyber Security, Security Services & Risk Management
IT managers are inundated with cyberattacks coming from all directions and are struggling to keep up due to a lack of security expertise, budget and up-to-date technology.
Read more...
---
Eliminating forced gate opening scenarios
August 2019, ET Nice , Home Security, Access Control & Identity Management
When activated by the gate forced open alarm feature, the transmitter transmits a wireless alarm signal up to 750 metres in any direction.
Read more...
---
Patient critical – healthcare's cybersecurity pulse
August 2019, Wolfpack Information Risk , News, Cyber Security, Healthcare (Industry)
The healthcare industry has become one of the leading cybersecurity attack vectors worldwide for several reasons.
Read more...
---