printer friendly version
Selecting the right entrance
Access & Identity Management Handbook 2015
Access Control & Identity Management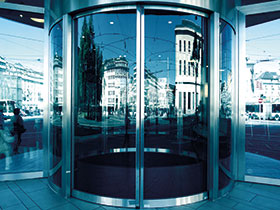 There are a host of products and solutions on the market when looking for a secure entrance system for your business premises. Some of them are made locally while others are imported. The question every buyer needs to consider when looking for a solution is which of these options would best suit their business.
You can choose between differing levels of security, more manual systems or those incorporating more technology. There's also the choice of systems that look pleasant and inviting, or those that make it clear that people are going through a security checkpoint. Above all, you need to choose a solution that matches your security needs.
Hi-Tech Security Solutions asked three experts in entrance systems to elaborate on this topic of what systems are available and how to select the best one for your business. Our interviewees were:
• Craig Sacks from Turnstar,
• Charl Mijnhardt from Centurion Systems, and
• Francois Breedt from ASSA ABLOY.
Hi-Tech Security Solutions: How do companies decide on which entrance systems to use for their business premises? What factors need to be considered?
Charl Mijnhardt: Companies tend to choose holistic solutions for their security systems; in other words, solutions that incorporate and address different aspects of access control to provide a comprehensive, one-size-fits-all infrastructure while taking into account the company's unique security needs. In terms of the factors that need to be considered, the following points are always important:
• Power failure autonomy (battery backup).
• Memory capacity (in other words, the number of remote buttons, fingerprints, PIN codes etc., that the system is capable of storing).
• After-sales and technical support.
• User-friendliness and ease of maintenance.
• Features of the individual products.
• Diagnostic feedback.
Craig Sacks: We look at the physical side of securing a particular entrance. From this point of view, the decision making process or steps are as follows:
• Where is the entrance which requires protection? Is it on the perimeter of the property or inside a building (such as an office reception)?
• Is the entrance being monitored by active security who will notice if a criminal is trying to circumvent the physical security measures?
• How many people will be using the particular entrance at any given time? This information is critical to assessing the flow rate through the access control point. Traffic jams are to be avoided as it is unproductive time and frustrates people.
• How will wheelchairs and special deliveries be accommodated? Special security gates may be required for these special access needs.
• What type of electronic access system will be used in conjunction with the physical security barrier – fingerprint, card reader? How will the access control reader be incorporated into the turnstile, speedgate or booth?
• Lastly, the general aesthetic and level of corrosion resistance must be selected by the customer. The product can be manufactured in mild steel and powder coated (colour decided by the customer) or it can be supplied in either stainless steel or hot dip galvanised steel which offer high levels of corrosion resistance.
Francois Breedt: There are many factors to take into consideration when deciding on an entrance system for premises: functionality, cost etc. It really comes down to horses for courses, what the end user wants to get out the system when all is said and done. Some of the deciding factors would be:
• Is it purely an access control system or should it be able to integrate into a time and attend­ance system as well?
• Should it be an online 'live system' or is offline standalone adequate?
• Can the system accommodate various identification devices i.e. biometric devices, card readers or a combination of devices?
• Scalability of the system for seamless expansion in future if necessary?
• Carbon footprint: maglocks versus electronic locks (maglocks require a constant electrical supply to function and are by default, not energy efficient). Battery powered readers versus traditional identification devices. The trend is towards energy efficiency.
• Initial cost of the system is always a massive factor and cost of ownership needs to be considered as well
Hi-Tech Security Solutions: What are the various security systems/solutions/technologies available for entrance systems?

Charl Mijnhardt: In very broad terms, the main access control systems are:
• RF-based systems (remote controls).
• GSM-based systems (access control via mobile phone).
• Keypad access control.
• Proximity access control (tag/card readers).
• Biometric systems (fingerprint readers).
Craig Sacks: There are a number of different types of turnstiles, security booths and speedgates which can be installed. The product chosen depends on the desired security level and the assessed risk of each area. For instance, a turnstile at a boundary wall which is not monitored by security can pose a significant risk.
Turnstiles are available in full height, half height and waist height versions, depending on the desired security level. Security booths (man-trap cubicles) are ideal for banking and high security applications where both security and aesthetics are a priority. Speedgates are most often used in office premises and provide a prestige high-speed access control solution.
Francois Breedt: From a control backbone perspective there are two groups:
• The 485 communication bus system where a certain number of doors are managed by a door controller that communicates back to a system controller that then gets managed with software on a server.
• Latest trends follow IT design principles where the reader is a pure IP device that connects back to the server via the network, thus eliminating the additional building blocks required in a traditional system.
From an end-device perspective there are only a few identification options in principle:
• Biometric identification i.e. fingerprint, voice, retina scan, hand scanners, etc.
• Access credential i.e. access cards, NFC, SEOS (credential on smart device) etc.
• PIN.
Hi-Tech Security Solutions: Does there always have to be a compromise in terms of ­solutions that are secure and those that fit in with the 'look-and-feel' of the premises?

Charl Mijnhardt: Not at all. When it comes to security technology, the lines that separate form from function have always been very sharply defined, and product designers have historically sacrificed aesthetics in favour of feature riches, the rationale being that homeowners would suffer visually unappealing equipment as long as it kept them safe.
But times have changed and today users demand security products that blend in seamlessly, or in the best case scenario, enhance the overall aesthetic of their premises.
Craig Sacks: A key component of physical security solutions is the balance between safety, comfort and security. Firstly, the product itself must be reliable and it must be safe. Turnstiles, security booths and speedgates all have moving parts, some of which are motorised, and the expectation is that a pedestrian would stand a virtually 0% chance of getting hurt while walking through the threshold. In terms of comfort, physical security products are often designed in order to minimise the amount of entrance space, thereby decreasing the possibility of tailgating. Security itself is another challenge and supplying a robust and strong solution which operates correctly and which can withstand abuse from vandals and disgruntled employees is important.
Francois Breedt: 90% of an access control system should not be visible after installation. Cable reticulation, controllers etc. are usually installed out of sight and only the readers are visible to the user. And from that perspective, users are spoiled for choice.
Hi-Tech Security Solutions: What warranties do you supply with your products? Do you work through a channel or do the installations yourself? Are your systems manufactured locally or overseas? How do you ensure the quality of your products?
Charl Mijnhardt: There is a warranty of 24 months on most of our products. We work through a dedicated channel of distributors and installers.
The vast majority of our products are manufactured locally. The company invests considerably in its research and development programme with a team of qualified engineers, using the latest computer-aided design tools to constantly research new and innovative products to add to the range. They also focus on upgrading existing models and developing tools and jigs for the manufacturing facility.
Centurion is accredited with the world-class quality assurance system ISO9001:2008 to ensure its products are manufactured to the highest level of quality. Added to this, using custom-built computer-aided equipment and there is a 100% test to specification.
Craig Sacks: All Turnstar's products are manufactured in our 7700 m² factory in Johannesburg. Turnstar currently employs 115 people and installations are carried out by Turnstar throughout South Africa. A series of internal quality controls ensure a perfect product is dispatched every time.
Turnstiles are supplied with a five-year guarantee, speedgates with a three-year guarantee.
Francois Breedt: ASSA ABLOY has a two-year warranty on products. The wireless Aperio range is available through our OEM partners and electronic locks and other door peripherals are available from various distributors.
Hi-Tech Security Solutions: What systems does your company specialise in?
Charl Mijnhardt: We specialise in access automation and our product range runs the full gamut, including:
• Swing gate motors
• Sliding gate motors
• Traffic barriers
• Remote controls and receivers
• Proximity access control
• GSM devices
• Garage door motors
• Roller-shutter operators
• Intercom systems
Francois Breedt: ASSA ABLOY specialises in door hardware: electro-mechanical locks, strike locks, maglocks, card readers, biometric locks and also our flagship wireless battery powered Aperio range of locks. Aperio is an affordable wireless lock that is easy to install, easy to maintain with a low cost of ownership, easy to expand on and integrated with all the big name access control OEMs.
For more information contact:
Centurion Systems, +27 (0)11 699 2400, charl.mijnhardt@centurionsystems.co.za, www.centsys.co.za
Turnstar Systems, +27 (0)11 786 1633, craig@turnstar.co.za, www.turnstar.co.za
ASSA ABLOY, +27 (0)11 761 5019, francois.breedt@assaabloy.com, www.assaabloy.co.za
Credit(s)
Further reading:
Paxton10 for smart buildings
Issue 5 2020, Paxton Access , Access Control & Identity Management
Paxton10, offering access control and video management on one simple platform, is available in the South African market.
Read more...
---
Suprema enhances cybersecurity
Issue 5 2020, Suprema , Access Control & Identity Management
Suprema BioStar 2 is a web-based, open and integrated security platform that provides comprehensive functionality for access control and time and attendance.
Read more...
---
A wizz at visitor management
Issue 5 2020 , Access Control & Identity Management
WizzPass is a locally developed software platform for managing visitors to businesses, buildings or business parks.
Read more...
---
Contactless at the game
Issue 5 2020, IDEMIA , Access Control & Identity Management
IDEMIA partners with JAC to successfully test frictionless biometric access technology at Level5 Stadium in Japan.
Read more...
---
Focus on touchless biometrics
Residential Estate Security Handbook 2020, Hikvision South Africa, Saflec, IDEMIA , Suprema, Technews Publishing , Access Control & Identity Management
The coronavirus has made touchless biometrics an important consideration for access control installations in estates and for industries globally.
Read more...
---
Providing peace of mind
Residential Estate Security Handbook 2020, ZKTeco , Access Control & Identity Management
Touchless technology embedded with face and palm recognition sensors provide 100% touchless user authentication for a variety of applications.
Read more...
---
Frictionless access with a wave from IDEMIA
Residential Estate Security Handbook 2020, IDEMIA , Access Control & Identity Management
Platinum Sponsor IDEMIA displayed its frictionless biometric reader, the MorphoWave Compact, at the Residential Estate Security Conference.
Read more...
---
Cost effective without compromising security
Residential Estate Security Handbook 2020, Bidvest Protea Coin , Access Control & Identity Management
Bidvest Protea Coin offers a range of services, all integrated to offer a future-proof and cost-effective security solution for estates.
Read more...
---
Broad range of estate solutions
Residential Estate Security Handbook 2020, Hikvision South Africa , Access Control & Identity Management
Hikvision offers residential estates a range of systems and solutions that deliver security, from the gate to the individual's own home.
Read more...
---
Excellerate looks beyond traditional guarding
Residential Estate Security Handbook 2020, Excellerate Services , Access Control & Identity Management
Excellerate Services has a suite of best-of-breed technologies that have been integrated into a sophisticated SLA, incident and people management system.
Read more...
---