printer friendly version
The future is here
Access & Identity Management Handbook 2015
Access Control & Identity Management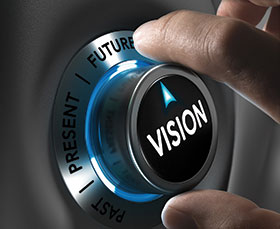 Integration has become an important keyword that signifies the latest trend in technology. Evolutions in the field of mobile, Internet of Things and cloud computing as well as integration of such technologies have led a shift towards a new technology paradigm. As an example, the emergence of cloud technology has become abundant and now the focus is on creating connections between people, objects and services altogether. As a result, mobile communication technology such as 5G is garnering attention as we move towards a more connected society.
From 5 billion Internet connected devices in 2003 we've come to more than 125 billion by 2010, and it is expected in 2020 500 billion devices will be reached. It will translate to approximately seven IoT devices per person. This is showing the rapid development and evolution in this environment. Google Chrome is becoming a platform that is connecting a number of different services, IoT devices such as Google Glass and Galaxy Gear are being introduced to the market and new service paradigms such as Amazon Dash is being implemented into our daily lives.
Along with an expected Internet technology that will even connect space, it can really be said that it is the new era of hyper connectivity.
General interest in security and convenience is becoming a lot higher in lieu of all the advancements in technology, and biometrics is being highlighted as the main technology to be used with IoT and Fintech.
We are dedicated in developing higher level biometric algorithms. Suprema has recently reached a milestone in developing a biometric authentication algorithm specific for the mobile market and has continuously put efforts to remain a market leader.
On the other hand, there are needs for new complete solutions and platforms within the security industry that are different from current standards. As we promised to our partners at our Suprema Global Partner Program, Suprema has released BioStar 2 as a web-based open security platform to meet such demands.
BioStar 2 is a web-based open security platform that can integrate a number of different aspects of security from access control, video security, intrusion alarm, to fire alarm. Also overall management of the security system and integration of other web services and applications and application development capabilities increase its values as an open platform. Furthermore, BioStar 2 is designed for expandability and integration with mobile and cloud computing to meet new market demands.
Suprema will be continuously upgrading the BioStar 2 platform and will introduce a revolutionary line-up of high performance access control system devices. We will be able to keep the competitive edge as a biometrics company but even more so as a security company.
We believe that our partner's success is key to Suprema's success and BioStar 2 will serve as a foundation of your success.
Credit(s)
Further reading:
Turnstar ramps up countermeasures
Turnstar Systems Editor's Choice Access Control & Identity Management News Products
Turnstar has developed and patented an early warning and deterrent system which will alert security, and anyone nearby, of any attempt to place ramps over the raised spikes.
Read more...
---
Suprema integrates biometric access control with Genetec
Suprema News CCTV, Surveillance & Remote Monitoring Access Control & Identity Management
Suprema has announced the successful integration of its biometric access control products with Genetec Security Center, a unified security platform that connects security systems, sensors and data in a single intuitive interface.
Read more...
---
IDEMIA South Africa achieves level 1 B-BBEE status
IDEMIA News Access Control & Identity Management
As part of the action plan to improve its status to Level 1, IDEMIA now works with over 40 black-owned local suppliers, representing over 30% of IDEMIA's local suppliers.
Read more...
---
Suprema no. 1 in the global biometric market excluding China
Suprema News Access Control & Identity Management
According to the latest report by Omdia, a global market research firm, Suprema ranks first in global market share, excluding China, in the field of biometric readers.
Read more...
---
Dahua and Yeastar PBX-intercom integration
Dahua Technology South Africa News Access Control & Identity Management
Dahua Technology and Yeastar announced their new ECO partnership on PBX-intercom integration to provide a comprehensive and unified communication solution for small- and medium-sized enterprises.
Read more...
---
Traka launches experience centres
News Access Control & Identity Management
Traka launches inaugural Experience Centres in Australia and South Africa; aims to drive continuous collaboration and innovation.
Read more...
---
New platform for keyless access
Access Control & Identity Management
The new ABLOY CUMULUS platform for keyless access combines locking hardware with secure access and management applications in a single ecosystem with a risk-free, integrated cloud service.
Read more...
---
The importance of staying up to date
Access Control & Identity Management Government and Parastatal (Industry)
Africa's cyber threat landscape is constantly evolving, with government's facing a range of digital threats from espionage, critical infrastructure sabotage, organised crime and combat innovation.
Read more...
---
Dynamic Drop Arm Barrier
Turnstar Systems Access Control & Identity Management
Suited to medium-volume access and medium-level security applications such as office reception areas, health clubs, universities and libraries, the Dynamic Drop Arm Barrier also allows special needs access.
Read more...
---
Automatic tyre spike industrial vehicle barrier
Turnstar Systems Access Control & Identity Management
The Turnstar Velocity Raptor automatic tyre spike industrial barrier, with SwiftDrive technology, is aimed at high-volume and high-security access applications such as parkades, shopping centres, residential estates and airports.
Read more...
---