printer friendly version
From the editor's desk: The good, the bad and the biometric
Access & Identity Management Handbook 2015
News
It's always interesting to look back at the process of developing the Access & Identity Management Handbook and see what really has changed over the course of a year. Sometimes we find that the excitement around a new technology or solution has failed to play out as expected and it is simply another option the market can choose a year later.
Biometrics is a good example. We have been hearing about the potential and security of biometrics for many years, backed by a good growth rate both in South Africa and the world. This year is no different as we are seeing the biometric vendors looking excitedly ahead at future growth as this form of identity authentication becomes part of the general user's everyday experience – and mobile technology is responsible for much of that as is the computer industry as we are already seeing more laptops with fingerprint authentication built in.
Readers will even see some comments in this issue about the Internet of Things (IoT). There is no doubt that the IoT is going to be a major part of our lives in future, although the first bits of it are already here and we're using it without giving it a cool name. If you control a camera or your lights at home, you're already using the Internet of Things.
Biometrics vendors see the IoT as a great opportunity since when everything is connected, accurately authenticating users becomes so much more important. The argument is that your biometrics is the optimal way to verify yourself. The problem is that the cheapies will probably gain a stronger foothold than quality biometric products. The cost factor always wins.
We've already seen mobile biometric technologies being 'cracked' in no time because the systems used are old and more cost effective. The same applies to laptops. The fact is cost will play a huge role in the IoT and most people see a fingerprint scanner as a fingerprint scanner, they have no idea there is a world of difference in how the data collected is used.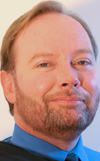 In a recent paper it was disclosed that some mobile biometric readers don't store the user's information in a secure location, among three other critical and common vulnerabilities. The paper is worth a read and is available at https://www.blackhat.com/docs/us-15/materials/us-15-Zhang-Fingerprints-On-Mobile-Devices-Abusing-And-Leaking-wp.pdf (short URL: https://goo.gl/qBXS5J).
In the world of biometrics, as in any other security field, it's not enough to have one strong authentication mechanism on top of a host of vulnerabilities. In other words, it doesn't matter how strong the lock on the door is if you leave the windows open. Which again leads us to the issue of integration.
Integration, whether it's connecting your alarm at home to your smartphone or connecting everything via the IoT, is not simply connecting things together, it's a matter of connecting things together securely. And in that there are enormous opportunities for the security industry, as well as enormous challenges.
Andrew Seldon
Editor
Credit(s)
Further reading:
Turnstar ramps up countermeasures
Turnstar Systems Editor's Choice Access Control & Identity Management News Products
Turnstar has developed and patented an early warning and deterrent system which will alert security, and anyone nearby, of any attempt to place ramps over the raised spikes.
Read more...
---
Offshore cloud video surveillance system
Eagle Eye Networks CCTV, Surveillance & Remote Monitoring News Transport (Industry)
Eagle Eye Networks and TechBinder collaborate on offshore cloud video surveillance system for maritime sector, bringing real-time remote viewing and notifications to enhance vessel performance data and reporting
Read more...
---
Suprema integrates biometric access control with Genetec
Suprema News CCTV, Surveillance & Remote Monitoring Access Control & Identity Management
Suprema has announced the successful integration of its biometric access control products with Genetec Security Center, a unified security platform that connects security systems, sensors and data in a single intuitive interface.
Read more...
---
Training that delivers
Technews Publishing Leaderware ESDA (Electronic Security Distributors Association BTC Training Africa Editor's Choice Security Services & Risk Management Conferences & Events Training & Education
Hi-Tech Security Solutions hosted a virtual conversation to address the challenges and solutions related to effective and measurable training and education in the security industry.
Read more...
---
IDEMIA South Africa achieves level 1 B-BBEE status
IDEMIA News Access Control & Identity Management
As part of the action plan to improve its status to Level 1, IDEMIA now works with over 40 black-owned local suppliers, representing over 30% of IDEMIA's local suppliers.
Read more...
---
Suprema no. 1 in the global biometric market excluding China
Suprema News Access Control & Identity Management
According to the latest report by Omdia, a global market research firm, Suprema ranks first in global market share, excluding China, in the field of biometric readers.
Read more...
---
Dahua and Yeastar PBX-intercom integration
Dahua Technology South Africa News Access Control & Identity Management
Dahua Technology and Yeastar announced their new ECO partnership on PBX-intercom integration to provide a comprehensive and unified communication solution for small- and medium-sized enterprises.
Read more...
---
Traka launches experience centres
News Access Control & Identity Management
Traka launches inaugural Experience Centres in Australia and South Africa; aims to drive continuous collaboration and innovation.
Read more...
---
Premium forensic analytics
Milestone Systems News CCTV, Surveillance & Remote Monitoring Government and Parastatal (Industry)
With the introduction of XProtect Rapid REVIEW, powered by BriefCam, Milestone's customers will be able to accelerate investigations and find what they are looking for with speed and accuracy.
Read more...
---
The importance of traceable records
Technews Publishing Editor's Choice Security Services & Risk Management
Traceable records streamline performance management, training, evidence records and reduce fraud, corruption and criminal activities.
Read more...
---