printer friendly version
Wearable panic device
October 2018 Editor's Choice, Security Services & Risk Management, Products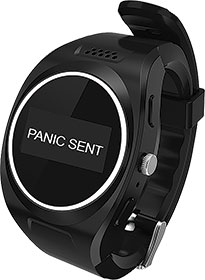 MyLifeline, part of Intelligent Monitoring, is a wearable IoT device with a panic button used to call for help from any location that has Vodacom cellular coverage. The device can be bought online in the form of a watch or a pendant.
The devices are self-sufficient, meaning they have their own SIM cards and operate without requiring the user to connect to a cellphone. When in an emergency situation, the user simply presses the panic button for three seconds and a signal is sent to the MyLifeline SAIDSA-approved control room. From there, up to five contacts receive an SMS with your details and the operator can dispatch emergency services to your location, which is determined by the built-in GPS and sent along with the panic signal.
MyLifeline's Herman Bester, one of the product's developers, explains that the company already has national coverage from its control room, which operates 24/7 and can implement set operating procedures for each client, such as alerting third-party security companies to the client's predicament. The web-based control room system is integrated into a few commonly used security management platforms and is also available at no charge to security companies to run in their own control rooms.
When an individual purchases a MyLifeline device, their personal details (such as contacts, medical aid information and so forth) are loaded into the management system's software and then transferred to the device over the air.
For individuals wishing to make use of the service, after purchasing the device, the cost is R79 per month and the MyLifeline control room will handle your emergencies. This can apply to people working on their own, those who travel frequently, farmers, outdoor fitness fans and even the elderly. MyLifeline is already doing a proof-of-concept project with a large corporation that wants to equip certain of its staff with the devices.
Security companies can add MyLifeline to their client services and share the revenue with MyLifeline. The company provides its management software for free, as well as the SIM cards and data, and integration into different security platforms.
Even though the system is managed by a third-party, the MyLifeline control room still receives the panic information. This can be used as a backup if the alert has not been responded to within a certain time, or as a failover in case the main control room is offline for some reason.
Earlier this year, MyLifeline won the Santam Safety Ideas Campaign, which is run in partnership with the Stellenbosch University's Launchlab.
For more information, contact MyLifeline, herman@mylifeline.io, www.mylifeline.io
Credit(s)
Further reading:
TAPA: The role of an effective treasury function in business risk management
June 2019, Technews Publishing , News
Neil Le Roux, the Founder of Diligent Advisors will speak at the TAPA SA (Transported Asset Protection Association) annual conference on 26 July 2019.
Read more...
---
From the Editor's desk: No really, take it seriously
July 2019, Technews Publishing , News
Cybersecurity is a topic that has been done to death in the media. The blanket coverage has been so great that people, even the few that realised the danger, have started to gloss over the issue, barely ...
Read more...
---
Residential Estate Security Conference 2019
July 2019, Technews Publishing , Calendar of Events
20 August 2019    Indaba Hotel, Fourways, Johannesburg    Following sold-out events in 2017 and 2018, Hi-Tech Security Solutions will once again be hosting a full-day conference covering residential estate ...
Read more...
---
iLegal 2019
July 2019, Technews Publishing , Calendar of Events
12 September 2019    Johannesburg, South Africa    iLegal, hosted by Dr Craig Donald and Hi-Tech Security Solutions, returns in 2019 with another full-day event covering insights and advice into a range of ...
Read more...
---
Social media and intelligence-led surveillance
July 2019, Leaderware , Editor's Choice, Integrated Solutions, Security Services & Risk Management
Social media has become a major feature of most people's lives in the last few years and they can be invaluable as a source of information for companies and security organisations.
Read more...
---
The 4th Industrial Revolution
July 2019, Wolfpack Information Risk , Editor's Choice, Cyber Security, Security Services & Risk Management, Industrial (Industry)
Most major industries have turned to and are reliant on technology to run their operations. This is a time of great promise, but also one of frightening peril.
Read more...
---
Data protection more challenging
July 2019 , Editor's Choice, IT infrastructure
The number of businesses unable to recover data after an incident nearly doubled from 2016, according to the Global Data Protection Index surveying 2 200 IT decision makers from 18 countries.
Read more...
---
Cyber-attacks target operational technology
July 2019 , Editor's Choice, Cyber Security, Industrial (Industry)
Focus on operational technology security increasing as around 74% of OT organisations come under attack in the past year, finds a new Fortinet report.
Read more...
---
Fear of the unknown
July 2019, Kaspersky Lab , Cyber Security, Security Services & Risk Management
Fear of the unknown: while there's still interest in cryptocurrencies, just 19% locally understand how they work.
Read more...
---
Dallmeier integrates facial recognition
July 2019, Dallmeier Electronic Southern Africa , CCTV, Surveillance & Remote Monitoring, Products
German manufacturer Dallmeier has announced a development partnership to integrate AnyVision's facial recognition technology into Dallmeier's Hemisphere platform.
Read more...
---