printer friendly version
Wearable panic device
October 2018 Editor's Choice, Security Services & Risk Management, Products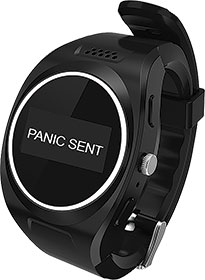 MyLifeline, part of Intelligent Monitoring, is a wearable IoT device with a panic button used to call for help from any location that has Vodacom cellular coverage. The device can be bought online in the form of a watch or a pendant.
The devices are self-sufficient, meaning they have their own SIM cards and operate without requiring the user to connect to a cellphone. When in an emergency situation, the user simply presses the panic button for three seconds and a signal is sent to the MyLifeline SAIDSA-approved control room. From there, up to five contacts receive an SMS with your details and the operator can dispatch emergency services to your location, which is determined by the built-in GPS and sent along with the panic signal.
MyLifeline's Herman Bester, one of the product's developers, explains that the company already has national coverage from its control room, which operates 24/7 and can implement set operating procedures for each client, such as alerting third-party security companies to the client's predicament. The web-based control room system is integrated into a few commonly used security management platforms and is also available at no charge to security companies to run in their own control rooms.
When an individual purchases a MyLifeline device, their personal details (such as contacts, medical aid information and so forth) are loaded into the management system's software and then transferred to the device over the air.
For individuals wishing to make use of the service, after purchasing the device, the cost is R79 per month and the MyLifeline control room will handle your emergencies. This can apply to people working on their own, those who travel frequently, farmers, outdoor fitness fans and even the elderly. MyLifeline is already doing a proof-of-concept project with a large corporation that wants to equip certain of its staff with the devices.
Security companies can add MyLifeline to their client services and share the revenue with MyLifeline. The company provides its management software for free, as well as the SIM cards and data, and integration into different security platforms.
Even though the system is managed by a third-party, the MyLifeline control room still receives the panic information. This can be used as a backup if the alert has not been responded to within a certain time, or as a failover in case the main control room is offline for some reason.
Earlier this year, MyLifeline won the Santam Safety Ideas Campaign, which is run in partnership with the Stellenbosch University's Launchlab.
For more information, contact MyLifeline, herman@mylifeline.io, www.mylifeline.io
Credit(s)
Further reading:
Key criteria in the selection of CCTV control room operators
Issue 5 2020, Leaderware , Editor's Choice
Some people are better at aspects of the job of CCTV operator than others, and some companies put in a lot more effort in choosing their operators than others.
Read more...
---
Leaders in risk and security: As long as there are people, there will be risk
Issue 5 2020, iFacts, Technews Publishing , Editor's Choice
Jenny Reid is a self-made success, focusing on people, the risks they create and the potential they have.
Read more...
---
Mitigating the human risk
Issue 5 2020, Managed Integrity Evaluation, Technews Publishing, iFacts , CCTV, Surveillance & Remote Monitoring
Hi-Tech Security Solutions asked Jennifer Barkhuizen and Jenny Reid for some information around background screening and vetting of potential new hires.
Read more...
---
XProtect available on AWS
Issue 5 2020, Milestone Systems, Technews Publishing , Editor's Choice
Milestone recently announced the availability of XProtect on Amazon Web Services. Hi-Tech Security Solutions asked Keven Marier for more information.
Read more...
---
Adjusting to a new reality
Issue 5 2020, Technews Publishing , Integrated Solutions
COVID-19 to accelerate adoption of technology-enabled smart city resilience approaches: robotics, digital twins, and autonomous freight.
Read more...
---
From the editor's desk: We're back!
Issue 5 2020, Technews Publishing , News
Welcome to the fifth issue of 2020. If years were people, 2020 would have been hung, drawn and quartered...
Read more...
---
From data centre to edge, from one source
Issue 5 2020 , Editor's Choice
First Distribution (FD) is better known in South Africa as an ICT distributor with an enterprise focus. Its offerings in this regard range from client solutions through to hosted solutions, data centre ...
Read more...
---
Paxton launches access and video management
Issue 5 2020, Paxton Access , Editor's Choice
Paxton's next-generation access control and video management system, Paxton10, officially launched in South Africa on 2 July 2020. Paxton10 is the next step in complete security solutions and combines ...
Read more...
---
From the editor's desk: Sustaining security and sanity
Residential Estate Security Handbook 2020, Technews Publishing , News
Sustainability is a critical component of almost anything in these days of a tanking economy, boosted by COVID-19, which is given further emphasis by the economy being further hammered by the 'cure' for ...
Read more...
---
The evolution of security in residential estates
Residential Estate Security Handbook 2020 , Editor's Choice, Integrated Solutions, Security Services & Risk Management
Two large estates discuss their security processes and the ever-expanding scope of responsibilities they need to fulfil.
Read more...
---