printer friendly version
Wearable panic device
October 2018 Editor's Choice, Security Services & Risk Management, Products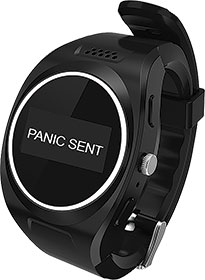 MyLifeline, part of Intelligent Monitoring, is a wearable IoT device with a panic button used to call for help from any location that has Vodacom cellular coverage. The device can be bought online in the form of a watch or a pendant.
The devices are self-sufficient, meaning they have their own SIM cards and operate without requiring the user to connect to a cellphone. When in an emergency situation, the user simply presses the panic button for three seconds and a signal is sent to the MyLifeline SAIDSA-approved control room. From there, up to five contacts receive an SMS with your details and the operator can dispatch emergency services to your location, which is determined by the built-in GPS and sent along with the panic signal.
MyLifeline's Herman Bester, one of the product's developers, explains that the company already has national coverage from its control room, which operates 24/7 and can implement set operating procedures for each client, such as alerting third-party security companies to the client's predicament. The web-based control room system is integrated into a few commonly used security management platforms and is also available at no charge to security companies to run in their own control rooms.
When an individual purchases a MyLifeline device, their personal details (such as contacts, medical aid information and so forth) are loaded into the management system's software and then transferred to the device over the air.
For individuals wishing to make use of the service, after purchasing the device, the cost is R79 per month and the MyLifeline control room will handle your emergencies. This can apply to people working on their own, those who travel frequently, farmers, outdoor fitness fans and even the elderly. MyLifeline is already doing a proof-of-concept project with a large corporation that wants to equip certain of its staff with the devices.
Security companies can add MyLifeline to their client services and share the revenue with MyLifeline. The company provides its management software for free, as well as the SIM cards and data, and integration into different security platforms.
Even though the system is managed by a third-party, the MyLifeline control room still receives the panic information. This can be used as a backup if the alert has not been responded to within a certain time, or as a failover in case the main control room is offline for some reason.
Earlier this year, MyLifeline won the Santam Safety Ideas Campaign, which is run in partnership with the Stellenbosch University's Launchlab.
For more information, contact MyLifeline, herman@mylifeline.io, www.mylifeline.io
Credit(s)
Further reading:
FortiGuard labs reports disruptive shift of cyber threats
Editor's Choice
Threat intelligence from the second half of 2020 demonstrates an unprecedented cyber-threat landscape where cyber adversaries maximised the constantly expanding attack surface to scale threat efforts around the world. Adversaries proved to be highly adaptable, creating waves of disruptive and sophisticated attacks.
Read more...
---
Obituary: Steven James Meyer
January 1957 - January 2022
Technews Publishing News
It is with deep sadness and shock that we announce the sudden death of SA Instrumentation & Control Editor, Steven Meyer. Steven joined Technews in October 2007 in the position of Deputy Editor. His ...
Read more...
---
From the editor's desk: In the cyber trenches
Technews Publishing News
Hi-Tech Security Solutions is proud to launch its first Smart Cybersecurity Handbook, a publication aimed at making sense of the complex world of cyber risks.
Read more...
---
The worst of times
Technews Publishing Editor's Choice
Cyber resilience in terms of people, processes and technology is where it's at when it comes to prevailing in a world beset with cybercriminals.
Read more...
---
Cyber trends for 2022
Editor's Choice
In the last six months, an organisation in South Africa was attacked on average 1737 times per week. This is more than double the global average (819) of attacks per organisation per week.
Read more...
---
Cybersecurity for the board of directors
Editor's Choice
Bike-shedding is a common distraction in boardrooms, especially when discussing issues board members are responsible for, but don't understand – like cybersecurity.
Read more...
---
Cybersecurity is now a digital transformation imperative
Editor's Choice
New research from the IDC reveals cloud security is the number one priority for investment, 50 percent of South African business leaders are concerned with the consequences of security breaches.
Read more...
---
Providing real-time visibility
Technews Publishing Editor's Choice
Comprehensive visibility is critical, but not always attainable without the support of a managed service provider dedicated to monitoring and securing your cyber environment around the clock.
Read more...
---
Getting the basics right
Technews Publishing Editor's Choice
Cybersecurity is like any other discipline, you can't start at the top, you need to get the basics right. Hi-Tech Security Solutions asks how to best do this.
Read more...
---
Ransomware doesn't take holidays
Technews Publishing Cyber Security
Cybereason has published a global study of 1200+ security professionals at organisations that have previously suffered a successful ransomware attack on a holiday or weekend, titled Organizations at risk: Ransomware attackers don't take holidays.
Read more...
---