printer friendly version
Wearable panic device
October 2018 Editor's Choice, Security Services & Risk Management, Products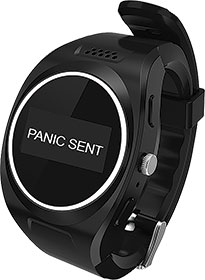 MyLifeline, part of Intelligent Monitoring, is a wearable IoT device with a panic button used to call for help from any location that has Vodacom cellular coverage. The device can be bought online in the form of a watch or a pendant.
The devices are self-sufficient, meaning they have their own SIM cards and operate without requiring the user to connect to a cellphone. When in an emergency situation, the user simply presses the panic button for three seconds and a signal is sent to the MyLifeline SAIDSA-approved control room. From there, up to five contacts receive an SMS with your details and the operator can dispatch emergency services to your location, which is determined by the built-in GPS and sent along with the panic signal.
MyLifeline's Herman Bester, one of the product's developers, explains that the company already has national coverage from its control room, which operates 24/7 and can implement set operating procedures for each client, such as alerting third-party security companies to the client's predicament. The web-based control room system is integrated into a few commonly used security management platforms and is also available at no charge to security companies to run in their own control rooms.
When an individual purchases a MyLifeline device, their personal details (such as contacts, medical aid information and so forth) are loaded into the management system's software and then transferred to the device over the air.
For individuals wishing to make use of the service, after purchasing the device, the cost is R79 per month and the MyLifeline control room will handle your emergencies. This can apply to people working on their own, those who travel frequently, farmers, outdoor fitness fans and even the elderly. MyLifeline is already doing a proof-of-concept project with a large corporation that wants to equip certain of its staff with the devices.
Security companies can add MyLifeline to their client services and share the revenue with MyLifeline. The company provides its management software for free, as well as the SIM cards and data, and integration into different security platforms.
Even though the system is managed by a third-party, the MyLifeline control room still receives the panic information. This can be used as a backup if the alert has not been responded to within a certain time, or as a failover in case the main control room is offline for some reason.
Earlier this year, MyLifeline won the Santam Safety Ideas Campaign, which is run in partnership with the Stellenbosch University's Launchlab.
For more information, contact MyLifeline, herman@mylifeline.io, www.mylifeline.io
Credit(s)
Further reading:
Taking a hands-on approach to community security
Issue 7 2020 , Editor's Choice
Taking a more hands-on approach to community security is definitely paying dividends for Gallo Manor residents.
Read more...
---
Adaptors can be a danger to the South African consumer
Issue 7 2020 , Editor's Choice
The increased use of devices and appliances has resulted in the increased use of adaptors as well as adaptors-on-adaptors in South Africa.
Read more...
---
From the editor's desk: The more things stay the same
CCTV Handbook 2020, Technews Publishing , News
It is rather redundant to say that the surveillance industry is going through significant changes and that there are some incredible advances in technology happening. You can read about a small number ...
Read more...
---
There's an app for that (your camera)
CCTV Handbook 2020, Technews Publishing , CCTV, Surveillance & Remote Monitoring
In last year's CCTV Handbook we looked at an organisation named Security & Safety Things (S&ST) and its goal of developing an open operating system (OS) for surveillance cameras based on the Android Open ...
Read more...
---
The future of open standards
CCTV Handbook 2020, Milestone Systems, Technews Publishing, Avigilon , Editor's Choice
Despite the many benefits of open standards, some companies still produce proprietary solutions. Are the surveillance and broader security markets still committed to open standards?
Read more...
---
The impact of AI on surveillance
CCTV Handbook 2020, Technews Publishing, Axis Communications SA, Hikvision South Africa, Cathexis Technologies, Dahua Technology South Africa , Editor's Choice
Artificial intelligence is a popular buzzword in the security industry that has us expecting real-life science fiction, but what is its real impact?
Read more...
---
Evaluating AI technologies for control room operations
CCTV Handbook 2020, Leaderware , Editor's Choice
Can AI systems improve the performance of control room operators, or even replace them completely? Maybe one day they will, but not today.
Read more...
---
The new operator
CCTV Handbook 2020, Bidvest Protea Coin, Technews Publishing, Leaderware, Rhyco Risk Projects , Integrated Solutions
With technology doing more work in control rooms today, do operators need new skills to be able to add value? Are they still needed?
Read more...
---
The future of the VMS
CCTV Handbook 2020, Technews Publishing, Cathexis Technologies, Arteco Global, XtraVision , Editor's Choice, CCTV, Surveillance & Remote Monitoring, Integrated Solutions
Will AI-enhanced video analytic apps that can be downloaded and installed directly onto cameras take business away from the VMS market?
Read more...
---
A fresh look at TCO
CCTV Handbook 2020, Axis Communications SA , Editor's Choice
Total Cost of Ownership is a way for strategic buyers to move beyond looking at the upfront price to understanding all costs associated with procuring, deploying and operating a system.
Read more...
---