printer friendly version
Wearable panic device
October 2018 Editor's Choice, Security Services & Risk Management, Products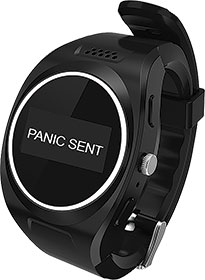 MyLifeline, part of Intelligent Monitoring, is a wearable IoT device with a panic button used to call for help from any location that has Vodacom cellular coverage. The device can be bought online in the form of a watch or a pendant.
The devices are self-sufficient, meaning they have their own SIM cards and operate without requiring the user to connect to a cellphone. When in an emergency situation, the user simply presses the panic button for three seconds and a signal is sent to the MyLifeline SAIDSA-approved control room. From there, up to five contacts receive an SMS with your details and the operator can dispatch emergency services to your location, which is determined by the built-in GPS and sent along with the panic signal.
MyLifeline's Herman Bester, one of the product's developers, explains that the company already has national coverage from its control room, which operates 24/7 and can implement set operating procedures for each client, such as alerting third-party security companies to the client's predicament. The web-based control room system is integrated into a few commonly used security management platforms and is also available at no charge to security companies to run in their own control rooms.
When an individual purchases a MyLifeline device, their personal details (such as contacts, medical aid information and so forth) are loaded into the management system's software and then transferred to the device over the air.
For individuals wishing to make use of the service, after purchasing the device, the cost is R79 per month and the MyLifeline control room will handle your emergencies. This can apply to people working on their own, those who travel frequently, farmers, outdoor fitness fans and even the elderly. MyLifeline is already doing a proof-of-concept project with a large corporation that wants to equip certain of its staff with the devices.
Security companies can add MyLifeline to their client services and share the revenue with MyLifeline. The company provides its management software for free, as well as the SIM cards and data, and integration into different security platforms.
Even though the system is managed by a third-party, the MyLifeline control room still receives the panic information. This can be used as a backup if the alert has not been responded to within a certain time, or as a failover in case the main control room is offline for some reason.
Earlier this year, MyLifeline won the Santam Safety Ideas Campaign, which is run in partnership with the Stellenbosch University's Launchlab.
For more information, contact MyLifeline, herman@mylifeline.io, www.mylifeline.io
Credit(s)
Further reading:
The instruments for investigation
Issue 1 2020, Technews Publishing , Security Services & Risk Management
Regardless of the reason for investigation, the investigation is only as good as the investigators.
Read more...
---
Do we really want simplicity?
Issue 1 2020, Technews Publishing , News
Everything today has to be simple, easy and fast. Even access to your bank account has to fit these adjectives and banks spend significant time and money trying to ensure their web and mobile interfaces ...
Read more...
---
Axis gives a brighter future for children
Issue 1 2020, Axis Communications SA , Editor's Choice
Fully networked camera solution provides visibility and accountability, letting orphanage focus on what's important – its children.
Read more...
---
Security events you can't miss in 2020
Issue 1 2020, Technews Publishing , News
Hi-Tech Security Solutions will host a number of focused events in 2020 to highlight the latest in security technology and the operational benefits they deliver.
Read more...
---
SFP Security & Fire becomes ISF SFP
Issue 1 2020, ISF SFP , Editor's Choice
SFP Security & Fire was sold to ISF in 2019, becoming ISF SFP and attaining Level-1 BEE status.
Read more...
---
Janu-worry or Twenty-Plenty?
Issue 1 2020 , Editor's Choice
If the available security spend right now is somewhere between limited and non-existent, here are just a few suggestions.
Read more...
---
CCTV surveillance needs are critical in defining types of camera deployment
Issue 1 2020, Leaderware , Editor's Choice
Cameras by themselves do not reduce crime; they need to be implemented as part of a considered strategy of crime prevention and detection.
Read more...
---
Leaders in risk and security: You have to know it to manage it
Issue 1 2020, Technews Publishing , Security Services & Risk Management
Hi-Tech Security Solutions profiles Nash Lutchman, Senior Vice President and Head of Protection Services at Sibanye-Stillwater.
Read more...
---
Trends 2020
Issue 1 2020, Technews Publishing , Editor's Choice
Hi-Tech Security Solutions asked a few people from diverse companies to join us in a round-table discussion about what they expect to see happening in their environments in the coming year.
Read more...
---
Seven key trends for 2020
Issue 1 2020, Hikvision South Africa , Editor's Choice
Hikvision looks at a few trends that will affect the security industry in 2020 and beyond.
Read more...
---