printer friendly version
Commissioning of a fire detection system
April 2017 Associations, Fire & Safety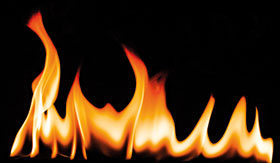 When an installation has been completed by a competent installer, the next step is commissioning. The installer will have carried out the installation from a design specification.
Commissioning is a systematic process with documentation that extends from design through installation, testing, and training. SANS 10139:2012 part 11 gives guidance and recommendations on the commissioning and handover process.
The commissioning process ensures that the system is set to function as intended and there are no major issues that will cause false alarms. The commissioner also sees to it that the installation is of an acceptable standard.
The person responsible for commissioning a fire alarm system in accordance with the recommendations of the SANS 10139:2012 standard should possess, at least, a basic knowledge and understand design, limitation of false alarms and installation of fire detection systems. The commissioner will be disadvantaged and not be able to carry out the commissioning exercise correctly if knowledge lacks in any these disciplines. The commissioner should also have access to the requirements of the designer and any other relevant documentation or drawings that have been processed for the job.
At commissioning, the entire system should be inspected and tested to ensure that it operates satisfactorily. Below is a summary of SANS 10139:2012 Part 11. These are the minimum points, depending on the requirements and design of the system, that a commissioner should be checking:
1. All manual call points and automatic fire detectors function correctly in accordance with the recommendations in SANS 10139:2012 Part 12.
2. Every manual call point and automatic fire detector, on operation, results in the correct zone indication, and, in the case of addressable systems, correct text display, at all indicating equipment.
3. Where an optical beam detector uses a combined transmitter/receiver unit in conjunction with a reflector, care should be taken to minimise the effect of reflections (e.g. from surfaces close to the transmitter/receiver unit) from dominating the received signal. Unless the equipment has specific features to compensate for such effects, at commissioning, the installed unit should be tested by partial obscuration of the beam near to the reflector.
4. Sound pressure levels throughout all areas of the building comply with the recommendations SANS 10139:2012 Part 8 (i.e. 65db) and, where appropriate for voice alarms, an acceptable level of intelligibility is achieved in accordance with SANS 7240-16 or SANS 7240-19 throughout all areas of the building.
5. Any facility for remote transmission of fire alarm signals (and, where appropriate, fault signals) to an alarm-receiving centre operate correctly.
6. Any 'cause and effect' requirements of the designer (e.g. in respect of staged alarms or initiation of operation of other fire protection systems and equipment, and safety measures) are fully satisfied.
7. All alarm, control, indicating, printing, and ancillary functions of the system operate correctly and are adequately labelled or identified.
8. No changes to the building since the time of original design have compromised the compliance of the system with this standard.
9. Siting of any detection device complies with, at least, the recommendations of that device as per SANS 10139:2012 requirement.
10.A suitable and accurate zone plan is displayed in close location to the fire panel.
11. Compliance with the provision of any visual alarms, i.e. in areas where persons with disabilities may be, or areas where the ambient noise levels exceed 90db.
12. Compliance with mains power supply (fed from a dedicated circuit breaker and labelled correctly).
13. Standby power supply and calculations to determine battery capacity are provided and correct battery size installed.
14. Correct cabling has been used.
15. There is no obvious shortcoming with the stated category.
16. In radio-linked systems, radio signal strengths are adequate throughout all areas of the protected premises to ensure reliable operation of the system.
17. Adequate records of insulation resistance, earth continuity and, where appropriate, earth loop impedance tests exist.
18. All fault indicators and their circuits should be checked, where practicable, by simulation of faults conditions.
19. All relevant documentation has been provided to the user or purchaser. The documentation should include an operation and maintenance manual, drawings of the system, certificates of design, installation and commissioning and a panel print-out of all devices.
20. An FDIA log book has been supplied and installed next to the fire panel for the client to keep a running account of the system performance.
21. Labels, visible when batteries are in their normal position, should be fixed to batteries, indicating the date of installation.
The client shall be satisfied that the commissioner has provided sufficient training to all staff members in the vicinity of the fire panel on the operation and controls for the system.
On completion of the commissioning process, a certificate signed by a competent person should be issued. The measure of competency is provided by SAQCC Fire. Ensure your commissioning engineer carries his approved person card and is listed at the level of commissioner. The organisation responsible for commissioning the system might, or might not, be the same organisation that designed and/or installed the system, but the responsibility for commissioning needs to be clearly defined prior to the start of the installation work.
This signed certificate verifies the installed system operates correctly in accordance with requirements laid down by the designer, and that the commissioner carries liability for the correct operation of the system.
By utilising FDIA-registered companies you can rest easy knowing the system will be installed and commissioned correctly and the contracting staff used on site have proven to be competent persons.
For more information contact the FDIA at fdia@fdia.co.za or www.fdia.co.za.
Credit(s)
Further reading:
Choosing the right fire detection system
August 2019, FDIA (Fire Detection Installers Association) , Fire & Safety
Charles Thiong'o from the FDIA highlights important factors to consider when choosing a fire detection system.
Read more...
---
Service station security basics
June 2019 , Associations, Integrated Solutions, Retail (Industry)
It comes as no surprise that the petroleum and retail industries are targeted by criminals as these businesses receive, to a great extent, cash in exchange for their products and services.
Read more...
---
Magtouch Electronics joins ESDA
June 2019, Magtouch Electronics , Associations, News
Magtouch Electronics, a manufacturer of high-tech monitoring systems for the security and cleaning industries has joined ESDA, the Electronic Security Distributors' Association.
Read more...
---
Access wherever you are
June 2019, ADI Global Distribution , Associations, News
ADI Global Distribution, a South African distributor of security and fire technology products has joined ESDA, the Electronic Security Distributors' Association.
Read more...
---
Manufacturer and distributor of security products
June 2019, DTS Security Products , Associations, News
DTS Security Products, a South African manufacturer and distributor, recently joined ESDA, the Electronic Security Distributors' Association.
Read more...
---
Linear heat detection systems
June 2019, FDIA (Fire Detection Installers Association) , Fire & Safety
A linear heat detection system is a stand-alone fire detection system used for detecting heat from fires. The cable can be run from distances of up to 8 kilometres dependent on the type of cable installed.
Read more...
---
Fire Protection Association of Southern Africa
Securex Preview 2019 , Associations
The Fire Protection Association of Southern Africa (FPASA) provides a specialised fire safety management technical and training service to industry, commerce, fire and rescue services and society at large. The ...
Read more...
---
Security Industry Alliance
Securex Preview 2019 , Associations
The Security Industry Alliance (SIA) aims to be the watchdog of the security industry, to actively promote the interests and image of the South African guarding industry, and to promote the development ...
Read more...
---
Fidelity Fire Solutions receives BSI accreditation
May 2019, Fidelity Security Group , Editor's Choice, Fire & Safety, News
Fidelity Fire Solutions is one of the first fire solutions providers in South Africa to be awarded the British Standards Institution (BSI) certification for portable fire products.
Read more...
---
Simplifying fire detection system installations
May 2019, Elvey Security Technologies , Editor's Choice, Fire & Safety, Security Services & Risk Management
A fire detection system needs to be selected with extreme care, as is selecting an installer that not only understands the various technologies employed in fire detection, but that also has the necessary accreditations and certifications.
Read more...
---