printer friendly version
Audible and visual alarms
April 2016 Associations, Fire & Safety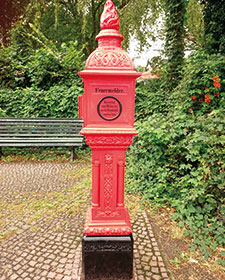 The selection and location of audible and visual alarms in an installation is a key factor in design as it ensures that the alarms will be heard or seen by all in the affected areas. SANS 10139 Part 8.9 to part 8.12 provides guidelines on the requirements to be met.
It is essential that alarm signals are sufficient in nature and extent to warn all persons for whom the alarm signals are intended. The alarm signal needs to be capable of alerting all occupants of the building, regardless of their location. The sound pressure level and frequency of alarm signals must be adequate to provide unambiguous warning of fire.
Particular care needs to be taken to ensure adequate sound pressure levels in small cellular spaces, such as cellular offices, toilets and plant rooms. If the alarm signal comprises a speech message, it is also necessary to ensure that the message is intelligible. If people sleep in the building, the alarm signal needs to be sufficient to rouse them from sleep.
Traditionally, a sound pressure level of 65 dB(A) has been regarded as the minimum acceptable. The minimum sound level of a sounder device should be 65 dB(A) or 5 dB(A) above a background noise (if lasting more than 30 seconds) and at a frequency between 500 Hz and 1000 Hz. The maximum sound level should not exceed 120 dB(A). For areas where people are sleeping, sounder devices should produce a minimum 75 dB(A) at the bed-head with all doors shut.
In buildings likely to provide sleeping accommodation for the hearing impaired, consideration should be given to the incorporation of both audio and visual devices. Decibel loss occurs through doors: Approximately -20 dB(A) through a normal door, and approximately -30 dB(A) through a fire door. Unless a sounder is installed in a bedroom, it is unlikely that 75 dB(A) will be achieved. Sounder device cabling should be arranged so that in the event of a fault, at least one sounder located within the vicinity of the control and indicating panel will remain operational.
A mixture of bells and electronic sounders should not be used in the same building as fire alarm devices. The fire alarm sounders should be distinctive in sound. The system should incorporate at least two fire alarm sounders, even if the recommended sound pressure levels could be achieved with one sounder. At least one sounder should be provided in each fire compartment.
In order to prevent excessive sound pressure levels, which can cause disorientation or even damage to hearing, a larger number of quieter sounders is preferable to a few very loud sounders.
Visual alarms
Visual alarm signals need to be used to supplement audible alarm signals in situations in which the latter are likely to be ineffective, but normally should not be used on their own. Their use is principally in areas with high ambient sound levels, where hearing protection is likely to be worn. However, they are sometimes used as the sole initial warning to staff in situations in which the disturbance of an audible warning is undesirable (e.g. television and radio studios, cinemas, theatres and hospital operating theatres).
Visual alarm signals may also be used as a means of giving warning of fire to people with impaired hearing. Where visual alarm signals are used, consideration may need to be given to the potential effects on photosensitive epileptics.
The following recommendations are applicable:
• Visual alarm signals should be provided in areas where ambient noise levels exceed 90 dB(A) and in other areas where hearing protection is likely to be used under normal circumstances.
• Visual alarm devices should be sufficient in number and distribution to be readily visible from all normally accessible locations, throughout the area in which they are provided, under normal ambient lighting levels.
• The visual alarm signal should flash at a rate within the range of 30 to 130 flashes per minute.
• The visual alarm signal should be clearly distinguishable from any other visual signal used in the premises. Visual alarm signals should be white or red in colour, unless use of another colour is necessary to distinguish the signals from other visual signals.
Visual and audio alarms in gas areas
SANS 369, SANS 14520, SANS 306 and SANS 246 provide recommendations on visual and audio alarms in gas areas. A computer room or server room protected by a fire suppression system has different requirements on visual and audible alarms compared to the requirements of the main building wherein the room is located.
The above-mentioned standards do not provide a clear guideline on the sequence operation of the visual and audible alarms, but provide a general view on what is to be achieved. The FDIA is in the process of providing such a guideline and currently getting consensus from members in order to have a standardised sequence. Information will be distributed once consensus is reached.
A new standard has been adopted in Europe to bring standardisation to flashing beacons. These beacons will in future bring a certain amount of brightness, flash rate, etc.
Discussions are also taking place in Europe to standardise evacuation sounders. Currently the evacuation tone in one building differs from the next. The objective is to develop a common tone and frequency in all buildings so that members of the public, wherever they are, will be able to identify an evacuation signal warning them to leave the building as soon as possible.
Feel free to contact FDIA via e-mail [email protected] for any questions, comments or concerns regarding fire detection systems.
Credit(s)
Further reading:
Fire-fighting force at Vergelegen
Editor's Choice Fire & Safety Residential Estate (Industry)
Vergelegen wine estate in Somerset West, and its neighbours, are set to enjoy greater peace of mind this summer, thanks to the delivery of a brand new fire truck .
Read more...
---
Technoswitch partners with Ciqurix for video fire detection
Technoswitch Fire Detection & Suppression News Fire & Safety
Technoswitch is pleased to announce the signing of an exclusive distribution agreement with Ciqurix (UK), a leading supplier of video fire detection products.
Read more...
---
Fire-safety risks during load shedding
News Fire & Safety
The current load shedding implemented by electricity utility Eskom, as it faces unplanned breakdowns, poses a heightened fire risk for homeowners and their families.
Read more...
---
Technoswitch Awards dinner for 2022
Technews Publishing News Fire & Safety
Technoswitch hosted its fifth awards dinner at Montecasino in September, where customers and suppliers celebrated a year of success.
Read more...
---
ESDA's annual charity fundraiser
ESDA(Electronic Security Distributors Association) News Conferences & Events Associations
The ESDA Annual Charity Fundraiser, part of the Electronic Security Distributors Association's Golf Day, will take place at Benoni Lake Golf Course on Wednesday, 21 September 2022.
Read more...
---
Water deluge fire suppression system
FS Systems Editor's Choice Fire & Safety Mining (Industry) Products
The FS Group custom-designed and installed an electronically actuated water deluge fire suppression system for an underground explosives magazine, ensuring both the safety of miners and operations, as well as regulatory compliance.
Read more...
---
FFETA Charity Golf Day raises R100 000 for Children of Fire
Fire Fighting Equipment Traders' Association Editor's Choice News Associations
At the recent charity golf day hosted by FFETA (Fire Fighting Equipment Traders' Association), an amount of R75 000 was raised for Children of Fire. FFETA rounded this up to R100 000, which went directly to the charity.
Read more...
---
Fire safety in financial organisations
Financial (Industry) Fire & Safety
The data that drives modern finance is physically stored and processed by banks of equipment in cabinets where they give off a significant amount of heat as a side effect to their furious electronic activity.
Read more...
---
Technoswitch appointed as FST distributor
Technoswitch Fire Detection & Suppression News Fire & Safety
Technoswitch's appointment as a distributor for the Fire & Security Techniques (FST) range of fire suppression solutions forms part of the company's strategic plan to expand its range of suppression solutions.
Read more...
---
Perimeter and fire protection
Hikvision South Africa CCTV, Surveillance & Remote Monitoring Fire & Safety Perimeter Security, Alarms & Intruder Detection
Hikvision's HeatPro is a new series of thermal cameras designed to provide affordable all-weather deterrent and alerts, aimed at perimeter protection and fire prevention applications.
Read more...
---