printer friendly version
Message from the ESDA chair
May 2015
Associations
ESDA, the Electronic Security Distributors Association, is an association for distributors, manufacturers and suppliers within the security industry and we invite everyone in these fields to become members.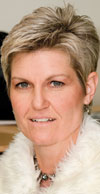 Lee-Ann Andreka
The objectives of the association are:
• To encourage high quality equipment and to promote high standards of workmanship and ethical conduct with regard to the maintenance of such equipment and technical service to the electronic security industry.
• To promote, encourage and protect the interests of members, and to deal with each and all such matters as may affect the common interests of the members.
• To promote, encourage, support or oppose any legalisation, statutory or other measures affecting the interests of the association or its members; to represent to any government department, minister or public authority, municipal, local or otherwise, the necessity for the enactment or amendment of legalisation or for the issue of regulations, by-laws, ordinances or rules, and/or the provision of services relating to the importation, exportation, supply manufacture and or distribution of electronic security equipment.
• To collect, collate, tabulate and disseminate any information likely to be of use to members.
• To do or perform all such lawful acts, deeds, things or functions as may be incidental or conducive in the attainment of the above objectives in line with good corporate governance principles.
• Facilitating business-to-business contacts among industry stakeholders.
• Co-ordinate with other security industry groups on lobbying government stakeholders around common issues.
• Organise conferences, exhibitions and promotional events in areas or markets where there is potential or scope for members to provide security equipment and technologies or they require additional support.
Our committee is made up of enthusiastic individuals, many of whom have worked in the security industry for many years and who bring with them a great deal of experience. We are constantly looking for opportunities to create new and better member benefits. We work closely together with other organisations and associations in order to meet the objectives or our association.
By working closely with Specialised Exhibitions, our members enjoy a discount when exhibiting at Securex. ESDA is given a stand where we have opportunity to network with our members and promote the association at Securex. Members are invited to visit our stand at Securex this year, which will be held from the 12 -13th May at Gallagher Estates in Midrand – Hall 1 Stand no. F23a.
ESDA members are offered the opportunity of a free half-page editorial in Hi-Tech Security Solutions magazine, which is published monthly. We are fortunate to have Hi-Tech Security Solutions' Laura Dorrington, as one of our committee members.
Industry collaboration
For many years the ESDA committee and members have worked closely with SAIDSA, the South African Intruder Detection Services Association. Many ESDA members are affiliate members of SAIDSA and have been co-opted onto the SAIDSA committee. ESDA members work alongside SAIDSA committee members and contribute to the various technical subcommittees and offer support and service to SAIDSA members.
This year ESDA will be hosting a roadshow in Cape Town alongside the SAIDSA Western Cape region's breakfast and general meeting. In the past, the Cape Town roadshow was extremely well attended. We anticipate it will take place towards the end of July and will be held at The River Club. We invite our members to contact Shirley for further information if interested in booking a stand.
PSIRA has recently announced that the PSIRA amendment Bill is now on the President's desk awaiting his signature. ESDA has been following this process closely and has had meetings with PSIRA in this regard. We will continue to keep our members updated.
Over the past year, various QCTO (Quality Assurance Council for Trades and Occupations) Qualification Development Scoping meetings for the proposed security equipment installation and maintenance qualification(s) have been held. The QCTO has called for the electronic security and electrical sectors (including contractors, manufacturers and trainers) to form one professional organisation representing both industries. There are obvious concerns in this regard as both sectors must be represented. ESDA will continue to attend meetings in this regard in an effort to ensure our sector is represented and to provide feedback to our members.
This year ESDA will be registering with the Department of Labour and as such, some changes to the constitution are required. Changes have been made and ratified at the AGM. As always ESDA will keep up to date with any issues that affect our members and continually keep our members informed.
Shirley James has been employed to take care of administration and secretarial duties and works mornings – Mondays, Wednesdays and Fridays. We invite you to contact Shirley by email if you require any information on [email protected]. A new landline will be installed shortly.
Credit(s)
Further reading:
FFETA Charity Golf Day raises R100 000 for Children of Fire
Fire Fighting Equipment Traders' Association Editor's Choice News Associations
At the recent charity golf day hosted by FFETA (Fire Fighting Equipment Traders' Association), an amount of R75 000 was raised for Children of Fire. FFETA rounded this up to R100 000, which went directly to the charity.
Read more...
---
ASIS International appoints first president from South Africa
Technews Publishing Editor's Choice News Associations Training & Education
Malcolm C. Smith has been appointed as the 2022 president of ASIS International, the first president of the organisation from Africa as well as South Africa.
Read more...
---
The state of the distribution market
ESDA (Electronic Security Distributors Association Bosch Building Technologies Dark Horse Distribution Elvey Security Technologies Regal Distributors SA G4S Secure Solutions SA Editor's Choice Security Services & Risk Management
The distribution industry has evolved over the years and its current challenges simply mean another change is in the wind, for those who can take the next step.
Read more...
---
Training that delivers
Technews Publishing Leaderware ESDA (Electronic Security Distributors Association BTC Training Africa Editor's Choice Security Services & Risk Management Conferences & Events Training & Education
Hi-Tech Security Solutions hosted a virtual conversation to address the challenges and solutions related to effective and measurable training and education in the security industry.
Read more...
---
SAQCC Fire and the need to ensure compliance
SAQCC (Fire) Fire & Safety News Associations
One of the fundamental objectives of SAQCC Fire is to establish the necessary procedures for the education, training and registration of all appropriate personnel actively involved in the fire industry.
Read more...
---
Tips for women to build a career in cybersecurity
Associations
Representation of women in the cybersecurity industry has grown over the past years and while this is positive, there is still room for improvement.
Read more...
---
Leaders in risk & security: Honesty and no BS!
Associations
Tony Botes has had a long career in the South African security industry from owning his own security company to now being the national administrator of SASA.
Read more...
---
David Shapiro to chair ESDA
ESDA (Electronic Security Distributors Association News
The Electronic Security Distributors' Association (ESDA), established in 1989, has elected David Shapiro as its chairperson for 2020.
Read more...
---
ESDA supports a worthy cause
ESDA (Electronic Security Distributors Association News
The Electronic Security Distributors' Association (ESDA) held its annual charity golf day earlier this year at the Benoni Country Club.
Read more...
---
A balanced, fair industry
Residential Estate (Industry) Security Services & Risk Management Associations
PSiRA is focused on supporting the effective promotion and regulation of the private security industry.
Read more...
---