printer friendly version
Xtralis continues growth path
March 2015 Fire & Safety, News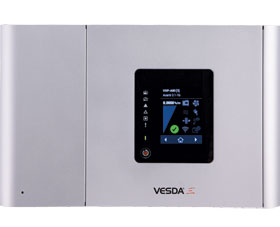 A recent IHS report, titled 'The World Market for Fire Detection and Suppression Products – 2014 Edition', has noted that Xtralis boasts the "largest market share growth for fire detectors market globally for the 8th year in a row".
The report shows Xtralis rose from seventh position in 2006 to fourth in 2013 with a 6,3% global market share, up from 5% in 2006. The company continues to have a "significant lead in the aspirating smoke detection (ASD) category of fire detectors, with an estimated 61,3% market share, up over 15% from 2006 levels. That share does not include China, where Xtralis believes its market share exceeds 80% from sales of its VESDA, ICAM, and FMST ASD products."
Hi-Tech Security Solutions spoke to Peter Meikle, marketing manager at Xtralis, to find out more about the company's success.
Meikle says the company's success in the aspirating smoke detection (ASD) market is not too surprising since it has been focused on this market for years. During the dotcom era in the late 1990s and early 2000s, Xtralis saw good growth by focusing on telecommunications and Internet companies, but it realised it had to find other industries if it was to continue its growth path. It therefore focused on areas such as manufacturing and logistics, among others, and reduced its exposure to the high-tech arena before the dotcom crash.
As its ASD business grew, new competitors emerged, but Meikle says instead of hurting Xtralis, they evangelised the ASD market and actually helped to grow the market. Xtralis, as virtually a pure-play ASD company, was able to capitalise on this growth.
In terms of the beam market, which Xtralis supports through its OSID (open-area smoke imaging detection) range, the company has also commanded a fair slice of the market. These systems work by detecting smoke in large, open spaces where traditional products aren't able to cope.
False alarm elimination
Looking ahead, Meikle says Xtralis is focused on developing solutions to do away with false or nuisance alarms. Today's systems can often raise the alarm when there is too much dust in the air, or can be set off by people smoking. The company is working to pre-empt these alarms and deliver 'pre-alarm' warnings to alert users of the potential issue.
New ASD systems will have four alarm levels, two pre-alarms to warn of potential problems and two 'final alarms' when smoke or gas is detected. He says the nuisance alarm problem is being addressed more effectively than ever before and work on dealing with the issue is ongoing.
Verifying that fire alarms are real is becoming more important globally with the authorities in some countries refusing to respond to an unverified alarm, which can have devastating results. As we've seen in South Africa's guarding industry, false alarms can lead to enormous costs if a response team investigates every alarm.
Additional services
As more security companies are talking about the added value of business intelligence, Xtralis is also providing intelligence in its reports. For example, the company uses complex algorithms to detect dust and other gases; it can therefore warn companies of environmental issues and allow them to take action before they become a problem.
Another newcomer from Xtralis is its VESDA VLQ ASD product, designed to protect smaller areas at a lower cost than traditional detectors. Meikle says the VLQ will open new markets for detection in smaller areas in, for example, cellular, residential and medical sites.
The company expects to continue posting good results as there are more new and improved solutions that will be unveiled over time. The focus for Xtralis is to enhance detection and reduce maintenance, while supplying intelligence its customers can use.
For the full IHS report, go to technology.ihs.com/438723/fire-detection-suppression-2014 (short URL: http://goo.gl/hMVmR4).
For more information, contact Derek Waddell, regional sales manager, Xtralis, +27 (0)82 316 2601, dwaddell@xtralis.com, www.xtralis.com
Further reading:
Fire Beam Xtra covers up to 160 metres
October 2019, Technoswitch , Products, Fire & Safety
The Fire Beam overcomes traditional beam detection challenges where building movement and accessibility made beam detection unreliable and laborious to commission and maintain.
Read more...
---
Emergency voice communication system
October 2019, Technoswitch , Products, Fire & Safety
The Technoswitch Emergency Voice Communication Systems concept offers fire telephone and disabled refuge systems, as well as integrating emergency assist alarm systems in a single solution.
Read more...
---
Fast detection of smoke and flames
October 2019, Bosch Building Technologies , Editor's Choice, CCTV, Surveillance & Remote Monitoring, Fire & Safety
Video-based fire detection AVIOTEC from Bosch has been optimised for tunnels to provide early and reliable detection of smoke and flames in these dark environments.
Read more...
---
Securex West Africa returns in 2020
October 2019 , Conferences & Events, News
See more than 100 exhibitors over two days and join over 2500 professionals from more than 20 countries.
Read more...
---
The importance of body-worn cameras in the workplace
October 2019 , CCTV, Surveillance & Remote Monitoring, News, Security Services & Risk Management
South Africans have far more agency over their security than they have realised in the past.
Read more...
---
Reductor malware hijacks HTTPS traffic
October 2019, Kaspersky Lab , Editor's Choice, Cyber Security, News
Kaspersky researchers have discovered new malware that hijacks victims' interaction with HTTPS web pages in the process of establishing encrypted communication between the user and the website.
Read more...
---
TAPA conference 2019 explores layered approach to security
September 2019, Technews Publishing, TAPA (Transported Asset Protection Association) , News, Transport (Industry)
The Transported Asset Protection Association (TAPA) held its annual South African conference at Emperors Palace in Johannesburg on 26 July 2019.
Read more...
---
The hunt for the Carbanak group
September 2019 , Editor's Choice, Cyber Security, News
Tomorrow Unlocked has released a free four-part documentary that tells the story of the notorious Carbanak APT group and its $1 billion bank heist.
Read more...
---
Genetec to integrate CylancePROTECT
September 2019, Genetec , Editor's Choice, CCTV, Surveillance & Remote Monitoring, News
Genetec has announced it is partnering with Cylance, a business unit of Blackberry, to bring AI-based antivirus protection to its appliance customers.
Read more...
---
Consumer robotics is a market in transition
September 2019 , Home Security, News
ABI Research says smart home integration will drive consumer robot shipments into the home to the tune of 39 million units per year by 2024.
Read more...
---