printer friendly version
Meet your ESDA member: Changing the face of home security
August 2014
Associations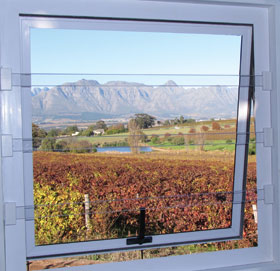 To be able to move around in your house or offices you are forced to deactivate your alarm system with your panic button as your only active alarm defence against an intruder. This makes you and your household vulnerable to being overpowered without being alerted in time.
ViewProtect has developed the Armed Bar (transparent burglar bar with integrated alarm sensor) that will give you a physical protection and permanent alarm protection at all your windows and doors.
This Smart Bar technology makes it possible to protect your premises with a 24/7 active alarm system in addition to having a transparent physical barrier. This technology also allows you to fully utilise your alarm system by having a permanent perimeter protection while moving around in your home. This allows you freedom to open and close and also clean the windows and bars. No more false alarms caused by accidental human errors, plants, insects, animals, etc.
The uniqueness of the ViewProtect Smart Bar technology is the fact that we have been able to combine two different security products i.e. alarm system and transparent physical barrier (polycarbonate), resulting in the development of an ultimate security product. The weakness of the one product is strengthened by the other products properties.
One of ViewProtect's newest products is a transparent retractable security gate, ClearTrellis, which will also have the option to be connected to any alarm system. These transparent retractable security gates will also protect your property value by removing the prison-like appearance of metal gates.
ViewProtect products have been taken up in the international market and we have representation in six African countries, Romania, Caribbean Islands and Australia.
For more information contact ViewProtect, +27 (0)21 883 3551, marius@viewprotect.co.za, www.viewprotect.co.za
Further reading:
A balanced, fair industry
October 2019 , Residential Estate (Industry), Security Services & Risk Management, Associations
PSiRA is focused on supporting the effective promotion and regulation of the private security industry.
Read more...
---
Service station security basics
June 2019 , Associations, Integrated Solutions, Retail (Industry)
It comes as no surprise that the petroleum and retail industries are targeted by criminals as these businesses receive, to a great extent, cash in exchange for their products and services.
Read more...
---
Magtouch Electronics joins ESDA
June 2019, Magtouch Electronics , Associations, News
Magtouch Electronics, a manufacturer of high-tech monitoring systems for the security and cleaning industries has joined ESDA, the Electronic Security Distributors' Association.
Read more...
---
Access wherever you are
June 2019, ADI Global Distribution , Associations, News
ADI Global Distribution, a South African distributor of security and fire technology products has joined ESDA, the Electronic Security Distributors' Association.
Read more...
---
Manufacturer and distributor of security products
June 2019, DTS Security Products , Associations, News
DTS Security Products, a South African manufacturer and distributor, recently joined ESDA, the Electronic Security Distributors' Association.
Read more...
---
Fire Protection Association of Southern Africa
Securex Preview 2019 , Associations
The Fire Protection Association of Southern Africa (FPASA) provides a specialised fire safety management technical and training service to industry, commerce, fire and rescue services and society at large. The ...
Read more...
---
Security Industry Alliance
Securex Preview 2019 , Associations
The Security Industry Alliance (SIA) aims to be the watchdog of the security industry, to actively promote the interests and image of the South African guarding industry, and to promote the development ...
Read more...
---
SAIDSA celebrates 50-year anniversary
March 2019, SAIDSA (SA Intruder Detection Services Association , Associations, News
Fifty years ago, the association was formed as an employer's organisation, with the vision of providing a pension fund to its members and to investigate improving the standards of an ever-growing industry.
Read more...
---
Letter to the editor
October 2018, Technews Publishing , Associations, Perimeter Security, Alarms & Intruder Detection
We refer to an article published in your August 2018 edition, namely "The alarming disadvantages of home security systems", written by Meraj Hoda, vice president of Ring Inc. The content of this article ...
Read more...
---
ESDA golfs for the poor
October 2018, ESDA (Electronic Security Distributors Association , News, Conferences & Events, Associations, Training & Education
The ESDA charity golf day was held at the Benoni Country Club on 20 September 2018 in aid of AMCARE.
Read more...
---