printer friendly version
Robertson details future of SAIS
July 2014 Associations, News
The South African Institute of Security (SAIS) has existed for many years under the leadership of various chairs. Today, Bruce Robertson chairs the board of governors; he spoke to Hi-Tech Security Solutions about the future of the institute.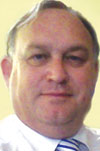 Bruce Robertson
Robertson's key goal is to see the institute playing a key role in the development of a professional body for the security industry. SIAS has played a significant role in the development of training and skills in the industry and this will continue. However, Robertson says the industry is in dire need of a professional body that can set the standards for individual and company performance and behaviour.
As a member of SIA, the Security Industry Alliance, Robertson says the support of the association and its members is necessary to form a professional body. The security industry is renowned for being very competitive and this has resulted in some companies taking shortcuts. Not only is this unethical, it has consequences for the entire industry.
For one thing, security operators skimp on their responsibilities to their staff, not paying into a provident fund for example. Not only is this illegal, it is also a complete lapse of corporate governance – and it's not only the small bakkie brigade companies responsible for this. Furthermore, many don't pay their registration fees, money that should be used to advance the industry and aid in education etc.
These companies not only avoid their governance responsibilities, but are also able to undercut honest companies when bidding for contracts. Put simply, this means it actually pays to adopt illegal and unethical business practices because there is no enforcement or consequences for these businesses. The authority supposedly regulating the industry is unwilling or unable to do its job.
A professional body, set up in the optimal way, can change the industry and raise the bar for the activities of its players. This would gain the industry respect and even the playing field. He adds that he would like to also see customers held responsible for hiring non-compliant companies. They already pay the price in terms of quality and reliability, but law enforcement should also penalise them for retaining the services of unethical service providers.
Education still critical
Part of Robertson's ideal is to ensure that SAIS continues to play an influential role in education. From one perspective, the goal is to create a professional management body that upholds a high standard of behaviour and performance, and sets an example. It is also determined to attract more of the younger, up-and-coming security professionals who may currently see SAIS as an old boys' club.
Not only will the institute be focusing on attracting the next industry leaders, it is also already examining ways in which to diversify the industry as well as the board. A programme to attract members of colour as well as female members is being implemented.
Looking further down the ladder, he also foresees including operational employees in the professional body in future to replicate best practices to all levels of the industry. Education is key to realising this goal and SAIS will continue to work with the educational bodies to improve and advance education in the security industry. It is already dealing with organisations such as UNISA, SAQA and SASSETA, and wants to maintain its involvement in further developments.
The institute's continual development programme (CPD) is therefore key. Although it is already in place, Robertson says it will be updated to support the new aims of SAIS and the needs of the industry.
An interesting opportunity may present itself at IFSEC SA in 2015. Although still in the discussion phase, the organisers of IFSEC and SAIS are looking at introducing an Excellence in Security awards programme at IFSEC SA 2015. This will be similar to the awards held at IFSEC UK and can be used to highlight the contributions of various security industry players.
Discussion required
To achieve the institute's goals, Robertson says there still needs to be significant discussions. These will not only involve talking to external bodies, but also internal talks to finalise the new constitution for SAIS. This will include changing the association into a not-for-profit company to allow it to carry out its expanded mandate and bring new members onto the board.
He expects this to begin in August this year at the SAIS AGM, when the board will need to elect two new members to replace retirees, after which the new constitution will be ratified. For more information on SAIS, please contact the SAIS Administration Office on +27 (11) 455 3157 or sais@tiscali.co.za
Further reading:
TAPA conference 2019 explores layered approach to security
September 2019, Technews Publishing, TAPA (Transported Asset Protection Association) , News, Transport (Industry)
The Transported Asset Protection Association (TAPA) held its annual South African conference at Emperors Palace in Johannesburg on 26 July 2019.
Read more...
---
The hunt for the Carbanak group
September 2019 , Editor's Choice, Cyber Security, News
Tomorrow Unlocked has released a free four-part documentary that tells the story of the notorious Carbanak APT group and its $1 billion bank heist.
Read more...
---
Genetec to integrate CylancePROTECT
September 2019, Genetec , Editor's Choice, CCTV, Surveillance & Remote Monitoring, News
Genetec has announced it is partnering with Cylance, a business unit of Blackberry, to bring AI-based antivirus protection to its appliance customers.
Read more...
---
Patient critical – healthcare's cybersecurity pulse
August 2019, Wolfpack Information Risk , News, Cyber Security, Healthcare (Industry)
The healthcare industry has become one of the leading cybersecurity attack vectors worldwide for several reasons.
Read more...
---
Ingo Mutinelli moves to IDEMIA
July 2019, Technews Publishing, IDEMIA , Editor's Choice, News
IDEMIA, the security and identity management company has announced that Ingo Mutinelli will be taking on the post of regional sales director for the southern Africa region.
Read more...
---
Residential Estate Security Conference 2019: Integrating man and machine for effective security and operations
July 2019, Technews Publishing , Editor's Choice, News, Residential Estate (Industry), Conferences & Events
The Residential Estate Security Conference 2019 will delve into how estates and their service providers can better integrate man and machine for more effective security and operations.
Read more...
---
Milestone appoints new VP for research and development
July 2019, Milestone Systems , Editor's Choice, CCTV, Surveillance & Remote Monitoring, News
Milestone Systems has appointed Tom Bjerre as its new VP for research and development. He will oversee planning, development, testing and release of Milestone Systems' video management software.
Read more...
---
Johnson Controls launches Technology Contracting in Africa
July 2019, Johnson Controls , Editor's Choice, News, Security Services & Risk Management
To address the growing challenge of planning, integrating and maintaining a multitude of different, highly connected systems, Johnson Controls is launching Technology Contracting in Africa.
Read more...
---
NIST recommends ONVIF as new standard for FBI
July 2019 , Editor's Choice, CCTV, Surveillance & Remote Monitoring, News
ONVIF's Export File Format is the new standard recommended by the National Institute of Standards and Technology (NIST) for the exporting and playback of video surveillance recordings.
Read more...
---
Service station security basics
June 2019 , Associations, Integrated Solutions, Retail (Industry)
It comes as no surprise that the petroleum and retail industries are targeted by criminals as these businesses receive, to a great extent, cash in exchange for their products and services.
Read more...
---