printer friendly version
SAIS celebrates 35th anniversary
September 2013 Associations, News & Events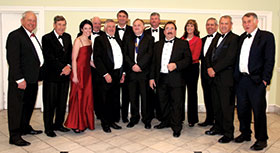 On Friday 16th August, The South African Institute of Security (SAIS) held its 35th Annual General Meeting at JP Morgan's Illovo. In celebration of its 35th anniversary, the institute has instigated Dedicated Membership Awards and many of those present at the AGM were invited as guests of SAIS to collect their awards.

Outgoing chairman Errol Peace (Left) congratulating the new chairman of SAIS, Bruce Robertson.
Among these were long standing members Ronnie Crawford Nutt for 35 years, Ken Catton and John Hill for 34 years and quite a number of other members, collecting awards for anything from 10 years upwards. Unfortunately, Rosemary, who took all the photographs of the presentations had her camera stolen the following day before the photos were downloaded.
Errol Peace, the outgoing chairman, welcomed all present and introduced Bruce Robertson, the institute's incoming chairman and David Dodge, the new vice chairman.
On Saturday 17th August, the institute had its annual Black Tie Bash, the theme this year being 'Fire and Ice'. This was again held at the Indaba Hotel in Fourways. Attendees were entertained by Francois Marais and 'Fabio' to a feast of fire, and Collin Henry provided the music for the evening.
Dedicated Service Awards were presented to many of the long-standing members of the institute, some of whom had travelled from far afield, as well as outgoing chairman Peace and long-time administration manager, Rosemary Cowan.
SAIS thanks all the sponsors, BTC Training for the entertainment, Temi Group for the tickets and IFSEC-South Africa for the red wine. Prizes were provided by Dinatla Solutions, John Elliott Security, Sibanye Gold and Technews (publisher of Hi-Tech Security Solutions).
For more information, contact Rosemary Cowan, SA Institute of Security, +27 (0)11 455 3157, www.instituteofsecurity.co.za
Further reading:
QR code vulnerabilities: new techniques
Information Security News & Events
SecurityHQ analysts have recently observed a significant increase in Business Email Compromise (BEC), regarding phishing attacks containing QR codes (now called Quishing) and captchas for credentials harvesting.
Read more...
---
Digital identity verification checks to pass 70 billion in 2024
Access Control & Identity Management News & Events
A new study from Juniper Research has found that the number of digital identity verification checks will surpass 70 billion in 2024, growing 16% on the previous year's number of 61 billion.
Read more...
---
Cisco collaborates with DCDT for Digital Acceleration Program in SA
Editor's Choice News & Events IoT & Automation
Cisco signed a Memorandum of Understanding (MoU) with South Africa's Department of Communications and Digital Technology (DCDT) to help further develop and strengthen the country's digital economy through digital skills and talent development.
Read more...
---
BCX launches Africa Local Public Cloud
Editor's Choice News & Events Infrastructure
BCX, a digital systems integrator in South Africa, announced the launch of its Africa Local Public (ALP) Cloud service, which marks a significant stride in BCX's mission to deliver innovative technology solutions to businesses across the continent.
Read more...
---
Free South Africa Market Report webinar from TAPA EMEA
Technews Publishing Editor's Choice News & Events Transport (Industry) Training & Education Logistics (Industry)
October 2023 offers TAPA EMEA members and non-members opportunities to increase their knowledge of cargo crime and supply chain security risks in three countries in Europe, the Middle East & Africa region, where supply chains are most targeted by both organised crime groups and other offenders.
Read more...
---
Texecom increases support in the EMEA with key appointments
Editor's Choice Perimeter Security, Alarms & Intruder Detection News & Events
Texecom announced two new appointments to its EMEA sales team: Thomas Vanden Wyngaerdt as Head of EMEA Sales and Tom Wright as EMEA Account Manager.
Read more...
---
Five ways to reduce your cyber insurance premiums
Security Services & Risk Management News & Events
With the global costs of cybercrime expected to soar to $13 trillion within the next five years, cyber insurance is booming as organisations try to mitigate the risk of financial losses.
Read more...
---
Collaboration delivers integrated and holistic security
Guardian Eye Surveillance News & Events Integrated Solutions
Guardian Eye and Lytehouse have partnered to integrate their speciality solutions and provide a holistic security offering that overcomes the fragmentation of security systems and services.
Read more...
---
Elvey Group and Technoswitch part ways
Elvey Security Technologies Fire & Safety News & Events
The Elvey Group (a division of the Hudaco Group of Companies) is relinquishing its distributorship of the Technoswitch brand, following Hudaco's acquisition of Brigit Fire.
Read more...
---
Be wary of associations that appoint themselves as regulators
Associations
The South African Bureau of Standards (SABS) has noticed an increasing trend of some associations and industry bodies trying to derail the credibility of the SABS and creating confusion by publishing misleading information about their authority to regulate or govern certain industries.
Read more...
---