printer friendly version
Cathexis demonstrates its 'effective innovation'
Issue 7 2022 Editor's Choice, CCTV, Surveillance & Remote Monitoring, News, Integrated Solutions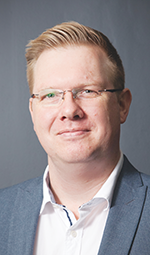 Dene Alkema.
Cathexis Africa recently held a roadshow with a stop in Johannesburg where Hi-Tech Security Solutions was invited to attend, along with many of the company's partners and users. The host of the event was Craig Wilson, who launched the show and introduced the company's MD, Dene Alkema.
Alkema presided over the main presentation where he spoke about what Cathexis was and will be doing in the near future. In a nutshell, Cathexis will continue to stick to what it does best, enhancing the value of video and making video surveillance more valuable by making more out of the data collected. He continued that the past financial year was a successful one for the company, which now has customers in over 60 countries and transmits over 1 million video channels.
As with almost every industry, the market Cathexis serves has changed over the past two years, with customers today asking more informed questions and wanting solutions instead of products. During the COVID-19 period, Cathexis made significant investments in the company to ensure it emerged ready to take on the market as soon as things opened up.
Highlighting the readiness of the company and CathexisVision to take on the future, he mentioned two case studies indicating what the company is capable of. The first was Kyalami Estate in Johannesburg (which he also presented as a case study at Hi-Tech Security Solutions' Residential Estate Security Conference in Johannesburg in Octoberthis year – see https://www.securitysa.com/17836r), where CathexisVision supports about 250 cameras as well as numerous integrations with access control, biometrics, lighting and more. The second installation was in Turkey, where over 1100 cameras are managed from a central control room.
Adding value
One of the principles Alkema stressed about Cathexis is that of integrity and the drive to ensure the product it delivers works as promised. He summarised the value Cathexis ensures its video management platform provides:
• Effective site management for customers.
• Control room efficiencies.
• Situational awareness.
• An integrated approach.
• Reliable evidence.
Moreover, the system is architected to support integration with many third-party products, be they cameras or other products. ONVIF conformance is one of the ways in which this is achieved. And while CathexisVision has its own video analytics/AI built in (with more on the way), customers can also add analytics from third parties while also integrating fire, alarm, ANPR, access control and other systems as required.
Alkema also noted that the platform is keeping up with the times by including cyber protection and failover redundancy. The system's health monitoring capabilities are also a standout feature, ensuring users are potentially aware of any problems on the horizon with their systems and servers before it becomes a catastrophe.
The latest additions
Worthy of special attention at the event was CathexisVision Carbon, the company's new user interface that not only offers a sleek new GUI (graphical user interface), but also an enhanced feature set. Some of the updated features in Carbon include smart search, improved event monitoring, enhanced evidence building and archiving, improved performance and integration management. Forensic analysis and improved 'adjacent camera mapping' is also easier than ever, allowing users to easily follow a suspect as they move from one camera to another.
Users can also customise the layout of the GUI to suit their particular requirements (such as making corridor camera views more useful), as well as share information between users and devices. User roles and access has also been broadened, giving administrators more power to assign different roles and permissions to different users.
CatMobile is the Cathexis mobile app, which integrates seamlessly into the platform and allows users with the appropriate authority to see similar views as if they were behind the screen in a control room, from anywhere with connectivity. The mobile view is naturally not exactly the same due to the screen space available on a smartphone. Like Carbon, CatMobile is designed to be simple to set up and use.
As mentioned above, Cathexis has its own AI-enhanced analytics available, the number of which has risen to nine, with more in the pipeline. These are available on Carbon and CatMobile.
Looking ahead, the company will be enhancing its enterprise capabilities over the coming year, including the ability to monitor multiple sites simultaneously, and share access to camera layouts, maps and other resources across multiple devices.
While CathexisVision may be a local product priced in Rands, which is good for volatile currency fluctuations, its growth and acceptance across the world shows it plays in the same field as the global brand names. The plans in place for further improvements to the platform serve to ensure that it remains a global competitor, ready to take on whatever challenges the future may hold.
Credit(s)
Further reading:
Brighter, greener, and smarter
Dahua Technology South Africa Products CCTV, Surveillance & Remote Monitoring
Dahua Technology released its new Dahua CH II Series Indoor Fine Pixel Pitch LED display, providing visual clarity and promoting energy efficiency and sustainability.
Read more...
---
Smart water management
Axis Communications SA CCTV, Surveillance & Remote Monitoring Integrated Solutions
South Africa is currently facing a water crisis, with scarcity and inefficient water management posing significant challenges to sustainable, consistent access to water. Smart technology and powerful partnerships may offer a proactive solution to SA's water crisis.
Read more...
---
Helping retailers optimise monitoring and security
Guardian Eye Retail (Industry) CCTV, Surveillance & Remote Monitoring
From a smart retail perspective, it is crucial to understand that monitoring stock and other assets through camera surveillance and a variety of Internet of Things (IoT) sensors stretches further than the stores themselves.
Read more...
---
Five ways to reduce your cyber insurance premiums
Security Services & Risk Management News
With the global costs of cybercrime expected to soar to $13 trillion within the next five years, cyber insurance is booming as organisations try to mitigate the risk of financial losses.
Read more...
---
What South Africans need to know about smart devices
Technews Publishing Editor's Choice
We live in a world surrounded by smart devices, from our pockets to our driveways and living rooms.
Read more...
---
Empowering Istanbul's public transportation
Dahua Technology South Africa CCTV, Surveillance & Remote Monitoring Integrated Solutions
Dahua's intelligent transportation solution, using technologies like DSM and AI-based passenger flow counting, has facilitated an intelligent system upgrade for nearly 6 400 minibuses and electric buses in Istanbul.
Read more...
---
Collaboration delivers integrated and holistic security
Guardian Eye CCTV, Surveillance & Remote Monitoring News Integrated Solutions
Guardian Eye and Lytehouse have partnered to integrate their speciality solutions and provide a holistic security offering that overcomes the fragmentation of security systems and services.
Read more...
---
From overwhelm to oversight
Editor's Choice Cyber Security Products
Security automation is vital in today's world, and Microsoft Sentinel is a widely adopted, but complex answer. ContraForce is an easy-to-use add-on that automatically processes, verifies and warns of threats round-the-clock.
Read more...
---
Synology enhances functions for advanced surveillance integration
Technews Publishing CCTV, Surveillance & Remote Monitoring IT infrastructure Products
With the capability to function as both an API client and server, Surveillance Station offers a versatile platform for integration, whether it's embedding video streams into other platforms or overlaying external data onto recorded video.
Read more...
---
Elvey Group and Technoswitch part ways
Elvey Security Technologies Fire & Safety News
The Elvey Group (a division of the Hudaco Group of Companies) is relinquishing its distributorship of the Technoswitch brand, following Hudaco's acquisition of Brigit Fire.
Read more...
---