printer friendly version
ZYTEQ Fire Engineering Summit 2022
Issue 6 2022 Fire & Safety, News & Events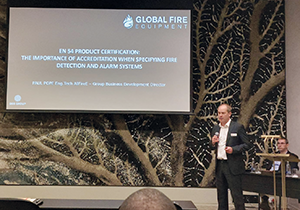 Cape Town-based ZYTEQ Fire hosted its inaugural Engineering Summit at the Commodore Hotel in Cape Town and the Leonardo Hotel in Sandton, Johannesburg. Both events were well received and attended by a cross-section of fire industry professionals, providing a forum for the sharing of information and networking with industry peers.
The highlight of the events were presentations by Paul Pope, global business development director for Global Fire Equipment (GFE) and executive member of the FIA in the UK (ZYTEQ Fire is a technology partner of GFE). Pope presented two presentations, namely 'EN 54 product certification: The importance of accreditation when specifying fire detection and alarm systems'; and 'Integrity in detecting real fires and maintaining system survivability'.
Paul's presentation on the EN 54 regulations served to highlight the importance of EN 54 certification and how this accreditation helps to maintain the quality, reliability and performance of products while providing assurances to building owners, insurance companies and fire professionals that the equipment being installed has been tested and certified to demanding European standards. Paul also discussed the difference between a legally accredited Notified Body and a voluntary approval which has no legal standing and guidelines on how to identify non-certified products.
In his survivability presentation, Paul highlighted the risks and dangers that can be encountered when evacuating a building during a fire event, and the importance of distributed panel networks in ensuring the network is able to survive under extreme fire conditions. An example of a distributed system is the ZYTEQ Fire addressable panel network which provides full peer-to-peer networking.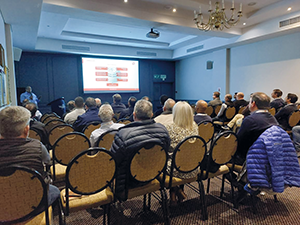 Each panel on the network carries the full network configuration in memory, so the loss of any panel on the network will not result in the loss of the network itself, as may be the case with traditional master/slave topologies. Paul also discussed the importance of alternative cable routes and the use of enhanced network cable on critical communication paths. The specification of survivability categories in fire system design was recommended as a guide for installers.
Attendees were also able to view live demonstrations of the ZYTEQ Fire equipment and new developments, including its upgraded ZA831 multi-sensor detector/sounder/beacon and fire detection rail solution being fitted to the new PRASA trains, and has been designed to meet European rail standards.
As South African designers and manufacturers of fire detection equipment, ZYTEQ Fire is encouraged by the positive feedback received and plans to make these summits an annual event where local and international knowledge and best practices can be shared to the benefit of the local industry.
Credit(s)
Further reading:
Different types of fires
Fire & Safety
Fire is a powerful force of nature; according to SafeQuip, a distributor of fire-related equipment; understanding the different types of fires and how to combat them is essential for safety and protection.
Read more...
---
SafeQuip introduces lithium fire extinguishers
Fire & Safety Products & Solutions
With the use of Lithium batteries increasing in many types of portable devices and battery storage solutions, SafeQuip, in partnership with AVD Lithex, is introducing a fire extinguisher aimed at suppressing and extinguishing, and also preventing re-ignition of lithium fires.
Read more...
---
Modern warehouses come with added fire risk
Fire & Safety Transport (Industry)
Along with increased investments in modern warehousing in Africa, there is also a need to focus on protecting warehouses from crime, however, fire can arguably be a greater danger to business continuity.
Read more...
---
How to prevent solar inverter short-circuits and fires
Fire & Safety
With many South Africans installing inverters as part of solar power systems to mitigate the impact of load shedding in homes and at businesses, users need to be aware of the potential fire risks.
Read more...
---
QR code vulnerabilities: new techniques
Information Security News & Events
SecurityHQ analysts have recently observed a significant increase in Business Email Compromise (BEC), regarding phishing attacks containing QR codes (now called Quishing) and captchas for credentials harvesting.
Read more...
---
Digital identity verification checks to pass 70 billion in 2024
Access Control & Identity Management News & Events
A new study from Juniper Research has found that the number of digital identity verification checks will surpass 70 billion in 2024, growing 16% on the previous year's number of 61 billion.
Read more...
---
Cisco collaborates with DCDT for Digital Acceleration Program in SA
Editor's Choice News & Events IoT & Automation
Cisco signed a Memorandum of Understanding (MoU) with South Africa's Department of Communications and Digital Technology (DCDT) to help further develop and strengthen the country's digital economy through digital skills and talent development.
Read more...
---
BCX launches Africa Local Public Cloud
Editor's Choice News & Events Infrastructure
BCX, a digital systems integrator in South Africa, announced the launch of its Africa Local Public (ALP) Cloud service, which marks a significant stride in BCX's mission to deliver innovative technology solutions to businesses across the continent.
Read more...
---
Free South Africa Market Report webinar from TAPA EMEA
Technews Publishing Editor's Choice News & Events Transport (Industry) Training & Education Logistics (Industry)
October 2023 offers TAPA EMEA members and non-members opportunities to increase their knowledge of cargo crime and supply chain security risks in three countries in Europe, the Middle East & Africa region, where supply chains are most targeted by both organised crime groups and other offenders.
Read more...
---
Texecom increases support in the EMEA with key appointments
Editor's Choice Perimeter Security, Alarms & Intruder Detection News & Events
Texecom announced two new appointments to its EMEA sales team: Thomas Vanden Wyngaerdt as Head of EMEA Sales and Tom Wright as EMEA Account Manager.
Read more...
---