printer friendly version
Elements of perimeter security
Residential Security Handbook 2022: SMART Estate Living Editor's Choice, Perimeter Security, Alarms & Intruder Detection, Integrated Solutions, Residential Estate (Industry)
There are almost endless options when it comes to perimeter security, but they all cost money and cost even more if you want to integrate them into a single system managed from a central point. Yet, despite the number of options available, more does not always necessarily mean better.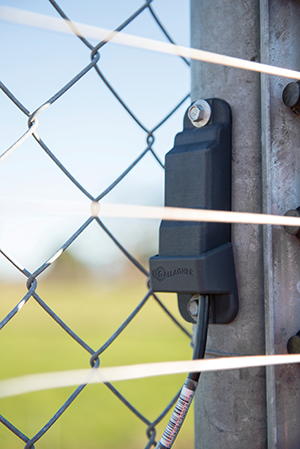 Gallagher Z20 on a fence.
Every estate needs to determine its own risk profile and then determine what it needs to do in terms of technology and integration to deliver a solution that mitigates its specific risks. Only then does one decide on products and technologies needed. And of course, the integration of the human element is also a necessity.
But if one is in the ideal situation where money is no object and anything is possible, what would the ideal perimeter security solution look like?
An ideal solution
Robert Solomon, technical account manager for Gallagher, says the optimal perimeter security solution is one which offers the three Ds – deter, detect and delay.
Deter – effective perimeter fencing should discourage people from attempting to gain unauthorised access to the estate.
Detect – this is the most critical element of the three Ds. Disturbance sensors, tension sensors and integrated CCTV can promptly detect unauthorised access attempts.
Delay – an effective fence structure or monitored pulse fence can delay an unauthorised access attempt, buying time for the estate to initiate a security response.
These three elements combined are needed to ensure the effectiveness of a perimeter security solution and will influence the technologies required. For estates, it's crucial that perimeter technology provides reliable detection while delaying a potential attack long enough for an effective security response.
"An electric security fence, such as Gallagher's Monitored Pulse Fence, is a high-quality security fence that combines detection, deterrence and delay at the perimeter. We commonly find estates will opt for a fully-integrated security solution that encompasses perimeter, CCTV, access control and more, managed from a central operating system, such as Gallagher Command Centre."
Shaun Williamson, managing director of Stafix Security Centres, expands on this, advising one starts with a strongly defended perimeter such as a high wall (well-built high wall preferred), a well-constructed electric fence with galvanised square tube, 12-strand, tamper proof insulators (at a minimum), with lower wires with 50 mm spacing. Correctly tensioned wires running through the tube are hardest to tamper with.
In addition, an estate will need a CCTV system covering the wall and all key areas, a strong access control system and a well-equipped and trained guarding company with well documented SOPs (standard operating procedures).
He adds that the estate also needs to include a continual risk analysis of areas of concern, which can be reinforced with spikes, beams etc. Good communication to residents explaining why certain protocols are followed is also necessary to prevent complaints and inadvertent false alarms.
The electric fence is standard
While electric fences have been a staple of perimeter security for many years, when considering the other technologies that have been developed for thermal protection, is the electric fence still needed?
The answer, of course, is yes. Solomon notes that electric security fencing, or a monitored pulse fence, is your first line of defence and is absolutely still considered a 'must have'. Over time, these fences have evolved from acting solely as a deterrence, to an integrated solution that reliably detects intrusion, while also improving operational efficiency.
For example, a monitored pulse fence integrated with Gallagher Command Centre enables operators to view all fence zones, operational status and voltage information directly through the site plan functionality. If the site has integrated CCTV, operators can also view live footage, or recorded footage in response to an alarm.
"Having this information easily accessible through a single interface improves detection by enabling operators to quickly and easily assess any security risks and respond accordingly. At the same time, it creates efficiencies through reducing dependence on guard patrols to manually carry out perimeter inspections, minimising the risks of human error."
The introduction of mobile technology has also improved security responses, with the ability to receive SMS notifications if unauthorised activity is detected. Gallagher's Command Centre mobile app also enables operators to view perimeter alarms and turn perimeter zones on or off directly through the app. "The combination of multiple technologies allows more feature-rich information to be provided to the security team," states Solomon.
The importance of the electric fence
Williamson has been the security director of an estate and on the security committee for over eight years. Over the Covid period, he says "in Fourways where I live, crime has doubled. The importance of the electric fence was, for me, highlighted during this period. Our estate has a 5 km boundary and a rotating guard force of around 12 guards per shift. With two monitored entrances and four vehicles, the guard force on the ground is relatively low. With the access points having a large amount of CCTV and guard presence, penetrating the boundary by 'cat' burglars became a problem in Fourways, with many estates being hit by the same 'brother' team.
"It was clear that estates with a networked energiser system with an energiser per zone and 24/7 technical support had the most successful pre-warning solution. Fences would be tampered with repeatedly and if they were not promptly repaired, the perpetrators would gain entrance. The perpetrators also quickly realised that systems where single energisers were sectored over long distances were easy to bypass and confuse guards and the monitoring system.
"The fences can easily be 'hacked through' and fast tactics made capturing criminals difficult. Our networked fence with 28 individually powered zones helped us immediately know where the fence had been tampered with and due to the individual energisers the system could not be easily confused.
"The challenge first experienced was that we knew the perpetrator had got in, but once the fence zone was visited and we established where the break was, five to eight minutes was gone. We were reliant on thermal cameras and found with the high-speed attacks and quick cut time, in conjunction with the distance from the camera meant the thermal alarms often did not activate so the footage, when viewed, gave us no real information.
"Our solution was a fibre backbone of cameras every 30 m working with the electric fence. We even added spikes to the wall to slow the perpetrators down, so we have better footage now. An integrated fence and CCTV management system makes for easy monitoring and quick confirmation of an incident and speeds up reaction."
He adds that an electric fence is vital in creating a monitored shocking barrier and if installed correctly, will slow and detect a criminal. A layered approach is the best and with the addition of high walls, spikes, CCTV and a well trained and equipped guarding company the combination of various layers of security come together.
The benefits of PIDS
A PIDS (perimeter intrusion detection solution) can be attached to a wall or fence, detecting any vibrations that are out of the ordinary (many systems can differentiate between people walking near the fence, a vehicle, digging, climbing or when cables are cut). There are also acoustic cables that can be attached to a fence or buried in the ground, which do the same as the PIDS attachments.
"We find PIDS are commonly used by estates. They are particularly useful in areas where estate owners may require discreet detection on the perimeter," says Solomon.
He notes that disturbance sensors provide reliable 'first knock' detection, enabling a fast and efficient security response to any threats. "Gallagher's Z20 disturbance sensor has dynamic and tilt threshold settings which can be configured in Command Centre. The sensitivity of both thresholds can be set to detect an attack on the fence and each disturbance sensor can be individually tuned to accommodate the structure to which it is attached."
Williamson adds that vibration detection definitely has its place in the security market where digging under walls, fences and cutting through mesh fences is a problem. "Acoustic cables buried under walls and fences are excellent detectors. The cables in their normal state are protected by the ground and do not experience much 'noise' and can be set up with high sensitivity."
He notes, however, that vibration detectors attached to fences and walls are exposed to the elements and are more susceptible to false alarms. Rain, lightning and thunder all have an effect. "Linking to AI and weather stations can adjust sensitivity to climate, but in my experience the false alarms are higher."
Seeing everything, all the time
Thermal cameras have been popular additions to perimeter security installations in the past. A thermal allows control rooms to view activity at the perimeter in almost all conditions, day or night. The initial catch with thermals was the price of the cameras, although with more brands now offering thermal solutions, the price has come down somewhat.
DJ Wills, CCTV product manager at Stafix, says that with the advent of low-cost, dual-lens thermal cameras, short range thermal detection is possible for residential use. The advantage of having a short-range thermal camera covering between 20 m to 100 m is that detection at night is significantly increased, especially for intruders that are hiding in shrubbery."
Dual lens cameras also have a conventional lens for daytime viewing, while depending more on the thermal lens at night. "We have seen a big increase in demand for the low-cost thermal products as affordability allows more estates to make use of these types of products."
He also notes that long range perimeter solutions still require thermal cameras, as installing eight high-cost thermal cameras around a 2 km perimeter would take less time than installing 80 conventional camera stations covering 100 m each.
"Thermal cameras definitely have a role in perimeter protection and if deployed correctly for the right application, we can have a highly effective solution that costs the same amount or less as a conventional camera system," states Wills. "The key is that thermal is not necessarily the 'go-to' solution for perimeter protection. Only for certain environments and factors, such as long perimeters, would thermal start becoming a more economically viable option."
He adds that active deterrence, artificial intelligence and full colour at night technologies can offer a wide range of solutions and protection while bringing down costs, however, they are limited to a range of between 50 m and 100 m on average.
Many people insist on using PTZ cameras (including thermal PTZs) on the perimeter as they allow for tracking people if they get through the perimeter. However, Wills warns that Auto Tracking should not be seen as a form of perimeter security, but should rather be seen as a way to prolong an incident. In a control room environment, for example, some incidents can happen so quickly that the controllers miss the breach and have to reactively look back on footage, however, with Auto Tracking an incident can be extended from a few seconds to up to 5  min on some systems, thus extending the video-based incident and allowing a higher chance of detection.
(The article following this one in the Residential Security Handbook print edition, or at www.securitysa.com/15691r focuses specifically on surveillance options for perimeter cameras).
Radar solutions for wider area coverage
It wasn't too long ago that radar and lidar systems became available to the consumer market. Some estates have installed these as they are able to cover wide areas, noting any movement within the area and tracking intruders as they move about. Some more advanced brands have AI installed to differentiate between animals and humans and some claim they can even detect weapons.
Steven Roetz, technical engineer at Dahua Technology South Africa, explains that there has been an increase in the interest of radar and lidar solutions for residential estate applications. "The advantage of these systems is that the level of accurate detection far surpasses most other surveillance technologies. These radar/lidar systems use radio waves to pick up any anomalies in the detection zone. Accompanied by visual or thermal PTZ cameras, this increases the value-add of this solution by having visual verification.
"The Dahua radar system Stafix supplies is able to use built-in artificial intelligence to track people and vehicles. However, the setup has to be done professionally and is only suitable for ideal terrain conditions. The radar solution needs a very flat field of view. Any mountainous or rocky terrain is currently unsuitable for this type of technology."
Unfortunately, pricing is still a barrier for this type of solution and the global chip shortage has also affected the pricing negatively. However, Roetz believes this is something manufacturers will pursue given the accuracy of detection.
Specific solutions supplied
Naturally, Gallagher and Stafix have solutions they supply to the perimeter security market. Solomon says Gallagher's monitored pulse fence system consists of a grid of energised, high-tensile wires that can be constructed inside a new or existing perimeter fence. The monitored wires detect unauthorised entry into defined areas and trigger instant alerts. Adjustable sensors monitor fence vibration or movement, wire tension and integrity and prevent false alarms by intelligently differentiating between serious breaches and minor environmental disturbances.
Gallagher's PIDS can be deployed as stand-alone, or as part of a multi-technology, responsive security solution fully integrated with Gallagher Command Centre. Integration with Command Centre enables operators to manage and monitor multiple sites from one central location.
"Stafix was originally an electric fencing supply company and this is where our expertise in the security market originally came from," says Williamson. "We sell the JVA range which is used in over 50 countries. With steel engineering and injection moulding done in South Africa and a staff of over 250, which includes over 50 technicians, we are able to support installers and their customers in the field."
The JVA range Stafix supplies has various levels of solutions from voltage to amperage monitoring to zoning through networking individual energisers, to large sector-type systems. The tried-and-tested JVA Perimeter Patrol Management System is used extensively in estates around South Africa and the world, giving not only a complete fence management system, but also integrating with access control and CCTV management systems.
JVA has cloud-based management systems and Wi-Fi capabilities allowing for offsite management and redundancy solutions. JVA also has a vibration detection system in its VM2 range.
Stafix Security Centres provides complete security solutions including all the ancillary items needed to create a layered security system approach. The company is the sole main distributor of the Roboguard range of wireless outdoor beams and agents for JVA, Centurion, ET, IDS, Paradox, Dahua, Ajax and many other brands. Local engineering and international capabilities mean the products have been easily integrated into other security systems, such as Cathexis and VumaCam.
Credit(s)
Further reading:
Integrated transportation security
Guardian Eye AI & Data Analytics Integrated Solutions Logistics (Industry)
HG Travel installs an AI-powered camera system integrated across 115 vehicles throughout a fleet comprising 160 vehicles of different sizes, along with predictive and self-monitoring tools to track tyre condition, fuel consumption and theft, and overall vehicle maintenance.
Read more...
---
Embracing next-generation surveillance for safer cities
Surveillance Integrated Solutions AI & Data Analytics
With the South African government highlighting the importance of building smart cities by integrating advanced technologies to make them more resilient and liveable, the role of next-generation network video and surveillance technologies cannot be ignored.
Read more...
---
From the editor's desk: A sad but exciting goodbye
Technews Publishing News & Events
Welcome to the final monthly issue of SMART Security Solutions. This is the last issue of the year and the last monthly issue we will print. The SMART Security Solutions team wishes all our readers and advertisers a relaxing festive season and a peaceful and prosperous 2024.
Read more...
---
Gallagher Security releases Command Centre v9
Gallagher News & Events Access Control & Identity Management Integrated Solutions
Richer features, greater integrations, with the release of Gallagher Security's Command Centre v9 security site management software designed to integrate seamlessly with various systems and hardware.
Read more...
---
The human factor side of video management systems
Leaderware Editor's Choice Surveillance Risk Management & Resilience
A video management system (VMS) is central to, and the most vital element to any control room operation using CCTV as part of its service delivery, however, all too often, it is seen as a technical solution rather than an operational solution.
Read more...
---
Get the basics right to win more business
ServCraft Editor's Choice Risk Management & Resilience
The barriers to entry in security are not high. More people are adding CCTV and fencing to their repertoire every year. Cowboys will not last long in a space where customers trust you with their safety.
Read more...
---
Different fences for different farmers
Gallagher Perimeter Security, Alarms & Intruder Detection Agriculture (Industry)
Far beyond the simple delineation of boundaries, fencing serves as a dynamic solution to address various needs, from ensuring the security of farms and protecting livestock to defining property lines and enhancing aesthetic appeal.
Read more...
---
Integrating farming and security solutions for productivity
Security BIS Agriculture (Industry) Integrated Solutions
Security challenges are a harsh reality in South Africa, particularly for those in remote areas. Sadly, recurring rural crimes like farm attacks and livestock theft are part of the farming community's lives.
Read more...
---
All aspects of data protection
Technews Publishing Editor's Choice Information Security Infrastructure AI & Data Analytics
SMART Security Solutions spoke to Kate Mollett, Senior Director, Commvault Africa, about the company and its evolution from a backup specialist to a full data protection specialist, as well as the latest announcements from the company.
Read more...
---
Global strength, local craft
Impro Technologies Editor's Choice
Impro Technologies is a resounding success story. Started in South Africa, the company remains true to its roots and still designs and manufactures its access control systems and solutions in the country.
Read more...
---