printer friendly version
Nice way of controlling vehicular access
Residential Security Handbook 2021: SMART Estate Living
Access Control & Identity Management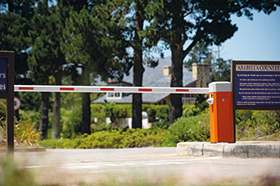 Cape Town based ET Nice has used the national lockdown as an opportunity to develop and launch two cost-effective and efficient vehicular access control products that are perfect for use in the demanding local conditions.
Gerald Kirsten, ET Nice sales and marketing executive, explains that the company has upgraded the cabinets to galvanised, zinc-plated steel which provides superior levels of corrosion resistance. In addition, the tough powder coating finish provides a completely weather-resistant shield for long-lasting protection and durability for the most common site requirements, at good value.
"The Access barrier cabinet is provided in a standard orange powder coating for enhanced visibility. However, if a customer chooses to colour-match their Access barrier to their site requirements, we can easily accommodate this when supplied with the chosen Pantone colour," says Kirsten.
While the proven reliable mechanical components have been retained, the electrical power plant has been enhanced by introducing a DC motor that allows for the inclusion of true battery backup models in the range.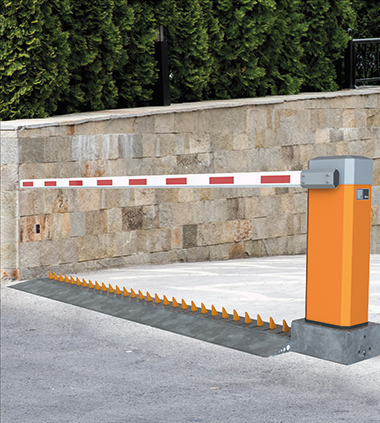 The power supply on the Access AC/DC barrier includes both the standard AC option as well as battery power backup. "The barrier model is neither battery nor mains-supply dependent, thereby providing the best of both worlds and ensuring peace of mind and high duty cycles, with an assured continuous operation during power outages of up to 1300 operations depending on the battery configuration option selected," says Kirsten.
While ongoing operation remains a primary benefit, equally important is the speed at which the Access barrier lifts and lowers, since bottlenecking can cause frustration for users. Operating speeds through the 90° arc vary from 6 seconds, through 3,5 seconds, down to an extremely fast 1,2 seconds on the Access AC HS model.
The Access barrier is designed to easily integrate with various ET Nice and Accentronix intercoms as well as the newly released Spears surface-mounted traffic spikes from ET Nice.
Stop criminals in their tracks
When ET Nice decided to develop a high-performance surface-mounted traffic spike to complement its Access and Wide traffic barriers, it consulted various installers to determine what their specific pain points were with regard to traffic spikes. Challenges cited included the fact that spike barriers were often too heavy to transport and hard to handle.
"We decided to make the Spears modular, with the spike trays supplied in manageable 1,2 metre sections. This not only makes the Spears extremely easy to transport, in a quarter-ton LDV for instance, but furthermore, two men can easily install the individual elements, where the heaviest component weighs only 69 kilograms," says Kirsten.
The individual spike modules can be combined, up to six in a row (7,2 metres) to match the boom length or the roadway width. The lowered mass of the spikes, together with their manoeuvrability, means that less labour is required for installations. Furthermore, no custom tools are necessary, further reducing costs.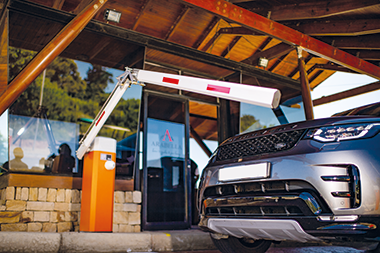 The Spears spikes are zinc-electroplated, with an orange epoxy coating, making them both extremely durable and highly visible. Adding to the attractive features of the Spears, they can be configured to operate from a dedicated battery that is in turn charged and maintained by its own independent charger. "This means that, in the case of a power failure, the system will continue to operate for longer periods," says Kirsten.
Using the barrier controller, installers can select the preferred timing of the spike activation in relation to the arc of the boom pole:
• Quick secure – spikes begin to rise as soon as the boom pole begins lowering.
• Medium standard – spikes begin to rise just prior to the boom pole reaching its fully lowered position (closed).
• Slow safe – spikes begin to rise only after the boom pole has completely lowered (closed).
Both the Access barrier and the Spears spikes are secured by ET-Blu Mix technology. This security feature uses ET Nice's unique unhackable/uncrackable double encrypted rolling code that is paired with an extremely robust transmitter.
Credit(s)
Further reading:
Securing a luxurious residential estate
Turnstar Systems Residential Estate (Industry) Access Control & Identity Management
Turnstar Systems recently partnered with Balwin Munyaka Residential Estate to secure the entrance to its Crystal Lagoon, ensuring only authorised residents and guests can access the site.
Read more...
---
Visitor management via QR code
ATG Digital Access Control & Identity Management Products
ATG Digital has launched its QR Code Reader to enhance access control's security and efficiency. The new QR Code Reader enables seamless, contactless access control, creating an efficient user journey.
Read more...
---
District secures activity centre
Paxton Access Control & Identity Management Products
Paxton's Net2 access control solution is a user-friendly and flexible networked access control system, which made installing and managing access control security at an activity centre straightforward.
Read more...
---
GardaWorld partners with Gallagher
Gallagher Access Control & Identity Management
Access control via facial recognition was at the top of GardaWorld's wish list, and Gallagher's integration with IDEMIA's VisionPass played a crucial role in delivering a seamless experience.
Read more...
---
ZK-IWB Series
ZKTeco Products Access Control & Identity Management
Experience the ultimate virtual meeting solution with ZKTeco's ZK-IWB system. Featuring a built-in 13-megapixel UHD camera and 6-microphone array, the solution ensures clear audio and video experiences with an 8 metre pickup distance.
Read more...
---
Security for critical industries
ZKTeco Government and Parastatal (Industry) Access Control & Identity Management
The traditional reliance on human observation and physical presence for security is being complemented and, in many cases, replaced by biometric technology to enhance risk management and ensure comprehensive protection.
Read more...
---
Access to nuclear plants
Suprema Access Control & Identity Management
Korea Hydro & Nuclear Power was in need of a fully redundant access control system that should provide enhanced performance while still being able to interoperate with existing equipment.
Read more...
---
Secure your site during outages
Paxton Access Control & Identity Management
The PaxLock Pro range is our collection of wireless, battery powered smart door handles. They are efficiently designed to consume minimal energy to operate, and the batteries generally last around two years.
Read more...
---
Securing data centres and control rooms
Access Control & Identity Management
The demand for data centres and control rooms to store and manage digital information is at an all-time high, however, the rise in cyber threats and physical security risks has raised concerns about how companies can effectively protect these vital infrastructures.
Read more...
---
Access control in harsh environments
ZKTeco Products Access Control & Identity Management
The ProMA is a robust outdoor access control terminal with face and fingerprint recognition. It's water, dust, and vandal-proof and supports the ZKTeco PUSH protocol, making it ideal for access control in harsh environments.
Read more...
---