printer friendly version
Leaders in risk & security: Honesty and no BS!
Issue 6 2020
Associations
Tony Botes is an institution in the South African security industry, some would say an outspoken institution. After many years in different roles in the industry he is now focused on his task as the national administrator of the Security Association of South Africa (SASA) and his drive to ensure all security companies are compliant with national regulations and industry compliancy.
This, as it turns out, is a seemingly endless task in an industry where non-compliance is more the norm than compliance. This has resulted, in Tony's own words, "in a few harsh telephone calls and not-so-subtle threats over the years, but it has been more than satisfying just knowing that I have made a difference in identifying and reporting companies that were wilfully and criminally non-compliant."
His start in the industry began after nearly two decades at SAA when Tony joined a security company in the 1980s (a non-compliant security company, he notes) in an administrative role. He eventually went on to buy the company.
Moving into industry associations
His involvement in the industry's associations started in 1991 when Tony took on the role of secretary of the then Transvaal branch of SANSEA (South African National Security Employers' Association). He eventually became the deputy provincial chair, all while still running his own company as his 'real job'.
He carried on up the ladder, and in 1997 the SSEO (Security Services Employers' Organisation) was formed when some companies broke away from SANSEA. Tony spent two years as the national chair of SSEO, after which he was offered the role of national administrator, again while still running his own company.
Fast forward to 2014 and SSEO was approached by SASA with the idea that the two organisations should merge to create a stronger and more influential organisation which would benefit everyone in the industry. While the organisations were not 100% compatible in terms of their memberships, the decision to merge under the SASA name was made.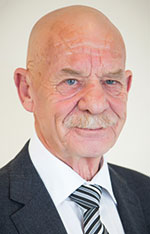 Tony Botes.
Milestones along the way
Over the years, Tony has played a role in various milestones in the evolution of the security industry in South Africa. One of these being setting the minimum wage for the industry as well as specific conditions of employment. These eventually became the Sectoral Determination 6 (SD6) regulations which are in effect today.
He has also been involved in the wage negotiations of the private security industry for many years, including the 'most challenging' [or some would say, most infamous] occasion in 2006.
He eventually sold his business early in 2010 and was able to take up an enjoyable role as security project manager at four of the stadiums used in the 2010 World Cup.
Tony and SASA have seen several successes in the work being done to enforce compliance in the industry. He feels a personal sense of satisfaction when companies are held to account for stealing from their employees by, for example, not paying the appropriate wage or not contributing to the provident fund. He is also a regular speaker on topics related to the private security industry and the challenges faced today.
When it comes to the youth moving into the industry and starting to climb the ladder, Tony lives up to his no BS reputation, saying: "There is only one you. Choose your goals wisely and then don't let anything or anybody stand in your way."
Further reading:
Be wary of associations that appoint themselves as regulators
Associations
The South African Bureau of Standards (SABS) has noticed an increasing trend of some associations and industry bodies trying to derail the credibility of the SABS and creating confusion by publishing misleading information about their authority to regulate or govern certain industries.
Read more...
---
Making the local OSPAs work
Editor's Choice News & Events Associations
Entries to the 2023 South Africa Outstanding Security Performance Awards (OSPAs) will close on the 18th April, so do not delay in preparing your nominations.
Read more...
---
ESDA's annual charity fundraiser
ESDA(Electronic Security Distributors Association) News & Events Conferences & Events Associations
The ESDA Annual Charity Fundraiser, part of the Electronic Security Distributors Association's Golf Day, will take place at Benoni Lake Golf Course on Wednesday, 21 September 2022.
Read more...
---
FFETA Charity Golf Day raises R100 000 for Children of Fire
Fire Fighting Equipment Traders' Association Editor's Choice News & Events Associations
At the recent charity golf day hosted by FFETA (Fire Fighting Equipment Traders' Association), an amount of R75 000 was raised for Children of Fire. FFETA rounded this up to R100 000, which went directly to the charity.
Read more...
---
ASIS International appoints first president from South Africa
Technews Publishing Editor's Choice News & Events Associations Training & Education
Malcolm C. Smith has been appointed as the 2022 president of ASIS International, the first president of the organisation from Africa as well as South Africa.
Read more...
---
SAQCC Fire and the need to ensure compliance
SAQCC (Fire) Fire & Safety News & Events Associations
One of the fundamental objectives of SAQCC Fire is to establish the necessary procedures for the education, training and registration of all appropriate personnel actively involved in the fire industry.
Read more...
---
Tips for women to build a career in cybersecurity
Associations
Representation of women in the cybersecurity industry has grown over the past years and while this is positive, there is still room for improvement.
Read more...
---
A balanced, fair industry
PSiRA (Private Security Ind. Regulatory Authority) Residential Estate (Industry) Security Services & Risk Management Associations
PSiRA is focused on supporting the effective promotion and regulation of the private security industry.
Read more...
---
Service station security basics
Associations Integrated Solutions Retail (Industry)
It comes as no surprise that the petroleum and retail industries are targeted by criminals as these businesses receive, to a great extent, cash in exchange for their products and services.
Read more...
---
Magtouch Electronics joins ESDA
Magtouch Electronics t/a Ithegi Electronics Associations News & Events
Magtouch Electronics, a manufacturer of high-tech monitoring systems for the security and cleaning industries has joined ESDA, the Electronic Security Distributors' Association.
Read more...
---