printer friendly version
Driving success in turbulent times
Issue 3 2020
Editor's Choice
The market growth is stagnant, the landscape is volatile, and the future is as uncertain as it gets. And that's not just in South Africa. Volatility and uncertainty have become the gold standard for measuring business sentiment and market outlook. However, this doesn't mean that there isn't opportunity and potential for the organisation to succeed, rather that it needs to adapt its outlook and reinforce its agility.
The problem is that everything is unpredictable. Even the experts are battling to find predictability within politics and economy and the Rand has become the most volatile, highly tradeable currency in the world. Events like Eskom, the February financial results, the South African Reserve Bank, Moodys and the ANC National General Council meeting are packed with risk and limited visibility into what conditions they will trigger within the country. The government is under pressure to reduce business risk and create space for organisations to thrive. But while that happens, what can business do now to ensure a sustainable tomorrow?
IT services and cloud computing are at the centre of the storm. Africa is finally receiving direct investment by hyperscale providers as multiple global providers settle down in the country and more continue to come in. The South African Reserve Bank has given its green light for banks and there has been guidance released by SITA for the public sector. Things are happening, change is afoot.
For many companies looking to leverage this opportunity, rapid time to market and an aggressive channel will become standard practice.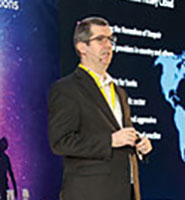 Jon Tullett.
Hybrid cloud services and infrastructure are areas that have become essential value opportunity for service providers. The technologies that currently impact on business productivity and cloud relevance are tactical, inconsistent and siloed, while investment into multiple environments escalates complexity and risk. Data governance is under increased scrutiny and a lack of coordination is dampening innovation. This is further affected by the skills imbalance that's having an impact across company and industry.
Service providers that can tackle these pain points with relevance and cost-benefit are well-positioned to ride some of the turbulence that lies ahead. If they can show tangible benefits to digital transformation and how organisations can use this as a springboard into the future, then they're looking at the opportunity, not a calamity. According to the IDC South Africa CIO survey 2019, organisations have seen the biggest benefits to their digital transformation in productivity, revenue generation from existing products, process cycle times, revenue generation from new products and cost efficiencies. The data is proof – digital delivers.
Innovation does have measurable outcomes. Cloud can reshape ICT infrastructure management, business processes, deployment and optimisation, security and industrial processes. Data centres need to revise their approach to be more focused on optimisation and upgrading existing systems. And partnerships have become critical success factors in the realm of commoditised ICT.
The ecosystem of partnerships has become a dominant trend in the market. Partnerships, collaborative engagements, ecosystems – these are the ways in which companies can expand their growth into new markets and deliver to their clients. By 2022 it's expected that 78% of enterprises will partner with technology service vendors that are capable of orchestrating technology innovations into business use cases that can drive transformation at scale.
From partnerships to innovative implementations to optimisation and stabilisation, organisations can find opportunity within the complexities of the market today. It just takes a shift in focus, attention to what the market really wants, the ability to build partnerships for sustainable growth, and a clear vision as to how cloud and digital can support growth for customer and market.
Further reading:
What South Africans need to know about smart devices
Technews Publishing Editor's Choice
We live in a world surrounded by smart devices, from our pockets to our driveways and living rooms.
Read more...
---
From overwhelm to oversight
Editor's Choice Cyber Security Products
Security automation is vital in today's world, and Microsoft Sentinel is a widely adopted, but complex answer. ContraForce is an easy-to-use add-on that automatically processes, verifies and warns of threats round-the-clock.
Read more...
---
SMART Surveillance Conference 2023
Technews Publishing Editor's Choice CCTV, Surveillance & Remote Monitoring Conferences & Events
Some people think the future is all about cloud technologies, but the SMART Surveillance conference demonstrated that AI is making edge surveillance much more attractive, over distributed sites, than ever before.
Read more...
---
Has your business planned for the worst?
Editor's Choice Cyber Security Security Services & Risk Management
Incident response is a specialised part of security, like a hospital's intensive care unit: IR kicks in when the organisation detects a breach of its systems to stop criminals from doing more damage.
Read more...
---
Making a difference with human intelligence gathering
Kleyn Change Management Editor's Choice
Eva Nolle believes that woman should stand their ground as they often bring an entirely different skill set to the table, which enhances the overall service delivered.
Read more...
---
Milestone celebrates women in security
Milestone Systems Technews Publishing Editor's Choice News Conferences & Events
The Milestone Systems' African team wanted to express their appreciation for the incredible contributions of the women in the security industry and held a breakfast in honour of the hard-working women in the industry on 8 August.
Read more...
---
Supporting CCTV intelligence with small and big data
Leaderware Editor's Choice CCTV, Surveillance & Remote Monitoring
The increasing development of AI and its role in enhancing investigation-led surveillance, and the increasing capacity of control rooms and local analysts to deliver data in return, can increase the synergy between intelligence and surveillance.
Read more...
---
Overcoming resistance to changing your current operating model
Editor's Choice Integrated Solutions
Business survival goes beyond cutting costs and driving efficiency, it's about using data and technology as strategic assets to develop speed, agility and resilience, keep up with customer demands, beat the competition and grow the business.
Read more...
---
The road to Zero Trust not necessarily paved with gold
Editor's Choice Access Control & Identity Management Cyber Security
Paul Meyer says that while Zero Trust must be the goal, there are a few potholes to navigate on the journey. Here he expands on these caveats, but also exposes the greatest ally of Zero Trust.
Read more...
---
More agile, flexible access management
ASSA ABLOY South Africa Editor's Choice Access Control & Identity Management
Tim Timmins from ASSA ABLOY Opening Solutions examines the growing shift towards cloud access management. How can organisations benefit, and what should they look for when choosing a cloud access control solution?
Read more...
---