printer friendly version
UTP processing
CCTV Handbook 2012
CCTV, Surveillance & Remote Monitoring

When Lonmin required extra cameras to cover its platinum processing plant in South Africa, it specified NVT's range of unshielded twisted pair (UTP), CCTV video transmission products to fulfil its needs.
To fulfil the refinement of mined ore, Lonmin, a primary producer of platinum group metals and the world's third largest primary platinum producer, created the facility to refine ore to a 'ready-for-market' finished metal.
Functioning as a key refinery for the region for a number of years, Lonmin's management was keen to complement their existing camera network at the site with additional units. Covering newly expanded and additional areas of the plant, the new cameras transmit their video to the on-site control room, for monitoring and recording, and all alongside images from the original camera network.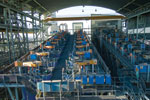 Improved video quality
Enlisting the services of scalable security solutions specialist Johnson Controls, Lonmin's management wanted to take advantage of the latest developments in CCTV technology, to create an integrated security system. Marius Britts, field operations manager – Fire & Security for Johnson Controls explains: "The brief from the client was to not only add additional camera coverage, but also to ensure an improvement in the quality of these extra cameras over the existing units already in place. The existing camera system used traditional coax cable for its analogue image transmission. Unfortunately, operators would regularly experience a loss in image quality from the coax-transmitted images, due to a combination of the transmission distance from some of the cameras (over 700 metres), and electrical interference generated by the heavy-industry metal refining equipment.
"Specifying NVT UTP transmission technology, we were able to address these issues at a stroke, thanks to the built-in interference immunity of NVT video transmission products."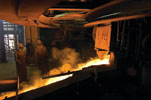 Interference free images
NVT UTP cable networks can be included in cable containment alongside other services, permitting economical system design and effective, interference free operation – even when installed adjacent to high-voltage services, such as the electrical power infrastructure of the refinery's machinery.
"This built-in NVT characteristic provided reassurance of the delivery of consistently high-quality CCTV camera images at the plant – even with its harsh electrical environment," adds Britts. "Using UTP transmission also afforded simple installation within colour-coded conduit, especially made for this site and covered in a bespoke shield to protect the cable from the prevailing harsh chemical and dust environment. With the longest video transmission distance being over 700 metres, the ease of installation provided by the Cat5 infrastructure saved time and assured a much higher quality of transmitted video versus the existing coax alternative."
Video and power
Connecting the additional analogue cameras using NVT NV-216A-PV video transceivers at the camera end, and multiple NVT NV-16PS42-PVD power supplies StubEQ receiver hubs in the control room, has enabled NVT PVD technology to deliver power to each additional camera via the same Cat5 infrastructure. Further simplifying the installation, this methodology has saved time and money by negating the need for fused spurs to be included at each camera location.
"In the refinery's on-site control room, operators now enjoy crystal-clear camera images from all aspects of the site, including areas that were previously not monitored," explains Britts. "The difference in image quality between the analogue coax transmitted images and the NVT UTP transmission technology is staggeringly clear for all to see at the control room. Control room staff now enjoy consistently interference-free images across this electrically hostile plant environment.
Having secured several remote telecommunications sites over the past two years using NVT products, Johnson Controls has amassed hands-on experience relating to the advantages of utilising NVT UTP transmission technology. Britts concludes: "NVT technology has provided our customers with flexible, economic transmission networks that are not only future-proofed and flexible, but will also provide an economical solution for many years to come."
For more information contact Network Video Technologies, +44 20 8977 6614, sproctor@nvt.com, www.nvt.com
Further reading:
Reinventing network camera security
Issue 1 2020, Axis Communications SA , CCTV, Surveillance & Remote Monitoring
Now in its seventh generation and celebrating its 20th anniversary, the Axis ARTPEC chip was launched in 1999 designed to optimise network video.
Read more...
---
Cloud-based fleet and driver management
Issue 1 2020, Graphic Image Technologies , CCTV, Surveillance & Remote Monitoring
Graphic Image Technologies (GIT) has announced the availability of a cloud-based dashcam designed to improve on-the-road behaviour and assist in improving fleet management.
Read more...
---
Cathexis specialises in integration
Issue 1 2020, Cathexis Technologies , CCTV, Surveillance & Remote Monitoring
The integration of multiple systems is intrinsic and essential to the goal of creating an effective and efficient operational environment.
Read more...
---
Do wireless networks meet modern surveillance demands?
Issue 1 2020, Duxbury Networking, RADWIN , CCTV, Surveillance & Remote Monitoring
It is predicted that video will account for 15,1 zettabytes (1 zettabyte = 1 trillion gigabytes) of data annually, which is more than any other IoT application.
Read more...
---
Traffic doesn't have to be this way
Issue 1 2020, Dahua Technology South Africa, Axis Communications SA , CCTV, Surveillance & Remote Monitoring
More effective traffic management is something that would save us all a lot of frustration and wasted time, and it's one of the areas where AI and big data can have a significant impact.
Read more...
---
Dahua launches Hunter Series
Issue 1 2020, Dahua Technology South Africa , CCTV, Surveillance & Remote Monitoring
Dahua launches a new dual-PTZ camera that enables flexible and multi-scene panoramic monitoring.
Read more...
---
8 MP fisheye camera
Issue 1 2020, Dallmeier Electronic Southern Africa , CCTV, Surveillance & Remote Monitoring
Dallmeier's new 8 MP fisheye camera combines AI-supported object classification and H.265 in a compact design.
Read more...
---
Using ANPR to enhance security
Issue 1 2020, Duxbury Networking , CCTV, Surveillance & Remote Monitoring
Deep learning and AI-based algorithms enable ANPR cameras and their associated software to detect and recognise number plates with an extremely high level of accuracy.
Read more...
---
AI supercharges surveillance
Issue 1 2020 , CCTV, Surveillance & Remote Monitoring
The ability to analyse live video through AI techniques means that untapped footage from existing, passive cameras can be used to identify patterns, trends and anomalies.
Read more...
---
IDIS launches new cameras with on-board analytics
Issue 1 2020 , CCTV, Surveillance & Remote Monitoring
IDIS has launched a lineup of Edge VA bullet and dome cameras, featuring on-board analytics that will transform the efficiency of security operations.
Read more...
---