printer friendly version
Reducing retail shrinkage
CCTV Handbook 2012 CCTV, Surveillance & Remote Monitoring, Retail (Industry)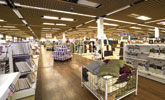 Retailer reduces theft rate with a Honeywell security solution.
QD Stores is an independently owned chain of discount retail outlets and has 33 stores and three garden centres situated throughout the eastern region of England. QD provides over 40 000 product lines across a vast array of departments.
The existing security system at the Peterborough store was difficult to operate and required costly repairs. It included 16 cameras with multiple blind spots, which meant that it was difficult to track people in the store. The locations of the existing cameras were also a major concern for the store's merchandisers, restricting the options available for promotional signage.
The inadequacies of the existing security system were influencing the buying decisions of the purchasing team and restricting profitability. Often, QD Stores had opportunities to stock higher value branded merchandise with potentially better profit margins, but considered it to be a risk due to the lack of a reliable security system. These factors, along with an extension of the store's floor space meant that the security system needed to be updated.
A solution to improve QD's security surveillance was quickly identified and a new Honeywell security solution was recommended that would meet QD's requirements, rather than the extension of QD's existing legacy system. The transition from the existing security system to the new one was seamless with minimum disruption to the store's operations.
"Working with our installer was easy," commented Andy Jermy, head of commercial operations at QD Stores. "They provided valuable advice and solved any problems very quickly."
When considering the new solution, it was imperative that high quality CCTV images could be captured and recorded so that they could be used as evidence in court, if required. The recording solution also needed to be easy to use with real-time recording so that an immediate response to any incidents could be implemented.
A system including 32 Honeywell cameras and domes was installed to cover the whole store and images are recorded on two digital video recorders (DVRs). The cameras are controlled by keyboards and the pictures viewed in real-time on two Honeywell E-Series LCD monitors.
In order to efficiently store high resolution, evidential quality images, the two HRXD DVRs use Honeywell's XtraStor compression technology. This means that less hard drive space is needed for long-term storage with no sacrifice in image quality. The Orbiter PTZ domes installed can be controlled directly from the DVR's front panel or remotely using the Remote Administration System Plus software (RASplus). The infrared remote control facility meant that the domes were quick to install and configure.
For monitoring and supplying surveillance scenes, video evidence clips can be retrieved quickly and easily transferred onto a CD-ROM or USB Flash drive for viewing on virtually any PC.
With the Orbiter PTZ domes, picture quality is achieved by advanced auto focus control to ensure that, no matter what the position of the zoom, the picture is in the sharpest-possible focus. A number of programmable camera tours can be created. These encompass pan, tilt and zoom actions and sweep key areas in and around the store.
"The Honeywell PC-based digital video recording solution was the most practical for us, the management team and for the security operators to use," continues Jermy. "The Honeywell cameras deliver excellent clarity of video evidence and have helped to identify known criminals to the police."
The CCTV system was integrated into the EAS tagging systems ensuring that in the event of an alarm being activated, specified CCTV cameras would automatically focus in on the exit areas to capture the scene.
A second CCTV monitoring station consisting of DVRs, monitors and a keyboard has also been placed at the front of the store, intentionally in full view of all shoppers. This enables the operation of the surveillance system from dual locations.
Since installing the Honeywell system, the store has seen a drop in theft rates. The system is highly visible in the store, which acts as a deterrent. However, the main difference can be attributed to the quality of the video images that can now be captured and recorded. These are of high quality and can be used as evidence in legal action.
Merchandisers have also benefitted since the new security system has been installed. They no longer have any restrictions when planning their sales promotion signage as the CCTV systems monitor all of the shop floor and from all angles. QD also now has more buying choices as having a robust security system in place gives them the confidence to stock more profitable product lines such as branded electrical and clothing items.
The new system is also proving beneficial to validate any potentially fraudulent Health and Safety related insurance claims from employees.
For more information contact Honeywell Systems Group, +31 (0)6462 01557, elin.karlmark@honeywell.com, www.honeywell.com
Further reading:
A step up in safety
Issue 4 2020 , CCTV, Surveillance & Remote Monitoring
With the COVID-19 pandemic, body-worn cameras (BWC) now play an even more important role in safety and accountability than ever before, ensuring a more significant option in the protection of employees.
Read more...
---
Latest Longse thermal technology
Issue 4 2020, LD Africa , CCTV, Surveillance & Remote Monitoring
Longse thermal IP cameras include remote monitoring, a video server and high-definition camera functions.
Read more...
---
LenelS2 enhances VRx VMS
Issue 4 2020, UTC Fire & Security SSA , CCTV, Surveillance & Remote Monitoring
LenelS2 announces enhancements to VRx video management system, uses deep learning and native NetBox ecosystem integration for a unified security management experience.
Read more...
---
Empowering verticals with AI
Issue 4 2020, Dahua Technology South Africa , CCTV, Surveillance & Remote Monitoring
Dahua Technology has released WizMind, a portfolio of project-oriented products delivering AI solutions to verticals including government, retail, energy, finance and transportation.
Read more...
---
Safety and productivity for retailers
Issue 4 2020, Dahua Technology South Africa , CCTV, Surveillance & Remote Monitoring
Dahua Technology launches retail epidemic safety protection solution to enhance store operation safety under COVID-19.
Read more...
---
Non-contact and visual protection measures
Issue 4 2020 , CCTV, Surveillance & Remote Monitoring
Non-contact and visual protection measures to contain the coronavirus – Geutebrück extends its product portfolio by three DSGVO-compliant video solutions.
Read more...
---
Smart is the new black
Issue 4 2020 , CCTV, Surveillance & Remote Monitoring
The idea of 'smart' is becoming a reality in almost every aspect of our business and personal lives, from home security and lifestyle, through to smart buildings and smart working processes.
Read more...
---
Smarter monitoring with AI
Issue 4 2020, Deep Data , CCTV, Surveillance & Remote Monitoring
Deep Data's DeepAlert is changing the security monitoring market (remote and on-site) with deep learning and cloud services.
Read more...
---
Upgrade your current security system with SecuVue
Issue 4 2020, Secutel Technologies , CCTV, Surveillance & Remote Monitoring
Cloud-based analytics can be added to existing CCTV solutions to upgrade the efficacy and value the installation adds.
Read more...
---
Accurate temperature detection with thermal cameras
Issue 4 2020, Dahua Technology South Africa , CCTV, Surveillance & Remote Monitoring
Dahua Technology recently launched two thermal cameras specifically for accurate temperature measurement.
Read more...
---