printer friendly version
Keeping control, remotely
May 2012
CCTV, Surveillance & Remote Monitoring
Remote monitoring works when you do it right.
Remote monitoring is a rapidly growing industry that offers an additional layer of security that purportedly reduces the need for onsite guards and the associated risks of them being involved in crime due to intimidation and bribery. It also allows fewer personnel to monitor a much wider area in less time, keeping them out of reach of South Africa's notoriously violent criminals. But remote monitoring is not a simple solution as there are many aspects of the service customers must be able to rely on 24x7.
To find out the answers to some of these questions, Hi-Tech Security Solutions spoke to three people involved in the remote monitoring game: Philip Smerkovitz from technology supplier TeleEye South Africa, Mike Voortman from monitoring company Verifier and Jacques Du Toit from Vox Orion's GuardianEye monitoring service.
Hi-Tech Security Solutions: The question of bandwidth always comes up when discussing remote offsite monitoring. How can monitoring companies ensure they are able to provide a reliable service without breaking the bank?
Philip Smerkovitz, TeleEye South Africa: Bandwidth needs to be looked at from two aspects, the control room side and the subscriber or customer side. We then also need to consider the type of monitoring being offered such as event based or live monitoring.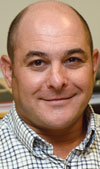 Philip Smerkovitz.
Control rooms should be able to offer connectivity from a number of communication mediums, ranging from a fixed wireless infrastructure for sites within line of site of the control room or network access points, ADSL Internet or VPN connections, mobile data networks, wireless broadband Internet services, fixed data lines and satellite. This gives control rooms the flexibility to connect to sites from all around the world and offer failover communication methods for the more critical sites.
For the subscriber or customer sites, one would first need to consider the geographic location of the sites and then assess what communication methods are available. Secondly, one would need to consider the type of monitoring to be done such as event based monitoring, which can suffice on very small amounts of data or live video analysis which may require live video streaming 24-hours-a-day. According to risk, one would then also consider various communication failover methods.
For video alarm verification, the control room would need to consider the expected amount of alarm events and video traffic. Factors such as early warning systems with detection outside the site perimeters, public spaces, use of VMD and analytics, can all influence the amount of alarms triggered at the site, which is proportional to the amount of bandwidth used.
Throughout most SA cities and towns, ADSL lines are available and these provide high performance data throughput at an affordable cost. These are mainly used for event based monitoring and are often used in conjunction with a GPRS/Edge/3G mobile data connection as failover. ADSL lines can also be used with an uncapped account for the live 24-hour streaming sites.
Mike Voortman, Verifier: As we specialise in black screen monitoring, reliability factors in more crucially than usage when it comes to assessing connectivity to a site. Video compression then comes into play when recommending a CCTV platform. A managed ADSL service with built-in 3G failover will suffice in most cases, where a soft cap is applied and usage is monitored. This is not hugely costly as a component of remote monitoring. It should be remembered though that the more activity that requires monitoring, the more the bandwidth requirement and even greater is the saving that our service can provide when compared to the cost of conventional guarding required in order to achieve the same objective (if at all possible).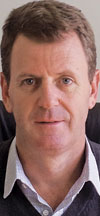 Mike Voortman.
Jacques Du Toit, Vox Orion: The word 'reliable' does not exist in the broadband space i.e. ADSL or wireless ISM band. This is also a best effort service that is not available with any form of SLA. We therefore had to construct a service that could be offered on uncontended links with an existing SLAs i.e. Telkom Diginet, NeoLink etc. To ensure that we do not increase operational cost on new infrastructure we offer an event-triggered monitoring service that uses existing data infrastructure not utilised after hours. By doing this, the customer's data expenditure is not increased in any way.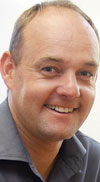 Jacques Du Toit.
Hi-Tech Security Solutions: What technologies/solutions are available to support surveillance over low or restricted bandwidth?
Philip Smerkovitz: TeleEye develops its proprietary video compression technology, SMAC-M, which is present in our entire range of video recording servers and IP cameras. SMAC-M is more efficient that MPEG-4 and H.264, particularly over low bandwidth connections. This enables effective remote monitoring in applications where data channels are limited such as GPRS signal areas.
Mike Voortman: Some of the CCTV manufacturers have recognised the need to minimise data transmission rates despite the worldwide bandwidth explosion underway and have actively processed their compression rates to create sub-streams for transmission to mobile devices etc. These sub-stream settings are ideal for monitoring sites where only lower bandwidth is available.
Jacques Du Toit: There are two areas that need to be addressed:
a) The customer requirement must be clearly defined. If he wants to see high definition video on a real-time basis the refresh rate as well as the resolution will require large amounts of bandwidth. We can quite easily provide a good quality service using 32 kbps with a 9-frames-per-second refresh rate. When a customer requires something like number plate recognition, the requirement for high resolutions video feeds becomes a major factor.
b) Only stream video when there was an actual breach of security or event that was triggered – when there is no event being attended to, you do not stream any video feeds. The operator will only do a 'walk through' on each camera to ensure that everything is in order.
Hi-Tech Security Solutions: Operators are also a touchy subject. What can monitoring companies (internal or external) do to ensure their operators function effectively at all times?
Philip Smerkovitz: Effective management and training of control room operators is the key here. Leading control rooms have extensive training programmes and skilled control room supervisors on duty to manage the operators. As a vendor of remote monitoring solutions, we have included extensive logging and reporting features so that control room supervisors can have access during and after shifts to information pertaining to the operators' activities, response times and actions.
Mike Voortman: Without giving away trade secrets, rotation of activities, regular breaks and intelligent prompting software systems work for us.
Jacques Du Toit: The key lies with the incident management software that is selected. There are a few areas that need consideration to ensure staff operate effectively. It is worthwhile to spend the extra money to ensure that they are included in the software.
Workflow
You cannot allow any operator to become emotionally involved or deviate outside the standard operating procedure (SOP). For this reason, every site and every camera is set up with its own set of rules. These include, escalation procedure, armed reaction company, recording of keystrokes as well as the voice stream over the link. The agent cannot accept another incident until the current one has been closed.
Proactive maintenance
The operators are tasked to do a walk through on each of the cameras. This will allow us to identify potential problems with cameras i.e. out of focus lenses, image obstructions etc. It also helps with detecting potential incidents while the system is not armed.
Reporting
Predefined templates are drafted to ensure that all detail is reported on as well as distribution to the correct people. Predictive texting reduces the time spent compiling reports and ensures uniform standards.
Tasks
Operators can be given tasks by the shift manager. These tasks can include site trend analysis that allows us to provide valuable information back to customers.
The above ensures that operators stay within the company SOPs and are effective at all times.
Hi-Tech Security Solutions: What role does video analytics play in remote monitoring?
Philip Smerkovitz: One needs to consider the application of the video analytics. I am wary of video analytics for perimeter detection as the analytics is purely dependent on the visuals from the camera. Factors such as fog, rain, dirty lenses, technology of camera, poor or non-functional lighting, cable faults and camera failure can all render the analytics detection useless, leaving large gaps of undetected areas around the perimeters.
Video analytics often requires seasonal adjustments, while some systems claim to be self-learning, which also presents a problem. Every time the system changes analytics settings either automatically or by the operator, the provider should then embark on a walk test of that area. When a control room has a large amount of remote sites, this is not possible every time a change is made due to the large amount of manpower required and also when you consider the remoteness of these sites.
Video analytics for applications such as counting, direction flow, abandoned items, to mention a few, work very well for remote monitoring applications.
Mike Voortman: We use VideoIQ for perimeter monitoring along fence lines for residential estates and Honeywell for enclosed yard areas e.g. logistics companies. These serve to eliminate the reticulation of conventional detectors over large distances, while providing early warning detection so as to enable our controllers to take preventative action.
Correctly configured, they do not bombard us with false alarms, a vital element to any monitoring service. Analytics are advancing rapidly and their applications are already varied. We use them for market research, foot counting for retailers, licence plate recognition and security detection. As the cost of this technology decreases alongside the increase in its effectiveness, advanced analytics are set to become the minimum standard in our view.
Jacques Du Toit: My personal belief is that it is great technology but still relatively new and very expensive. If your site is set up correctly to proactively identify intrusion, there is no need to go with expensive video analytics. My guess is that there is about a 70% premium to be paid at this point in time. I must however agree that there are certain application where analytic is absolutely necessary, but not when it comes to event based offsite monitoring.
Hi-Tech Security Solutions: Is remote monitoring reliable enough to reduce the number of guards on a monitored site?
Philip Smerkovitz: Most definitely and in many cases more effective than manned guarding. There are however applications where physical security by means of human element is required.
The key is accurate assessment of management and risk requirements. For critical sites utilising remote monitoring, equipment manufactured and installed according to the BS8418:2010 code of practice is recommended as this addresses areas of vulnerability where the solution may be compromised.
Mike Voortman: Absolutely, given that a guard on patrol can only monitor a small area at any given time, whereas electronic/virtual guarding gives the client constant full coverage of the monitored area. Where solitary guards are replaced, collusion – or the risk thereof – is immediately eliminated. Where strategically required, we do retain guards as needed, but in the vast majority of cases, substantial guarding reduction is possible. We assist guarding companies by checking in on their staff where hybrid manned/electronic systems are in place. We also save clients vast amounts in capex through the elimination of the need for an on-site monitoring station. We build in simple failover systems into the site setup for critical scenarios.
Jacques Du Toit: Definitely, so, you can effectively have as many as 20 cameras being monitored at the same price as one dedicated guard. There is also no risk of guard intimidation, or guards acting as an insider – computers have no emotions.
Credit(s)
Further reading:
TAPA: The role of an effective treasury function in business risk management
June 2019, Technews Publishing , News
Neil Le Roux, the Founder of Diligent Advisors will speak at the TAPA SA (Transported Asset Protection Association) annual conference on 26 July 2019.
Read more...
---
iLegal 2019: Critical IT aspects of Augmented Surveillance
August 2019, Technews Publishing , News
iLegal is the surveillance industry's premier one-day conference hosted jointly by Hi-Tech Security Solutions and Dr Craig Donald. iLegal 2019 will be held on 12 September 2019 at The Rosebank Crowne ...
Read more...
---
iLegal 2019: Putting a face on surveillance services
August 2019, Technews Publishing , News, Conferences & Events
iLegal 2019 will be held on 12 September 2019 at The Rosebank Crowne Plaza in Johannesburg. iLegal is the surveillance industry's premier one-day conference hosted jointly by Hi-Tech Security Solutions and Dr Craig Donald.
Read more...
---
Residential Estate Security Conference 2019: Making AI work for you
August 2019, Technews Publishing , News, Conferences & Events
Gerhard Furter will deliver the keynote at the Residential Estate Security Conference 2019, providing a brief introduction into what AI really is and its application in estates.
Read more...
---
From the editor's desk: The difference between potential and skills
August 2019, Technews Publishing , News
This issue of Hi-Tech Security Solutions includes our annual Local Manufacturing feature and it's great to know that local security manufacturers are still going strong, even if the general manufacturing ...
Read more...
---
Milestone partners prove their skills
August 2019, Milestone Systems , News, CCTV, Surveillance & Remote Monitoring, Training & Education
Within the span of one week in mid-May, the Milestone Learning & Performance group celebrated important benchmarks: 200 000 course registrations and tutorial views, and 10 000 certifications.
Read more...
---
ONVIF Hosts 20th Developers' Plugfest
August 2019 , News, CCTV, Surveillance & Remote Monitoring
ONVIF, the global standardisation initiative for IP-based physical security products, hosted its twentieth ONVIF Developers' Plugfest in early June in Tokyo.
Read more...
---
Licence plate recognition camera
August 2019 , Products, CCTV, Surveillance & Remote Monitoring
VIVOTEK has introduced a new licence plate recognition camera featuring built-in licence plate recognition software and edge-computing capability.
Read more...
---
iLegal 2019: Enhancing and empowering your control rooms
July 2019, Technews Publishing , News, Conferences & Events
iLegal 2019 will be held on 12 September 2019 at The Rosebank Crowne Plaza in Johannesburg. iLegal is the surveillance industry's premier one-day conference hosted jointly by Hi-Tech Security Solutions and Dr Craig Donald.
Read more...
---
Residential Estate Security Conference 2019: Managing for efficiency
July 2019, Technews Publishing , News, Conferences & Events
The Residential Estate Security Conference 2019 will be held on 20 August 2019, once again at the Indaba Hotel in Fourways, Johannesburg.
Read more...
---