printer friendly version
The right solution
CCTV Handbook 2012
CCTV, Surveillance & Remote Monitoring

The debate about whether IP or analogue technology is the way to go carries on. There can be no doubt that the promise of IP is tremendous and would have everyone adopting this technology in a flash if it was not for so many horror stories of failed IP installations.
We asked two industry players for their take on the debate. The result right now is that it is up to the buyer to make sure he/she chooses the right solution because analogue is not nearly as dead as some would want you to believe. There again, it does not seem to have a very bright future either.
Hi-Tech Security Solutions spoke to George Psoulis from TecSec Distribution and Rob Anderson from Rob Anderson & Associates.
Hi-Tech Security Solutions: The IP/analogue debate never ends. In your opinion, what do customers need to know and consider when faced with the choice of which technology to use?
George Psoulis, TecSec Distribution: CCTV technology has entered a new era; one actually needs to ask whether converting an analogue camera into an IP camera actually improves the image quality. The answer to this is debatable. Many customers have a misconception that because the solution offered is an IP camera solution, that solution offers better image resolution. This is untrue. As we are moving into a new era of surveillance, there is a big distinction between SD (standard definition) cameras and HD (high definition) cameras in an IP realm.
Firstly, let us identify a few terms to help guide us. With the advent of high definition TV, a new term has developed referring to the old TV format has standard definition. That terminology has seemed to creep into video security as well. A camera could be referred to as standard definition, which basically means it is not a megapixel camera. However, a camera may be called a high resolution camera but it is still a standard definition camera. Now an analogue camera or IP camera for that matter could be 380 TV lines of resolution and it would be called a low-resolution camera. However, a camera with 540 TV lines would be called a high-resolution camera. However, they could both be considered standard definition cameras because they are not megapixel cameras or HDTV cameras.
There are certainly benefits to an IP-based system as most companies pre-plan IT infrastructure as a whole (data and security networks) and the overall installation costs to the security system integrator is dramatically reduced. However, this needs to be calculated and planned correctly, as many systems fail due to the lack of planning.
Rob Anderson, Rob Anderson & Associates: First cost, maintenance cost, live picture quality and recorded replay image quality as well as reputation of installer and equipment being offered.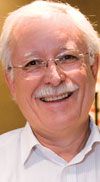 Rob Anderson.
Hi-Tech Security Solutions: Where is analogue the answer? Where is IP the answer?
George Psoulis: The only option for an analogue system is where the client has limited budgets, no infrastructure etc. Analogue systems are on the way to becoming an out of date solution. The cost effectiveness of analogue systems opened up a new market for residential use or very small office spaces.
As companies expand in size, the move to open multiple offices to accommodate employees in multiple segmented office spaces is becoming a norm. Thus, IP systems become more effective to implement.
Rob Anderson: Because analogue can produce quality pictures at a lower cost, in many cases with superior recording and replay results, the question is really why spend more money on IP. The reason has to be to obtain a higher resolution picture and/or make installation easier.
If the choice is IP then a purposely designed network must be installed with equipment selection and setup to benefit from the choice. If not then the benefit is only academic. The system should also not be connected to the Internet so that it can benefit from windows updates. This usually results in additional maintenance call outs to resolve compatibility issues.
As one installer told me, if he only did analogue installations he would go bankrupt, the IP systems need plenty of love and care which gives him a recurring income.
Hi-Tech Security Solutions: Do hybrid installations work? Do they deliver value?
George Psoulis: Yes, good NVMS brands will allow hybrid solutions mixing SD analogue cameras (some converting into IP via video encoders) within the HD IP camera solution. CCTV systems should all be about the evidence delivered and as HD cameras are in the mix, one needs to move away from delivering an educated guess camera solution to a 'pixels on target' solution. The pixels on target approach should dictate the type of camera and lens for each scene.
Rob Anderson: Yes, it is the case of choosing the correct products and technology for the needs, hybrids often solve the problem.
Hi-Tech Security Solutions: You can do so much more with IP. Why even consider analogue except where price is the deciding factor?
George Psoulis: As IP cameras are dropping in price, there is no reason to consider an analogue solution.
Studies have shown that CCTV clients are requiring more functionality and evidence from their systems. Most CCTV manufacturers are moving into the multi-megapixel HD environment. Analogue systems compress footage and can deliver up to D1 resolutions. D1 resolution is approximately 0,5 megapixels.
See table below: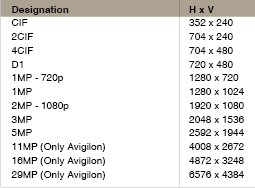 Entering into the HD environment, there are many factors to consider, i.e. the required camera to deliver the correct pixels on target, bandwidth constraints, storage etc.
Rob Anderson: Not aware of anything that the IP cameras do that is not also done in the analogue world. The only one may be embedded analytics. This is usually specified to reduce bandwidth. Not sure why when we are in the IP age. There is also the trend to have edge recording built into the camera. All of these technologies should be looked at as solutions for particular problems and not as the only way to design all CCTV systems.
It is probably a good time to revisit the compression algorithms such as H.264 and understand what they give us and how user friendly/good they are when you have to use the video data. There has been the further move towards HDCCTV and the release of the Pixim chipsets. Both are showing great promise. Therefore, IP is just one of the arrows in the box. Nothing wrong with it, but thankfully not the only choice.
Credit(s)
Further reading:
Securing perimeters of secure locations
November 2019, Axis Communications SA, Modular Communications, Hikvision South Africa, Nemtek Electric Fencing Products, Technews Publishing, Stafix , Government and Parastatal (Industry), Perimeter Security, Alarms & Intruder Detection, Integrated Solutions
Hi-Tech Security Solutions asked a number of companies offering perimeter security solutions for their insights into protecting the boundaries of national key points.
Read more...
---
Drones and cybersecurity?
October 2019 , CCTV, Surveillance & Remote Monitoring
Hacker drones can eavesdrop electronically on conversations, can perform network attacks, or can create fake wireless access points.
Read more...
---
2020 Residential Estate Security Conference in KZN
October 2019, Technews Publishing , News, Residential Estate (Industry)
Meeting the residential security challenges in 2020 and beyond: Hi-Tech Security Solutions will host the Residential Estate Security Conference 2020 in Durban on 12 March 2020.
Read more...
---
Body-worn cameras transforming security
October 2019 , CCTV, Surveillance & Remote Monitoring, Security Services & Risk Management
Police Service Northern Ireland now has over 7 000 officers using 2 500 cameras covering approximately 173 000 incidents each year.
Read more...
---
Camera Selection Guide 2019
CCTV Handbook 2019 , CCTV, Surveillance & Remote Monitoring
The Camera Selection Guide 2019 includes a range of IP, analogue, thermal and speciality cameras aimed at a broad range of surveillance functions.
Read more...
---
Intelligent analytics and the brains to match
September 2019, Bosch Building Technologies , CCTV, Surveillance & Remote Monitoring, Integrated Solutions
What if the brains behind our security cameras could be trained to improve their cognitive ability to pay attention, learn, and problem-solve according to specific rules and situations?
Read more...
---
AI-powered autonomous Drone-in-a-Box
September 2019 , CCTV, Surveillance & Remote Monitoring, Integrated Solutions
Organisations in the mining, energy and industrial, oil and gas, ports and terminals sectors can optimise security and business operations, whilst reducing risks and operational costs
Read more...
---
Cybersecurity for video surveillance systems
September 2019, Mobotix , Cyber Security, CCTV, Surveillance & Remote Monitoring
Video surveillance systems are increasingly accessible over any IP network, which has led to the rise of potential cyberattack.
Read more...
---
Looking ahead with mobile access technologies
Access & Identity Management Handbook 2020, Technews Publishing, HID Global, dormakaba South Africa, Salto Systems Africa, Suprema, Gallagher , Access Control & Identity Management, Integrated Solutions
Given the broad use of smartphones around the world and the numerous technologies packed into these devices, it was only a matter of time before the access control industry developed technology that would ...
Read more...
---
The security of biometrics
Access & Identity Management Handbook 2020, ViRDI Distribution SA, IDEMIA , Technews Publishing, Suprema , Access Control & Identity Management
Hi-Tech Security Solutions asks whether your personal biometric data is safe from prying eyes.
Read more...
---