printer friendly version
Social media and social manipulation
November 2011
News
You may not have won the lottery, but you still win because the November issue of Hi-Tech Security Solutions has been bundled with our Access Identity Management Handbook 2012. The handbook is a comprehensive look into the world of access control and identity management for the coming year. Please have a look at it and let me have any comments: Did we get it right? Did we miss anything? Send your comments to [email protected].
Winning!
And speaking of lotteries, a friend of mine recently received a call from someone claiming to be from Microsoft. This helpful individual told him Microsoft had detected he had a virus on his system and he would help him get rid of it. My friend had the good sense to say "thank you very much" and hang up, but many people simply follow the persons' instructions, which look impressive, but do absolutely nothing. In some cases they even install malware on your PC.
The result is they then charge you for it, and most people pay; or they ask to take remote control of your computer and install whatever they like on it, and try to charge you anyway. Just remember, nobody is about to call you to tell you there is a virus on your computer and offer to fix it. If you do get a call it will be from someone you send a virus-laden e-mail to who will offer some chosen words not meant to encourage or assist.
I am assuming that everyone realises that you have not won the UK lottery, Microsoft and AOL are not about to send you money and that friendly Nigerian is not really planning on sharing his father's ill-gotten loot if you help him smuggle it out of the country. Trust me, your friendly African dictator already has his money safely in Switzerland or in the East and has no intention of sharing it with you.
Thanks for all the fish
As this is the last issue of Hi-Tech Security Solutions for 2011, I will take this opportunity to wish all of our readers the best for the Christmas season. And, given the vagaries of 2011, let us hope the economy plays nice in 2012. Hi-Tech Security Solutions will have some exciting new features and happenings in the new year we believe will add value to our readers and the industry as a whole. So be safe for the rest of the year and do not miss anything in 2012. If the Mayans are right, it is the year the world ends. However, if Newton was right, we have till 2060. It is always good to end on a positive note.
As usual, please send any comments to [email protected]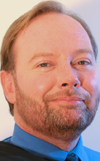 Andrew Seldon, Editor
Credit(s)
Further reading:
IziCash awarded membership by CIT Association of SA
News
IziCash Solutions, a provider of cash logistics and cash management services to the retail and banking sector, has become a member of CITASA, the Cash-In-Transit Association of South Africa.
Read more...
---
22 TB hard drives from WD
News
Western Digital extends HDD technology and areal density leadership across smart video, network attached storage (NAS) and IT/data centre channel segments.
Read more...
---
From the editor's desk: Maybe I'm too old?
Technews Publishing News
There are many companies these days touting their ability to securely authenticate people via mobile devices (or selfies), claiming that it is secure and easy. Some banks are even allowing people to ...
Read more...
---
ADI Expo Limited Edition 2022
ADI Global Distribution News
ADI South Africa, with its leading suppliers from across the video, intrusion and access control industries, is once again hosting its annual ADI Expo in September.
Read more...
---
Hikvision integration with Page Automation
Hikvision South Africa News
Hikvision has announced the integration of its MinMoe Face Recognition terminals and its Hik-ProConnect online device and service management platform with Page Automation's SmarTTime software.
Read more...
---
ESDA's annual charity fundraiser
ESDA (Electronic Security Distributors Association News Conferences & Events Associations
The ESDA Annual Charity Fundraiser, part of the Electronic Security Distributors Association's Golf Day, will take place at Benoni Lake Golf Course on Wednesday, 21 September 2022.
Read more...
---
Gallagher launches Tech Talk
Gallagher News Access Control & Identity Management Perimeter Security, Alarms & Intruder Detection
Gallagher has announced the launch of its new Security in Focus podcast series called Tech Talk, hosted by chief technology officer Steve Bell.
Read more...
---
IDEMIA and Ideco demonstrate their value stacks
Technews Publishing Ideco Biometrics IDEMIA Conferences & Events Access Control & Identity Management News
Ideco and IDEMIA recently hosted a travelling show where attendees were given an update on the companies, as well as the full value stack they offer.
Read more...
---
Sustainability, trust and predictability
Technews Publishing Bosch Building Technologies Conferences & Events CCTV, Surveillance & Remote Monitoring News Integrated Solutions
The future for Bosch Building Solutions is focused on predictive solutions based on sustainability and trust in an AIoT world of cloud services.
Read more...
---
Networked devices increase cyber risks for building systems
Technews Publishing News
Building managers need an integrated approach with IT professionals and clear lines of responsibility to ensure optimal facilities management and cybersecurity.
Read more...
---