printer friendly version
Fast food, faster data
Access & Identity Management Handbook 2012 Access Control & Identity Management, Entertainment and Hospitality (Industry)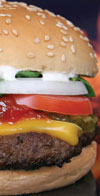 Implementing a T&A solution for one of South Africa's largest fast food chains.
One of the largest fast food chains in South Africa sports 148 restaurants reaching across all nine provinces. Boasting over 6000 trained and employed South Africans at various levels – from franchisees to managers and crew – and a 24-hour policy at some branches, it is by no means suited for a standard time and attendance (T&A) package.
Shifts are complex to manage and set up, data for the different restaurants is by no means centralised and the option for software customisation simply is not viable from either a financial or temporal point of view.
The chain has been using the iPulse iDU5 biometric fingerprint reader as the input device for its T&A system for over five years. Approaching IT Trust, the original solution supplier and iPulse Systems, the device manufacturer for an upgrade was the natural step based on market sector expertise and years of successful partnerships.
The company needed a T&A package that offers seamless integration with the existing biometric readers and payroll software, while making allowance for live reporting and over-the-air data synchronisation between each restaurant and the central database. A rolling shift engine is a must, as was the intelligence to assign the shift to the correct payment schedule for purposes of overtime and differing rates of pay.
With a challenge set, iPulse Systems took to the drawing board and redesigned, built and tested their existing TimeIQ application into a solution that would meet all of the requirements while ensuring ease of use and compatibility with the existing infrastructure.
"iPulse collaborated with us on various levels, from software design ideas and possible solutions to pricing and supporting the sites. Within three months of our agreement, a fully customised software suite was created around the customer's requirements and we were rolling out the first few pilot sites," said Karl Germishuysen, CEO of IT Trust.
Soon after the design phase, IT Trust, in conjunction with the iPulse engineers, rolled out the first six pilot sites and since then, the decision has been made that this implementation will be completed nationwide during the remainder of 2011.
Responsible for the entire roll-out, site- and software-support, installations and implementation, IT Trust brings years of experience to the table. Said Gary Chalmers, CEO of iPulse Systems: "We are a manufacturer that provides biometrics and high-end support to our partners, as well as engaging with them to deliver customised solutions that others cannot. However, we do not deal directly with end customers, and as such, we rely on a skilled and diverse partner base. In this case, the support and maintenance of the sites remain in IT Trust's capable hands."
No implementation is truly successful until you have a happy client, and in this case, this is a key metric of the success of the project. "iPulse and IT Trust have created a simple, easy to use solution that removes duplication of labour from our systems and increases data reliability, accuracy and speed significantly. We are very happy with their delivery to us, and recommend them without hesitation," concluded the fast-food chain's HR manager.
For more information contact iPulse, 0860 IPULSE, [email protected], www.ipulse.co.za
Credit(s)
Further reading:
Gallagher to showcase new Controller 7000 single door
Technews Publishing Access Control & Identity Management Products
Gallagher will be showcasing its latest access control innovation, the Controller 7000 Single Door on its stand at Intersec Dubai from 17-19 January 2023.
Read more...
---
Smart parking management platform
Access Control & Identity Management Asset Management, EAS, RFID
Parket builds a seamless bridge between supply and the ever-increasing, but fluid – and often temporary – demand for parking bays.
Read more...
---
Visible-light facial recognition terminal
ZKTeco Access Control & Identity Management Products
The SpeedFace-V5L [P] is a visible-light facial recognition terminal using intelligently engineered facial recognition algorithms and the latest computer vision technology.
Read more...
---
Facial and palm verification
ZKTeco Access Control & Identity Management Products
The ProFace X [P] supports both facial and palm verification, with a large capacity and rapid recognition.
Read more...
---
Glide Master High Security 90° Sliding Gate
BoomGate Systems Access Control & Identity Management Products
Boomgate Systems was asked to make a sliding gate that can turn 90 degrees. The gate had to offer high security and be vandal-proof.
Read more...
---
Informing, entertaining and communicating across your landscape
Evolving Management Solutions Access Control & Identity Management
For the first time, the attraction of large shopping malls with many stores, entertainment and food courts no longer offers enough appeal to attract customers.
Read more...
---
Suprema's new BioStation 3
Suprema Access Control & Identity Management Products
The brand new BioStation 3 is not only Suprema's smallest face recognition device to date, but it also comes packed with the largest variety of features.
Read more...
---
Suprema renews international privacy and security standard certifications
Suprema News Access Control & Identity Management
Suprema has simultaneously renewed two important international standard certifications regarding information security management (ISO/IEC 27001) and privacy information management (ISO/IEC 27701).
Read more...
---
SuperVision biometric access control
Integrated Solutions Access Control & Identity Management Products
SuperVision is a time & attendance (T&A) biometric access control system Fourier IT has been developing and enhancing for 18 years.
Read more...
---
Manage energy usage with Paxton access control
Paxton Access Control & Identity Management Products
Paxton provides access control systems that can integrate with existing infrastructure and manage a building's energy-consuming activities to save energy and costs.
Read more...
---