printer friendly version
Four reasons for long range AVI
Access & Identity Management Handbook 2012
Access Control & Identity Management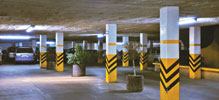 Why should you consider long range RFID for automatic vehicle identification?
Systems for automatic vehicle identification (AVI) have been around for more than a decade. Systems that support vehicle access control and vehicle identification in general are applied in many different applications all over the world.
Manufacturers like Nedap annually ship thousands of long range RFID readers to qualified system integrators that apply microwave readers or UHF readers in installations at airports, seaports, bus terminals, taxi stands, city centres and industrial estates. However, at events and other occasions we still notice that many people are aware of the existence of such systems where a vehicle is identified at a distance of up to ten metres to allow that vehicle and its driver easy access.
Why should you consider long range RFID for AVI? There are a number of reasons to consider when comparing that technology over conventional proximity card technology or other conventional systems.
Convenience
One important reason to embrace AVI systems is the convenience they bring. Vehicle access control based on normal proximity access control cards or, even worse, barcode or magnetic stripe cards, often results in people leaning uncomfortably out of their windows towards the reader to show their access credential.
Security
In a lot of situations you still see guards checking authorisations of vehicles and drivers at the perimeter of industrial estates, residential areas and business facilities. This is usually time consuming, can cause inconsistent credential validation and is labour intensive. In a lot of situations automatic vehicle identification is not only more convenient but also more secure.
Traffic flow in a green environment
Congestion, queues and miscommunication can cause delay and have a negative impact on business and the wellbeing of people. We are moving towards an era where 70% of people will be living in urban territory.
Cities and business currently are investing heavily in infrastructure and facilities to keep all those people and their vehicles moving securely. Maintaining mobility is a challenge in itself for city administration and business management. Meeting that challenge while conforming to new emission standards is virtually impossible.
Tracking and tracing of vehicles
AVI is much more than just vehicle access control. Not only cars, but all kinds of vehicles can use AVI systems. Vehicles can be tracked as part of logistics or production processes.
AVI systems that use long range RFID have a lot to offer. In all the years Nedap has been developing and selling AVI systems, we still have to encounter the first customer that feels that he or she did not get sufficient return on the investment in AVI equipment. By far, most installations are running for many years, continuously contributing to the business of our clients on a daily basis.
Further reading:
Paxton opens first experience centre in South Africa
Paxton News Access Control & Identity Management
The new Paxton Experience Centre in Johannesburg is now open and welcoming security installers and end users who want to see Paxton's products in action.
Read more...
---
Securing a luxurious residential estate
Turnstar Systems Residential Estate (Industry) Access Control & Identity Management
Turnstar Systems recently partnered with Balwin Munyaka Residential Estate to secure the entrance to its Crystal Lagoon, ensuring only authorised residents and guests can access the site.
Read more...
---
Visitor management via QR code
ATG Digital Access Control & Identity Management Products
ATG Digital has launched its QR Code Reader to enhance access control's security and efficiency. The new QR Code Reader enables seamless, contactless access control, creating an efficient user journey.
Read more...
---
District secures activity centre
Paxton Access Control & Identity Management Products
Paxton's Net2 access control solution is a user-friendly and flexible networked access control system, which made installing and managing access control security at an activity centre straightforward.
Read more...
---
GardaWorld partners with Gallagher
Gallagher Access Control & Identity Management
Access control via facial recognition was at the top of GardaWorld's wish list, and Gallagher's integration with IDEMIA's VisionPass played a crucial role in delivering a seamless experience.
Read more...
---
ZK-IWB Series
ZKTeco Products Access Control & Identity Management
Experience the ultimate virtual meeting solution with ZKTeco's ZK-IWB system. Featuring a built-in 13-megapixel UHD camera and 6-microphone array, the solution ensures clear audio and video experiences with an 8 metre pickup distance.
Read more...
---
Security for critical industries
ZKTeco Government and Parastatal (Industry) Access Control & Identity Management
The traditional reliance on human observation and physical presence for security is being complemented and, in many cases, replaced by biometric technology to enhance risk management and ensure comprehensive protection.
Read more...
---
Access to nuclear plants
Suprema Access Control & Identity Management
Korea Hydro & Nuclear Power was in need of a fully redundant access control system that should provide enhanced performance while still being able to interoperate with existing equipment.
Read more...
---
Secure your site during outages
Paxton Access Control & Identity Management
The PaxLock Pro range is our collection of wireless, battery powered smart door handles. They are efficiently designed to consume minimal energy to operate, and the batteries generally last around two years.
Read more...
---
Securing data centres and control rooms
Access Control & Identity Management
The demand for data centres and control rooms to store and manage digital information is at an all-time high, however, the rise in cyber threats and physical security risks has raised concerns about how companies can effectively protect these vital infrastructures.
Read more...
---