printer friendly version
Four reasons for long range AVI
Access & Identity Management Handbook 2012
Access Control & Identity Management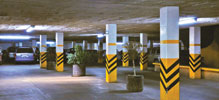 Why should you consider long range RFID for automatic vehicle identification?
Systems for automatic vehicle identification (AVI) have been around for more than a decade. Systems that support vehicle access control and vehicle identification in general are applied in many different applications all over the world.
Manufacturers like Nedap annually ship thousands of long range RFID readers to qualified system integrators that apply microwave readers or UHF readers in installations at airports, seaports, bus terminals, taxi stands, city centres and industrial estates. However, at events and other occasions we still notice that many people are aware of the existence of such systems where a vehicle is identified at a distance of up to ten metres to allow that vehicle and its driver easy access.
Why should you consider long range RFID for AVI? There are a number of reasons to consider when comparing that technology over conventional proximity card technology or other conventional systems.
Convenience
One important reason to embrace AVI systems is the convenience they bring. Vehicle access control based on normal proximity access control cards or, even worse, barcode or magnetic stripe cards, often results in people leaning uncomfortably out of their windows towards the reader to show their access credential.
Security
In a lot of situations you still see guards checking authorisations of vehicles and drivers at the perimeter of industrial estates, residential areas and business facilities. This is usually time consuming, can cause inconsistent credential validation and is labour intensive. In a lot of situations automatic vehicle identification is not only more convenient but also more secure.
Traffic flow in a green environment
Congestion, queues and miscommunication can cause delay and have a negative impact on business and the wellbeing of people. We are moving towards an era where 70% of people will be living in urban territory.
Cities and business currently are investing heavily in infrastructure and facilities to keep all those people and their vehicles moving securely. Maintaining mobility is a challenge in itself for city administration and business management. Meeting that challenge while conforming to new emission standards is virtually impossible.
Tracking and tracing of vehicles
AVI is much more than just vehicle access control. Not only cars, but all kinds of vehicles can use AVI systems. Vehicles can be tracked as part of logistics or production processes.
AVI systems that use long range RFID have a lot to offer. In all the years Nedap has been developing and selling AVI systems, we still have to encounter the first customer that feels that he or she did not get sufficient return on the investment in AVI equipment. By far, most installations are running for many years, continuously contributing to the business of our clients on a daily basis.
Further reading:
Gallagher to showcase new Controller 7000 single door
Technews Publishing Access Control & Identity Management Products
Gallagher will be showcasing its latest access control innovation, the Controller 7000 Single Door on its stand at Intersec Dubai from 17-19 January 2023.
Read more...
---
Smart parking management platform
Access Control & Identity Management Asset Management, EAS, RFID
Parket builds a seamless bridge between supply and the ever-increasing, but fluid – and often temporary – demand for parking bays.
Read more...
---
Visible-light facial recognition terminal
ZKTeco Access Control & Identity Management Products
The SpeedFace-V5L [P] is a visible-light facial recognition terminal using intelligently engineered facial recognition algorithms and the latest computer vision technology.
Read more...
---
Facial and palm verification
ZKTeco Access Control & Identity Management Products
The ProFace X [P] supports both facial and palm verification, with a large capacity and rapid recognition.
Read more...
---
Glide Master High Security 90° Sliding Gate
BoomGate Systems Access Control & Identity Management Products
Boomgate Systems was asked to make a sliding gate that can turn 90 degrees. The gate had to offer high security and be vandal-proof.
Read more...
---
Informing, entertaining and communicating across your landscape
Evolving Management Solutions Access Control & Identity Management
For the first time, the attraction of large shopping malls with many stores, entertainment and food courts no longer offers enough appeal to attract customers.
Read more...
---
Suprema's new BioStation 3
Suprema Access Control & Identity Management Products
The brand new BioStation 3 is not only Suprema's smallest face recognition device to date, but it also comes packed with the largest variety of features.
Read more...
---
Suprema renews international privacy and security standard certifications
Suprema News Access Control & Identity Management
Suprema has simultaneously renewed two important international standard certifications regarding information security management (ISO/IEC 27001) and privacy information management (ISO/IEC 27701).
Read more...
---
SuperVision biometric access control
Integrated Solutions Access Control & Identity Management Products
SuperVision is a time & attendance (T&A) biometric access control system Fourier IT has been developing and enhancing for 18 years.
Read more...
---
Manage energy usage with Paxton access control
Paxton Access Control & Identity Management Products
Paxton provides access control systems that can integrate with existing infrastructure and manage a building's energy-consuming activities to save energy and costs.
Read more...
---