printer friendly version
The new age of access control
Access & Identity Management Handbook 2012
Access Control & Identity Management

Integrated access solutions deliver the best results.
Access control has become a vital component of any security concept worldwide. The protection of intellectual property rights, prevention of theft and sabotage or simply compliance requirements – there are a multitude of reasons why companies of all kinds need to use a comprehensive access control system to restrict, manage and control access to their facilities.
However, operated in isolation from other safety and security systems, even the most sophisticated access control system cannot really live up to its promises. In such an environment, operation and monitoring can quickly turn into a nightmare, as each system has its own architecture, its own user interface and its own management tool. This is why more organisations are looking out for an access control solution that easily integrates with video monitoring, intrusion detection and sometimes even visitor management to form a homogeneous security system with a consistent user interface and central management and operations.
Gone are the days (or at least they should be), when a gatekeeper made a digital yes/no decision whenever somebody required access to a company's premises. Today, companies need to manage access on a completely different basis. They need to define clearly who may enter which parts of the campus or individual buildings and they must also ensure that access is only granted at times when it is needed.
Further, suppliers are more often faced with requirements of their customers to supply a documentation of all access attempts, whether successful or not, to protect against industrial espionage. To fulfil this requirement, not only employee access must be captured and recorded, but also the entire visitor traffic. In some industries there are also compliance issues enforcing integration of visitor management – for example in the European food industry for certification against IFS-5. In addition to basic visitor management, it may also be desirable to have forced guidance along certain routes, control of singling systems such as turnstiles and weight sensors, anti-passback features, guard tour modules and others.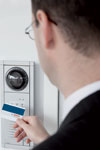 Video integration for more safety
While modern access control systems allow an efficient management of access rights, they are rather powerless against abuse if operated on their own. If an employee or visitor passes on his card, the illegitimate recipient inherits all his access permissions. Tailgating is another issue that standard access control systems do not address. In critical environments, it is therefore mandatory to add a second layer of security by integrating access control with some kind of video surveillance. To prevent abuse, all access requests can then trigger one or more video cameras.
Who is really standing at this rarely used backdoor? Who is trying to gain access to the warehouse right now with a card that was reported as lost? In an integrated environment, operating personnel can answer these kinds of questions with just a mouse click, ensuring a more rapid reaction to such events.
Integrated systems can also provide alarm verification, instantly displaying live video images from nearby cameras when there is an alarm event at a door – such as when a person presents an unauthorised credential or when a door is forced open. With this capability, the operator does not even need to know which camera to select to investigate the event, as integrated systems can be configured to automatically display the appropriate video on the screen.
This level of instant response can improve the overall performance of a customer's security staff. Security personnel do not need to go to the site of an event to look into an alarm. They can view video of the event from their workstations and positively identify the cause – only going to the alarm location when follow-up is necessary. This reduces the amount of time security personnel spend away from their workstations and better prepares them with an understanding of the situation when they do need to visit the location. Some access control systems do even offer the same functionality to verify alarms of an integrated intrusion detection system.
Forensics can also benefit from such integration if the video recordings are referenced in the access control system's event log. Such a feature greatly facilitates identification, retrieval and playback of past events and alarms if necessary. Systems offering pre and post alarm recording options also enable the operator to see video from immediately before and after the alarm event to better judge the situation. However, often the settings of surveillance cameras are less than optimal for the specific event, and therefore it is desirable to have the ability to change these settings without operator intervention. This could allow an access event to prompt a PTZ camera to move into a pre-set position or cause a DVR to record at a higher frame rate to capture more details of the event.
Prompting higher-quality recordings ensures the video resolution is sufficient for thorough investigation of access events. Local recording or archiving of live images or video clips from integrated video storage devices is also possible with most systems, giving customers the ability to capture individual snapshots related to important events.
Open standards ease integration
Integrating access control, video monitoring, and intrusion detection can be rather easy when all components come from the same vendor, and if this vendor also offers a management platform for all of them. However, this is rarely the case. In many applications, you will find individual systems from different vendors for each of these tasks.
In this case, integration can be a nightmare if the integrator has to develop interfaces between the individual systems and do a lot of programming. In today's installations, it is therefore mandatory to select and install systems based on open and accepted standards which can easily be integrated by means of a central building management system as an umbrella. Most current systems use proven IT technologies such as TCP/IP and OPC for communications with such a management system.
Integrated systems 'off the shelf' can greatly ease installation and configuration of the security solution. Logical integration eliminates the need for multiple software platform and interfaces – resulting in fewer complications and greater event-driven functionality as well as reduced installation time and costs. What is more, this kind of integration also promises more efficient operation and a clearly reduced need for training, but above all also a higher security level.
An open standards-based management system even makes sense in those cases where one vendor supplies everything, as it opens up the entire installation for future expansion.
User interface is key
However, these benefits do not necessarily come by default. While technical systems may be quite efficient, if users cannot properly operate them, they will not deliver to the promise. An integrated security system is a very complex apparatus, and if this complexity is not hidden from the user, the system will be highly prone to human error and faulty operation. Such systems do need very clear and intuitive user interfaces, avoiding information overload while offering all the information that is currently needed.
This is even more important when several components or dialogs are open, which will often be the case if you deal with access control, video surveillance and maybe intrusion detection from the same console.
Secure the security system
When planning an integrated system, functionality and ease of use are certainly the most important aspects. However, it is also worth having a chat with the IT department, as for them such a system is another complex application that they need to support. And what is more, it is a mission-critical application.
Security systems need to meet defined uptime requirements and, in the case of live video, also guaranteed bandwidth. In some cases, strict uptime requirements will enforce fault-tolerant and redundant configurations which the system must support. Being a critical application, the security system itself needs to be secured against unauthorised access by means of IT security technologies.
For more information contact Bosch Security Systems - South Africa & Sub-Sahara Africa, +27 (0)11 651 9818, elaine.ogorman@za.bosch.com, www.boschsecurity.co.za
Credit(s)
Further reading:
Simple steps to protect yourself against identity theft
November 2019 , Access Control & Identity Management
Are you doing enough to reduce the risk of having your identity stolen?
Read more...
---
Intelligent analytics and the brains to match
September 2019, Bosch Building Technologies , CCTV, Surveillance & Remote Monitoring, Integrated Solutions
What if the brains behind our security cameras could be trained to improve their cognitive ability to pay attention, learn, and problem-solve according to specific rules and situations?
Read more...
---
Looking ahead with mobile access technologies
Access & Identity Management Handbook 2020, Technews Publishing, HID Global, dormakaba South Africa, Salto Systems Africa, Suprema, Gallagher , Access Control & Identity Management, Integrated Solutions
Given the broad use of smartphones around the world and the numerous technologies packed into these devices, it was only a matter of time before the access control industry developed technology that would ...
Read more...
---
Mobile access is more secure than card systems
Access & Identity Management Handbook 2020 , Access Control & Identity Management
The ability to use mobile phones as access credentials is one of the biggest trends in a market that historically has been slow in adopting new technology.
Read more...
---
This is the future. This is what we do.
Access & Identity Management Handbook 2020, ZKTeco , Access Control & Identity Management
ZKTeco has created a unique range of visible light facial recognition products combined with a flexible Android platform.
Read more...
---
The security of biometrics
Access & Identity Management Handbook 2020, ViRDI Distribution SA, IDEMIA , Technews Publishing, Suprema , Access Control & Identity Management
Hi-Tech Security Solutions asks whether your personal biometric data is safe from prying eyes.
Read more...
---
A picture spoofs a thousand cameras
Access & Identity Management Handbook 2020, NEC XON, Hikvision South Africa, Technews Publishing , Access Control & Identity Management
Hi-Tech Security Solutions looks into the reliability and effectiveness of facial biometrics as well as the concerns about privacy.
Read more...
---
IoT and behavioural authentication
Access & Identity Management Handbook 2020, CA Southern Africa , Access Control & Identity Management
IoT represents an increasing security risk to individuals in the form of pervasive, always-on monitoring of your personal activity with a potential compromise of your most personal security credentials.
Read more...
---
Border crossing and national identification
Access & Identity Management Handbook 2020 , Access Control & Identity Management
Amidst a choice of technologies, diversity of policy frameworks, and emergent priorities, countries that intend to upgrade their identification systems today find themselves drawn into a complex vortex.
Read more...
---
T&A by biometrics in the cloud
Access & Identity Management Handbook 2020 , Access Control & Identity Management
Time and attendance solutions have evolved from punch cards to cost-effective and more accurate cloud-based biometric systems.
Read more...
---