printer friendly version
Give your pixels a job description
October 2011
News
Following on last month's comment on gigapixel, Niall Beazley from Vision Catcher replied with the following (the e-mail has been shortened):
"I smiled when I saw your editorial comment on the growing interest in pixel densities and what can be done. Truly amazing technologies, however, not all technologies are the same and it is very important that the client understands what he really wants. As per previous articles, Rob Anderson's comments on 'give a camera a job description' is the first question that needs to be asked.
"As a matter of fact, the use of gigapixel wide area surveillance and gigapixel photography is fine if there is complete continuity of coverage of the area being viewed.
"The vote for the use of a gigapixel offering is purely relevant to the requirement and the frame rate employed. Normally any object or person needing identification within the field of view (FOV) cannot move quickly enough to get through the FOV within the frame rate even if it is at two or three seconds per frame, and is therefore captured and probably identified. It should be noted that the larger megapixel cameras offered within the security environment provide frame rates as follows; current 10 MP offer up to 6 fps and the 16 MP up to 3 fps. The illustrious new entry to the market, Arecont's 20 MP surround view panoramic 180 or 360 camera provides the highest frame rate for its class at over 11 fps. The key to this relevancy of requirement, is that in a cash counting scenario a frame rate of anything less than real time, 25-30 fps, will be insufficient and therefore a gigapixel offering a complete waste of time.
"I suspect that some of the images shown on the various websites are taken using scanning techniques or with multiple cameras to stitch together an overview image that is compelling and impressive. In the first scenario, if the camera is moved to a new field of view and the images stitched together then by virtue of the camera moving information must be lost as per PTZ footage. The second scenario would provide full coverage and continuous live/recorded footage, however the cost of implementation might well be prohibitive to the whole concept.
"What is clear is that there are some amazing technologies available. Understanding how to apply these technologies and what the end result might be are as important as giving the camera its job description and setting it up to do the job it is required for. This will result in a happy client and recorded footage admissible in a court of law and therefore capable of telling the real story."
Social media
Did you know Hi-Tech Security Solutions now has its own Facebook page? You can find us at https://www.facebook.com/pages/Hi-Tech-Security-Solutions/246894392008979 - why it is so complicated is another matter. Or you can just search for us. Feel free to keep up with the latest happenings and post your own views. And in case you did not know, we are also on Twitter (@HiTechSecurity_).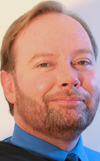 Andrew Seldon
Credit(s)
Further reading:
4IR is opportunity
News
In South Africa, digitalisation remains 'at a nascent stage' which means significant work still has to be done when it comes to addressing skills development around 4IR in the country.
Read more...
---
Five ways to reduce your cyber insurance premiums
Security Services & Risk Management News
With the global costs of cybercrime expected to soar to $13 trillion within the next five years, cyber insurance is booming as organisations try to mitigate the risk of financial losses.
Read more...
---
What South Africans need to know about smart devices
Technews Publishing Editor's Choice
We live in a world surrounded by smart devices, from our pockets to our driveways and living rooms.
Read more...
---
Client satisfaction boosted by 85% at Thungela Mine
Thorburn Security Solutions News Security Services & Risk Management Mining (Industry)
Thorburn Security, a division of Tsebo Solutions Group, has announced its recent collaboration with Kwa-Zulu Natal security company, Ithuba Protection Services, as part of its Enterprise Supplier Development (ESD) initiatives across Africa.
Read more...
---
Fidelity SecureFire steps into critical fire response space
News Fire & Safety
With the majority of fire stations around the country being crippled by a lack of resources to offer effective responses, Fidelity Fire Solutions has launched its own 'first responder' model, Fidelity SecureFire.
Read more...
---
The state of edge security report
News IT infrastructure
Edge computing has grown from being a niche use case in a handful of industries to offering a major opportunity for enterprises across industries to spread computing power around the world.
Read more...
---
CHI selects NEC XON as trusted cybersecurity partner
News Cyber Security Industrial (Industry)
CHI Limited, Nigeria's leading market player in fruit juices and dairy products, has engaged in a strategic cybersecurity partnership with NEC XON, a pan-African ICT systems integrator.
Read more...
---
Collaboration delivers integrated and holistic security
Guardian Eye CCTV, Surveillance & Remote Monitoring News Integrated Solutions
Guardian Eye and Lytehouse have partnered to integrate their speciality solutions and provide a holistic security offering that overcomes the fragmentation of security systems and services.
Read more...
---
Kaspersky appoints new GM for Africa
News Cyber Security
Kaspersky has announced the appointment of Andrew Voges as the new General Manager for Africa to boost regional market positioning and enterprise protection.
Read more...
---
AgentZero, the AI that writes emails for you
News
In an age where digital natives dominate the tech scene, two Boomers are proving that it's never too late to innovate; launching an AI business that promises to revolutionise email communication. It is called AgentZero.
Read more...
---