printer friendly version
Give your pixels a job description
October 2011
News
Following on last month's comment on gigapixel, Niall Beazley from Vision Catcher replied with the following (the e-mail has been shortened):
"I smiled when I saw your editorial comment on the growing interest in pixel densities and what can be done. Truly amazing technologies, however, not all technologies are the same and it is very important that the client understands what he really wants. As per previous articles, Rob Anderson's comments on 'give a camera a job description' is the first question that needs to be asked.
"As a matter of fact, the use of gigapixel wide area surveillance and gigapixel photography is fine if there is complete continuity of coverage of the area being viewed.
"The vote for the use of a gigapixel offering is purely relevant to the requirement and the frame rate employed. Normally any object or person needing identification within the field of view (FOV) cannot move quickly enough to get through the FOV within the frame rate even if it is at two or three seconds per frame, and is therefore captured and probably identified. It should be noted that the larger megapixel cameras offered within the security environment provide frame rates as follows; current 10 MP offer up to 6 fps and the 16 MP up to 3 fps. The illustrious new entry to the market, Arecont's 20 MP surround view panoramic 180 or 360 camera provides the highest frame rate for its class at over 11 fps. The key to this relevancy of requirement, is that in a cash counting scenario a frame rate of anything less than real time, 25-30 fps, will be insufficient and therefore a gigapixel offering a complete waste of time.
"I suspect that some of the images shown on the various websites are taken using scanning techniques or with multiple cameras to stitch together an overview image that is compelling and impressive. In the first scenario, if the camera is moved to a new field of view and the images stitched together then by virtue of the camera moving information must be lost as per PTZ footage. The second scenario would provide full coverage and continuous live/recorded footage, however the cost of implementation might well be prohibitive to the whole concept.
"What is clear is that there are some amazing technologies available. Understanding how to apply these technologies and what the end result might be are as important as giving the camera its job description and setting it up to do the job it is required for. This will result in a happy client and recorded footage admissible in a court of law and therefore capable of telling the real story."
Social media
Did you know Hi-Tech Security Solutions now has its own Facebook page? You can find us at https://www.facebook.com/pages/Hi-Tech-Security-Solutions/246894392008979 - why it is so complicated is another matter. Or you can just search for us. Feel free to keep up with the latest happenings and post your own views. And in case you did not know, we are also on Twitter (@HiTechSecurity_).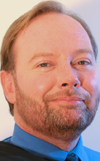 Andrew Seldon
Credit(s)
Further reading:
The expanding scope of electronic locks
Technews Publishing ASSA ABLOY South Africa Access Control & Identity Management
Electronic locks are a growing market, extending from single doors to fully integrated security solutions, including the ability to manage everything from a mobile app.
Read more...
---
From the editor's desk: A new start
Technews Publishing News
      Welcome to the first issue of the Smart Access & Identity handbook, Smart Access & Identity 2023. While this is the first issue, it's also a continuation of Hi-Tech Security Solutions' long-standing ...
Read more...
---
The state of the biometrics market
neaMetrics Technews Publishing Suprema Hikvision South Africa IDEMIA Access Control & Identity Management Integrated Solutions
Now that the pandemic is over (hopefully), will we see the same confidence in biometrics for access and identification or will the world be reverting to touch-based systems, including cards and fobs (or mobiles).
Read more...
---
Migrating to mobile
Technews Publishing neaMetrics Suprema Editor's Choice
The ability to use mobile phones as access control credentials has been with us for a long time, yet only 32% of companies use them, and many only for specific use cases.
Read more...
---
The future of touchless biometrics
Technews Publishing Fulcrum Biometrics Access Control & Identity Management Integrated Solutions
Facial biometrics is the main talking point today, helped along by COVID, but is it the best touchless solution available? Rob Griggs from Fulcrum Biometrics Southern Africa recommends other touchless alternatives.
Read more...
---
The problem with biometrics
Technews Publishing Editor's Choice Access Control & Identity Management Integrated Solutions
We have come to rely heavily on biometrics for many aspects of access and identity management, especially in identity management where selfie authentication is accepted with confidence. Are we doing it right? Roger Grimes has his own take on the matter.
Read more...
---
AI presents people and companies with benefits and risks
Technews Publishing Editor's Choice
AI has changed and will still change the security landscape dramatically, but defenders and criminals can use its capabilities effectively.
Read more...
---
More than saying hello
Technews Publishing TOA Electronics XtraVision Access Control & Identity Management
Are we seeing an increase in market demand for video intercoms, and more user control through management functionality on mobile apps?
Read more...
---
Spend on cloud to accelerate across Africa in 2023
News
More than two-thirds of companies using cloud computing across major African markets plan to increase their spending on cloud services in 2023.
Read more...
---
ChatGPT's impacts will be social, not technical
News
ChatGPT is truly a remarkable achievement, an artificial intelligence (AI) that you can have a conversation with and ask to do everything from writing essays to coding computer programs.
Read more...
---