printer friendly version
What is your risk profile?
August 2011
News
The recent News of the World hacking scandal has taken pride of place on British television shows over the past weeks. The ease with which some people were able to hack into voice mail messages is astounding. You would think mobile carriers would by default implement some security system to protect private information, but where is the profit in that.
The fact that even with ample warning over the past year or so these companies have still not amended their contracts to comply with the law says it all – it seems to me customer is simply a euphemism for victim in these boardrooms.
Not that we are not used to that. However it does put the responsibility for security and privacy back in the hands of the customer. You cannot rely on these companies to lift a finger to protect your private information unless there is a profit to be made; if they can find a way to charge for it, that is a different story. Nonetheless, the question is, do you trust them?
Do you trust the company that profits from selling your computer's or mobile device's operating system to do everything it can to protect you, or do you rely on third-party applications to secure your system?
Taking it to another level, do you trust the police force to protect you or do you pay more money to a third party to provide additional security. And how do you know whether the third party will deliver on its promises? We have all seen or heard about security guards conveniently looking the other way, whether for profit or to protect themselves and their families. There seems to be no end to the horror stories. So what does one do?
In the end it comes down to identifying the risks you face and mitigating those you want to avoid while accepting those you can deal with.
Personally, if someone wants to listen to my voice mail messages or calls, they are welcome to. I would advise them to get a life. However, I have not been victim to a disaster that has taken a loved one away recently, if I had I would certainly have a different opinion. A company CEO would certainly not agree with me, his/her calls need to be protected at all times.
So it is about identifying and mitigating the risks you face according to your own risk profile – an ever-changing risk profile. Encrypting my phone calls is not something I would do, but there are others that will feel compelled to. I keep backups of my data files because I would be lost without them. They are not worth anything in real monetary terms, but they are worth endless hours of work and stress (and lost revenue) for me if they are lost. It is a risk that needs to be mitigated and it is worth paying for – in my profile.
As business ethics make way for profiteering, perhaps it is time we all examine our risk profiles, personal and business, to see what mitigation we need to implement to retain the safety, security and privacy standards we value.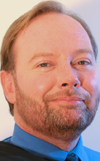 Andrew Seldon
Credit(s)
Further reading:
Online fleet management system
Issue 1 2020 , News
Fleet Domain's online Fleet Management Information System is reducing operating costs and improving safety for South African logistics firms.
Read more...
---
Digital insurance bundle for assets and devices
Issue 1 2020 , News
My CyberCare is a specialist provider of personal, and SMME online cyber insurance, cyber detection and cyber monitoring solutions for both local and global consumption.
Read more...
---
IDEMIA to supply Morocco's national electronic ID cards
Issue 1 2020, IDEMIA , News
IDEMIA will supply Morocco with national electronic ID cards and introduce a secured digital identity online services platform.
Read more...
---
Rockwell Automation to acquire Avnet
Issue 1 2020, Rockwell Automation , News
Rockwell Automation announced it has signed an agreement to acquire privately held Avnet Data Security, an Israeli-based cybersecurity provider with over 20 years' experience providing cybersecurity services.
Read more...
---
Do we really want simplicity?
Issue 1 2020, Technews Publishing , News
Everything today has to be simple, easy and fast. Even access to your bank account has to fit these adjectives and banks spend significant time and money trying to ensure their web and mobile interfaces ...
Read more...
---
Longse Distribution to become LD Africa
Issue 1 2020, LD Africa , News
Brendon Whelan, sales manager for Longse Distribution, announced that the company officially changed its name to LD Africa as of 20 January 2020.
Read more...
---
Three expos in one
Issue 1 2020 , News
Looking ahead to 2020 Vision: combined Securex South Africa, A-OSH EXPO and Facilities Management Expo 2020 promises to be even bigger and better.
Read more...
---
Security events you can't miss in 2020
Issue 1 2020, Technews Publishing , News
Hi-Tech Security Solutions will host a number of focused events in 2020 to highlight the latest in security technology and the operational benefits they deliver.
Read more...
---
David Shapiro to chair ESDA
Issue 1 2020, ESDA (Electronic Security Distributors Association , News
The Electronic Security Distributors' Association (ESDA), established in 1989, has elected David Shapiro as its chairperson for 2020.
Read more...
---
Dimension Data debuts fifth business
Issue 1 2020 , News
Dimension Data has launched its fifth business in the MEA region, Dimension Data Security, aimed at helping organisations in the region address the challenges of today's rapidly evolving threat landscape.
Read more...
---