printer friendly version
Living up to its name
June 2011
News & Events
Hi-Tech Security Solutions spoke to Charles Laxton and Dave Crawshay-Hall about BNT's latest offerings.
Brand New Technologies (BNT) has carved a niche for itself over the past three years as a company intent on bringing products to market that will make a tangible difference.
Based in Bedfordview, Gauteng, this technology company's team boasts a combined 50 years' experience in the biometric field. The company's three directors – Laxton, Crawshay-Hall and Danica Laxton – all play a very active role in the business to ensure that their intellectual property is utilised to the benefit of the company's clients.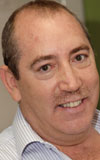 Charles Laxton
"Danica and Dave have been with the company since its inception and I joined a few months ago after I returned to the identity management industry where my passion lies," said Laxton. During this time the company has introduced a number of exciting and specialised identity management products to the South African market, from document security through to electronics systems, including fingerprint, iris and facial recognition products.
Laxton has a rich background in biometrics and was instrumental in launching the first biometrics fingerprinting products to the South African market in 1991 with the company previously owned by him called Power Controls.
"BNT has secured over a dozen globally respected agencies over the past three years including Futronic fingerprint recognition and software products, Lumidigm biometric sensors and fingerprint readers, Trüb data pages for passports, ID books and bank cards, LawTrust digital certification, Signotec e-signature products, Vista Technologies iris and face recognition products, iEvo multispectral imaging fingerprint readers, BIO-key advanced identification solutions and information services, Neurotechnology biometric products and Innovatrics products," said Laxton.
"We believe in finding tailor-made solutions to client requirements as no application is identical. Our many years of working closely with clients and our substantial footprint in southern Africa has allowed us to achieve high levels of competence that can be translated into deliverable identity management results for our clients."
Passport please
In a noteworthy project, BNT was asked by the South African Department of Home Affairs to work together with them on developing a secure passport. BNT utilised the technology developed by Trüb AG to incorporate a highly secure polycarbonate data page.
"By issuing the new generation of passports, the South African Department of Home Affairs fulfils the requirements of the ICAO (International Civil Aviation Organisation) with respect to machine readable travel documents," said Laxton.
The new passport contains 32 visa pages, with the data page made of fused polycarbonate adhesive-free layers and designed for high-resolution laser engraving. "Under normal usage, this data page provides a lifetime of 10 years and has the highest resistance to mechanical, chemical and thermal stress, counterfeit attacks and sun exposure," said Laxton. "We have also supplied the department with an option for integrating an antenna and chip for storing biometric data."
Laxton cited a few advantages to true greyscale laser engraving including the fact that is provides uncompromising security since personalised information is embedded inside the card body and cannot be altered without leaving evidence. "We worked closely with Trüb on this project and we are also experiencing great interest from other sub-Saharan Africa regions for the products available from Trüb."
Getting under your skin
Laxton explained that the company represents a number of fingerprinting product companies in order to offer clients a wider range of choice for their unique needs. "In essence there are two biometric fingerprinting optical sensor technologies available today. These are total internal refraction (TIR) and multispectral imaging (MSI) and we are able to provide both of these technologies.

Futronics FS60 fingerprint reader
"TIR does have limitations however, since the finger needs to make direct contact with the glass or plastic substrate in order to photograph the fingerprint ridges. Problems in acquiring accurate fingerprint images arise under certain circumstances, including dirty fingers, chemically removed fingerprints, high ambient lighting conditions and in elderly people."
"Multispectral imaging looks at and beyond the skin surface to the subsurface foundation of the fingerprint ridges. Different wavelengths of visible light interact with the skin in different ways, enabling significantly enhanced data capture. The fingerprint pattern on the surface echoes the subsurface structures which they identified during development. Multi spectral imaging exploits the dependent relationship between surface and sub­surface fingerprint patterns; subsurface data ­collected by multispectral imaging technology supports and augments surface data to create the highest-quality fingerprint image available," Crawshay-Hall explained.
"As an example of how this technology is the ideal solution to counteracting counterfeiting of fingerprints, Lumidigm's multi spectralimaging technology can detect living flesh from non-living flesh or other organic or synthetic materials (like latex gloves). The differences between the spectral characteristics of, for example, a living finger and a prosthetic are known and can be used to reject spoofs," Laxton added.
Lumidigm offers a number of products geared towards ease of choice. The Venus range is the top-of-the-range fingerprint sensor incorporating the highest quality capabilities of multispectral imaging; the cost effective Mercury range of fingerprint sensors include the Mercury M301 desktop fingerprint sensor which can be attached to a host PC or intelligent controller via a standard USB cable; and the Mercury Series M300 OEM module allows integration into a number of devices and systems for complete versatility.
Similarly, Futronic's fingerprint scanner uses live finger detection (LFD) sensing technology to detect live human fingers. Products include the FS60 professional live-scan device with an 81,28 x 76,20 mm scanning area. Its advanced optical system can capture a high quality four-fingerprint image in less than 1,0 second. It can also capture the fingerprint in a 40,64 x 38,10 mm scanning area to create a rolled fingerprint image.
"The FS60 is compact and robust and suitable for use in various environments and applications including border control, electronic ID, passport issuing and electronic election enrolment and identification," said Laxton. The FS50 is a two-fingerprint and rolled-finger scanner while the FS88 is a single-fingerprint scanner.
Another MSI product in the BNT stable is the iEvo access control reader. It can be flush or surface mounted, is fully networkable, vandal-resistant and has a built-in thermostat which enables it to work in environments down to -20°C. "iEvo has been designed to seamlessly integrate into existing card and fob systems by using the original manufacturer's controllers through the use of Wiegand inputs. iEvo offers installers the opportunity to offer a reliable and superior biometric product to all of its new and existing clients," said Laxton.
Laxton points out that biometric fingerprint scanners are not only an asset in security, but also play a large role in queue control. "Typically you want a queue of people to move as quickly as possible and manual checking can take ages. Using biometrics however, we can create convenient and cost effective solutions. As an example, Disneyworld in Orlando, USA uses biometric fingerprinting for access control via Lumidigm products."
Other applications include crime scene investigation whereby the investigators can take images retrieved from deceased victims at the scene using the Venus range of MSI products to digitise these fingerprints and match them against existing images stored in the population register for positive identification.
Sign on the dotted line
Making life easier, yet at the same time more secure for people wanting to digitally sign documentation or PDFs, BNT has a number of products specifically engineered to capture and verify digital signatures for complete peace of mind.
The Sigma Pad from Signotec is used to capture handwritten electronic signatures, and is extremely compact, with dimensions of 160 x 120 x 10 mm. Together with the accompanying software, the Sigma Pad is equipped with excellent security mechanisms in terms of a secure data transfer system.
"As well as the signature image, important characteristics of the signature are stored, thereby eliminating abuse and verifying identity," said Laxton.
The pad, which is available in both full colour and monochrome versions, has a special surface structure which allows users to feel like they are writing on paper. The surface has also been designed to ensure that no malfunctions are caused by inadvertently touching the surface with one's hand.
Laxton said that BNT has worked very closely with LAWTrust on providing comprehensive digital certificate services to its clients. L@Wtrust digital certificate service is based on Entrust PKI (public key infrastructure) technology and provides enhanced peace of mind for anyone wanting to perform a secure transaction online.
Look me in the eye
Laxton said that iris readers have fast gained popularity in the market for their ability to provide organisations with secure access control mechanisms. The scanners available from Vista Technologies include a single and dual iris camera, combined with facial imaging.
Vista Technologies' iris/face scanners are available in tethered and embedded versions and are engineered to operate in poor lighting conditions.
"We are trying to move towards multimodal biometric solutions that incorporate iris, facial and fingerprint biometric analysis. At present, iris and fingerprint biometrics are more accurate than facial recognition, but headway is being made in the latter modality," Crawshay-Hall added.
Iris reading technology is very popular at airports and for border control as it is non-invasive. The cameras available today eliminate the need to stand directly in front of the camera before a reading can be taken and verified. "A person merely needs to be within 2 metres of the camera for an accurate reading to take place. This is ideal where there are long queues of people and is not dependent on the iris being in a specific orientation so it is completely non-intrusive and user friendly."
Laxton said that the UAE currently has the largest database of iris readings, and iris reading technology is also extremely popular in the Far East.
Laxton said that BNT is geared towards making life for their client base simpler. "We have developed our own technology which incorporates biometrics integrated into commercially available handheld terminals and bespoke portable suitcase solutions for biometric data capture. We have found ready applications in voter registration, mobile and portable enrolment, and citizen and employee enrolment procedures. In each instance we configure the system to match the application."
For more information contact Charlie Laxton, Brand New Technologies, +27 (0)11 450 3088, charlie@bntech.co.za
Further reading:
Pentagon appointed as Milestone distributor
Elvey Security Technologies News & Events Surveillance
Milestone Systems appointed Pentagon Distribution (an Elvey Group company within the Hudaco Group of Companies) as a distributor. XProtect's open architecture means no lock-in and the ability to customise the connected video solution that will accomplish the job.
Read more...
---
Re-introduction of the booking system
PSiRA (Private Security Ind. Regulatory Authority) News & Events
[Sponsored] PSiRA is reintroducing the booking system for branch visits. Effective Monday, 4 December 2023, clients will be required to book a slot to visit any PSiRA branch.
Read more...
---
From the editor's desk: A sad but exciting goodbye
Technews Publishing News & Events
Welcome to the final monthly issue of SMART Security Solutions. This is the last issue of the year and the last monthly issue we will print. The SMART Security Solutions team wishes all our readers and advertisers a relaxing festive season and a peaceful and prosperous 2024.
Read more...
---
Regal celebrates successful golf day
Regal Distributors SA News & Events
Regal Distributors held its first official Regal Golf Day on 18 October at the Glendower Golf Course in Johannesburg. SMART Security Solutions was there on a hot summer's day to meet many players and sponsors around the course.
Read more...
---
Gallagher Security releases Command Centre v9
Gallagher News & Events Access Control & Identity Management Integrated Solutions
Richer features, greater integrations, with the release of Gallagher Security's Command Centre v9 security site management software designed to integrate seamlessly with various systems and hardware.
Read more...
---
Regal launches direct-to-branch WhatsApp communication
Regal Distributors SA News & Events
With a quick scan of a QR code and a few taps on your phone, installers, integrators, technicians or even end-users can chat directly with the team at their preferred Regal branch via WhatsApp
Read more...
---
FM Expo highlights industry trends and challenges
Securex South Africa News & Events Facilities & Building Management
Keeping tabs on what is happening within the building/facilities management arena can be frustrating, however, a quick way to find out what current trends, challenges, and solutions are available can be found at the Facilities Management Expo.
Read more...
---
South Africa shows a 1200% increase in deepfake fraud
News & Events Risk Management & Resilience
Sumsub released its third annual Identity Fraud Report of the year, analysing identity fraud across industries and regions based on millions of verification checks across 28 industries and over 2 million fraud cases.
Read more...
---
Projections for 2024's Advanced Threats Landscape
News & Events Information Security
Kaspersky Global Research and Analysis Team (GReAT) experts offer insights and projections for 2024 in the Kaspersky Security Bulletin, with a focus on the evolution of Advanced Persistent Threats (APT).
Read more...
---
Helping South African university students and staff to stay safe
News & Events
Buzzer is a free mobile app that allows users to quickly and easily report incidents of crime, violence, or harassment to campus security and other relevant authorities.
Read more...
---