printer friendly version
Lest we forget the legalities
May 2011
News
In the last issue we covered a few cool products from SpyCatcher. While the products we mentioned were all fantastic for having fun, we forgot to mention that there could be legal issues with covert surveillance in certain instances. For some it might be obvious that you cannot just go spy on anyone unless you work for a certain political party, but for others, perhaps not.
We were reminded of this fact in the following letter from Steve Whitehead of Eavesdropping Detection Solutions, a company that has been in Hi-Tech Security Solutions on a number of occasions. The moral of the story, be careful when using products like these and get legal advice if you plan to use the surveillance for anything.
Thanks to Steve for the reminder.
Letter to the editor
Dear Andrew,
I am writing about the article, 'You are Big Brother'. It is always nice to know what is on the market and the wide range of devices described, again illustrate how easy it is to eavesdrop on conversations.
According to your article, SpyCatcher SA spoke to you about its range of surveillance products that the ordinary citizen "can access and easily use". The company also sells the stock via its website.
I think your article should have pointed out that it is illegal for ordinary citizens to use any of the devices mentioned in the article to monitor conversations without someone's permission. The penalties are also severe if found guilty.
According to Section 2 of the Regulation of Interception of Communications and Provision of Communication-related Information Act No 70 of 2002 that came into effect on 22 January 2003, "no person may intentionally intercept or attempt to intercept, or authorise or procure any other person to intercept or attempt to intercept, at any place in the Republic, any communication in the course of its occurrence or transmission".
There are several exceptions to the prohibition in section 2. You may intercept a conversation of which you are a party and there are a number of exceptions for government officials investigating crime. Workplace monitoring can also take place where crime is suspected, but again subject to a number of conditions. Any form of workplace monitoring should also be described in the employee contract and a company's communication policy.
The act further says that any person who intentionally intercepts or attempts to intercept a communication, save for the exceptions, is guilty of an offence which carries a fine of R2 million or imprisonment of up to 10 years.
From an operational point these devices are very easy to identify and to locate during a professional TSCM sweep.
Regards
Steve Whitehead
Eavesdropping Detection Solutions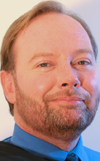 Andrew Seldon, editor
Credit(s)
Further reading:
Industrial control systems under attack
News Cyber Security
According to Kaspersky ICS CERT statistics, from January to September 2022, 38% of computers in the industrial control systems (ICS) environment in the META region were attacked using multiple means.
Read more...
---
The future of AIoT
Hikvision South Africa News CCTV, Surveillance & Remote Monitoring
Hikvision hosted its 2022 Shaping Intelligence Summit in Bali, Indonesia, on 29-30 November, where the company, its customers, and technology and solution partners, looked into the future of AIoT and explored paths to shared success.
Read more...
---
Top fraud trends to watch in 2023
News Security Services & Risk Management
Even though financial concerns remain a significant obstacle for companies in implementing new anti-fraud technologies, 60% of businesses expect an increase in their anti-fraud technology budgets in the next two years.
Read more...
---
Healthcare and the edge
Technews Publishing Healthcare (Industry)
With the proliferation of IoT devices in healthcare, more data is generated which drives the need to distribute it efficiently and keep it closer to the user.
Read more...
---
Be cautious when receiving deliveries at home
News Perimeter Security, Alarms & Intruder Detection Security Services & Risk Management
Community reports of residents being held up at their gate when collecting fast food deliveries at home are once again surfacing.
Read more...
---
Securiton and Dallmeier announce partnership
Dallmeier Electronic Southern Africa News
Securiton AG Switzerland is now integrating the Panomera and Domera camera systems from Dallmeier to ensure its customers benefit from the highest standards of privacy and security.
Read more...
---
Sasol ensures Zero Trust for SAP financials with bioLock
Technews Publishing Editor's Choice Cyber Security Security Services & Risk Management
Multi-factor authentication, including biometrics, for SAP Financials from realtime North America prevents financial compliance avoidance for Sasol.
Read more...
---
KPMG 2022 CEO Outlook, South African edition
Editor's Choice News
Mid-November saw the release of the latest KPMG 2022 CEO Outlook, South African edition, aptly sub-titled 'Potential Growth in Uncertain Times'.
Read more...
---
Mending Africa's digital infrastructure gaps
News
inq. Fabric is the first African-developed cloud connectivity, network-as-a-service software for automated provisioning and routing.
Read more...
---
Suprema renews international privacy and security standard certifications
Suprema News Access Control & Identity Management
Suprema has simultaneously renewed two important international standard certifications regarding information security management (ISO/IEC 27001) and privacy information management (ISO/IEC 27701).
Read more...
---