printer friendly version
Lest we forget the legalities
May 2011
News
In the last issue we covered a few cool products from SpyCatcher. While the products we mentioned were all fantastic for having fun, we forgot to mention that there could be legal issues with covert surveillance in certain instances. For some it might be obvious that you cannot just go spy on anyone unless you work for a certain political party, but for others, perhaps not.
We were reminded of this fact in the following letter from Steve Whitehead of Eavesdropping Detection Solutions, a company that has been in Hi-Tech Security Solutions on a number of occasions. The moral of the story, be careful when using products like these and get legal advice if you plan to use the surveillance for anything.
Thanks to Steve for the reminder.
Letter to the editor
Dear Andrew,
I am writing about the article, 'You are Big Brother'. It is always nice to know what is on the market and the wide range of devices described, again illustrate how easy it is to eavesdrop on conversations.
According to your article, SpyCatcher SA spoke to you about its range of surveillance products that the ordinary citizen "can access and easily use". The company also sells the stock via its website.
I think your article should have pointed out that it is illegal for ordinary citizens to use any of the devices mentioned in the article to monitor conversations without someone's permission. The penalties are also severe if found guilty.
According to Section 2 of the Regulation of Interception of Communications and Provision of Communication-related Information Act No 70 of 2002 that came into effect on 22 January 2003, "no person may intentionally intercept or attempt to intercept, or authorise or procure any other person to intercept or attempt to intercept, at any place in the Republic, any communication in the course of its occurrence or transmission".
There are several exceptions to the prohibition in section 2. You may intercept a conversation of which you are a party and there are a number of exceptions for government officials investigating crime. Workplace monitoring can also take place where crime is suspected, but again subject to a number of conditions. Any form of workplace monitoring should also be described in the employee contract and a company's communication policy.
The act further says that any person who intentionally intercepts or attempts to intercept a communication, save for the exceptions, is guilty of an offence which carries a fine of R2 million or imprisonment of up to 10 years.
From an operational point these devices are very easy to identify and to locate during a professional TSCM sweep.
Regards
Steve Whitehead
Eavesdropping Detection Solutions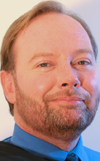 Andrew Seldon, editor
Credit(s)
Further reading:
IziCash awarded membership by CIT Association of SA
News
IziCash Solutions, a provider of cash logistics and cash management services to the retail and banking sector, has become a member of CITASA, the Cash-In-Transit Association of South Africa.
Read more...
---
22 TB hard drives from WD
News
Western Digital extends HDD technology and areal density leadership across smart video, network attached storage (NAS) and IT/data centre channel segments.
Read more...
---
From the editor's desk: Maybe I'm too old?
Technews Publishing News
There are many companies these days touting their ability to securely authenticate people via mobile devices (or selfies), claiming that it is secure and easy. Some banks are even allowing people to ...
Read more...
---
ADI Expo Limited Edition 2022
ADI Global Distribution News
ADI South Africa, with its leading suppliers from across the video, intrusion and access control industries, is once again hosting its annual ADI Expo in September.
Read more...
---
Hikvision integration with Page Automation
Hikvision South Africa News
Hikvision has announced the integration of its MinMoe Face Recognition terminals and its Hik-ProConnect online device and service management platform with Page Automation's SmarTTime software.
Read more...
---
ESDA's annual charity fundraiser
ESDA (Electronic Security Distributors Association News Conferences & Events Associations
The ESDA Annual Charity Fundraiser, part of the Electronic Security Distributors Association's Golf Day, will take place at Benoni Lake Golf Course on Wednesday, 21 September 2022.
Read more...
---
Gallagher launches Tech Talk
Gallagher News Access Control & Identity Management Perimeter Security, Alarms & Intruder Detection
Gallagher has announced the launch of its new Security in Focus podcast series called Tech Talk, hosted by chief technology officer Steve Bell.
Read more...
---
IDEMIA and Ideco demonstrate their value stacks
Technews Publishing Ideco Biometrics IDEMIA Conferences & Events Access Control & Identity Management News
Ideco and IDEMIA recently hosted a travelling show where attendees were given an update on the companies, as well as the full value stack they offer.
Read more...
---
Sustainability, trust and predictability
Technews Publishing Bosch Building Technologies Conferences & Events CCTV, Surveillance & Remote Monitoring News Integrated Solutions
The future for Bosch Building Solutions is focused on predictive solutions based on sustainability and trust in an AIoT world of cloud services.
Read more...
---
Networked devices increase cyber risks for building systems
Technews Publishing News
Building managers need an integrated approach with IT professionals and clear lines of responsibility to ensure optimal facilities management and cybersecurity.
Read more...
---